Jacksonville's Pacific War - Part 1
August 26, 2013
2 comments
Print Article
Metro Jacksonville's Robert Mann explains how Jacksonville and Northeast Florida helped win a war in the Pacific: a salute to our veterans and our home front population and industry.


ST. JOHNS RIVER SHIPBUILDING – THE LIBERTY SHIPS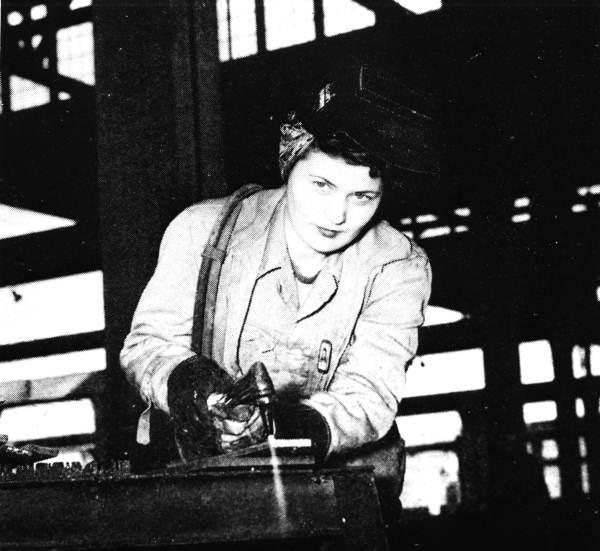 Photo believed to be: Wynona P. Ely, 1943, Merrill-Stevens Shipyard employee, arguably the most beautiful 'Rosie the Riveter' in the country. Image courtesy of the State Archives of Florida.

Between 1942 and 1945, downtown Jacksonville's St. Johns River Shipbuilding Company served as one of 18 shipyards in the country to build Liberty ships. With the help of $17 million investment by the United States Maritime Commission, the company was established by downtown shipbuilder, Merrill-Stevens. Operations began in April 1942 with a workforce of 258. By August 1942, that number increased to 7,000 and to 20,000 by 1944. The shipyard was closed in August 1945.

Cheap and quick to build, these cargo ships came to symbolize the power of the country's wartime industrial output. Officially an EC2, the typical Liberty ship was 441 feet long and 56 feet wide with a three-cylinder, reciprocating steam engine, fed by two oil-burning boilers, producing 2,500 hp and a speed of 11 knots. The ship's five holds could carry over 9,000 tons of cargo, along with airplanes, tanks, and locomotives lashed to its deck. Furthermore, they had a capacity of 2,840 jeeps, 440 tanks, or 230 million rounds of rifle ammunition.

Liberty ships carried a crew of about 44 and 12 to 25 Naval Armed Guards. Some were armed with the following armament: 4-inch stern gun, two 37-mm bow guns, four .50-caliber machine guns, and/or two .30-caliber machine guns. They sailed with no name painted on their bows so as to give the enemy no hint as to their mission or cargo.

2,710 of these cargo and troop ships were completed. The 250,000 parts were pre-fabricated throughout the country in 250-ton sections and welded together in about 70 days. One Liberty ship was built in four and a half days. About 200 Liberty ships were lost to torpedoes, mines, explosions, or kamikazes during WW II.




An AK-131, ordered as the SS Thomas A. McGinley, seen here leaving Jacksonville for the Pacific in full camouflage paint designed to confuse, not to conceal the ship to its enemies. In theory this camouflage called 'Razzle - Dazzle' or simply 'Dazzle,' would break up the regularity of outline limiting visual range finding. A Jaguar for example looks conspicuous in a cage, but in nature, especially when moving, it is difficult to pinpoint. The ship's speciations were typical of the Jacksonville-built Liberty Ship Fleet. Oddly, the ship sailed as the USS Melucta until the name was changed back to the Thomas McGinley post war. A lived ship, it remained in the fleet until 1970. (US Navy Photo)

Ordered: as SS Thomas A. McGinley
EC2-S-C1 hull,
Laid down: 21 January 1944
Launched: 20 March 1944
Acquired: 31 March 1944
Commissioned: 22 July 1944
Decommissioned: 13 December 1945
Struck: date unknown
Fate: scrapped in 1970
General characteristics
Displacement: 4,023 t.(lt) 11,565 t.(fl)
Length: 441 ft 6 in (134.57 m)
Beam: 56 ft 11 in (17.35 m)
Draught: 28 ft 4 in (8.64 m)
Propulsion: reciprocating steam engine, single shaft, 1,950shp
Speed: 12 kts.
Complement: 206
Armament: one 5"/38 dual purpose gun mount; two dual 40mm AA gun mounts; eight single 20mm AA gun mounts (Source US Navy)


LIBERTY SHIPS MADE IN JACKSONVILLE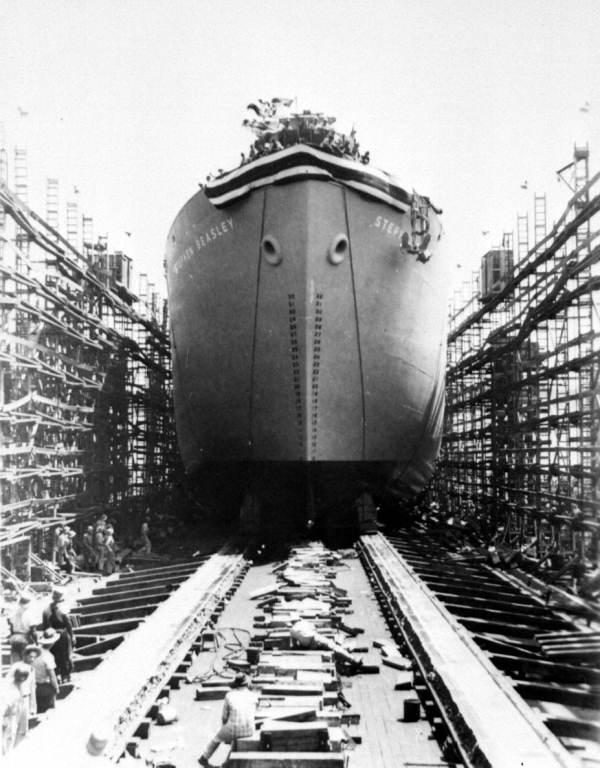 Sliding down the ways into the St. Johns River, The USS Stephen Beasley, a standard Jacksonville liberty cargo vessel, launched on June 24, 1944, she would serve until 1961. (US Navy Photo) (US Navy Photo)

82 Liberty Ships and countless other vessels were built in Jacksonville during the war effort. The following is a list of Liberty Ships launched in Jacksonville and the approximate date of launching. Of interesting note, the list is peppered with famous Floridian names, a few of which are highlighted below:

Ponce de Leon, Apr. 1943 Discovered La Florida, Spanish Territory

John Gorrie, May '43 Inventor of refrigeration and air conditioning

Francis Asbury, (Hendry) May '43 Confederate soldier, cattle baron

John Crittenden, (Duval) June '43 Writer, survivor of Goliad Massacre

Sidney Lanier, July '43 Widely read author promoting Florida

Robert Y. Hayne, July '43

Richard Montgomery, July '43

John Philip Sousa, Aug.'43

Henry Watterson, Aug.'43

George Dewey, Aug.'43

William Byrd, Sept. '43

Rufus C. Dawes, Sept. '43

Thomas Sully, Sept. '43

Dwight W. Morrow, Oct. '43

John S. Mosby, Oct. '43

Grant Wood, Oct. '43

Edward M. House, Nov. '43

Harvey Cushing, Nov. '43

William G. Sumner, Nov.'43

Peter Stuyvesant, Nov.'43

James Screven, Dec. '43 Continental General Battles for E. Florida

Napoleon B. Broward, Dec. '43 19Th Governor of Florida

Arthur M. Huddell, Dec. 43

Owen Wister, Dec. '43

Elizabeth C. Bellamy, Dec. '43

John White, Jan. '43

Royal S. Copeland, Jan. 1944

John Einig, Jan.'44

Edwin G. Weed, Feb. '44

Andrew Turnbull, Feb. '44 Plantation, New Smyrna Sugar Mill

Henry S. Sanford, March '44 Developed Sanford-Mosquito County

James L. Akerson, Mar. '44

Edward W. Bok, Mar. '44 Environmentalist, Philanthropist

Thomas A. McGinley, Mar. '44

Frederick Tresca, April '44 US Army Captain, CSA Commissary

Edward A. Filene, Apr. '44 Manatee Riverboat Captain

Richard K. Call, Apr. '44

August Belmont, Apr. '44

Arthur R. Lewis, May '44

George E. Merrick, May '44 Developer of streetcars and the City of Coral Gables

James K. Paulding, May '44

Thomas J. Lyons, June '44

Raymond Clapper, June '44

Hugh J. Kilpatrick, June '44

Noah Brown, June '44

Hendrik Willem Van Loon, June '44

Stephen Beasley, July '44

Jasper F. Cropsey, July '44

William Crane Gray, July '44

Ethelbert Nevin, July '44

W.S. Jennings, Aug.'44 18Th Governor of Florida

Filipp Mazzei, Aug '44

Henry Hadley, Aug. '44

Alfred I. DuPont, Aug. '44 Investor, Banker, Land Barron

Irvin S. Cobb, Aug. '44

Negley D. Cochran, Sept. '44

Anna Dickinson, Sept. '44

John Ringling, Sept. '44

Michael De Kovats, Sept. '44

John H. McIntosh, Sept. '44 Held large Florida land grants

Jerry S. Foley, Oct. '44

Robert Mills, Oct. '44

Morris C. Feinstone, Oct. '44

David L. Yulee, Oct. '44 US Senator, CSA Congressman, Railroad Builder

George E. Waldo, Oct. '44

Henry B. Plant, Nov. '44 Plant railways, steamships, hotels

Frederic W. Galbraith, Nov. '44

C.W. Post, Nov. '44

Junius Smith, Nov. '44

Isaac M. Singer, Nov. '44

Telfair Stockton, Nov. '44 Jacksonville Streetcar and City Developer

Louis Bamberger, Dec. '44

Isaac Mayer Wise, Dec. '44

Henry B. Plant II, Dec. '44 Plant railways, steamships, hotels

Walter M. Christiansen, Dec. '44

Grover C. Hutcherson, Dec. '44

Fred C. Stebbins, Jan. '44

Harold A. Jordan, Jan. 1945

John Miller, Jan. '45

James H. Courts, Jan '45

Fred Herrling, Feb. '45

Thomas L. Haley, Feb. '45


COMING SOON: Jacksonville's Pacific War - Part II


Article by Robert Mann