Jacksonville's Pacific War - Part 1
Metro Jacksonville's Robert Mann explains how Jacksonville and Northeast Florida helped win a war in the Pacific: a salute to our veterans and our home front population and industry.
Published August 26, 2013 in History - MetroJacksonville.com
WORLD WAR II GLARING ERRORS AND OMISSIONS

As a result of the imbalance in the media or historical record, one could easily acquire the impression that Japan was an insignificant figure on the stage of world powers and incapable of doing any harm, much less attacking the United States by surprise. Despite military based television shows airing endless renditions of Hitler's rise to power, the portrayed insignificance of Japan is pure fallacy.


Nakajima GBN, Long Range bomber with a 4,000 nautical mile range, US Navy code name: "Rita" (National Archives & Records Admin Photo)

December 7, 1941, this photo captured the excitement aboard the Japanese Carrier force as they launched American in WWII. The attack on the Hawaiian islands was the tip of the iceberg that same day American ships were torpedoed on the high seas. In a full court press Japan also attacked Malaya, Hong Kong, Guam and the US Territories of the Philippines, Wake Island and Midway Island, all but Midway would be lost. (National Archives & Records Admin Photo)



THE CODED MESSAGES YOU MAY NOT BE AWARE OF

So on December 2, 1941, the message, "Climb Mount Niitaka", arrived on Nagumo's flagship. The Admiral then opened a set of top secret documents which confirmed that Japan would be going to war with the United States, Britain, and Holland. It also gave a date for the opening of hostilities…December 8th.

On Sunday, 7 December 1941 (Dec. 8 in Japan), the Japanese fleet consisted of six carriers with 423 aircraft. Their Navy was larger than ours. On the 7th the flagship raised the famous 'Z Flag,' from their smashing victory over the Russians, as a good luck signal. Japanese planes swarmed toward Hawaii.

At 07:20, Air Fleet Commander Fuchida ordered airmen to take attack positions, and then, seeing that all was peaceful at Pearl Harbor, Fuchida fired a green flare, the signal to attack.

At 07:49, Fuchida instructed his radio operator to send the code words "Tiger, Tiger, Tiger," back to the flagship of the Fleet. The message meant that complete surprise had been achieved.

The plan was not to stop with Pearl Harbor. According to conversations from Admiral Yamamoto, occupation of Hawaii and, ultimately, the west coast of the USA, was the bigger picture, but checked at the battle of Midway, and Japan was too slow to seize the opportunity. Germany was never able to build the long range Amerika-Bomber, an initiative of Germany's Department of Aviation. Germany only had a single aircraft carrier and it was destroyed at the dock, likewise they never builit a surface fleet that could strike directly at the USA. Japan, on the other hand, had the world's largest aircraft carrier fleet and the long-range bombers.

Next Page: Meanwhile, Back Home In Jacksonville



MEANWHILE, BACK HOME IN JACKSONVILLE



World War II came roaring onto Jacksonville's stage when the SS Gulfamerica was torpedoed off the coast of Jacksonville Beach. The message was loud and clear, Jacksonville, Florida and the free world were in the fight of their lives. (source: http://en.wikipedia.org/wiki/File:SS_Gulfamerica.jpg)

One of the lesser known stories of WWII is that of the SS Gulfamerica, a merchant ship taking its first voyage from Port Arthur, TX to New York with over 100,000 barrels of heating oil. Illuminated by the lights of Jacksonville Beach, which at that time was not observing a blackout, the ship was attacked by a Nazi submarine, the U123. At 4:22 am on April 10, 1942, in full view of the gathering crowds along the shoreline, the ship, hit by a torpedo, burned in the night air.

Five crew members were killed by the torpedo blast and another 14 drowned after entering the water. A total of two officers, two armed guards and 15 crewmen were killed in the sinking. Survivors were taken to Mayport. The ship burned for two days afterwards, providing the city with a visual reminder of their fatal carelessness. Fears grew rife that we could be invaded, and indeed we were. These fears prompted Florida Governor Spesser Hollard to declare a strict blackout along the Jacksonville coast.



If citizens of Jacksonville had paid attention to this war time warning, it's possible the SS Gulfamerica would have never been torpedoed off our coasts. (Florida Archives)

Although the first Nazi invasion of US was when the German Navy (called the Kriegsmarine) submarine U-202 landed 3 uniformed men in Amagansett, NY on Atlantic Avenue Beach, on June 12, 1942, the second and last invasion took place on June 16, 1942, in Ponte Vedra Beach, when 4 more saboteurs came ashore. These agents made their way to the Jacksonville Terminal and caught a train for New York City. A double agent on the New York team and another Nazi, who defected and worked for the Americans, quickly gathered evidence and assisted in the capture, arrest and prosecution which led to the ultimate execution of all 6 of the others.

While Germany certainly possessed a more lethal army in terms of equipment and innovation, at its height it controlled 1,420,000 square miles, while Japan controlled 2,864,000. It is true that much of the Japanese territory was made up of islands and sea; but one could consider that they also took virtually all of Southeast Asia, many U.S. territories, and the most productive parts of China. Consider also that German soldiers confronted with desperate odds would surrender, while the Japanese would not. Eniwetok was defended by some 3,000 Japanese and Korean soldiers, 19 surrendered. In the Philippines, the last known holdout surrendered in January 1997 (not a typo) when 85 Year old Sangrayban was discovered on Mindoro and flushed out by fellow Japanese soldiers.

JACKSONVILLE JOINS THE FIGHT

Jacksonville became a huge shipbuilding and military aviation training center during the World War II. While it would not be 100% accurate, in a broad description, the war could be roughly broken down as a Naval/Marine war in the Pacific, and a Army/Army Air Force war in Europe, in both cases these efforts were supported by units from all branches of service. As a Naval center, our city contributed greatly to the Naval air, surface and Marine fronts, with the Navy's fight in the Pacific front and center. Much of the training for all of these uniformed men – was performed right here at the Jacksonville.

Just before the war, Jacksonville hosted the large Army Air Force base that would later become the city's airport at Imeson Field. After Pearl Harbor, Imeson became a Naval Training Center. There was also the Keystone Heights Army Airfield. Camp Blanding was home to the Army's 31st Infantry Division, another Pacific force which saw action in the liberation of the U.S. Territory of the Philippine Islands and Papua New Guinea. Our area also contributed training to some of the team that would break the Japanese Naval Code.




SEAT OF NAVAL AVIATION




Infinite SNJ-35 trainer aircrafts line up on the tarmac at Lee Field in Green Cove Springs (Military Museum of North Florida)

In the Jacksonville region during World War II, the Navy in our area maintained the Naval Fuel Depot, Cecil Field, Whitehouse Field, NAS Jax, Yellow Water Gunnery Range, Branan Field, Spencer Bomb Range, Switzerland Airfield, Thunderbolt Field, Francis Field, Herlong Field, Naval Air Station Lee Field, Green Cove Naval Station, Naval Station Mayport, Hart Field, Jasper Field, Mile Branch, Francis Field, Lake Butler Field, Lee Gilmer Field, Fernandina, Naval Auxiliary Air Station St. Augustine, St. Augustine Gunnery Range, Formost (Penny Farms), Middleburg, Black Creek Bomb Range, Palatka, Naval Air Station Lake City and Keystone Heights, NAF Naval Air Facility-Glynco LTA-Lighter Then Air. Our shipyards built Liberty Ships, used to transport troops and cargo mainly to the Pacific Theater and the successful 'deep Vee' hull design for the American PT Boat (Patrol Torpedo) fleet; used extensively in the Pacific, originated on the Ortega River at Huckins Yacht.



Caption reads: Squadron VN-12 on flight line at NAAS Lee Field in Green Cove Springs, FL. SNC-1's in the background & SNJ-3's in the foreground. (Military Museum of North Florida)
Anti-Submarine Warfare Blimp Base, Glynco, (Present-Day Brunswick) Georgia (US Navy Photo)
Next Page: Liberty Shipbuilding in Jacksonville
ST. JOHNS RIVER SHIPBUILDING – THE LIBERTY SHIPS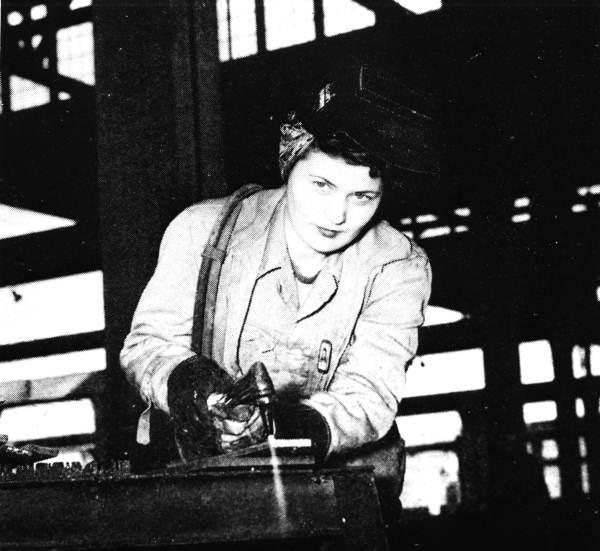 Photo believed to be: Wynona P. Ely, 1943, Merrill-Stevens Shipyard employee, arguably the most beautiful 'Rosie the Riveter' in the country. Image courtesy of the State Archives of Florida.

Between 1942 and 1945, downtown Jacksonville's St. Johns River Shipbuilding Company served as one of 18 shipyards in the country to build Liberty ships. With the help of $17 million investment by the United States Maritime Commission, the company was established by downtown shipbuilder, Merrill-Stevens. Operations began in April 1942 with a workforce of 258. By August 1942, that number increased to 7,000 and to 20,000 by 1944. The shipyard was closed in August 1945.

Cheap and quick to build, these cargo ships came to symbolize the power of the country's wartime industrial output. Officially an EC2, the typical Liberty ship was 441 feet long and 56 feet wide with a three-cylinder, reciprocating steam engine, fed by two oil-burning boilers, producing 2,500 hp and a speed of 11 knots. The ship's five holds could carry over 9,000 tons of cargo, along with airplanes, tanks, and locomotives lashed to its deck. Furthermore, they had a capacity of 2,840 jeeps, 440 tanks, or 230 million rounds of rifle ammunition.

Liberty ships carried a crew of about 44 and 12 to 25 Naval Armed Guards. Some were armed with the following armament: 4-inch stern gun, two 37-mm bow guns, four .50-caliber machine guns, and/or two .30-caliber machine guns. They sailed with no name painted on their bows so as to give the enemy no hint as to their mission or cargo.

2,710 of these cargo and troop ships were completed. The 250,000 parts were pre-fabricated throughout the country in 250-ton sections and welded together in about 70 days. One Liberty ship was built in four and a half days. About 200 Liberty ships were lost to torpedoes, mines, explosions, or kamikazes during WW II.



An AK-131, ordered as the SS Thomas A. McGinley, seen here leaving Jacksonville for the Pacific in full camouflage paint designed to confuse, not to conceal the ship to its enemies. In theory this camouflage called 'Razzle - Dazzle' or simply 'Dazzle,' would break up the regularity of outline limiting visual range finding. A Jaguar for example looks conspicuous in a cage, but in nature, especially when moving, it is difficult to pinpoint. The ship's speciations were typical of the Jacksonville-built Liberty Ship Fleet. Oddly, the ship sailed as the USS Melucta until the name was changed back to the Thomas McGinley post war. A lived ship, it remained in the fleet until 1970. (US Navy Photo)

Ordered: as SS Thomas A. McGinley
EC2-S-C1 hull,
Laid down: 21 January 1944
Launched: 20 March 1944
Acquired: 31 March 1944
Commissioned: 22 July 1944
Decommissioned: 13 December 1945
Struck: date unknown
Fate: scrapped in 1970
General characteristics
Displacement: 4,023 t.(lt) 11,565 t.(fl)
Length: 441 ft 6 in (134.57 m)
Beam: 56 ft 11 in (17.35 m)
Draught: 28 ft 4 in (8.64 m)
Propulsion: reciprocating steam engine, single shaft, 1,950shp
Speed: 12 kts.
Complement: 206
Armament: one 5"/38 dual purpose gun mount; two dual 40mm AA gun mounts; eight single 20mm AA gun mounts (Source US Navy)
LIBERTY SHIPS MADE IN JACKSONVILLE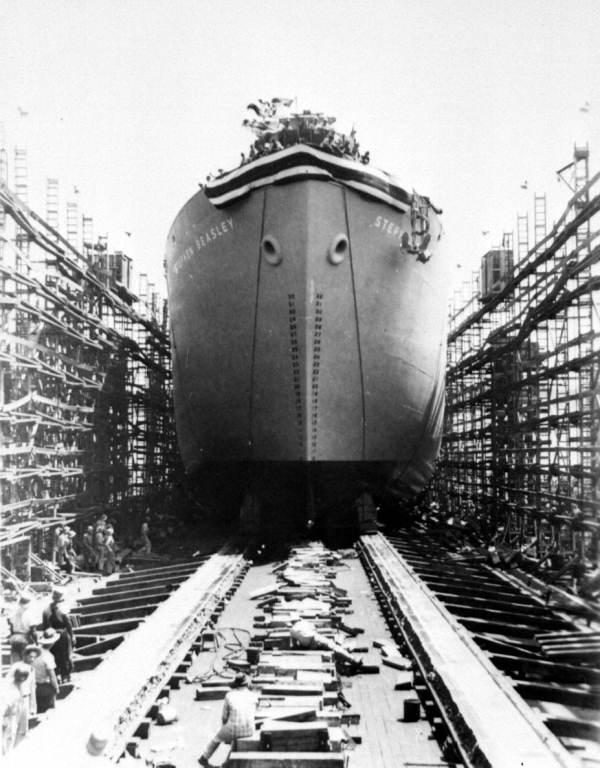 Sliding down the ways into the St. Johns River, The USS Stephen Beasley, a standard Jacksonville liberty cargo vessel, launched on June 24, 1944, she would serve until 1961. (US Navy Photo) (US Navy Photo)

82 Liberty Ships and countless other vessels were built in Jacksonville during the war effort. The following is a list of Liberty Ships launched in Jacksonville and the approximate date of launching. Of interesting note, the list is peppered with famous Floridian names, a few of which are highlighted below:

Ponce de Leon, Apr. 1943 Discovered La Florida, Spanish Territory

John Gorrie, May '43 Inventor of refrigeration and air conditioning

Francis Asbury, (Hendry) May '43 Confederate soldier, cattle baron

John Crittenden, (Duval) June '43 Writer, survivor of Goliad Massacre

Sidney Lanier, July '43 Widely read author promoting Florida

Robert Y. Hayne, July '43

Richard Montgomery, July '43

John Philip Sousa, Aug.'43

Henry Watterson, Aug.'43

George Dewey, Aug.'43

William Byrd, Sept. '43

Rufus C. Dawes, Sept. '43

Thomas Sully, Sept. '43

Dwight W. Morrow, Oct. '43

John S. Mosby, Oct. '43

Grant Wood, Oct. '43

Edward M. House, Nov. '43

Harvey Cushing, Nov. '43

William G. Sumner, Nov.'43

Peter Stuyvesant, Nov.'43

James Screven, Dec. '43 Continental General Battles for E. Florida

Napoleon B. Broward, Dec. '43 19Th Governor of Florida

Arthur M. Huddell, Dec. 43

Owen Wister, Dec. '43

Elizabeth C. Bellamy, Dec. '43

John White, Jan. '43

Royal S. Copeland, Jan. 1944

John Einig, Jan.'44

Edwin G. Weed, Feb. '44

Andrew Turnbull, Feb. '44 Plantation, New Smyrna Sugar Mill

Henry S. Sanford, March '44 Developed Sanford-Mosquito County

James L. Akerson, Mar. '44

Edward W. Bok, Mar. '44 Environmentalist, Philanthropist

Thomas A. McGinley, Mar. '44

Frederick Tresca, April '44 US Army Captain, CSA Commissary

Edward A. Filene, Apr. '44 Manatee Riverboat Captain

Richard K. Call, Apr. '44

August Belmont, Apr. '44

Arthur R. Lewis, May '44

George E. Merrick, May '44 Developer of streetcars and the City of Coral Gables

James K. Paulding, May '44

Thomas J. Lyons, June '44

Raymond Clapper, June '44

Hugh J. Kilpatrick, June '44

Noah Brown, June '44

Hendrik Willem Van Loon, June '44

Stephen Beasley, July '44

Jasper F. Cropsey, July '44

William Crane Gray, July '44

Ethelbert Nevin, July '44

W.S. Jennings, Aug.'44 18Th Governor of Florida

Filipp Mazzei, Aug '44

Henry Hadley, Aug. '44

Alfred I. DuPont, Aug. '44 Investor, Banker, Land Barron

Irvin S. Cobb, Aug. '44

Negley D. Cochran, Sept. '44

Anna Dickinson, Sept. '44

John Ringling, Sept. '44

Michael De Kovats, Sept. '44

John H. McIntosh, Sept. '44 Held large Florida land grants

Jerry S. Foley, Oct. '44

Robert Mills, Oct. '44

Morris C. Feinstone, Oct. '44

David L. Yulee, Oct. '44 US Senator, CSA Congressman, Railroad Builder

George E. Waldo, Oct. '44

Henry B. Plant, Nov. '44 Plant railways, steamships, hotels

Frederic W. Galbraith, Nov. '44

C.W. Post, Nov. '44

Junius Smith, Nov. '44

Isaac M. Singer, Nov. '44

Telfair Stockton, Nov. '44 Jacksonville Streetcar and City Developer

Louis Bamberger, Dec. '44

Isaac Mayer Wise, Dec. '44

Henry B. Plant II, Dec. '44 Plant railways, steamships, hotels

Walter M. Christiansen, Dec. '44

Grover C. Hutcherson, Dec. '44

Fred C. Stebbins, Jan. '44

Harold A. Jordan, Jan. 1945

John Miller, Jan. '45

James H. Courts, Jan '45

Fred Herrling, Feb. '45

Thomas L. Haley, Feb. '45


COMING SOON: Jacksonville's Pacific War - Part II


Article by Robert Mann
This article can be found at:
https://www.metrojacksonville.com/article/2013-aug-jacksonvilles-pacific-war-part-1
Copyright MetroJacksonville.com