JaxHax: A 'Makerspace' Arrives
February 14, 2012
14 comments
Print Article
Metrojacksonville meets with JaxHax President Ronnie Hinton for a grand tour of the city's first and only 'makerspace' - a community-operated facility for the creation and promotion of personal projects and design.
About JaxHax



JaxHax is located inside the former Union Terminal Company warehouse.

JaxJax is a community-operated place where people can meet, collaborate, and work on a variety of innovative and creative projects. The JaxHax facility is located in an 8,100 square foot space in the historic former Union Terminal Company warehouse building. The former Union Terminal Company warehouse, at 700 East Union Street, was built along the former Fernandina & Jacksonville and Atlantic Coast Line Railroad in 1913. The Union Terminal Company took advantage of a site that because it was sandwiched between two competing rail lines and adjacent to Hogans Creek, offering tenants access to all three. During the building's early years, tenants included the Florida School Book Depository, AM Grocery Company, Loose-Wiles Biscuit Company, Virginia Paper Company, Westinghouse Electric & Manufacturing Company and a restaurant called the Union Terminal Lunch Room.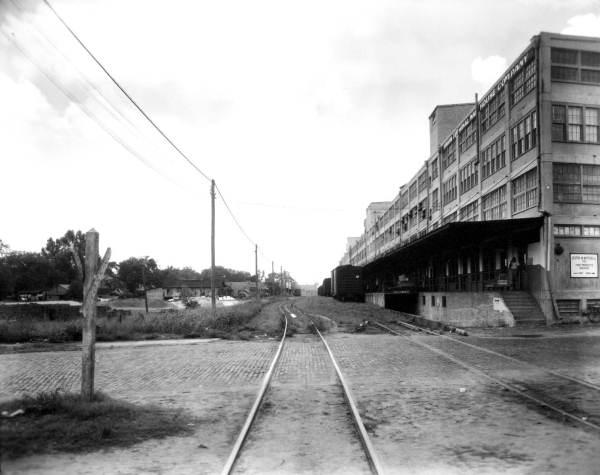 This image captures the old Union Terminal, from Union Street during the early 20th century.  Although the railroad tracks are gone, this loading dock is now the entrance of JaxHax.

JaxHax first convened in October, with a handful of like-minded individuals casually meeting to talk about similar interests, after having communicated on various websites and relating to online platforms such as reddit.com. After subsequent meetings, the group realized the city of Jacksonville did not have a hackerspace, by definition, as many metropolitan cities now have, and thus, went into action on how to establish one. Receiving the keys to the space at 700 E. Union St. after a short time, the facility opened up in December, and has since been progressing and transforming with each day. With three levels of membership, the 40 or so members self-fund the space (lease, electricity, materials, etc.) via due fees. They are reaching into the community via the Downtown Art Walk and other collaborations, with much more to come in the future. With the overall purpose to provide a space for free creativity and shared intellect, and driven by the concept of a community, JaxHax is establishing something great in the urban core - something that births invention and the intelligence of the future.



About Makerspaces


A hackerspace or hackspace (also referred to as a hacklab, makerspace or creative space) is a location where people with common interests, often in computers, technology, science, digital or electronic art (but also in many other realms) can meet, socialise and/or collaborate. Hackerspaces can be viewed as open community labs incorporating elements of machine shops, workshops and/or studios where hackers can come together to share resources and knowledge to build and make things.

Many hackerspaces participate in the use and development of free software, open hardware, and alternative media. They are often physically located in infoshops, social centers, adult education centers, or on university campuses, but may relocate to industrial or warehouse space when they need more room.

The specific activities that take place at hackerspaces vary from place to place. In general, hackerspaces function as centers for peer learning and knowledge sharing, in the form of workshops, presentations, and lectures. They usually also offer social activities for their members, such as game nights and parties. They typically provide space for members to work on their individual projects, or to collaborate on group projects with other members. Hackerspaces may also operate computer tool lending libraries, or physical tool lending libraries.

The building or facility the hackerspace occupies is important, because it provides physical infrastructure that members need to complete their projects. In addition to space, most hackerspaces provide electrical power, computer servers and networking with Internet connectivity.
http://en.wikipedia.org/wiki/Hackerspace
A Visit to JaxHax
Exterior of warehouse spaces JaxHax is among on 700 E. Union St.
Staircase to JaxHax's second floor entryway.
Directly through the front door, a welcoming structure, and robotic receptionist.
The large open floor space that first greets you will remain in this free state, for purposes of future events, and the unexpected find.
Elevator access inside the space, to the left of the entrance.
Workshop and classes are organized among members; if there's an interest, it's offered up, and if enough takers, then class proceeds accordingly. JaxHax functions on a mentality of shared curiosity; if you want to learn something, someone can probably teach you - the melting pot of skills is that vast and finely tuned.
Sign-up sheet for classes/workshops. Skill areas range from welding to writing to 3D welding to the basics of law.
The computer, network, and systems room; a work in progress.
The official mascot, 'Nibbles', made almost entirely of bike parts; Ronnie's creation has illuminated eyes and honks.
One of several to-be work-specific areas. The group, again, has built the structural divides in the space to make it optimally functional for their exercise.
A ping-pong table, 'library', and coffee maker and microwave; space essentials.
Situationally middle room, used mostly for woodwork, welding, and metal scrap storage.
A prospective minotaur.
Hallway parallel to the entryway, looking towards it.
Up-for-grabs parts, donated or brought in by members (owned or found). Plans are to build more durable, sturdy, larger shelves/cubby's.
Looking down the hallway from the entryway.
The back of the space a work in progress for additional work-specific functions/divisions; plans include an art and photo-development lab, as well as others.
The space from the interior, looking towards the entryway.
Membership
JaxHax currently offers three membership options so you can choose the option that matches your interests. As of December 2011, the membership levels are:

* The Thinker ($25 per month): Benefits include: Free Classes (materials fees not included) + 24/7 use of the "Think Lab," which includes access to the Internet and basic hand and soldering tools.

* The Maker ($50 per month): All "Thinker" level benefits + 24/7 use of the "Make Lab," which includes access to specialized tools (laser cutter, etc.) and personal storage.

* The Booster ($100 per month): All "Maker" level benefits + Recognition on JaxHax.org as a Booster + additional personal storage + sponsorship of another individual at the "Maker" level.
JaxHax floor plan. Click on image to enlarge.
JaxHax is currently in it's build-out phase, but members are still encouraged to come by and work on their personal projects or help with the build out. We have 8100 ft of space and plenty of ideas with what to do with it.

Address: 700 East Union St. Jacksonville, FL 32206 We are on the east side of the building (the side with the gate), in A2 (the street-end of the building, second floor) http://g.co/maps/ff2kk
For more information, how to join, and how to contribute, visit www.jaxhax.org.
Article by Sarah Gojekian.