Understanding Transit in Jacksonville
December 26, 2012
32 comments
Print Article
From the Times-Union and City Councilmen to the average Jacksonville resident, understanding mass transit technologies remains a mystery. Here is an overdue review on mass transit technologies and how they may potentially play a role in the development of Jacksonville's future.

Diesel Multiple Unit (DMU)
Image: Austin Capital Metrorail (DEMU Commuter Rail) - source: http://en.wikipedia.org/wiki/File:Downtown_MetroRail_station.JPG
Diesel Multiple Unit (DMU) is a form of regional rail transit that is self-propelled with rail passenger cars that have internal diesel engines. Commuter rail cars can also use Diesel-Electric Multiple Units (DEMU) for greater fuel efficiency. This option could utilize its own set of tracks or existing freight rail tracks, with a pre-arranged service plan to accommodate freight movements.

Impact on Jacksonville
JTA's commuter rail studies indicate a rail corridor using DEMU technology serving the Northside.  This corridor will take advantage of the city-owned S-Line corridor to connect the JTC (Downtown) with, Shands, River City Marketplace and Jacksonville International Airport.
The potential DEMU commuter rail corridor highlighted in red.

Typical Commuter Rail Characteristics
Capital Cost/Vehicle: $5 – 9 million  
Seated Capacity: up to 1,250 per train, depending on length.
Speed: Average 30 mph; Maximum 90 mph

HEAVY RAIL TRANSIT
Image: Washington DC Metro (Heavy Rail)
Heavy Rail Transit is an electric railway with the capacity for a heavy volume of traffic. The regional example is Metrorail in Miami. Others include Chicago's EL, New York's Subway, Atlanta's MARTA and Washington, DC's Metro. 
These systems use electric multiple units with steel wheels running on two steel rails. Power is commonly supplied by means of a single live third rail. It is characterized by passenger rail cars capable of high speed and rapid acceleration operating singly or in multi-car trains. Heavy Rail Transit requires separate rights-of-way from which all other vehicular and foot traffic are excluded and is generally characterized by station spacing between 0.5 and 2 miles; sophisticated signaling, high frequency, and invariably, high-level platform loading. The average trip length for the Miami-Dade Metrorail system is 6.5 miles.

Impact on Jacksonville:
Although these systems are typically used by rail opponent's population density and extreme cost arguments, there are no plans for heavy rail transit in the First Coast.

Typical Heavy Rail Characteristics
Capital Cost/Vehicle: $20 - 250 million  
Seated Capacity: 60 – 80 passengers per car, plus standees
Speed: Average 30 mph; Maximum 70 mph

LIGHT RAIL TRANSIT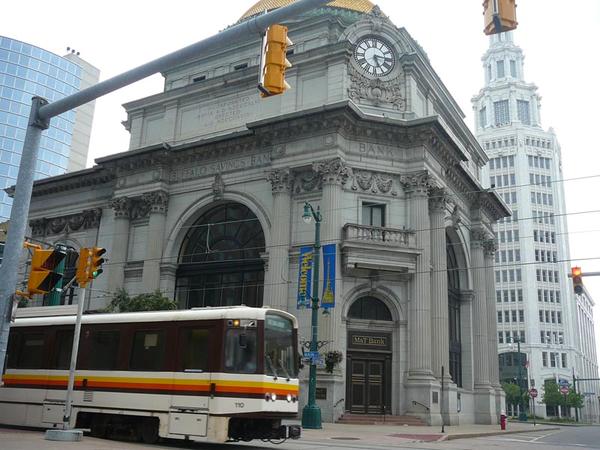 Image: Buffalo Metro (Light Rail)
Light Rail Transit is a flexible transportation mode which consists of a system of lightweight passenger rail cars operating singly or in short, two-car trains, on fixed rails in right-of-way that may not be separated from other traffic for much or all of the way.
LRT can operate in mixed traffic on tracks embedded in the street (like streetcars), on an at-grade right-of-way with street and pedestrian crossings, or on a fully segregated exclusive right-of-way. A distinction of light rail vehicles is that vehicles draw power from an overhead electric line via a trolley or pantograph.
Station spacing can be .5 to 1.5 miles depending on the type of service being provided. The average trip length is 4.4 miles. This option could be built within the rail corridor where the light rail can be properly separated from the freight rail and there is adequate rail right-of-way. This mode generally cannot operate on the same tracks as Regional Rail service and must be separated, as well, from railroad freight service.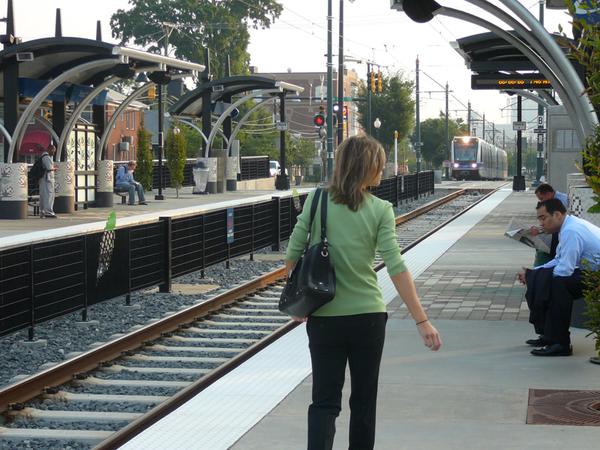 Image: Charlotte LYNX Blue Line (Light Rail)

Impact on Jacksonville: 
Though strictly conceptual in nature, light rail could become the preferred transit solution linking the JTC (Downtown) with the Beaches.
Potential Rapid Bus & Light Rail corridors are indicated in blue.


LIGHT DIESEL-ELECTRIC MULTIPLE UNIT (LDEMU)
Image: New Jersey RiverLine (LDEMU commuter rail)
Light Diesel-Electric Multiple Unit (LDEMU) is a technology that allows an in-vehicle/on-board diesel-electric engine to propel a vehicle in a fixed guideway. An advantage to the in-vehicle option is the ability to power a light rail vehicle without the cost of overhead electric power wiring or poles. From a technology perspective, LDEMU and Light Diesel Multiple Unit (LDMU) are the same.

Impact on Jacksonville:
Although there are no plans for LDEMU corridors in Jacksonville, it is possible that this type of technology could be used as an alternative to running DEMU's on the Northside commuter rail corridor.

Typical Light Rail Characteristics
Capital Cost/Vehicle: $3 - 25 million
Seated Capacity: 150 – 300 per train/100 per streetcar
Speed: Average 15 to 25 mph; Maximum 65 mph