Historic Ford Plant to be Demolished?
September 22, 2011
44 comments
Print Article
The owner of Jacksonville's Ford Motor Company assembly plant claims the building will be demolished if not converted to a cruise port. With this in mind, American Institute of Architects Jacksonville Chapter has scheduled a public tour of the historic property for the afternoon of Oct. 8, 2011.
Hello:

Last year we offered a tour of the former Ford Plant on the St. Johns River. The tour was a big success, and it gave us an opportunity to highlight what has been deemed one of Jacksonville's most endangered historic buildings. The threats remain. It's principal owner now says the building will come down if it is not converted to a cruise port.

So many people complained they didn't have a chance to hear about it, that we are scheduling another tour for the afternoon of Oct. 8., from 2-4, for a nominal fee of $5.

In the morning we will be having a different kind of tour on the Arlington side of the river. DOCOMOMO US/Florida will be partnering with the Jacksonville chapter of AIA and Old Arlington, Inc. to run a tour of a half dozen important post-war buildings in Arlington. After the Mathews Bridge opened in 1953, Arlington and adjacent neighborhoods benefited from radically improved access to downtown and became highly sought after as sites for some of Jacksonville's most creative house designs by Jacksonville's most important architects. Many of these buildings reflect new materials and technologies which were newly available in the halo of WW2 .

Sign-up is available at the AIA Jacksonville website: http://aiajacksonville.org/cde.cfm?event=362379.

If you have any questions, please don't hesitate to contact me.

Thanks.

Sincerely,

Richard Shieldhouse, Ph.D.
President, DOCOMOMO US/Florida
About The Ford Plant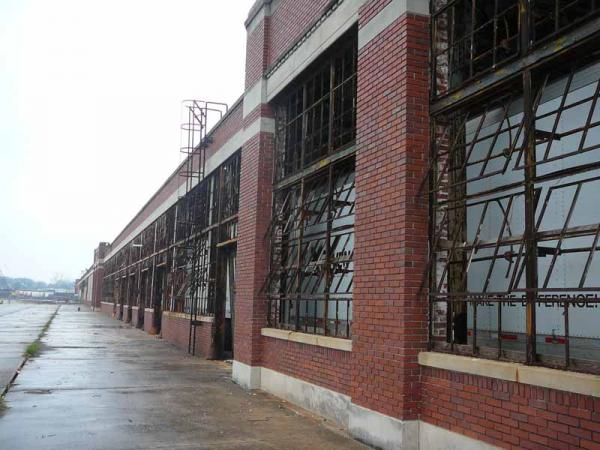 The 165,000-square-foot assembly plant, located at 1901 Hill Street and designed by internationally recognized industrial architect Albert Kahn, opened its doors in 1924. It's known for having a pair of 800' skylight panels that provide natural light into the industrial plant below. At one point, Ford employed over 800 workers who spent their time manufacturing 200 Model-T and Model-A cars and trucks a day. Ford shut down this operation in the late 1960's.
A view of the assembly plant's exterior in 1948.Update by Ennis Davis.