Rail in Jacksonville: Getting Started Immediately
March 27, 2009
72 comments
Print Article
"Rapid transit is about a lot more than moving people from Point A to Point B," Owens says. "It's about creating vibrant communities. It's about making Detroit and the suburbs the types of vibrant communities people believe they can become. We need to not only think about what do we want today but want we want 20, 30, 40 years from now. Do we want to continue to sprawl out into the farmlands or do we want to change what we're doing?" - Jon Zemke, Metromode Development News - Density vs. Transit 3 /05/08
Currently, JTA has studies underway for several commuter rail and streetcar lines throughout Jacksonville.  However, in reality, a regional wide system can not be constructed overnight.  While federal help is desired, Jacksonville and JTA are presently sitting on $94 million dedicated to local rapid transit by the Better Jacksonville Plan.  It is Metro Jacksonville's suggestion that all or a portion of this existing dedicated local funding source be immediately used to help implement an initial rail corridor that will one day become a part of a larger regional wide rail system. 

The benefits of such a move include:
A. Use it or lose it
"In an ideal world, we'd love to be able to do everything now, we can't afford that luxury." - Jacksonville Mayor John Peyton, explaining his proposal to strip dedicated mass transit funding for additional local road projects and perhaps the county courthouse.
Last week, Blaylock unveiled projections showing the city likely would be taking control of 70 percent of BJP sales tax money under Peyton's plan, although no numbers are official. The original plan was closer to 50-50.

He said the Peyton plan could lose $174 million in funding for JTA, including $94 million needed to acquire property for bus rapid transit, a developing program intended to reduce rush-hour bottlenecks.

"They're asking the JTA to forego our money so they can work on their own projects," JTA spokesman Mike Miller said.
Full article: http://www.jacksonville.com/news/metro/2008-12-14/jta_fears_delays_in_shift_of_funding
The longer the rapid transit money sits unused, the higher the chance that it will be raided to fund other local projects (ex. the courthouse, road construction projects, etc.).

B. Immediate Economic Development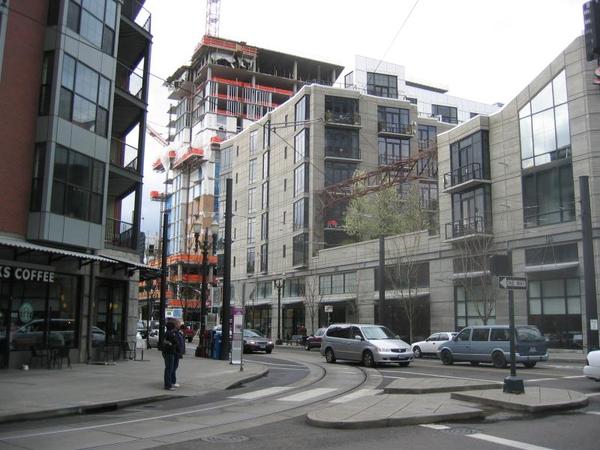 On average, $6 of private money is invested along new rail transit lines for every $1 of public money spent. - American Public Transportation Association.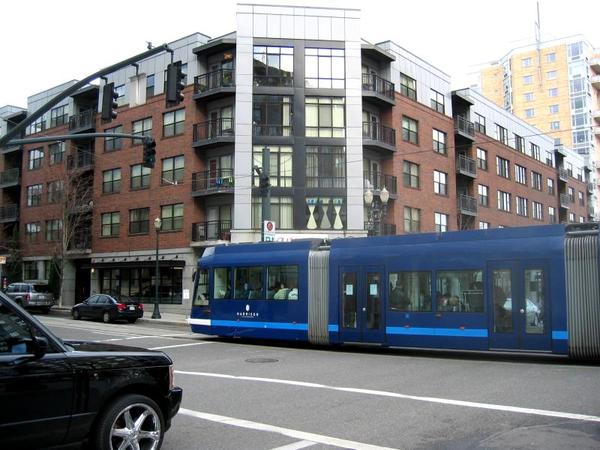 **-Portland images provided by ForAteOh, a member of www.skyscraperpage.com
"Portland's Streetcar (image above) has helped bring in $2.7 billion in investment within two blocks of its 3.6 mile line." - Richard Brandon - Deputy Planning Director of Portland - 06/26/07
Assuming the chosen route effectively connects major destinations at its endpoints, regardless of the length, the line would put the community in a position to immediately benefit from transit oriented development.  The result would be an increase in the city's tax rolls, continued economic development in areas where sufficient infrastructure already exists, and permanent job creation.
C. True Commitment Will Open Door to Federal Funding Opportunities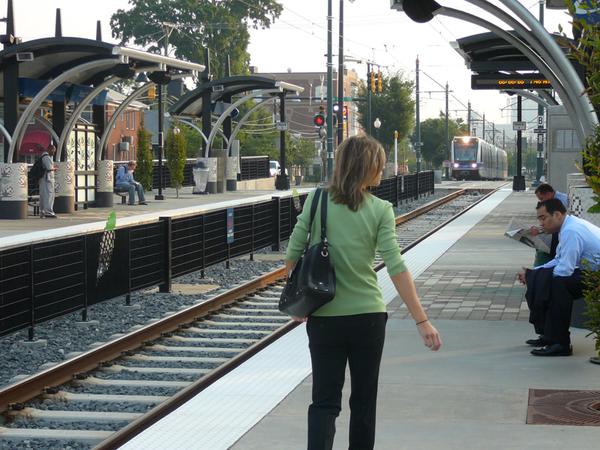 The City of Charlotte invested in a short streetcar line in 1996.  That local investment eventually lead to a federally funded light rail line a few years later.
Peyton admitted that no rail projects are ready for construction. He insisted the city is looking seriously at commuter rail and hopes to move forward with a plan in the next few years. U.S. Rep. Corrine Brown, D-Fla., blames the state government for the lack of rail projects.  Brown is chairwoman of a rail subcommittee in the House and has pushed for high-speed rail funding. An amendment to the Florida Constitution for high-speed rail was approved by voters in 2000. But it was repealed several years later, with then-Gov. Jeb Bush and the Republican-dominated Legislature warning the amendment would cost the taxpayers billions of dollars.  Florida is behind the times when it comes to rail, and supporters of train travel should be expressing displeasure to their state officials, Brown said. She wanted $5 billion allocated to rail and is frustrated with the House stimulus bill even though she voted in favor of it. U.S. Rep. John Mica, R-Fla., also is unhappy with the House bill. Like every other Republican in the House, Mica voted against it and hopes the Senate can improve on what the House did.  But it's difficult to push for local projects when Florida and Jacksonville don't ask for anything, Mica conceded.
link: http://www.jacksonville.com/news/metro/2009-01-31/story/commuter_rail's_future_off_the_tracks_in_jacksonville
With two local strong rail proponents in congress, the First Coast is in prime position to gain federal funding for local rail projects.  Unfortunately, we have no viable plan on the table to give them the ability to bring rail dollars home.  Moving forward with local money already in place, would prove that the city and JTA are really committed to embracing rail and sustainable growth.  Being committed and aggressively using local funding sources to implement rail opens the region up to the possibility of landing federal earmarks for continued expansion.

D. Live Demonstration
Against the Federal government and the State of Texas' wishes, the city of Houston moved forward alone on the implementation of a 7.5 mile light rail line in 2003.  Today, this short line averages 40,000 riders a day in one of America's most sprawling cities.  Its success has allowed an auto-based community to rally around rail and demand more.  Similar stories are coming out of other sunbelt cities such as Charlotte, Phoenix and Salt Lake City.
Like JTA's BRT lanes on Blanding Blvd., an affordable initial rail segment allows the community to see how rail works and how it can benefit Jacksonville.  This will make the path of expansion easier for JTA and Jacksonville to navigate in the future.
"If designed properly, it will completely transform the pedestrian experience throughout the downtown, which I think is the single biggest cultural experience we are trying to work on," he said. "If you do mass transit, regardless of what style, if it's designed properly at street level it will increase pedestrian activity between the stops and at the merchants at the stops."  Michael Solaka, President of the New Center Council, in regards to Detroit's proposed privately funded light rail starter line.

A look at JTA's Rail Plans:

1. Urban Streetcar system
Description:  A streetcar line connecting the Downtown Northbank, LaVilla and Brooklyn with Five Points.
Route Length: 4.3 miles
JTA Cost Estimate: $65 million or $15 million per track mile.
High Density Neighborhoods Impacted: Downtown, Brooklyn, Riverside, Cathedral District, Springfield
Pro: Will attract more economic development than commuter rail.  Creates a situation where isolated urban core neighborhoods can form to become one decent sized vibrant pedestrian friendly district.
Con: Higher capital costs per mile will result in shorter initial segment length.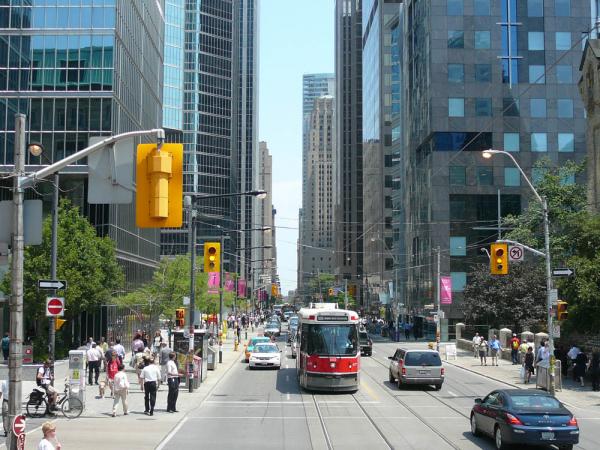 For more information: http://jtafla.com/pdf/Streetcars/StreetcarRReport090808.pdf

Commuter Rail Corridors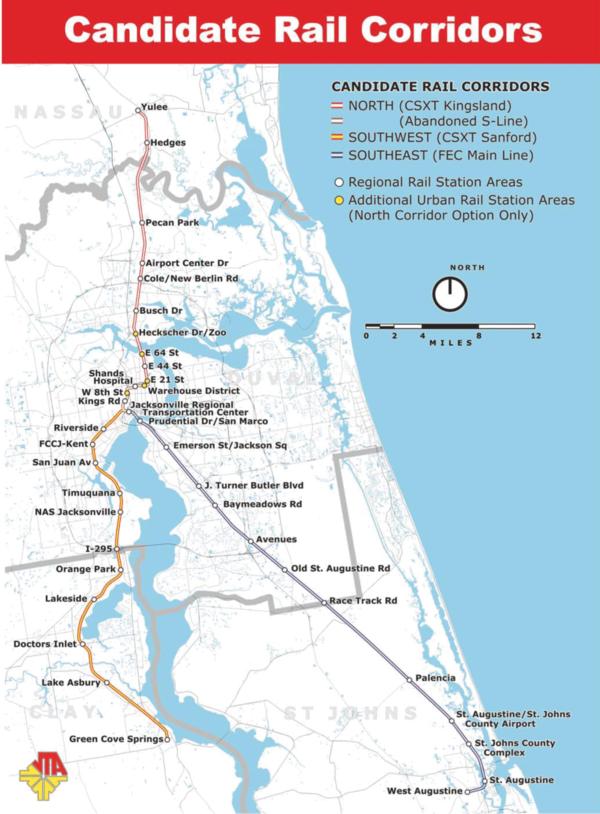 2. North Corridor Commuter Rail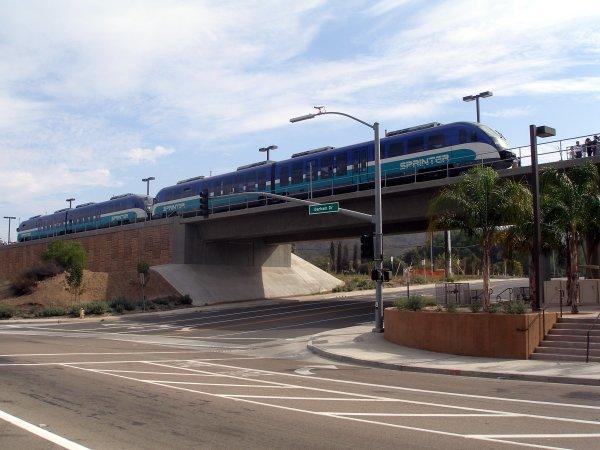 San Diego Sprinter commuter rail image by Wlindley at www.flickr.com
Description: Commuter rail corridor connecting Downtown with the airport and Nassau County (Yulee).
Route Length: 23.7 miles
JTA Cost Estimate: $197 million or $8.3 million per mile.
High Density Neighborhoods Impacted: Downtown, Durkeeville, Sugar Hill, Springfield, New Springfield, Brentwood, Panama Park, North Shore.
Pros: Connects Downtown to the Airport.  S-Line portion serves Jacksonville's most transit dependent urban communities.
Cons: Initial ridership estimates indicate this line would attract less ridership than the Southeast and Southwest commuter rail corridors.  Preliminary ridership levels drop off drastically once line crosses the Trout River.
3. Southwest Corridor (CSX A) Commuter Rail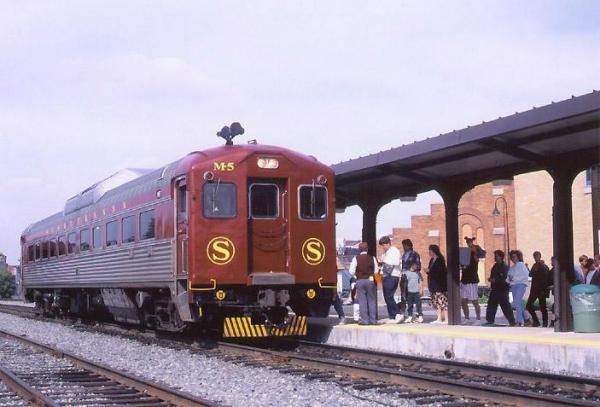 A Budd RDC (Rail Diesel Car) in Syracuse, NY.
Description: Rail corridor connecting Downtown to NAS Jax and Clay County.
Route Length: 29.3 miles
JTA Cost Estimate: $158 million or $5.4 million per mile
High Density Neighborhoods Impacted: Downtown, Riverside, North Riverside, Murray Hill
Pro: Alternative route between Downtown, Orange Park and Clay County.  Existing freight traffic expected to be relocated through Baldwin.
Con: If Orlando SunRail commuter rail deal dies, existing freight traffic will not be relocated, thus creating track capacity issues.
4. Southeast Corridor (FEC) Commuter Rail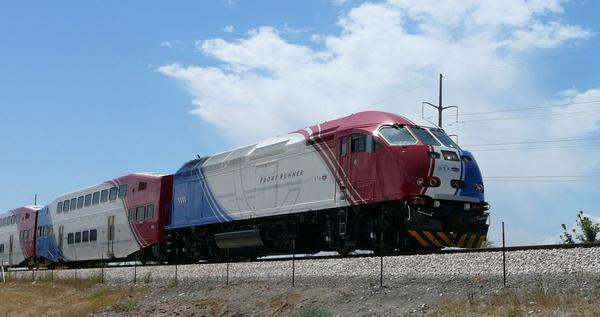 Image provided by jotor at www.flickr.com
Description: Rail corridor connecting Downtown and the Avenues Mall area to St. Augustine.
Route Length: 38.4 miles
JTA Cost Estimate: $172 million or $4.5 million per mile
High Density Neighborhoods Impacted: Downtown, Downtown-Southbank, San Marco, St. Augustine Historic District
Pro: Provides alternative route between Downtown Jacksonville, St. Augustine's historic district and rapidly growing Northern St. Johns County.  Estimates indicate this corridor will generate the highest ridership out of all three commuter rail lines.
Con: Duplicate BRT route proposed down the Philips Highway corridor could force two transit components to compete with each other for riders.

What Should the Jacksonville Do
If given a choice, would you recommend using the remaining BJP rapid transit funds be used to construct rail, as opposed to spending it only on bus rapid transit right-of-way?  If so, in your opinion, what corridor, or combination of corridors, should be implemented first and why?
Article by Ennis Davis