Commuter Rail: Could Amtrak be the answer?
June 25, 2008
23 comments
Print Article
Is Amtrak the answer we've been looking for to bring commuter rail to Jacksonville and other Florida cities?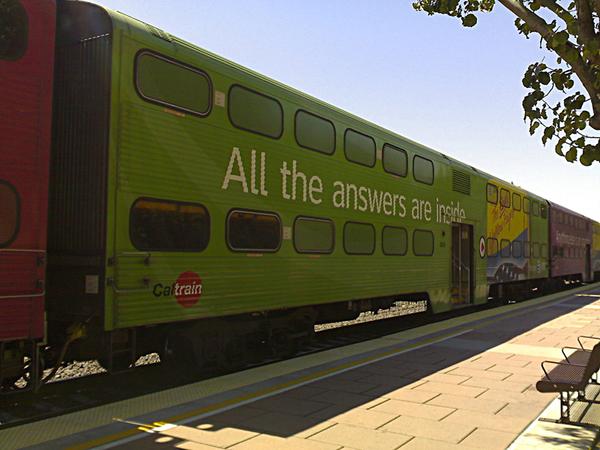 Amtrak to receive nearly $15 billion in additional funding:

WASHINGTON - A nearly $15 billion Amtrak bill passed the House today as lawmakers rallied around an alternative for travelers saddled with soaring gas prices.
The bipartisan bill, which passed by a veto-proof margin of 311-104, would authorize funding for the national passenger railroad over the next five years. Some of the money would go to a program of matching grants to help states set up or expand rail service.
Besides the $14.9 billion provided for Amtrak and intercity rail, an amendment to the bill would authorize $1.5 billion for Washington's Metro transit system over the next 10 years.
http://www.baltimoresun.com/news/nation/bal-amtrak0611,0,2335081.story
 Amtrak wants to expand its Florida services.
A. On May 3, 2001, Amtrak and FEC signed an operating agreement for a new coastline route from Jacksonville to West Palm Beach and Miami.  Two daily round-trip services on FEC's track would have included stops in St. Augustine, Daytona Beach, Titusville, Cocoa/Port Canaveral, Melbourne, Vero Beach, Fort Piece and Stuart.
However, these plans came to a halt when the federal government put the project on hold in 2002 amid concerns about Amtrak's budget and debt structure.  Now with $15 billion coming their way over the next five years, Amtrak is now in position to revisit adding a connection between Jacksonville and Miami.

B. Earlier this year Amtrak representatives met with several Florida officials, including Tampa Mayor Pam Iorio, Senator Paula Dockery, R-Lakeland and State Rep. Dennis Ross, R-Lakeland to discuss the possibility of alternative ways to bring commuter rail to Florida.
"I think that Amtrak is a good option for increased travel between cities," Iorio said last week. "The Amtrak officials indicated that it works very well in other states, although it takes a great deal of state subsidy."
Amtrak trains going to New York and Miami stop at Tampa's Union Station twice a day.  Amtrak officials came to Florida because they regularly visit the major cities in which they operate, but they're also trying to establish more state and local partnerships for commuter and intercity routes, said Todd Stinnis, director of government affairs.
About 20 local and regional government agencies have deals with Amtrak for commuter or intercity rail.
http://www2.tbo.com/content/2008/may/11/me-commuter-rail-still-pursued/
Why partner with Amtrak?
1. Amtrak wants to expand their services in Florida.
2. Partnering with Amtrak provides access to matching federal capital funds, the right of access to rail lines not owned by the State, and proven operating and marketing capabilities.
3. Partnering with Amtrak could be a cheaper and quicker way to get commuter rail up and running in Florida.
4. Partnering with Amtrak could be a way to sidestep the FTA funding process and obstacle course.
5. The return of passenger rail on lines operated by local companies could bring additional jobs to the area and economic growth with the creation of transit oriented developments on land owned by companies such as Flagler Development Group, the development arm of the Florida East Coast Railway.
6. Amtrak operates both commuter rail and intercity rail across the country

Select examples of commuter rail systems operated by partnerships with Amtrak.
MARC Penn Line

Maryland Rail Commuter Service (MARC) is a regional rail system with three lines in the Baltimore-Washington Metropolitan Area.  The rail system is administered by the Maryland Transit Administration (MTA) and is operated under contract with CSX Transportation and Amtrak.
MARC's Penn Line, which carried 19,000 riders a day between Washington, DC and Baltimore is operated by Amtrak employees.  Its known as the fastest commuter rail line in North America with trains operating at speeds as high as 125mph.  With 14 stations, MARC's Penn Line gives rail riders direction connections to Amtrak, Baltimore's Light Rail system, and DC's Metrorail subway.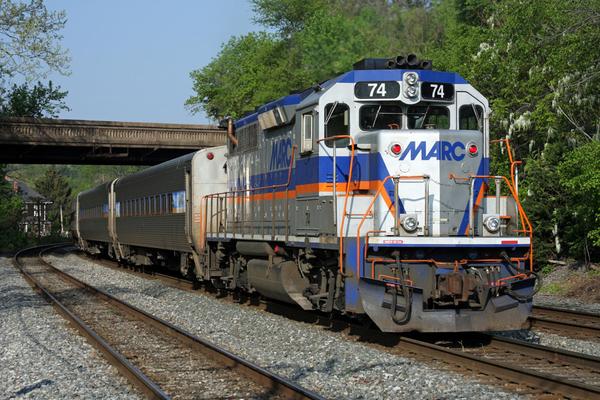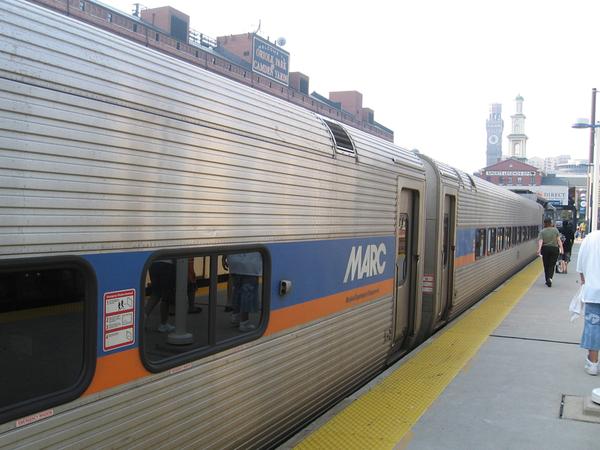 A MARC Penn Line train at Baltimore's Camden Yards Station
Virginia Railway Express


Virginia Railway Express (VRE) carries 15,000 commuters a day between Washington DC's Union Station and Fredericksburg, VA, the southernmost suburb of Washington.  The VRE owns its locomotives and passenger cars, while Amtrak operates the trains with Amtrak employees wearing VRE uniforms.  The railroad lines VRE operates on are owned and maintained by Amtrak, Norfolk Southern and CSX.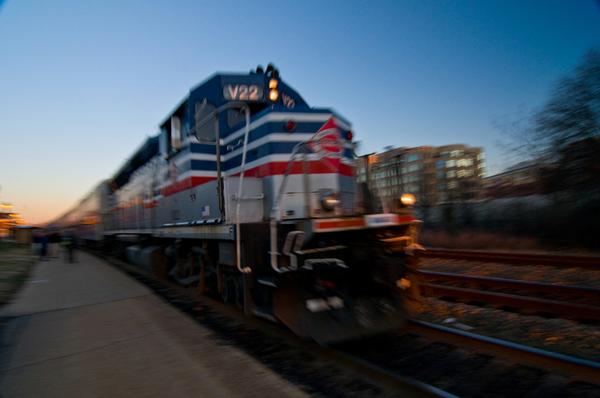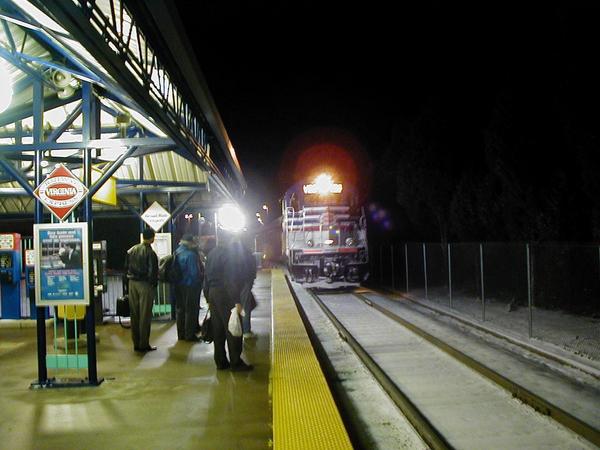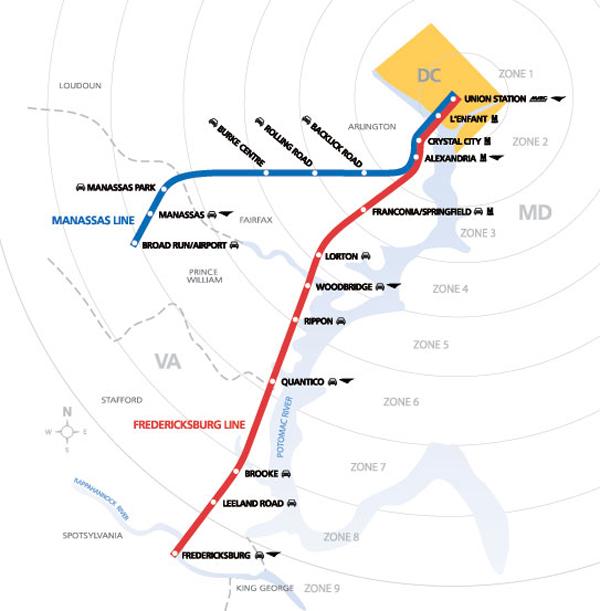 The Fredericksburg line has 12 stations with the four within an eight mile stretch of track between Union Station and Alexandria, VA.
Shore Line East

Shore Line East (SLE) trains are owned and operated by ConnDOT under contract with Amtrak to provide daily rail operations.  SLE commuter operations began in May of 1990 serving seven stations along the 33-mile segment of Amtrak's Northeast Corridor between New Haven and Old Saybrook. ConnDOT extended service to New London in 1996.  Currently, the 11 station commuter rail line averages 2,000 daily riders, running on weekdays only, between New Haven and New London, CT.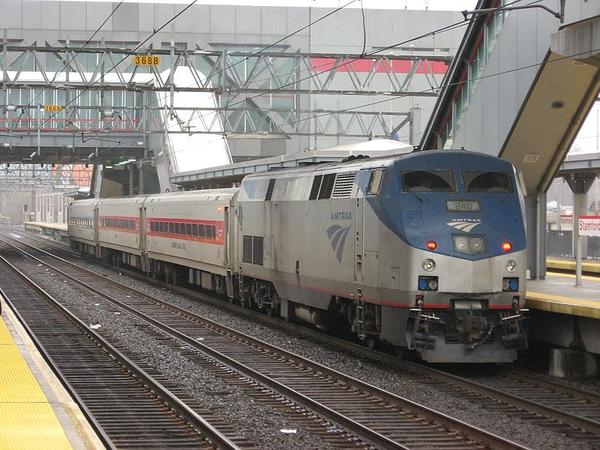 Caltrain

Caltrain, with a daily ridership of 36,000, is a commuter rail service between San Francisco and San Jose that is operated by Amtrak employees.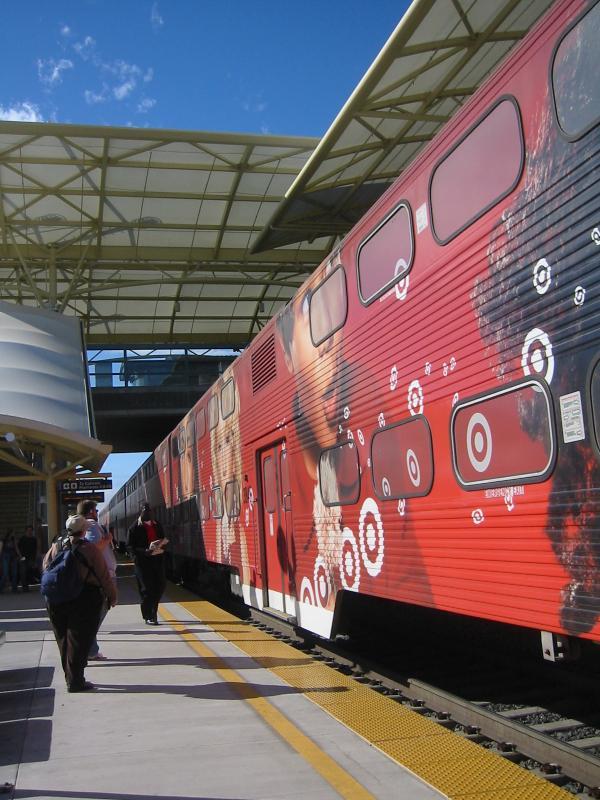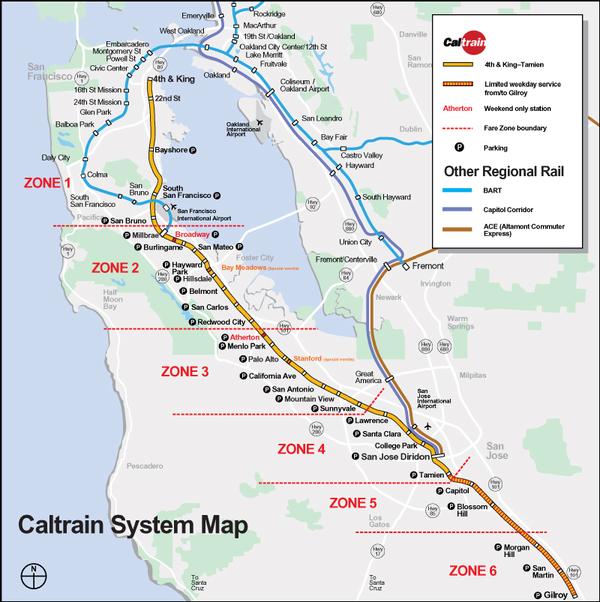 How Can Jacksonville Benefit?
 Several lawmakers and state Department of Transportation officials met with Amtrak representatives in Tallahassee this month. Amtrak Vice President Anne Witt told the group that the agency had no interest in running commuter trains, but it could link several cities' commuter and light rail systems.
Back On Track - Tampa Tribune - June 22, 2008

Judging from their recent conversations with Central Florida officials, Amtrak may not be interested in running a traditional commuter rail service in Jacksonville, yet there are still several ways for Jacksonville to benefit from embracing Amtrak's desire to expand in Florida.  These include:
Funding to relocate Amtrak Station to Downtown:
In the past, there has been concerns that due to funding issues, the proposed first phase of the Jacksonville Transportation Center could move forward without Amtrak on board.  Now that Amtrak will receive $15 billion over the next five years and with their desire to ramp up their Florida service, we now have another potential funding source to bring Amtrak back to the Jacksonville Terminal (Prime Osborn).  Station platforms that would have to built for Amtrak, could also be used as a part of a future commuter rail system.
More Amtrak, means less initial investment in local commuter rail:
If Amtrak runs more trains on the CSX A Line (Jacksonville to Orlando) and the FEC corridor (Jacksonville to Miami), this opens the door for Jacksonville using this system as a viable local commuter link between Downtown and cities such as St. Augustine, Orange Park and Green Cove Springs.  As opposed to funding an extensive commuter rail system that stretches to these communities, local officials could lobby for an additional Amtrak stop or two between Green Cove Springs and St. Augustine for example.
The money saved could enable a starter rail system to get off the ground quickly, that uses Amtrak as a complementing service linking Jacksonville with other First Coast communities.

Jacksonville to St. Augustine, via a Jacksonville to Miami route:
Rail-based passenger service between Jacksonville and St. Augustine ended over 40 years ago.  South Florida's push to return Amtrak service to the FEC corridor could benefit the First Coast by reconnecting another transportation link between St. Augustine and Jacksonville. 
Having a rail based link in place along one potential commuter rail corridor could allow us to properly phase a commuter, streetcar or light rail system here.  For example, if an Amtrak based line could operate enough trains between Jacksonville and Miami, to the point where commuters could benefit from the Jacksonville to St. Augustine link, it could be beneficial to use the S-Line as a part of the first phase to tie in Downtown with the Airport.  With that in mind, investing in only 15 miles of track could connect the Airport, Downtown, the densest neighborhoods of Jacksonville with St. Augustine and Orange Park (if we could lobby for an additional station here).
More Amtrak trains would allow use by commuters:
As mentioned earlier, frequent Amtrak service, with stations in St. Augustine and Orange Park, for example, would allow local residents to also potentially use Amtrak for commuter purposes, thus lessening the initial need for an expansive commuter rail line network, enabling extra transit dollars to fund additional needed elements in a local transportation master plan.
Cities, such as Emeryville, CA, have benefited from frequent Amtrak service by converting their stations into focal points of Transit Oriented Developments.
Transit Oriented Development: Emeryville, CA : http://www.metrojacksonville.com/content/view/259/
As Jacksonville moves forward in its quest for rail-based transit services and funding needed to help jumpstart such a plan, partnering with an entity like Amtrak should be fully explored and their desire to expand in Florida should be taken advantage of.
Article by Ennis Davis