Independence Weekend Events
July 4, 2008
2 comments
Print Article
Check out the Independence Day events in Jacksonville this weekend.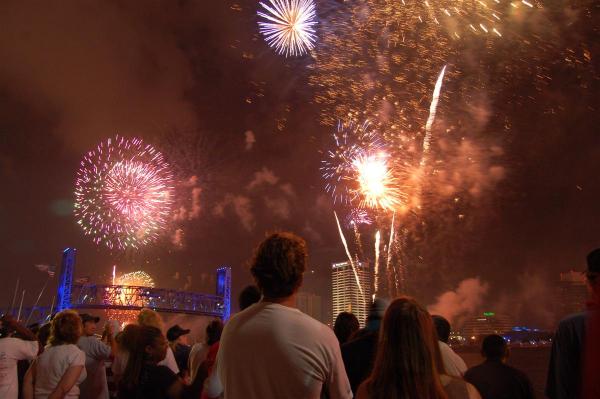 The Jacksonville Landing
July 4, 2008 - Live entertainment in the courtyard all day long!
Live entertainment in the courtyard with Palmetto Cats 11am-3pm; Freeze Frame 3:30pm-7:30pm; Navy Band SE Wind Ensemble 8-9:45pm; City of Jacksonville Skyblast 9:45; and Cloud 9 10:15pm-2am!
Metropolitan Park
Metropolitan Park, Country concert and July 4th celebration (times subject to change) with free admission:
4 p.m.- Gates open
4:30 p.m. - Opening Ceremony
5 p.m. - The Road Hammers
6:20 p.m. - Joe Nichols
8:20 p.m. - John Rich of Big & Rich
9:45 p.m. - Fireworks
Fireworks on the downtown riverfront - 9:45 p.m
Fireworks will be shot from river barges in front of The Jacksonville Landing, Hyatt Regency Hotel and Metropolitan Park as well as strobing on the Main St. Bridge and the Acosta Bridge.
Childrens Events at the Arena
Ice Skating, arts and crafts, face painting, entertainment and interactive games are featured from 10am - 5pm on July 4th and 5th at Veterans Memorial Arena.
 
 Fourth Concert
The 10 piece Palm Court Society Orchestra performs on the deck at the Hyatt Regency Jacksonville Riverfront. Performance starts at 7:30 and ends at 9:30. Tickets are $5 for Hyatt guests and $10 for the public. 

 Kids Kampus Family Freedom Fest
Patriotic crafts, entertainment and children's activities for ages 12 & under.
9:30 a.m. - 2 p.m.
Next to Metropolitan Park
Summer Movie Classics
Yankee Doodle Dandy
2 p.m. July 6th
The Florida Theatre
Know of an interesting event missing from the list? Just add it below in the comments.