When will JTA provide the 'T' in TOD?
April 4, 2008
8 comments
Print Article
Over the last several weeks we have witnessed two Transit Oriented Developments (TODs) announced by the private sector. Interestingly enough, neither development featured JTA's planned Bus Rapid Transit System, despite a decade of planning. Instead, both developers chose to feature potential rail corridors.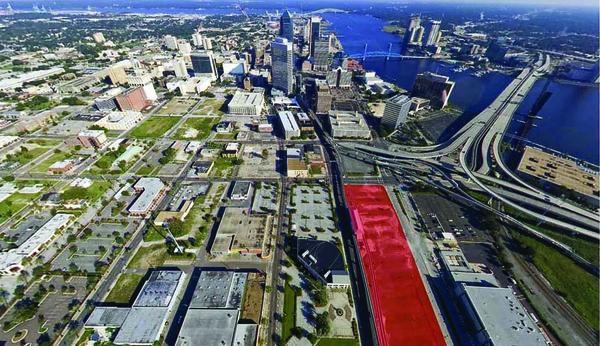 Last week, MetroJacksonville uncovered a potential transit oriented development south of San Marco.  Dubbed Jackson Square, the development spans both side of Phillips Highway, and could potentially be Jacksonville's first true transit oriented development.  It features residential over retail, enclosed parking provided mostly in structures, and a pedestrian friendly development that tries to minimize the sea of parking that most suburban developments feature.  In their site plan, they include a potential Skyway extension, and a potential commuter rail stop along the Florida East Cost Railway line.
In addition to this, the development group for a project called Bay Street Station went before the Downtown Design Review Board (formerly the Design Review Committee). Bay Street Station is proposed as an 18 story mixed use development adjacent to the Prime Osborne Convention Center and the proposed Jacksonville Transportation Center. 
Renderings of this project feature two hotels, a movie theatre, health club, an office building, and a 9 story enclosed parking garage.  In addition, it is designed to interact with the Jefferson Street Skyway Station and renderings also depict a streetcar line in the center of Water Street.  Despite the fact that JTA's BRT plan runs next to the site, it was not incorporated in the renderings.
So that's two developments that are next to the proposed BRT lines, yet they elected to include a Commuter Rail and Streetcar station (which are currently going through JTA feasibility studies), and one of which is proposing a mile long extension of the Skyway, arguably Jacksonville's biggest boondoggle of the 20th century.
The Jackson Square development is particularly interesting, because it highlights a "30 foot JTA Transit Corridor".  This is officially the Southeast BRT line, yet for unknown reasons, Jackson Square neglected to mention Bus Rapid Transit, BRT, Billion Dollar Bus, or any terminology that might associate it with a bus. 
The fact is that everyone, particularly developers, are well aware of the bus stigma, and the last thing they want to do is encumber their flashy new development with a bus station.  Instead, they propose an extension of the $184 million, 2.5 mile skyway , rather than drop a bus station on this map.
Even JTA has admitted that a rail-based system will generate more riders than a BRT system.  We now can see, based on these plans, that private developers tend to agree.  In addition, facts have shown that rail-based systems can be built for far less than JTA's BRT System.  Finally, any transportation expert will tell you that no matter what you are moving (freight or people), rail is by far the most efficient way to do it.
Currently, JTA does not have a cohesive transit plan for the future. While JTA has been working on a bus plan that could cost more than the rail systems in Nashville, Austin, Santa Fe, Minneapolis, and Orlando combined, developers are anxious to construct TOD's and TAD's around potential rail transit solutions that are right under our nose, if we would simply take advantage of our existing assets.