A case study for JTA: San Diego Sprinter Opens
April 10, 2008
11 comments
Print Article
The San Diego Sprinter, the country's newest commuter rail system officially began operations on March 9, 2008.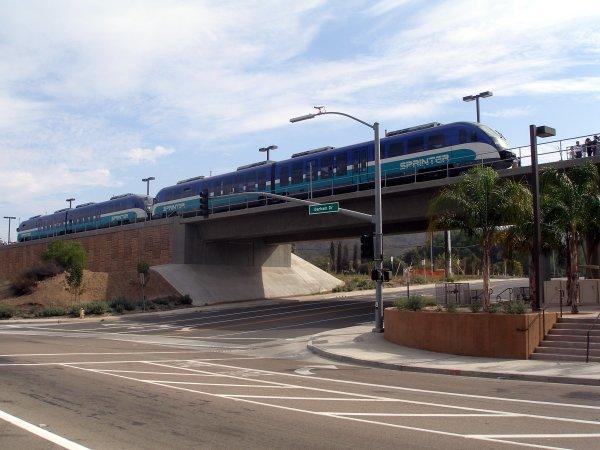 Image A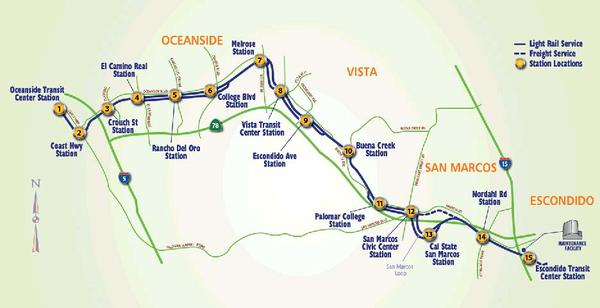 North County Transit District's Sprinter serves as a rail based connection between Oceanside and Escondido, California, two northern suburbs of San Diego.
Image B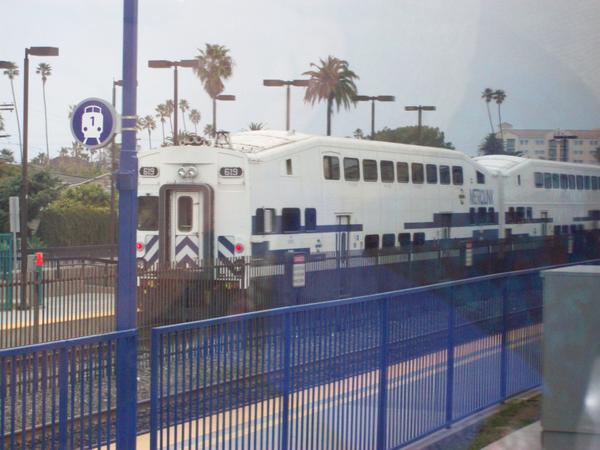 The system is set up to provide light rail type service; moving transit riders from Escondido to the Oceanside Transit Center.  At the transit center, passengers can transfer to Amtrak and three commuter rail lines to gain access to either Los Angeles or San Diego.
Image C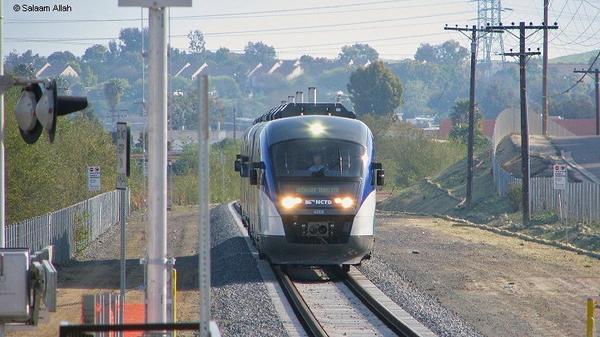 The 22 mile Sprinter route contains 15 stations.  The project's construction involved pulling up the old rail line, raising the grade, and then laying new track with concrete ties. 
Image D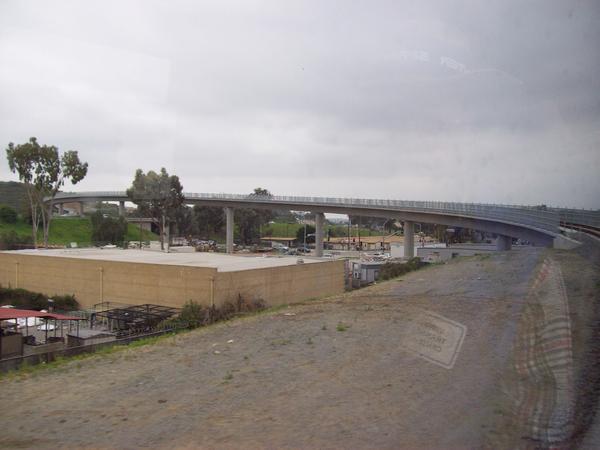 $25 million was also spent to construct a new 1.7 mile track segment to serve California State University San Marcos.  The Sprinter allows university students to reach the Escondido Transit Center in ten minutes as opposed to the 40 minute bus ride they had become accustomed too.   The final price tag came in overbudget at $21.7 million per mile.  By comparison, Jacksonville's BRT proposal would cost local taxpayers at least $5 MORE million per mile if plans are not altered.
Image E
Because freight rail traffic uses the same railroad tracks, station platforms had to be set back far enough to allow BNSF freight locomotives to pass through.
Image F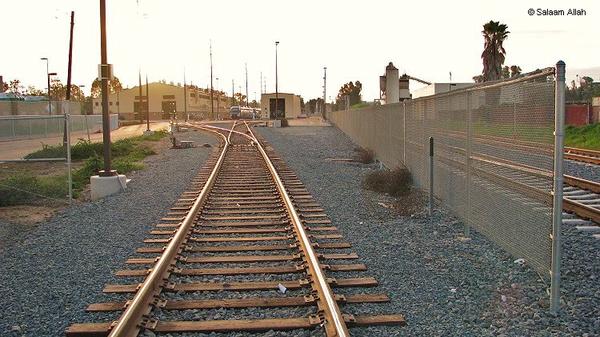 In this image, the commuter rail operations & maintenance center branches off the main line, which is lined with industrial facilities requiring freight rail services.
Image G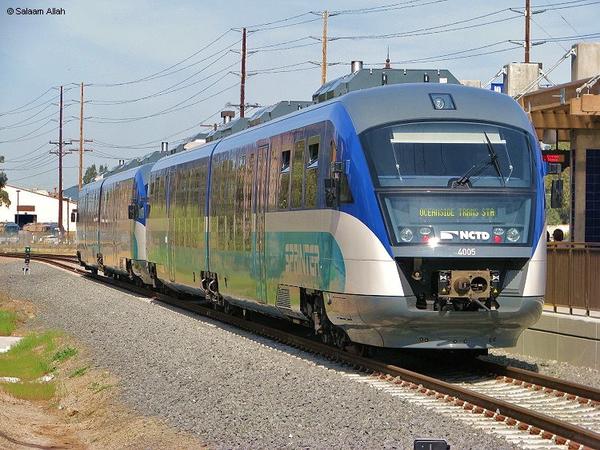 Sprinter service is operated with 12 married pairs of Siemens VT642 Desiro-class diesel multiple units (DMU) from Germany.  Trains run every 30 minutes on weekdays and every hour on weekends.
As of March 20, 2008, the commuter rail system had attracted an average of 7,836 riders a day.  Transit officials hope to have 11,600 daily riders by the end of the year.  Officials also report that the Sprinter is arriving on schedule at its stations 98 percent of the time and that the average passenger trip on the line is 10 miles.  This means most riders are traveling from suburbs to suburbs, instead of from a suburb to downtown.
http://www.northcountytimes.com/articles/2008/03/21/

As we move forward with a commuter rail study, here are a few key notes for JTA and their consultants to pay attention to.
Image J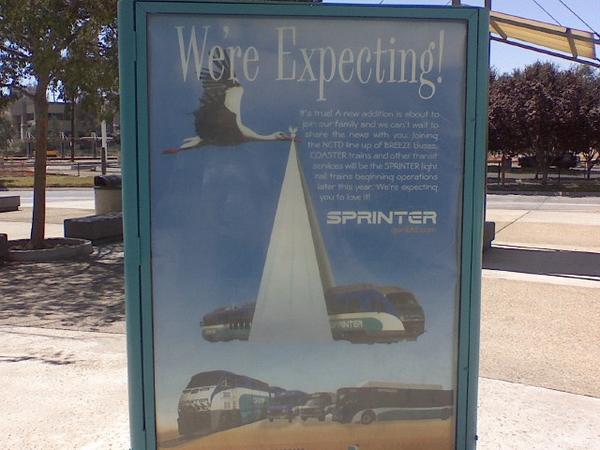 1. Suburb-to-Suburb Commuter Rail
The San Diego Sprinter is another commuter rail project that defies commonly accepted traditional commuter rail logic.  Most assume that commuter rail projects must directly connect suburbs to vibrant downtowns.  This system is one of a growing amount that are coming on line that do not.  This strengthens Metro Jacksonville's notion that every system is different and should be planned to meet the needs of the community it serves, not according to how we think traditional commuter rail should be laid out.
2. Freight Rail as a Dedicated Funding Source
The Sprinter runs on existing freight railroad tracks that are owned by North County Transit District.  With trackage upgrade and scheduling that allows both commuter and freight rail to use the track infrastructure, as more industrial companies use the line, those services bring in additional income needed to keep the commuter rail services running.

3.  22 miles / 15 stations (stations spaced an average of 1.5 miles apart)
The Sprinter is one more commuter rail based system that has a series of stations spaced similar to what most would associate with light rail, as opposed to traditional commuter rail.  While this does not mean we must space stations a mile apart in Jacksonville, it does disprove the notion that commuter rail can not serve areas of the urban core as well as the suburbs.

4. Integrated Transit and Transferring
The Sprinter connects the suburb of Escondido to a suburban transit center in Oceanside.  At this point, Sprinter riders can transfer to the Coaster to get to San Diego, Metrolink to get to Orange County, and Amtrak's Pacific Surfliner. 
These rail lines eventually feed riders into light rail lines in San Diego and heavy rail lines in Los Angeles.  For too long, we've attempted to design a busway system that competes with the skyway for riders because of the fear of transferring between different modes of transit.  However, it is illogical to believe we can design a mass transit network for a city as spread out as Jacksonville, that does not require riders to transfer at some point to access certain areas of town.
JTA's fears of transferring can be eliminated with proper scheduling and timing of different transit modes to ensure that riders won't have to wait prolonged periods of times when switching transportation modes.

5. Cheaper than Dedicated Busways
Funded by a combination of federal, state, and local funds, the 22 mile Sprinter project came in over-budget at $478 million, or $21.7 million per mile.  This cost included removing all existing track, raising the grade of the railbed, laying new track with concrete ties, and constructing a new 1.7 mile loop to serve California State University San Marcos. 
Despite the significant initial investment (compared to Austin's Metrorail or Nashville's Music City Star), this project was still cheaper to get up and running than the anticipated $26 million per mile dedicated busway system paralleling rail corridors that has been proposed for Jacksonville.

 
For more information on Metro Jacksonville's commuter rail vision for Jacksonville visit: http://www.metrojacksonville.com/content/view/663/116/
images provided by:
LauraQ68 (images B,D,H,I), Wlindley (cover image), Eric Harmatz (image J) and Salaam Allah (images C,E,F,G) at www.flickr.com
 
Article written by Ennis A. Davis