Bus Rapid Tragedy Strikes Again
May 11, 2007
10 comments
Print Article
In 1997, a new 3-mile busway loop known as the "LYMMO" was introduced to the streets of downtown Orlando. The LYMMO serves as a free downtown people mover or shuttle service running on a continuous loop throughout the central business district. For whatever reason, consultants continue to promote this system as good example of what Adams could resemble if they had their way with it. Today, Metro Jacksonville will take you on a visual tour of this system to show why Bus Rapid Tragedy (BRT) planners and consultants continue to remain on the wrong track when it comes to this system and its negative impact on the downtown core.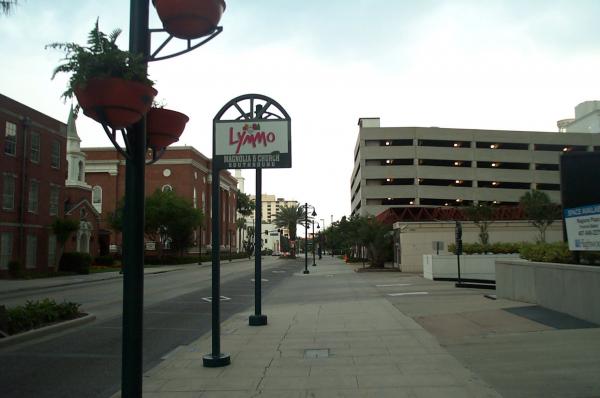 LYMMO shuttle bus route map 
LYMMO Route Photo Tour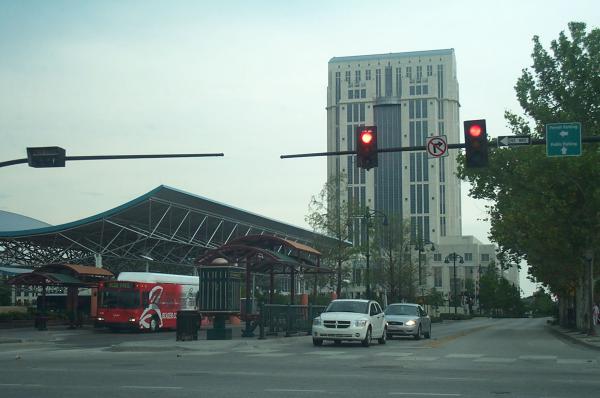 The Lymmo pulls into the new bus terminal at Livingston Street and I-4.  The Orange County Courthouse can be seen in the background.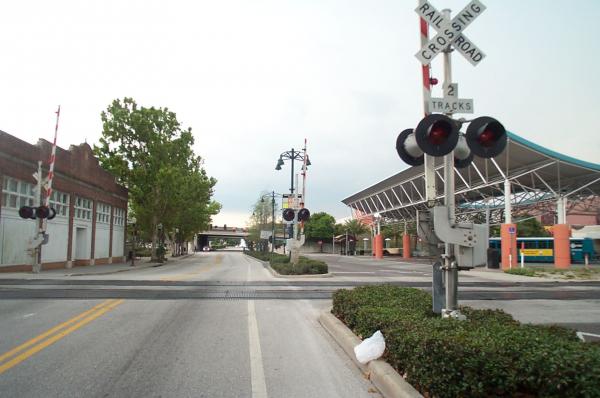 Despite the publicly well maintained landscape, the Livingston Street corridor is void of street level retail.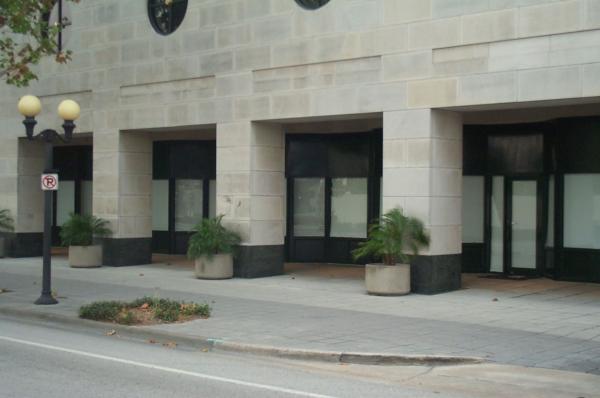 This doesn't mean that retail space isn't available.  This is the base of the Bank of America Tower, facing Livingston.  Despite the Lymmo's presence, the retail spots still remain.... dead.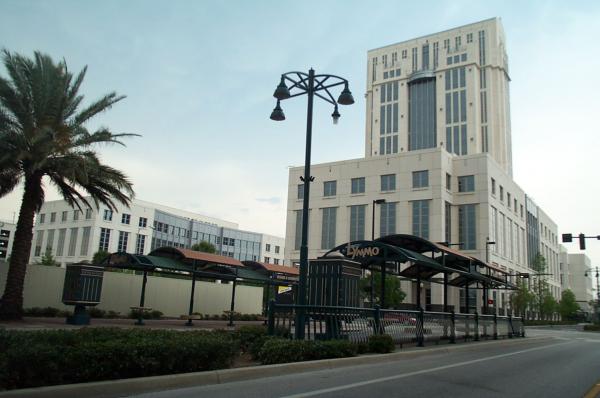 Lymmo stop at the Orange County Courthouse on Livingston Street.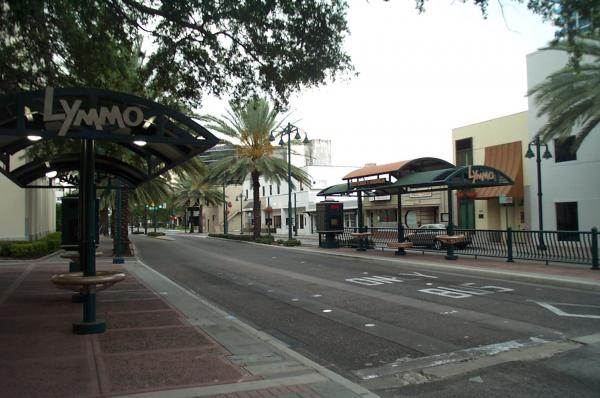 South of the courthouse, the Lymmo route consumes Magnolia Avenue, on its way to the heart of downtown Orlando.  This stop is located at Magnolia and Jefferson.  Once again, despite the landscaping, you'll find little to no active retail on this corridor as well.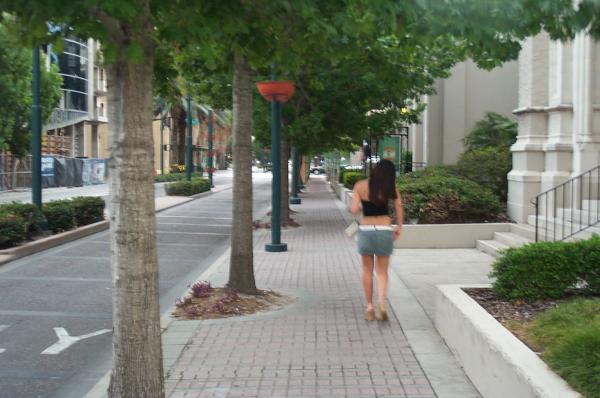 Magnolia Street Lymmo route, just south of Jefferson Street.  One thing we can say about Mickey's city is that the mouse makes sure the downtown area is clean, well maintained and presentable.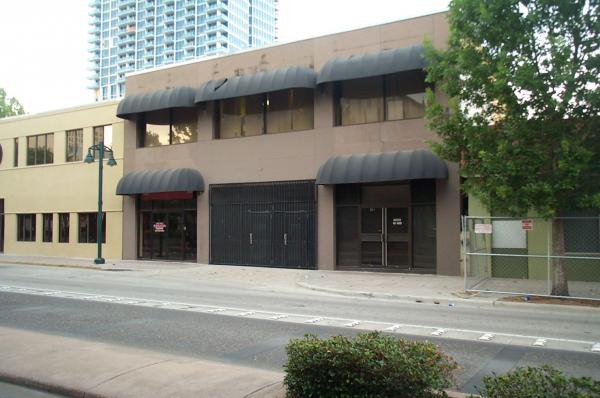 Vacant and under utilized space along the Magnolia transitway, just north of Washington Street.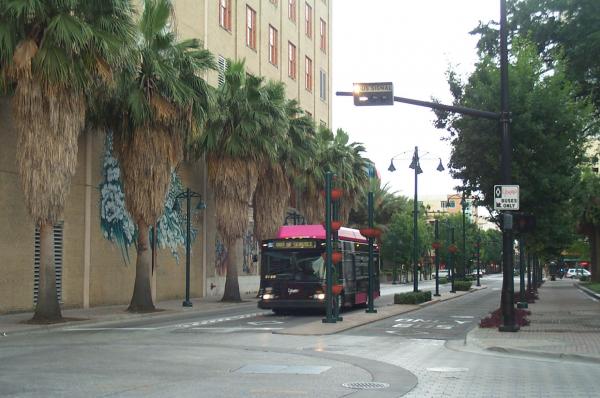 Here comes a mostly empty Lymmo shuttle bus, at the corner of Magnolia and Washington Street.  Notice how the large structure on the left meets the sidewalk.  The picture above is pretty similar to Tampa's Marion Street transitway shown below.  Both are void of people and street retail.  However, Orlando's does contain potted plants, while in Tampa, they prefer not to spend money in areas where pedestrians don't go.
After seeing these images of both systems in our sister Florida cities, what makes any sane person believe that JTA's transitway plans will be any different or achieve better results?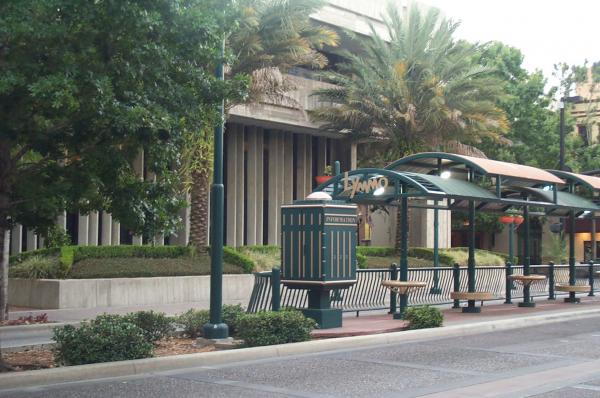 Going back to Orlando, this image captures the Lymmo stop in front of the public library at Magnolia and Central.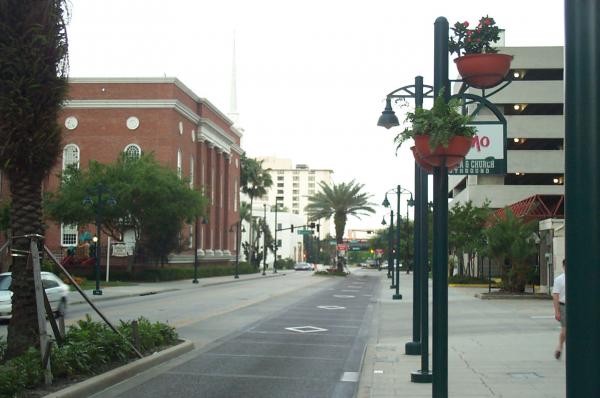 Magnolia, at Jackson Street.  Once again is nicely landscaped, but void of pedestrian traffic or interesting street level shops and businesses.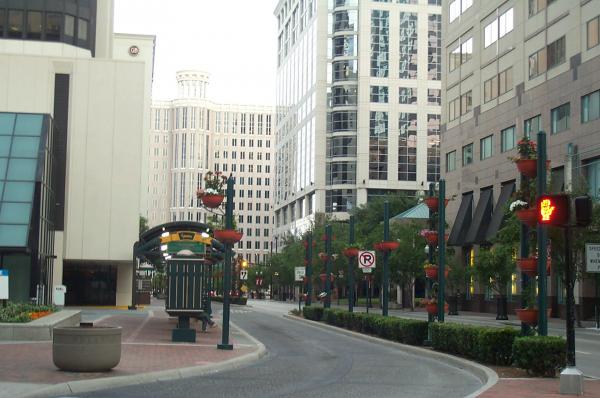 While north Orange Avenue is full of activity, the area served by the Lymmo remains quiet during weeknights and weekends. Once again, it's no coincidence that there is limited street retail along this shuttle bus corridor as well.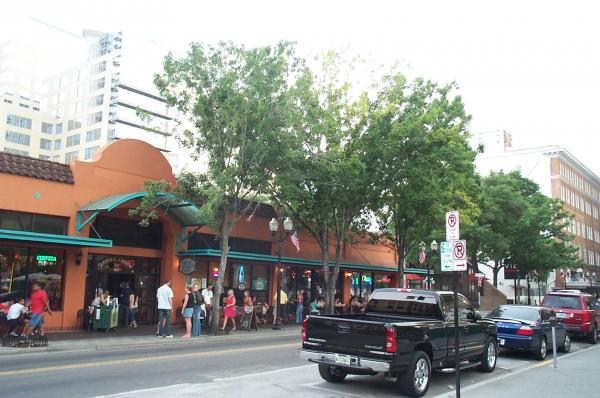 One would say downtown Orlando looks like a ghost town, however this is not true.  Take a walk on a street going "away" from the Lymmo routes and you'll find shops, restaurants, and people.  This photo, on Central, near the Magnolia Avenue Lymmo crossing, is the only area along the shuttle bus route with active street life.  However, it's not because of the Lymmo.  Central is the spine that connects the heart of downtown with Lake Eola and the vibrant Thorton Park district, to the east.  Orange Avenue and Wall Street (a spot full of bars, restaurants and nightclubs) is about half a block west of this location.
What does this prove?
Considering Adams Street is our main downtown corridor lined with historic buildings, retail, restaurants, art galleries, and pedestrian activity, it proves that the idea of transforming it into a transit mall for buses is a bad one.
It's no secret that Downtown Orlando has twice as much activity and street level energy as Downtown Jacksonville.  However, isn't it strange that this activity avoids the Lymmo's route like the plague, despite the lush landscaping?
Returning to Jacksonville, Adams Street is a place lined with pedestrian activity and businesses at street level.  Compared to downtown Orlando, Adams would be our Orange Avenue, not Livingston or Magnolia.  If you had to compare a downtown Jacksonville street with the ones that the Lymmo uses, it would be a secondary and seldom used street such as Beaver.
Visually, the Lymmo has every thing going for it, yet still fails to attract street level retail and vibrancy.  Jacksonville's leaders and JTA's consultants and BRT planners should stop being stubborn and seriously take note, before its too late. 
Further sinking the concept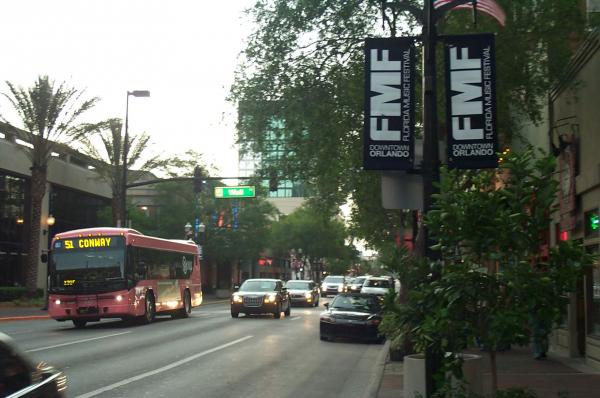 Before we end this article, it should be made known that Orlando's Lymmo route is a loop system CLOSED OFF to regular city bus traffic.  Instead, it's served by a slow moving free shuttle bus.  This system would be more comparable to our existing downtown trolley buses, than the express city bus system some at JTA are parading around as the best thing to happen to transit since the invention of airplanes.  
So where does regular city bus traffic run?  How about on the main street, mixed in with regular vehicular traffic.  If this works for Orlando, a metro nearly twice our size, then why do consultants continue to claim that it's impossible to run downtown's east-west bus routes on State & Union? 
We don't need specialized bus lanes and $20 million in transit money to do this.  All we need is drivers to take their buses down those streets.  For those who want to access the heart of downtown, transfer to the skyway and trolleys at JTA's existing FCCJ Rosa Parks station.