Retail-less parking garage proposed for Downtown
June 6, 2012
248 comments
Print Article
Jacksonville's desire to revitalize downtown is about to be put to the test. The design of a proposed parking garage by Parador Partners threatens to create another permanent dead zone of pedestrian activity in the heart of downtown.
Project Description



The proposed garage site is located at the intersection of Bay and Hogan Streets.

Parador has an existing redevelopment agreement with the City of Jacksonville to construct a parking garage that has at least 500 spaces on this high profile downtown property. $3.5 million will be provided by the City of Jacksonville towards the project's costs in exchange for 200 daily and 375 night and weekend public spaces on a first come first serve basis to benefit the Jacksonville Landing and other surrounding commercial businesses.



The Bay (top) and Hogan (bottom) Street elevations.

As a result, at Thursday's Downtown Development Review Board (DDRB) meeting, Parador will request conceptual approval for a proposed six level 600 space parking garage located at the southeast quadrant of Bay and Hogan Streets. The proposed project will provide supplemental parking for the SunTrust Tower and Jacksonville Landing developments.

The conceptual review information indicates that the project will need to address possible deviations to the development guidelines prior to DDRB final review and approval which include the following:

1. Deviation from guidelines to avoid providing an entrance to Bay Street.

2. Deviation from guidelines to not provide required 50% retail for frontage on Bay and Hogan Streets.

3. Deviation from guidelines to avoid required streetscape standards for frontage on Bay and Hogan Streets.



The Independent Drive (top) and Suntrust Tower (bottom) elevations. The Independent Drive elevation will be a solid wall despite facing the Landing, Enterprise Center, and the Times-Union Center of the Performing Arts.



This project was the proposed site of Cameron Kuhn's failed Riverwatch Tower and garage in 2007.


Sister Cities Plaza



The project fails to interact with Sister Cities Plaza (the triangular space) or the land uses surrounding it.

Directly facing the Jacksonville Landing, Omni Hotel, SunTrust Tower and Times-Union Center for the Performing Arts, Sister Cities Plaza is located at what could become the most visible and lively intersection along Jacksonville's downtown waterfront. Unfortunately, the garage project project does not take advantage of this frontage by completely turning its back to the intersection. As illustrated, it fails to bring pedestrian scale activity to a high profile downtown intersection.


Bay Street



Ground floor parking stalls can be seen along Bay Street in this perspective despite the surrounding buildings having some type of pedestrian scale interaction with the sidewalks around them.

Bay Street is a major thoroughfare of pedestrian scale activity in downtown. Every existing building on this block currently interacts with the pedestrian at street level. Street level retail would complete this block as a part of an infill project, making it a major coup for generating additional pedestrian scale activity with the heart of the core. For some strange reason, this project does not provide this.


Street Level Retail



Project site plan.

The positive element new construction brings to downtown is the potential addition of leasable street level retail space that interacts with the sidewalk. This type of use and interaction with the sidewalk naturally encourages more pedestrian traffic, which creates additional retail opportunities. Unfortunately, the proposed project provides no retail space, despite the city's design guidelines requiring that parking garages in the Central Civic Core provide a minimum of 50% of the associated street frontages be developed with ground floor retail.


Good Garage Examples

If approved as proposed, this project will join a laundry list of other pedestrian hostile structures that have been allowed to be built in downtown, making the effort to achieve the vibrancy leaders claim they want to see, more difficult to become reality. A look around the country provides us with more than enough good examples of garage architecture designed to properly fit within the urban environment surrounding them. Below are five examples of various garages in peer cities with more vibrant downtowns.



There is nothing special about the design of this Orlando parking garage (above) but one would never know it was a parking garage at street level (below).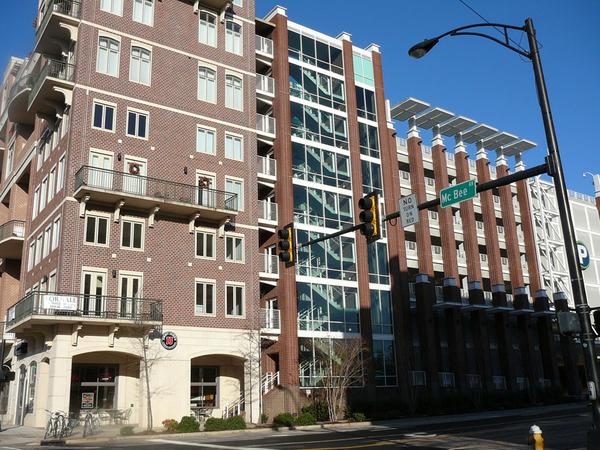 The Spring Street Garage in downtown Greenville, SC was built with a setback for future retail and residential development between the garage and the sidewalk. That setback quickly became a 30 unit condominium project called The Bookends.




A recently constructed parking garage in Kansas City's Crossroads District featuring street level retail.




This garage is located in Tampa's Hyde Park Village. Hyde Park is Tampa's version of Riverside.



Just around the corner, the BB&T Garage on West Forsyth Street features ground level retail space.





Rendering of project at the intersection of Bay and Hogan Streets.

As conceived, the Parador parking garage design and site layout is completely underwhelming product and a slap in the face to the concept of downtown becoming a vibrant walkable urban center again. Metro Jacksonville encourages the DDRB to send this project back to the drawing board.

Article by Ennis Davis