Amtrak: Flagler Line Will Happen
January 9, 2012
84 comments
Print Article
With $118 million committed in FDOT's work program for their 2013 budget year, plans for the return of passenger rail between Jacksonville and Miami are alive and well.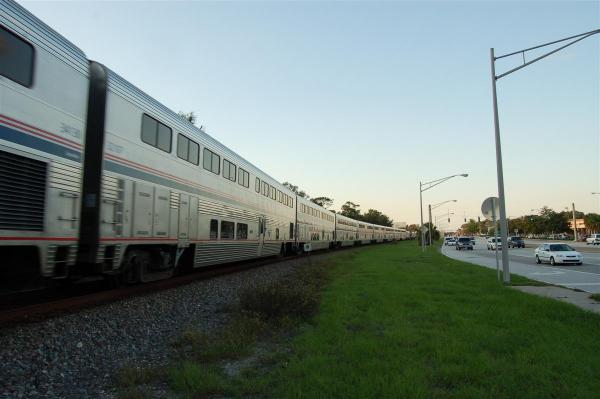 Having an opportunity to provide rail service to 8 million potential passengers on Florida's East Coast, on January 5, 2012 in Cocoa, FL, Amtrak informed FEC passenger rail supporters that the project will become reality.

"This is a new year, and it's going to happen. We are committed to making this happen," Michael Latiff, Amtrak's senior officer for station programming and planning.

Now named after FEC's founder, Henry Flagler, the 326-mile "Flagler Line," will include new train stations between Jacksonville and Miami, in St. Augustine, Daytona Beach, Titusville, Cocoa/Rockledge, Melbourne, Vero Beach, Fort Pierce, and Stuart. Initial plans call for two trains per day in each direction with the potential to expand to corridor service (a hybrid of intercity and commuter rail) in future phases.



Cities like St. Augustine have been busy sketching up plans for the return of passenger rail in their community.

In preparation, several cities are moving forward with transit oriented development planning around their proposed stations. For example, the City of Cocoa is planning a "Savannah-style" square that will link the station to Cocoa Village and serve as a transfer point for Port Canaveral cruise passengers. Melbourne officials envision their station potentially housing a visitor's information center. Others are working to update their comprehensive plans and attempting to form public/private partnerships with businesses that could open at station sites.



When Will Service Begin?



Transit oriented development at an Amtrak station in San Diego, CA. The Flagler Line will present the entire east coast of Florida with new transit oriented development opportunities.

Although $118 million has been budgeted for the project in FDOT's 2013 work program, the Florida Legislature must develop a plan with Amtrak, FDOT, and FEC resolving liability issues. While trains won't run in 2012, Fred Wise, FDOT's Rail Manager believes this might be the year the Legislature approves liability protection for Amtrak, paving the way for trains to return.



Tackling Liability



Repurposing Tri-Rail equipment could be a potential method to resolve liability concerns while also being a revenue source through advertising.

It has been suggested to Metro Jacksonville from a credible source that Florida needs to take notes from North Carolina and Connecticut, when it comes to passenger rail. This source suggests that if the State purchases its own equipment, a huge portion of the liability protection issue will be eliminated and the State will also have the opportunity to generate advertising revenue. To reduce capital cost associated with new equipment, the option exists to purchase used equipment such as eleven cars (SPV2000) owned by the Connecticut Department of Transportation that are for sale. In addition, as Tri-Rail purchases new rolling stock, existing rolling stock could be initially used for the Flagler Line. Furthermore, it is recommended to initially make the connection to the South Florida corridor along an existing rail line at Pompano Beach, instead of constructing a new line in West Palm Beach, which would save $50 million. If these things are done, it's possible that initial service could be up and running as early as February 2013.



Where's Jacksonville?



An abandoned passenger rail platform at the Jacksonville Terminal (Prime Osborn Convention Center).

One of the most puzzling issues with the planning and promotion of the Flagler Line is the silence of Jacksonville's officials on this project. With trains planned to be split at Jacksonville, Florida's largest city stands to economically benefit the most by serving as a hub for a project expected to create 2,100 construction jobs and 6,300 jobs through 2025. The best thing we can do as a community is to become larger cheerleaders for this economic stimulant. In addition, if Jacksonville is serious about revitalizing downtown and turning the Prime Osborn into a transportation center, relocating Amtrak back downtown should become a higher priority.

Sources: http://www.floridatoday.com/article/20120106/NEWS01/301060024/Brevard-train-service-talk-still-track

http://m.tcpalm.com/news/2012/jan/05/amtrak-liability-protection-needed-before-could/

Article by Ennis Davis