Riverside Park Development Proposed For Brooklyn
March 1, 2012
113 comments
Print Article
Today, the Downtown Development Review Board will consider a request for conceptual approval of Riverside Park by the Lincoln Property Company. Bounded by Park, Leila, Jackson, and Magnolia Streets in Brooklyn, Riverside Park will be a 297 unit high density multi-family rental development adjacent to the JTA's skyway maintenance and operations center. Metro Jacksonville would like for the DDRB and the Lincoln Property Company to consider methods to better integrate the development into the surrounding urban community.
Riverside Park Development Team

The Riverside Park development team consists of Lincoln Property Company, Pope & Land Enterprises, and Niles Bolton Associates.





Project Location

Riverside Park will be the first phase of Pope & Land Enterprises' acquisition of the failed Brooklyn Park project, proposed by Miles Development in 2007. Located at the intersection of Riverside Avenue and Jackson Street, phase II is expected to be an infill office development.





Riverside Park Site Plan

The proposed 297 unit multi-family development would be a gated rental community featuring 10 two story carriage houses lining Park Street. The development's main entrance would be from Riverside Avenue.





Riverside Park Conceptual Perspective Renderings

The proposed development would feature residential buildings in the center of the site with surface parking along Jackson Street. Carriage houses would form an urban street edge along Park Street. The interior of the site would not have public access.



Park Street is the street at the top of this image.



This view is of Park Street looking towards Riverside Avenue.



This view looks at the development from Riverside Avenue.



This is a bird's eye view from Park Street looking south.



Park Street perspectives.


Proposed Development Style

The following slides capture the development style the Lincoln Property Company envisions for Riverside Park.





Altering The Street Grid

As a part of the Riverside Park proposal, Brooklyn's street grid would be altered.





Project Highlights






Neighborhood Integration: Something To Consider

Although Riverside Park is a badly needed infill residential project for Jacksonville's urban core, more attention should be paid to integrating this development in with the surrounding Brooklyn neighborhood. This can be accomplished through good urban design without an additional cost to the developer. The five examples below represent where infill residential projects, similar to Riverside Park, have been properly integrated into the surrounding urban core environment. Several manage to maintain a vibrant street edge, while also accommodating surface parking, which is significantly cheaper for the developer than structured parking facilities.


Auburn Pointe - Atlanta, GA




Auburn Pointe is a multi-phase, multi-income community featuring 300 multi-family rental units, 48 affordable and market priced for-sale homes, and 324 senior residences in an economically challenged neighborhood, just outside of Atlanta.


Taking its name from historic Auburn Avenue and the 'Sweet Auburn' district of Atlanta, Auburn Pointe demonstrates the successful revival of one of Atlanta's most beloved African American communities. Using its Renaissance 20/20 platform, Integral is working with residents, the Atlanta Housing Authority, city leaders and the private sector to transform an outdated economically challenged inner-city neighborhood into a vibrant multigenerational community with distinctive and diverse architecture that celebrates the area's culture and history.
http://www.integral-online.com/realEstateDevelopmentPortfolio.php?id=2&navType=nt2&propID=87
Madison at SoHo - Tampa, FL
Madison at SoHo is a 128 unit multifamily development in South Tampa's Hyde Park/SoHo district.
Villages at Sailboat Bend - Fort Lauderdale, FL
Lennar Homes' The Villages at Sailboat Bend is a 250 unit multifamily development in a revitalizing community a mile west of downtown Fort Lauderdale.
Seigle Point - Charlotte, NC
Seigle Point is a 204-unit HOPE VI Mixed-Income development adjacent to Uptown Charlotte.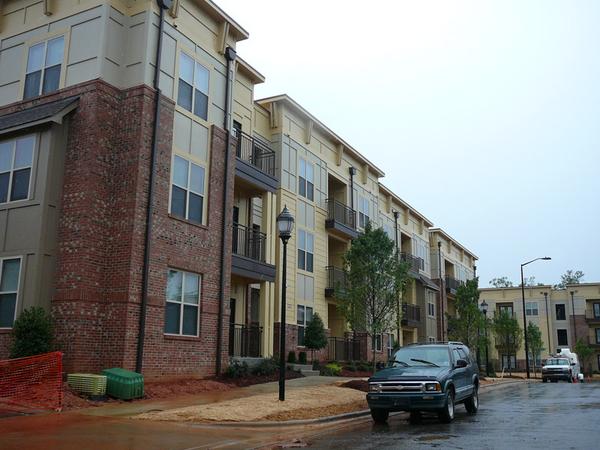 Gables State Thomas - Dallas, TX
The Gables State Thomas townhomes are one of several infill projects in Uptown Dallas that are seamlessly integrated into the existing street grid.
The examples above indicate that it should be possible to incorporate slight design changes into the Riverside Park plan that will result in a quality development for Lincoln Properties, downtown, and the surrounding community. Metro Jacksonville looks forward to the successful implementation of a well rounded quality product.
Article by Ennis Davis