Inside The Dr. Horace Drew Residence
August 3, 2011
128 comments
Print Article
Sited prominently on a corner of Third Street and Boulevard near Hogans Creek, this exotic residence was originally the home of Dr. Horace R. Drew, a physician and grandson of Jacksonville pioneer Columbus Drew.
About the Dr. Horace Drew Residence




This highly visible Springfield landmark exhibits one of the most inventive uses of concrete blocks as a building material in Jacksonville. Both smooth and ashlar-finished blocks are used, and many of the blocks were cast at odd angles, such as on the hexagonal columns, the tower, and the projecting bays. The eclectic design borrows elements from the Tudor Revival, Queen Anne, and Spanish Colonial Revival styles. Its base is elevated more than adjacent residences, adding to the vertical projection of the multi-planed roofline, gables, and three-story tower. The composition is enriched by harmonious colors found in the gables with half-timbering over stucco, the clay tile roof, and concrete walls.

Source: Jacksonville's Architectural Heritage




Dr. Horace Drew was the owner of downtown's H. & W.B. Drew Company. H. & W.B. Drew's printing operations were located on West Bay Street where the Independent Square building currently stands.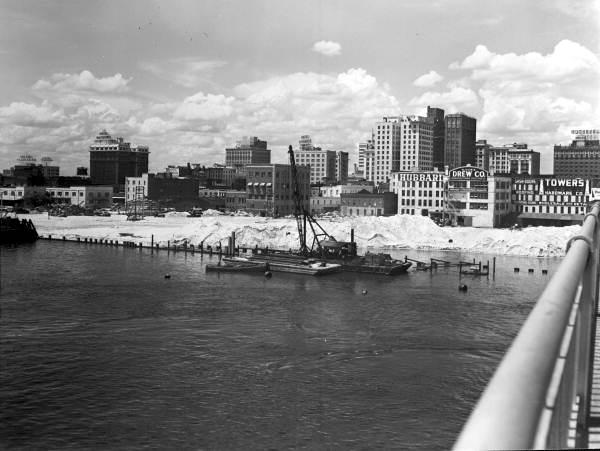 The Drew Company's building can be seen adjacent to the Main Street Bridge in this 1950s era aerial. Image courtesy of Florida State Archives.


The H. & W. B. Drew Company was a historic Jacksonville, Florida, printing company. The founder, Columbus Drew, was born to British parents, Solomon Drew and Elizabeth Glyuas, on January 6, 1820, in Washington, D. C. His early education and training was in journalism and printing. In 1844, he married Marietta Hume Robinson of Richmond, Virginia. Their first son, Columbus, was born on December 3, 1847. Drew brought his family to Jacksonville in 1848 to establish a newspaper, "The Florida Republican." The newspaper's plant was destroyed in 1854, and one year later, Drew opened the Columbus Drew Stationery Printing Company at the corner of Bay and Newnan Streets. The business was moved in a few years to 60 West Bay and later to 49 West Bay.

During the Civil War, Drew served in the Confederate Treasury Dept. in Richmond, Virginia. For a few months in 1862, his eldest son living at home, Horace, oversaw the business for his father until the family was forced to leave Jacksonville, due to war skirmishes, for Lake City. After the war, Drew returned to Jacksonville and began the rebuilding of his business, joined by son Horace. In 1876, upon his appointment to the position of Florida Comptroller by Governor George Drew (no relation), Columbus Drew sold the business to his son. At this time, Drew brothers William B., John Graeme and Julius joined Horace in a new printing plant on West Bay Street; the firm was named then "H. Drew" or "Horace Drew." Dr. Columbus Drew, a fifth brother, did not join the business.

In 1886, brother William became a full partner and the name of the firm was changed to "H. Drew and Brother," and operating on 49-51 West Bay Street. Two other major family events occurred during this time period: Horace Drew married Gertrude Fairbanks, the daughter of Major George Rainsford Fairbanks, and in 1891, Columbus Drew died and was buried beside his wife in Jacksonville's Old City Cemetery.

In 1893, the company was incorporated as "H. & W. B. Drew Company, Inc." Several years later, the Great Jacksonville Fire of 1901 destroyed the company's plant. A new two story building was soon erected at 45-47 West Bay Street. Horace Drew continued as Company President until his death in 1926. The business remained primarily in family ownership for most of the twentieth century. As a result, the H. & W. B. Drew Company was known as the "oldest family business" extant in Jacksonville. It provided engraved stationery and office supplies to professionals throughout the country. In 1997, Wells Legal Supply, Inc. acquired the Company to form The Wells & Drew Companies.
Source: University of Florida's Drew Family Collection.
The Drew Company's Building on West Bay Street was completed one year after the Great Fire (1902). It was demolished in 1971 to make way for what is now Jacksonville's second tallest building. All that remains of it today are two cast-stone lion head building ornaments on the corner of Bay & Main Streets. Image courtesty of Florida State Archives.
This is all that remains of Dr. Horace Drew's printing company at its original downtown location.Photos by nomeus via www.flurbex.comArticle by Ennis Davis