Nocatee Development Slowed by Recession
January 7, 2010
66 comments
Print Article
We've heard enough about downtown's struggles during this economic recession. A trip to Nocatee shows the recession has had an impact on suburban development as well.
About Nocatee


Nocatee, Florida (pronounced ˈnäk-ˈā-ˈtē) is an unincorporated master-planned community in St. Johns County and the extreme southeast corner of Duval County (the city of Jacksonville), Florida, United States.

Nocatee is an approved Development of Regional Impact (DRI) under Section 380.06 of the Florida Statutes. The mixed used development is situated on approximately 13,323 acres, which 11,332 acres are located in northeastern St. Johns County and approximately 1,991 acres are located in southeastern Jacksonville, Florida.
Nocatee is a 15,000-acre development is located between the Intracoastal waterway and U.S. 1 approximately halfway between Jacksonville and Saint Augustine.

excerpt of an article in the 9/09 edition of the Florida Times Union Shorelines section

"Nocatee is a master-planned town west of Ponte Vedra Beach with about 400 of a planned 13,000 homes built so far. The development has sections set aside for commercial offices, schools, nature reserves, neighborhood parks and greenways, which are protected wildlife corridors."
http://en.wikipedia.org/wiki/Nocatee,_St._Johns_County,_Florida
Nocatee Town Center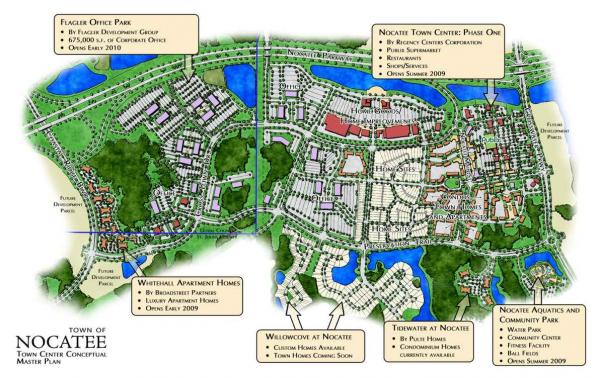 The Nocatee Town Center will eventually serve as Nocatee's Downtown core. Anchored by a Publix shopping center, the first phase with actual buildings is scheduled to open February 2010. Outside of the Publix shopping center, streets and sidewalks have been put in place. Incorporating Smart Growth principles, the Town Center wil eventually encompass over 300 acres within the heart of Nocatee.
Anchored by a main street of great stores, charming places to eat and drink, and specialty shops, the Town Center of Nocatee will be a lively new version of the traditional pedestrian friendly downtown. Opportunities for "in-town" living will be available and both corporate and professional office space will ultimately provide a new employment center for the region.
http://www.nocatee.com/TownLife/TownCenter.aspx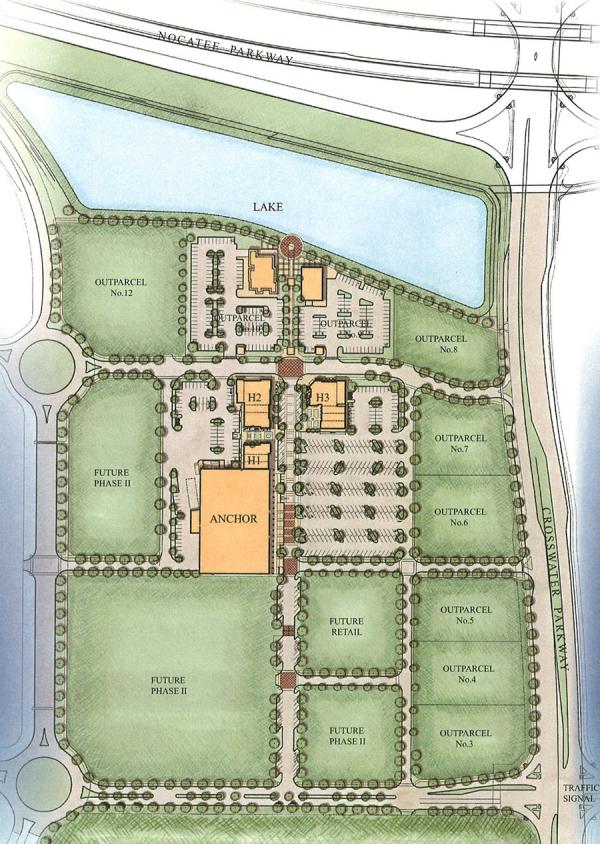 "Our objective is to create a Town Center in Nocatee that blends interesting and inviting landscapes, puts ample parking within easy reach of shops and offices and provides people places for enjoyment," said Rick Ray, managing partner with the PARC Group, developers of the Nocatee complex, a vast, evolving residential and commercial center that spans portions of Duval and St. Johns counties.
http://jacksonville.com/news/2010-01-06/story/nocatee_town_center_scheduled_to_open_next_month
Nocatee As an Employment Center
MDI (Medical Development International) is the first firm to relocate to Nocatee. Nocatee Parkway separates their office building from the Town Center. When complete, MDI's office complex will feature as much as 200,000 square feet of office space.
About 16 years ago, Willich started MDI in Virginia with about 25 employees. MDI is a health care management services and technology company. Through the years, business has grown tremendously and he had to make a decision: He could out-source the work to India or elsewhere, or expand and hire more Americans. He chose the latter. In 2003, he moved the corporate headquarters to Ponte Vedra Beach. Since then, he has hired about 125 new employees. About half of those employees are younger than 40 and 20 percent are veterans.

Now he is moving the headquarters once again, this time to the Nocatee development. He plans to move to the new office around Thanksgiving, then he will bring another division of his corporation to the original Ponte Vedra Beach office location. All of this means more jobs in St. Johns County and more commercial growth, something for which the county commissioners have been clamoring. But that job growth could be slowed because of the impact fees Willich has to pay.

The county has required him to spend about $500,000 to construct a road outside his office complex in Nocatee; now he has to pay another $500,000 in impact fees. He discussed the issue Wednesday with Stevenson, who represents the Nocatee area. Willich said that not only is he contributing to the local economy by paying income taxes, but he's keeping employees who live in the county from leaving and going to Duval County to work. Those employees pay property taxes and support the local economy. In addition, that $1 million could be used to hire 20 new employees, who in turn would buy homes in the county and pay taxes.

"We live here, we're moving from one part of the county to another and I'm given a $1 million tax for the privilege of employing my 200 employees," Willich said. Stevenson said she would look into the issue with County Attorney Patrick McCormack and County Administrator Michael Wanchick.
http://jacksonville.com/tu-online/stories/091708/nes_332656534.shtml
In addition to MDI's plans, Flagler Development Group purchased land for the development of a 675,000 square foot corporate office park two years ago.
Nocatee, an all-inclusive development designed to meet all the needs of its inhabitants, will add another piece of its live-work-play trifecta: a 675,000-square-foot office park.

Flagler Development Co., a Jacksonville-based real estate developer, paid $12 million for the 54 developable acres. The office park, which will eventually include four or five buildings, is expected to create approximately 4,000 jobs upon the completion of the build-out in 2015. The project is estimated to cost more than $100 million to develop and construct. The office space will be just west of the planned retail component being developed by Regency Centers, a local retail developer. Dubbed Nocatee Town Center, the retail complex just signed Publix as a primary tenant.

"We will be located within the central core of business and amenities," said Karl Hanson, Flagler's vice president and market officer for North Florida.

Flagler is the developer behind several Jacksonville office parks, including the Flagler Center off Old St. Augustine Road and the Office Centre at Southpoint near Butler Boulevard. Hanson said similar businesses to those found in Flagler's existing corporate parks - such as Web developers or auto companies - will likely wind up in the Nocatee development.

"The types of jobs we're expecting are corporate, such as regional headquarters offices," he said.

The first building's construction is slated for completion in late 2009 or early 2010.
The first building was originally scheduled to be completed in late 2009. At this time, construction on this project has not began.
The Nocatee Splash Water Park
Nocatee fun, like everything else, is planned to be unlike the best of the best. The Nocatee Water Park is planned as a major component of the new Nocatee Community Park. The Park which is on schedule for opening in the spring of 2010, is a resort-style water playground and a major recreational destination for Nocatee residents of all ages. With stunning new water play structures and room to relax, the Nocatee Water Park will include a children's interactive water spray ground; a "lazy river" tube ride through cascading waterfalls; and a 53-foot water slide tower, the highest in Northeast Florida, with two high speed water slides. The Park also includes a brand new community center, home to the Nocatee Information Center and fitness club.
http://www.nocatee.com/ParksRecreation/waterPark.aspx
The Nocatee Community Park
Although the Nocatee Splash Water Park and Community Park are centrally located, they serve more as regional park destinations than the walkable public spaces located in neighborhoods like Riverside, San Marco or Springfield. Nevertheless, despite the economy, Nocatee's developers have still made a decision to move forward with their implementation.
In true Nocatee style, this 75-acre eco-friendly park celebrates the joys of Florida living. Nature and jogging trails wind through lush greenery and past picturesque lakes. Soccer fields encourage friendly competition. There's even a dog park for canine socializing. And for the newest place to cool off, the Nocatee Water Park will have water slides, a lazy river, and sparkling swimming pools for kids of all ages. Or, if you prefer the indoors, the Nocatee Community Center will have lots of fitness activities to enjoy. Whether it's a soccer game, a picnic near the lake with family and friends, Nocatee Community Park is central to everything fun.
http://www.nocatee.com/ParksRecreation/communityPark.aspx
This long winding road eventually dies out at the Nocatee Community Park.
Nocatee Neighborhoods
The Smart Growth Principles don't apply to Nocatee's neighborhoods. Unlike the New Urbanist communities of Celebration, Seaside and Baldwin Park, Nocatee's "residential neighborhoods" are individual gate subdivisions, typical of what one would find on Argyle Forest or Hodges Boulevards. They may not be walkable but those who value gated communities will love what Nocatee has to offer. Like other areas of the region, construction has been slowed by national economic conditions.
Nocatee will consist of several individual "communities", including

Austin Park, a single-family development located within the Nocatee PUD (PUD 200202; Ordinance 202-65). Austin Park was reviewed for development approval by St. Johns County as Sandy Ridge South (MDP 2005-193); the Master Development Plan (MDP) was approved by the Board of County Commissioners. Austin Park is approximately 85 acres (340,000 m2) and has been plotted for 189 single family homes.

Coastal Oaks, constructed by Toll Brothers, and offering single-family homes and town homes.

Riverwood, an age-restricted community by Del Webb offering single family homes, condominium homes and town homes.

Tidewater, a condominium home community by Pulte Homes.

The Palms, a future single-family community by Ryland Homes.

Willowcove, which will offer single family homes.
http://en.wikipedia.org/wiki/Nocatee,_St._Johns_County,_Florida
Infrastructure
Despite the adverse economic conditions, Nocatee's developers continue to upgrade the surrounding road network reminding us that this is a long term project that they expect will rebound when the economy improves.
Nocatee Parkway is in the process of being extended to US Highway 1.
When complete, Nocatee Parkway will be an expressway that will connect Nocatee with Ponte Vedra Beach and US Highway 1.
To learn more about Nocatee:
http://nocatee.com/FAQsUpdates/default.aspxArticle by Ennis Davis