Demolition in Five Points?
May 7, 2009
52 comments
Print Article
I can wholeheartedly say there's no way we would support the demolition of those buildings, said Carmen Godwin, executive director of the nonprofit Riverside Avondale Preservation Inc. It would be a devastating loss.

Coulter Kirkpatrick/Times-Union -- 4/22/09
The Good:
A well known local developer has plans to possibly bring a pharmacy into one of Jacksonville's few vibrant pedestrian friendly commercial districts.  Despite a down real estate market, Five Points continues to be a highly attractive location for infill commercial development.  The addition of a pharmacy should create additional synergy and pedestrian traffic flow at the last under utilized parcel at the intersection of Riverside Avenue and Margaret Street.

The Bad:
The developer plans demolishing two perfectly fine historic structures in a national historic district to accommodate a "big box" style pharmacy with a drive-through lane and parking lot.

The Ugly:
In the typical Jacksonville fashion, it appears that the two opposing sides may be drawing their lines in the sand instead of attempting to find a compromise to take advantage of the potential opportunity at hand.
Look close.  What do these images have in common?
CVS Pharmacy - Downtown Detroit, MI 
CVS Pharmacy - Dowtown Winston-Salem, NC
Walgreen's - San Juan, PR 
Border's Books - Downtown Indianapolis, IN
Shopper's Drug Mart - Toronto
McDonald's Restaurant - Manhattan, NY 
Starbuck's Coffee - Yonge Street - Toronto 
Walgreen's Main Street - Downtown Memphis, TN - Image by Exothermic at www.flickr.com
Rite Aid Pharmacy - Camden, ME - image by nnecapa at www.flickr.com 
Rite Aid Pharmacy - Downtown Los Angeles, CA - Image by Eric Richardson at www.flickr.com
Rite Aid Pharmacy - U Street - Washington, DC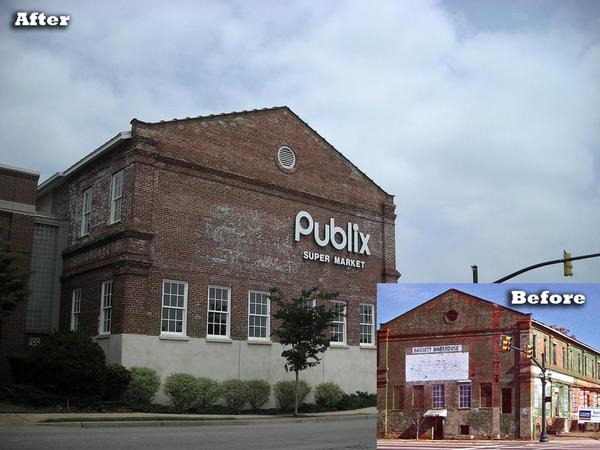 Publix - Congaree Vista District - Columbia, SC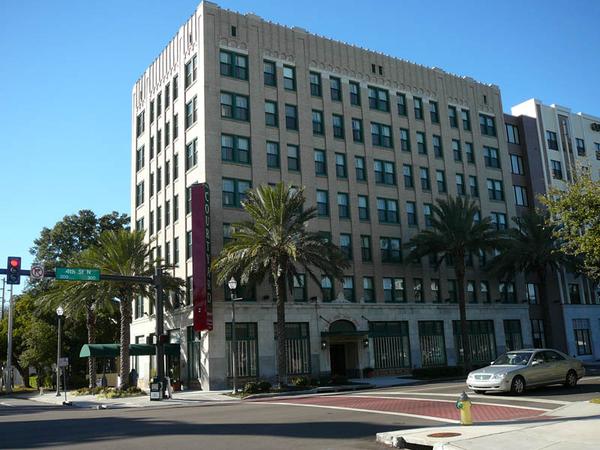 Courtyard by Marriott - Downtown St. Petersburg, FL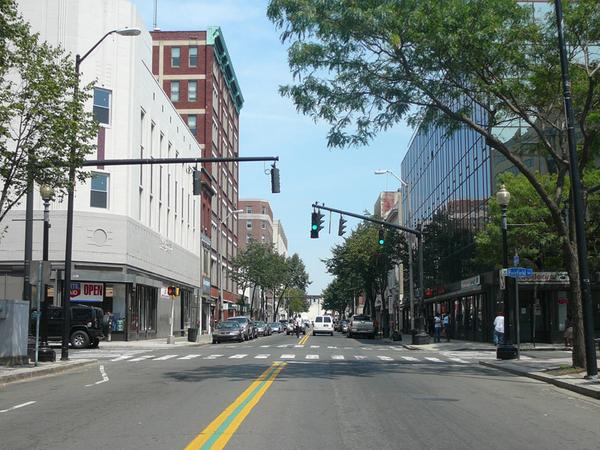 Rite Aid Pharmacy - Downtown Bridgeport, CT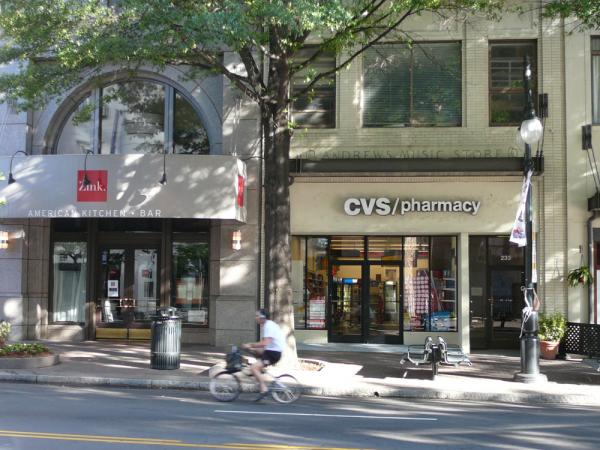 CVS Pharmacy - Uptown Charlotte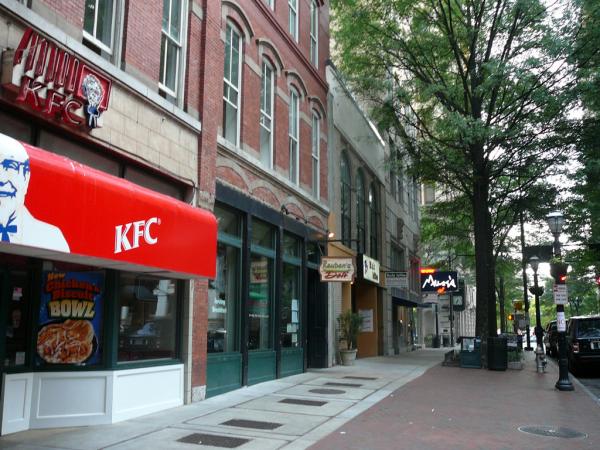 KFC - Downtown Atlanta, GA 
Hard Rock Cafe - Center City Philadelphia, PA
Office Depot - Chicago, IL

All of these images capture major retailers operating out of buildings that are not typical of their usual suburban store layouts. These retailers in pedestrian friendly areas have found a way to incorporate their business model into an existing location, without replacing the structure with their standard box layouts.
The Renaissance Group has done great work over the years in restoring commercial properties in Jacksonville.  Being a part of the Bay Street Station, Kings Avenue Station and Laura Street Station development teams, they are also major players in the the urban core's development scene. 
However, Riverside is a National Historic District and the historic building fabric is the main ingredient that creates the neighborhood's unique sense of place and atmosphere. No individual infill project is more important than the neighborhood and urban environment that surrounds it.  Without this unique urban setting, the pharmacy's interest in this specific site would not be as strong as it is today.  That alone should point towards the continued preservation of the remaining historical building stock in the community. 
Very few would oppose the validity of Five Points being a successful environment for the pharmacy proposed by The Renaissance Group, a development and realty group led by Carlton Jones. However, lines should not be drawn in the sand between opposing parties.
Godwin said she thought a pharmacy would do well in the area, but a better alternative to tearing the building down would be to put the pharmacy in the historic building.

"It would be very cool to go there," she said, "just like they have in Boston or New York City."
http://www.jacksonville.com/community/the_sun/2009-05-02/story/jacksonville_developer_threatens_demolition_of_historic_buildings
The community should not be forced to chose between a "big box" and the preservation of its significant building stock.  As mentioned by Godwin and backed by the images above, through creative design, discussion and open minds, it should be possible to come up with a solution that can accomodate retail within the historic structures and the surface parking lot located on the Jelks Building site. 
Article by Ennis Davis