The Ruins of Jacksonville: Hogans Creek
June 22, 2009
103 comments
Print Article
A walk along what may be Jacksonville's greatest urban ruin: The Hogans Creek Improvement Project.
About The Hogans Creek Improvement Project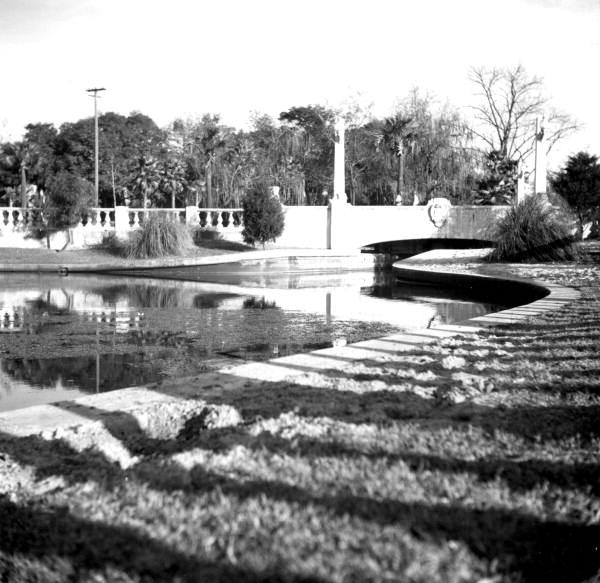 Hogans Creek Improvement Project: Confederate Park and Klutho Park

Springfield Park was the original name given to the long, narrow greenspace that forms the southwestern boundary of this neighborhood. It traces its origin to 1898, when the Springfield Development Company deeded forty acres of land to the city. Running along Hogans Creek from Laura to Tenth Street, the low-lying land required extensive filling to make it suitable for public use. This work was completed shortly after the 1901 Fire. In 1907, the city purchased another twenty acres between Main and Liberty Streets, which was named Dignan Park. This linked Springfield Park and the Waterworks grounds to form a continuous park along Hogans Creek to the St. Johns River. In 1914, Jacksonville hosted the Confederate Veterans Reunion, which attracted over 48,000 former Confederate soldiers. Thousands of these elderly veterans camped in tents in Springfield Park and Dignan Park, and this event was later commemorated by changing the name from Dignan to Confederate Park.

The work of upgrading these park areas along the creek did not prevent them from becoming flooded after each heavy rain. The Springfield Improvement Association lobbied for many years to have the area beautified, resulting in the city approving a $500,000 bond issue to finance the improvements in 1927. Nothing was accomplished for over a year. In 1928, architect H.J. Klutho came up with a plan that was adopted by the City Commission. Engineer Charles V. Imeson was enlisted by Klutho to help with the project's design. Completed in 1929, the work entailed diverting the creek channel in several places, construction of automatic tide locks and a pumping plant, and building two lakes to serve as reservoirs for the fluctuation of the tides. The project also included much concrete construction: 6,300 feet of bulkheads, six vehicular bridges, three ornamental footbridges, 10,000 square yards of sidewalks, decorative balustrades, and light fixtures. The Hogans Creek Improvement Project made this large park area one of the most scenic promenades in the city.

Ironically, during ensuing years the floodwater retention lakes have been filled, and architectural features of the park such as the ornamental light fixtures, balustrades, and bridges have been damaged or removed. Hogans Creek, which once sparkled as Jacksonville's "Grand Canale," meanders over one mile through this remarkable park, sorely awaiting another Hogans Creek Improvement Project. In 1984, the original portion of Springfield Park was renamed Klutho Park, honoring the architect who guided its renovation fifty-six years earlier and who was one of Springfield's best known citizens.
Source: Wayne W. Wood's Jacksonville's Architectural Heritage page 204
20 years after the description above was written the Hogans Creek Improvement Project continues to fall into the waterway it was designed to contain.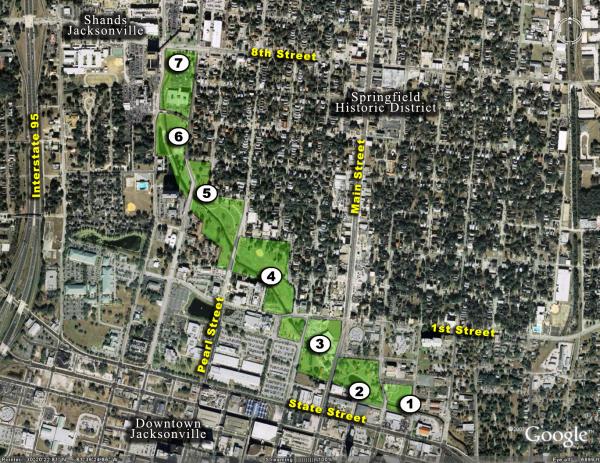 6. Sixth Street to Broad Street
A school of small fish swimming by. According to three men fishing in the Confederate Park pond, Nile Perch hang out in the creek and pond.
5. Broad Street to Pearl Street
4. Pearl Street to First Street
First Street to Laura Street
Peer City Example #1: Indianapolis Canal Walk
The Canal Walk is a portion of the Historic Central Canal, an early 19th-century project designed to facilitate commerce. Today, Canal Walk stretches through White River State Park north to 11th St.
Canal Walk features a mix of old and new architecture, attractions and monuments which offer a waterside promenade for strolls, jogging, inline skating, biking and boating.

Amenities: Pedal boat rentals, assorted bike rentals, gondola rides, murals, bridges, fountains, History Center waterside cafe, waterfalls.
http://visitindy.com/indianapolis/web/jsp/whattodo/detail.jsp?c=8079157:showhide&p=1
The centerpiece of Jacksonville's Central Park?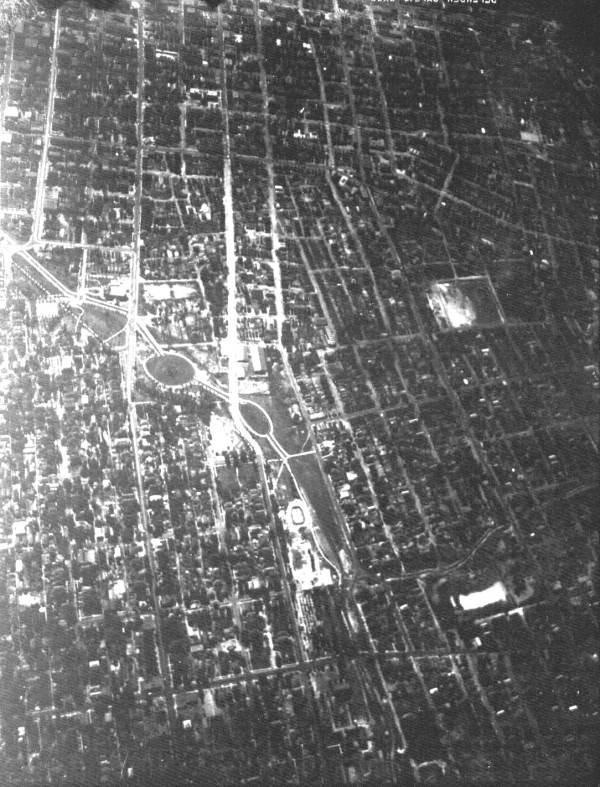 Hogans Creek aerial in 1939.
A question was asked on the MetroJax message boards about making the Hogan's Creek parks the "Central Park" of Jacksonville.

This is not a new concept. Many people who have been involved in the parks over the years have mentioned this as a desire. Someone else asked about the size of the parks, and I thought I would compare them to other city's "marquee" urban parks.

Downtowns Historic Springfield district parks make up about 37 Acres of parkland. This is made up of Confederate Park and playground, H.J. Klutho Park, W.W. Schell Park, and McPherson Park. This does not include any connecting land between Liberty the Northbank Riverwalk, which in an ideal work would complete a Hogan's Creek Greenway.

By comparison, Boston Common is 48 acres, while New York's Central Park is an unbelievable 843 Acres. Denver has about 80 acres of urban parks split between Civic Center Park, Sky Line Park, Sunken Gardens, Commons Park, and Confluence Park. Atlanta's Piedmont Park is about 185 Acres, but includes the Botanical Gardens and 50 acres of undeveloped parkland. Charlottes Freedom Park comes in at 107 acres, but it well outside of the urban core.

In Florida, Miami's Bayfront and Bicentennial parks are about 50 acres. And Orlando's Lake Eola and Ivanhoe parks combine for 31 acres, not including the water.

Keep in mind also, if our historic districts parks were to be "redeveloped", they could be even larger because the south side of the creek is mostly undeveloped city property.

In all, if the Hogan's Creek and McCoys Creek Greenways were to be completed and tied into the Riverwalk system, it would give Jacksonville over 8 miles of nearly contiguous access to the river and urban greenspaces. They would also be tied into other river front parks like the Kids Kampus, Metro Park, and Memorial Park when the Northbank Riverwalk is extended. You could walk from Shands to 5points, or from Cummer to the Stadium with minimal interaction with traffic.

If we do this right, we may not have the largest urban park system, but we will have one of the most unique urban parks in the US.
http://downtownparks.blogspot.com/2006_02_01_archive.html
Peer City Example #2: Richmond Canal Walk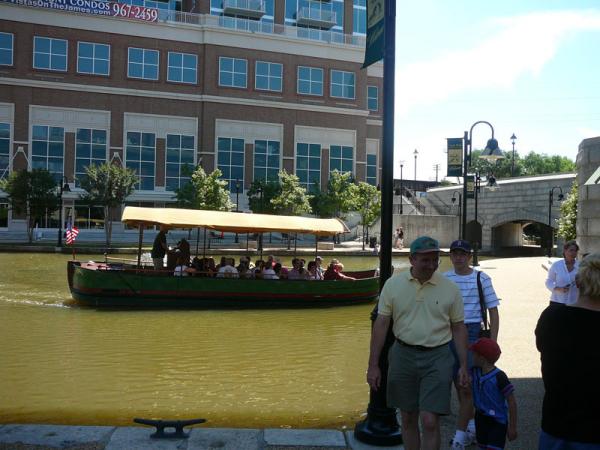 In 1999, the City of Richmond completed its canal walk project, a refurbishment of a 1.25 mile segment of the Haxall Canal and the James River & Kanawha Canal that had fallen into disuse. Developed as a tourist destination, the area surrounding the Canal Walk was branded by The River District Alliance (RDA) (a 501(c)6 public/private organization) as "The River District.".
3. Laura Street to Main Street
2. Main Street to Hubbard Street
1. Hubbard Street to Market Street
Market Street to Liberty Street
Peer City Example #3: San Antonio Riverwalk
The famed San Antonio Riverwalk, or Paseo Del Rio, is a 2 1/2 mile stretch of beautifully landscaped waterfront that features many of San Antonio's most spectacular hotels, restaurants, night clubs, bars, shopping centers and businesses. It is one of the most dynamic tourist attractions in the entire state of Texas, pouring nearly $800 million a year into the local economy. While it is an amazing and romantic place to visit, that wasn't always true.

In the beginning, Spanish Explorers used the waterway to supply water to their missions. Mission San Antonio de Valero, also known as The Alamo, was the first to benefit from it. The river flooded its banks many times. In September 1921 the worst flood in its history killed over fifty people and caused millions of dollars in damage to the city. City planners struggled over what to do while large debates rang among the people. One man, an architect named Robert H. H. Hugman proposed a plan that would turn the area into a beautiful urban park with apartments, dining, shopping, boat rides and walk ways lit with old-fashioned street lamps. He wanted it to be just as if one were walking in Venice, Italy. After convincing city officials and business leaders of the financial benefits of his plan, the dream became a reality and the riverwalk was eventually sculpted into the masterpiece you see today.

Later, in the 1930's, many efforts were made to clean and beautify the river by groups like the San Antonio Advertising Club, Daughters of the American Revolution San Antonio chapter, and the San Antonio Real Estate Board. Hugman worked many years with the city to construct the plans for the riverwalk, however, despite their best efforts it would be years before the riverwalk could be called a success due to low business volumes and a high level of crime. The 1960's, on the other hand, was a great time for improvement and growth. Paseo Del Rio Association was established in 1969 to promote the continuous improvement and development of the riverwalk.

Today, the people of San Antonio continue to preserve its history and beauty and develop its economic resources. It truly is one of the greatest vacation destinations in the United States.
http://www.sanantonioriverwalk.com/history.html
Historically Neglected
Hogan's Creek has a history like few other bodies of water in the city of Jacksonville, with the notable exception of the St Johns River. It served as a natural firebreak during the Great Fire, saving homes, businesses, and even the original St Lukes Hospital from the flames that ripped through Downtown Jacksonville. The Jacksonville Subtropical Exposition, destination for many tourists in the late 1800's was built on the Creek. The Expo later became Jacksonville's Water Works and Home to Big Jim, the famed Steam Whistle. The Jacksonville Zoo even started on the banks of Hogan's Creek.

Today the creek runs next to Shands Hospital, two JEA drinking water reservoirs, Bethel Baptist Church, The Parks and Recreation Building, and a large number of public housing units. It also runs the length of down town Jacksonville's largest greenway with over 30 acres of park land, which lies about five blocks from City Hall.

I was all prepared to start ranting and raving over the state of Hogan's Creek. To express disappointment over a city that claims to want its parks to go from the biggest to the best, but seems to ignore a park within a stones throw of its leaders offices. Then, after I read the words of Henry Klutho, one of Jacksonville's most famous and influential architects, I realized the city has always neglected the creek. When Klutho revitalized the creek in 1929, he spoke of the "improvements to Hogan's Creek" calling it "an unsightly and rather filthy stream." He stated that "A general opinion prevailed that a large underground duct should be designed", but instead at the behest of the Springfield Woman's Club, he worked to improve the creek. With a city issued bond Klutho was able to work miracles and install a balustrade and beautiful bridges. His work was so remarkable that it was written about in engineering magazines, and was the subject of countless Jacksonville Postcards and photographs.

Now, seventy five years later, we find a creek that is possibly in worse condition than how Klutho found it in 1929. The remnants of Klutho's work are neglected, graffitied, and falling apart. The creek itself has harmful levels of fecal coloform bacteria, and other pollutants. There is litter, debris, and weeds choking the creek all the way from Shands to the Maxwell House plant, yet all the city seems to say is, "Yup, it's a nasty creek".

Many Springfield residents and downtown workers hope to see a return to the days when the creek was serene and beautiful. Just imagine the possibilities of a Hogan's Creek walkway tied into the Downtown Riverwalk system. It would be a jewel for all of Jacksonville to enjoy. The only way this can happen is if the city gets serious about solving the problems facing the creek. It won't be cheap, but it will be worth it, especially to a thriving urban center.
http://downtownparks.blogspot.com/2005_12_01_archive.htmlArticle by Ennis Davis