Elements of Urbanism: Bridgeport
January 7, 2009
5 comments
Print Article
Metro Jacksonville takes a look at the downtown core of Connecticut's largest municipality: Bridgeport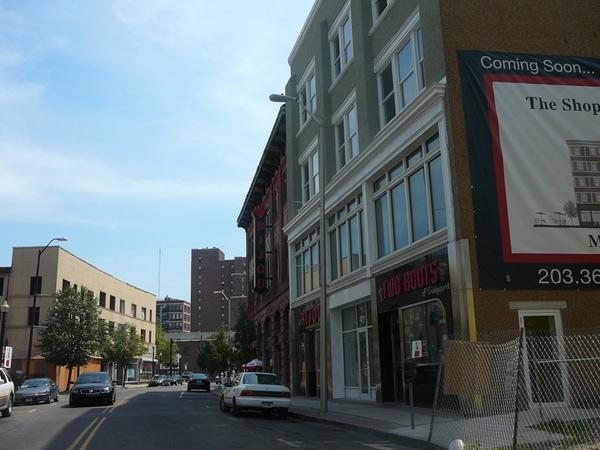 Tale of the Tape:
Bridgeport Population 2007: 136,695 (City); 895,015 (Metro) - (incorporated in 1821)
Jacksonville Pop. 2007: 805,605 (City); 1,300,823 (Metro) - (incorporated in 1832)
City population 1950: Jacksonville (204,517); Bridgeport (158,709)

Metropolitan Area Growth rate (2000-2007)
Bridgeport: +1.41%
Jacksonville: +15.86%
Urban Area Population (2000 census)
Bridgeport: 888,890 (ranked 41 nationwide)
Jacksonville: 882,295 (ranked 43 nationwide)
Urban Area Population Density (2000 census)
Bridgeport: 1,910.3
Jacksonville: 2,149.2
City Population Growth from 2000 to 2007
Bridgeport: -2,834
Jacksonville: +69,988
Convention Center Exhibition Space:
Bridgeport: Does not have a convention center.
Jacksonville: Prime F. Osborn III Convention Center (1986) - 78,500 square feet
Tallest Building:
Bridgeport: Bridgeport Center - 16 stories
Jacksonville: Bank of America Tower - 617 feet (42 stories)
Downtown-Based Fortune 500 companies:
Bridgeport: Zero (0)
Jacksonville: CSX (261), Fidelity National Financial (435), Fidelity National Information Services (481)
Urban infill obstacles:
Bridgeport: Downtown is cut off from the rest of the city by several expressways.
Jacksonville: State & Union Streets cut off Downtown Jacksonville from Springfield.
Downtown Nightlife:
Bridgeport: Two blocks of Fairfield Avenue, between Harrison and Main Streets.
Jacksonville: East Bay Street, located between Main Street and Liberty Street.  This four block stretch is home to four bars and clubs.
Common Downtown Albatross:
Too many surface parking lots
Who's Downtown is more walkable?
Bridgeport: 89 out of 100, according to walkscore.com
Jacksonville: 88 out of 100, according to walkscore.com
Downtown Photo Tour
Photographs taken July 2008.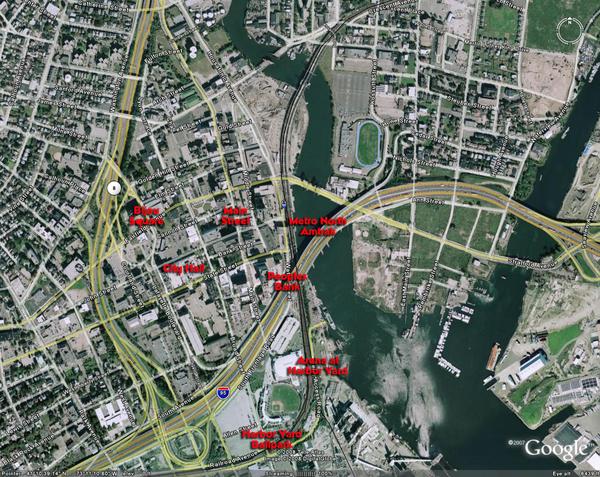 Unique Bridgeport
- The well known circus-promoter P.T. Barnum was once the mayor of Bridgeport.
- Bridgeport is the birthplace of the frisbee and the Frisbie Pie Company.
-The first Subway Restaurant opened in Bridgeport in 1965.
Article by Ennis Davis