Forgotten Jacksonville: Julia Street
April 30, 2009
24 comments
Print Article
Despite being in the heart of downtown, within a block of three skyway stations, and serving as a direct link between FSCJ and the Times-Union Performing Arts Center, Julia Street remains completely desolate.


The Julia Street corridor is highlighted in red.  It is a corridor that remains quiet despite being blessed with significant urban building fabric still in place.




Despite the current scene today, Julia Street was not always this way.  Fifty years ago, Julia Street was a bustling corridor anchored by large hotels and office buildings.

Robert Meyer Hotel



The 563 room, 24 floor Robert Meyer Hotel opened in 1959, as Florida's largest commercial hotel.  It featured a block long glass faced marble lobby facing Julia Street, featuring several restaurants and a jewelry store.
Although it would open with great fanfare, the hotel went bankrupt and closed in 1977.  A investment team, that included Preston Haskell, would reopen the tower as the Holiday Inn CityCenter in 1980.  However, like the Robert Meyer, it would shut down in 1982, due to a lack of business.

In 1997, The 215 foot defunct Hotel, along with the former JCPenney and FW Woolworth Buildings, was imploded to make way for a new $80 million federal courthouse.




Source: Meyer Hotel was once the talk of Jacksonville - Florida Times-Union - Sunday, February 15, 1998 (Jacksonville Public Library online archives)

George Washington Hotel
Located on the corner of Adams and Julia Streets, the 15-story George Washington Hotel opened on Nov. 11, 1925.  For the next 44 years the 350 room hotel was known as the true hub of the city.  It was the city's premier site for conventions and also included a steak house, auditorium, cocktail lounge, coffee shop and drug store.
Famous guests included Charles Lindbergh and the Beatles.  The hotel would begin to decline as Jacksonville discovered sprawl and close its doors around 1970.  It did not get a chance to stay vacant long because it would be torn down for a parking lot in 1973.
Source: George Washington hotel was grand and didn't need subsidy - The Florida Times-Union - Saturday, November 14, 1998 (Jacksonville Public Library online archives)

Mayflower Hotel
Mayflower originally opened as The Mason in 1912.  It was purchased by Robert Kloeppel, the owner of the George Washington Hotel, and renamed the Mayflower.  It featured a rooftop lounge called Cavalettes.  The Mayflower Hotel and other buildings on this block were demolished in 1978 to make way for the Southern Bell Tower.
The block of buildings to the left of the photograph were replaced by the Southern Bell Tower (image below, now AT&T). 
Ambassador Hotel
The 310 West Church Street Apartment building was completed in 1923.  It was the first large apartment building constructed in downtown.  At some point, it became a hotel called 'The Ambassador'.  In its later years, the Ambassador became an $80-a-week rooming house with 110 residents and a target of code inspections and drug raids. 
The Ambassador closed and has been vacant since 1998.  In 2000, the hotel's owner mentioned that he would like to see the building become a hotel again one day.  While the Ambassador still sits vacant nearly a decade later, unlike its predecessors, at least it is still standing.
Source: 110 must find new housing Ambassador Hotel closing to remodel - Florida Times-Union - Friday, January 16, 1998 (Jacksonville Public Library online archives)
Old JEA Tower
This 260ft tower was completed in 1955 to serve as the headquarters for Independent Life and Accident Insurance Company.  After Independent Square was completed in 1974, it became the headquarters of JEA.  Since then, JEA has taken over the old Universal Marion Building and this structure is vacant.  Through the years there have been redevelopment proposals but it is remains vacant and now owned by Chris Hionedes.
United States Post Office and Courthouse
The former US Post Office and Federal Courthouse was completed in 1933.  The Art Deco style structure consumes a full city block and features a central "light court" to provide additional natural light and ventilation.
The building was vacated when it was replaced by the Federal Courthouse building across the street.  Metro Jacksonville rumor has it that the city offered the building to Florida Coastal for a new law school a few years ago.  However, Florida Coastal elected to purchase an office building in the Baymeadows area due to high renovation costs.  This building will be preserved and renovated as a part of the Duval County Courthouse project.
Projects to keep an eye on:
Despite Julia Street's inability to take advantage of the recent development boom, the Duval County Courthouse project may make it the epicenter of downtown redevelopment and infill in the upcoming decade.
Duval County Courthouse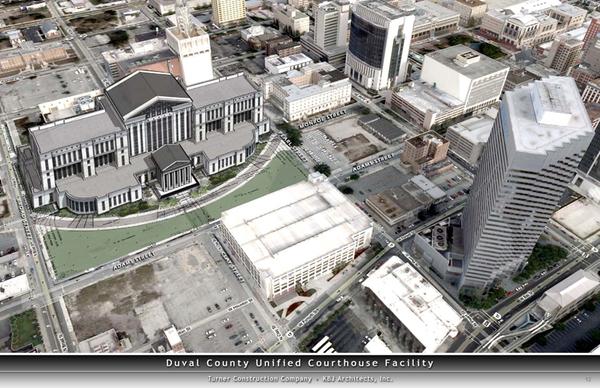 The long delayed Duval County Courthouse directly impacts two blocks of Julia Street.  It is also the one major downtown infill project that will be under construction this Summer.  To ensure that redevelopment spreads to areas like Julia Street, the way this project integrates into the surrounding urban environment should become a top city priority.

323 Duval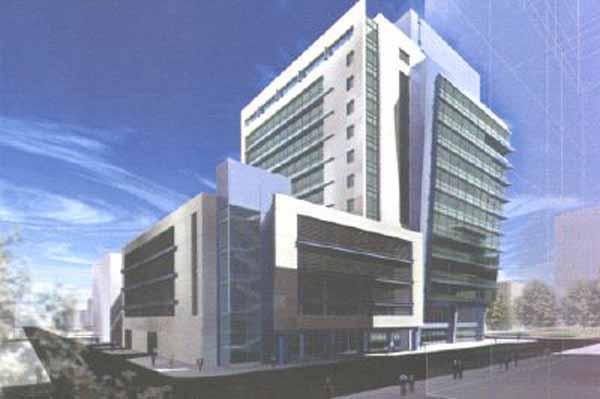 323 Duval was proposed to be a 100,000-square foot, twelve-floor office building across the street from the proposed courthouse.  30,000 square feet of the project would serve as the new headquarters of Farah & Farah.  This $28 million project also includes a 331-car parking garage and 15,000 square feet of retail.
2 groups seek economic incentives for downtown sites - Florida Times-Union - Thursday, January 15, 2004 (Jacksonville Public Library online archives)
Ambassador Hotel
As a part of the 323 Duval project, the Ambassador Hotel would be converted to 52 apartment units.  It was anticipated that this conversion would cost about $50 million.  According to the owner, these projects are on ice until it becomes clear that the new courthouse becomes reality.
Source: Mixed-use concept gets DRC OK A proposed apartment, retail and office condo project would go up near new courthouse. - Florida Times-Union - Friday, May 27, 2005 (Jacksonville Public Library online archives)
Old JEA Tower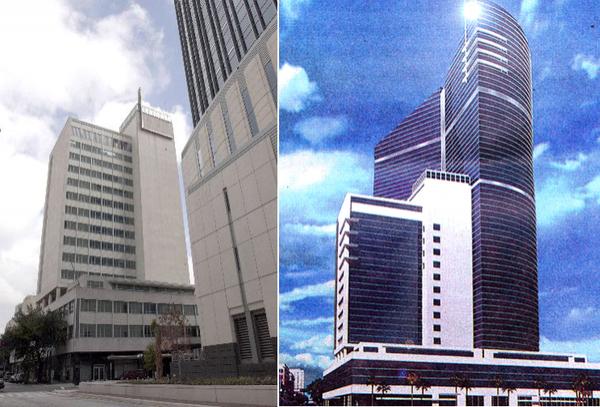 This 148,230-square foot, 19-story tower was occupied until 2000.  The building was the original Independent Life headquarters in 1955 before the insurance company built, what is now known as the Modis Tower.  JEA purchased the building from Independent Life in 1975.  Since 2003, offers have been made to convert the building into apartments, offices for law firms and doctors. Although redevelopment has been unsuccessful, partially due to courthouse delay, the structure's location will become prime when the courthouse moves forward. 
Source: Contract on former JEA headquarters in dispute. Two Jacksonville developers say they have the contract to buy the downtown office building. - The Florida Times-Union - Saturday, January 24, 2004 (Jacksonville Public Library online archives)
Julia Street may be desolate today, but it is positioned to bloom once again if the city can get the county courthouse out of the ground and focus on how it can stimulate foot traffic along adjacent corridors.