Elements of Urbanism: Providence
September 17, 2008
11 comments
Print Article
Known as The Renaissance city, Providence is the capital of Rhode Island and the third largest city in New England.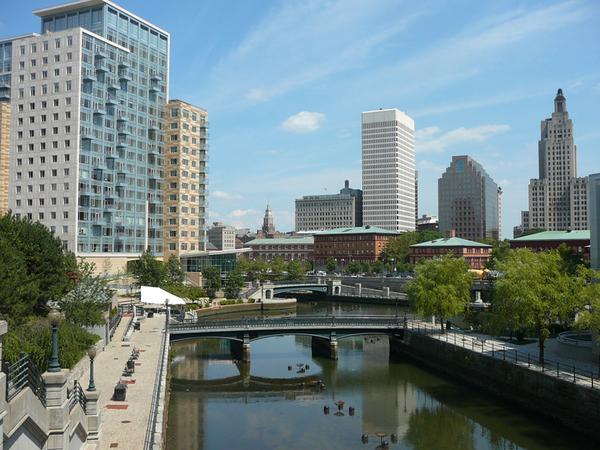 Situated at the mouth of the Providence River, on Narragansett Bay, Providence was founded in 1636 by Roger Williams, a religious exile from the Massachusetts Bay Colony. He named the area in honor of "God's merciful Providence" which he believed was responsible for his finding such a haven to settle. After being one of the first cities in the country to industrialize, Providence became noted for its jewelry and silverware industry.
Today, Providence city proper alone is home to eight hospitals and seven institutions of higher learning, which has shifted the city's economy into service industries, though it still retains significant manufacturing work. The closing or relocating of many of the steel mills and other heavy industries in the area also contributed to the decline.
http://en.wikipedia.org/wiki/Providence,_Rhode_Island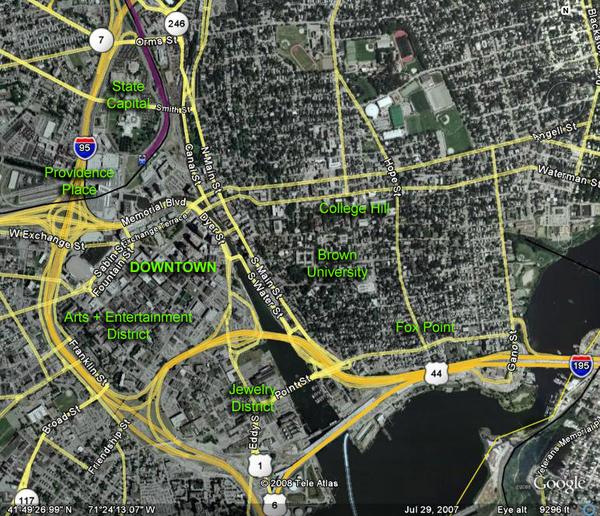 Tale of the Tape:
Providence Population 2007: 172,459 (City); 1,600,856 (Metro) - (incorporated in 1636)
Jacksonville Pop. 2007: 805,605 (City); 1,300,823 (Metro) - (incorporated in 1832)
City population 1950: Jacksonville (204,517); Providence (248,674)

Metropolitan Area Growth rate (2000-2007)
Providence: +1.13%
Jacksonville: +15.86%
http://en.wikipedia.org/wiki/Table_of_United_States_Metropolitan_Statistical_Areas
Urban Area Population (2000 census)
Providence: 1,174,548 (ranked 34 nationwide)
Jacksonville: 882,295 (ranked 43 nationwide)
Urban Area Population Density (2000 census)
Providence: 2,332.2
Jacksonville: 2,149.2
City Population Growth from 2000 to 2007
Providence: -1,412
Jacksonville: +69,988
Convention Center Exhibition Space:
Providence: Rhode Island Convention Center (yb. 1994) - 100,000 square feet
Jacksonville: Prime F. Osborn III Convention Center (1986) - 78,500 square feet
Tallest Building:
Providence: Bank of America Building - 428 feet
Jacksonville: Bank of America Tower - 617 feet
Downtown-Based Fortune 500 companies:
Providence: Textron (202)
Jacksonville: CSX (261), Fidelity National Financial (435), Fidelity National Information Services (481)
Urban infill obstacles:
Providence: Interstates 95 & 195 cut downtown off from neighborhoods west and south of downtown.
Jacksonville: State & Union Streets cut off Downtown Jacksonville from Springfield.
Downtown Nightlife:
Providence: Arts & Entertainment District. Dominated by historic building fabric, this 30-block area contains a mix of restaurants, bars, clubs, art galleries, artist lofts and retail.
Jacksonville: East Bay Street, located between Main Street and Liberty Street.  This four block stretch is home to four bars and clubs.
Common Downtown Albatross:
Surface Parking Lots - Both city's downtowns have too many.  However, most of the historic core of Downtown Providence has been spared from large scale demolitions.
City Walkability Ranking (According to Walkscore.com)
Providence: (not ranked because population was not large enough to make the top 40 list)
Jacksonville: 40 out of 40 - dead last)

Who's Downtown is more walkable?
Providence: 98 out of 100, according to walkscore.com
Jacksonville: 88 out of 100, according to walkscore.com

Downtown Providence

Originally known as 'Weybossett Neck' or 'Weybossett Side,' Downtown was first settled by religious dissidents from the First Congregational Society in 1746. Their settlement was located near present-day Westminster Street.
Downtown did not witness substantial development until the early 19th century, when Providence began to compete with Newport, Rhode Island. British forces had destroyed much of Newport during the American War for Independence, making the city's merchants vulnerable to competition from Providence.  This prevented the development of a commercial district along the western bank of the Providence River.
During the industrialization of the late 19th century, an ever-expanding railroad industry emanating from Union Station, eventually resulted in the complete paving over of the Great Salt Cove and the two branches of the Providence River.  The result of decades of expansion was the isolation of the state capitol from the rest of downtown by an imposing mass of railroad tracks, often called locally the "Chinese Wall".  As rail traffic dropped off, 75 percent by 1980, city planners saw an opportunity to open up central land for development and unify downtown with the Capitol. A new, smaller train station was built in 1986 a half mile north of its predecessor, and tracks were removed or routed underground.
The new land precipitated a massive remaking of the character of the city's downtown. From 1975 until 1982, under Mayor Vincent Cianci, Jr, $606 million of local and national Community Development funds from were invested. Roads were removed and the city's natural rivers were opened up and lined with a cobblestone-paved park called Waterplace Park in 1994, which is now host to popular WaterFire festivals.  Private and public developments followed and the new area adjacent to the Capitol became known as Capitol Center.
Ushered in by the construction of the new train station (1986), the development of the new land brought new buildings: The Gateway Building (1990), One Citizens Plaza (1991), Center Place (1992), a Westin hotel and Providence Convention Center (1993), Providence Place Mall (1999), Courtyard Marriott (2000), GTECH headquarters (2006), The Residences at the Westin (2007), Waterplace condominiums (2007), and Capitol Cove still under construction.
Waterplace Park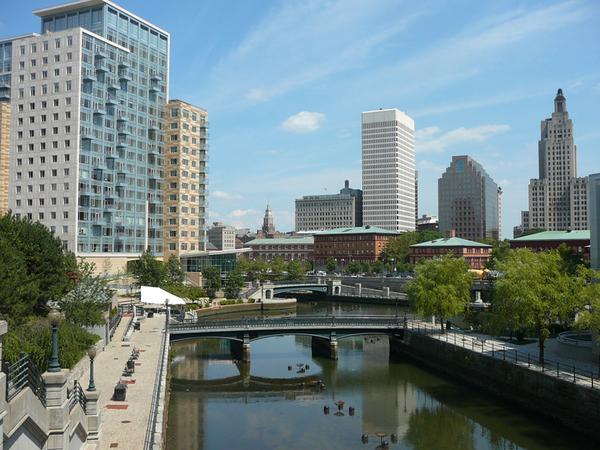 Waterplace Park is an urban park situated in downtown Providence, Rhode Island. Finished in 1994, Waterplace Park is connected to 3/4 mile of cobblestone-paved pedestrian walkways along the waterfront known as Riverwalk. Most of Riverwalk is below street level and automotive traffic. Waterplace Park and Riverwalk together are host to Providence's popular summertime Waterfire events, a series of bonfires lit on the river accompanied by Classical and World music.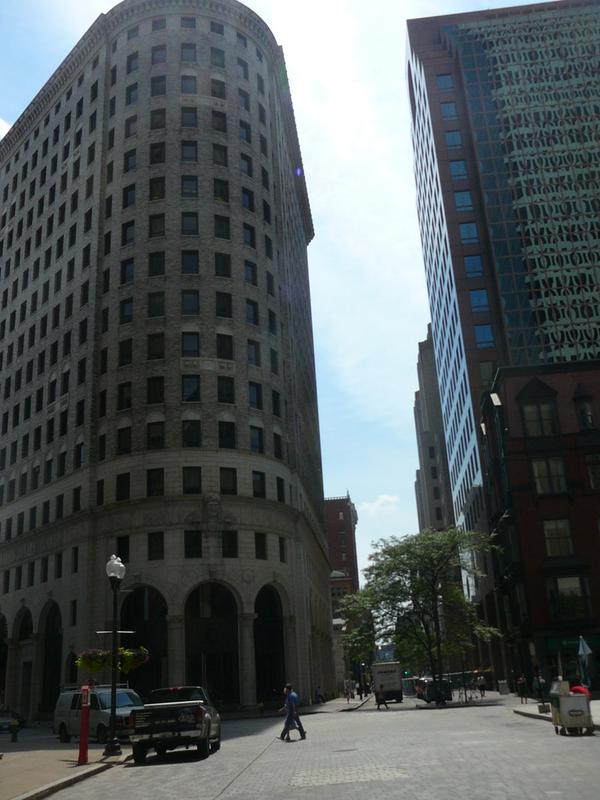 Westminister Street was downtown's main retail corridor during the first half of the 20th century.  The city converted it into a pedestrian mall during the late 1970s to compete with new suburban shopping centers.  After this conversion failed to maintain the retail base, the city reopened the street to accommodate vehicular traffic.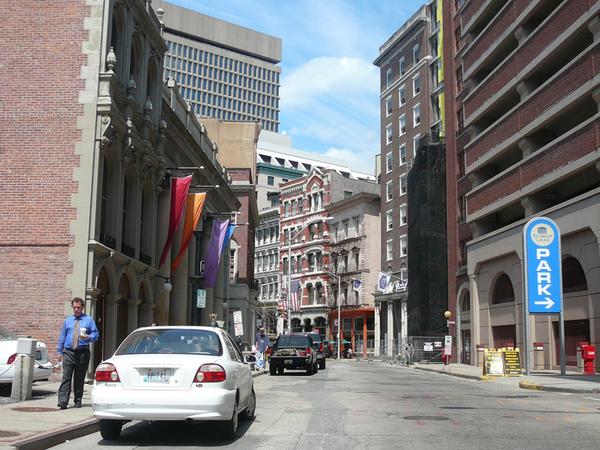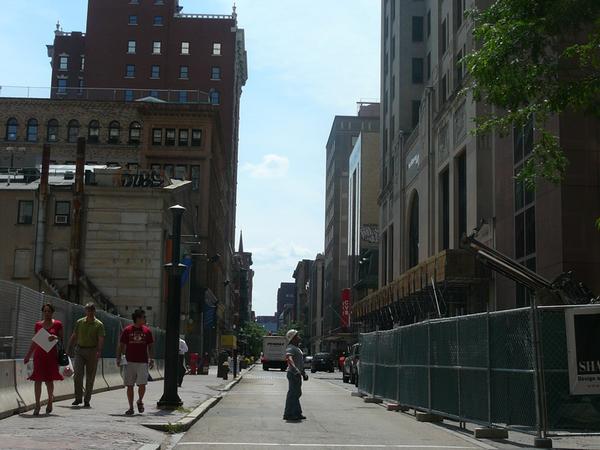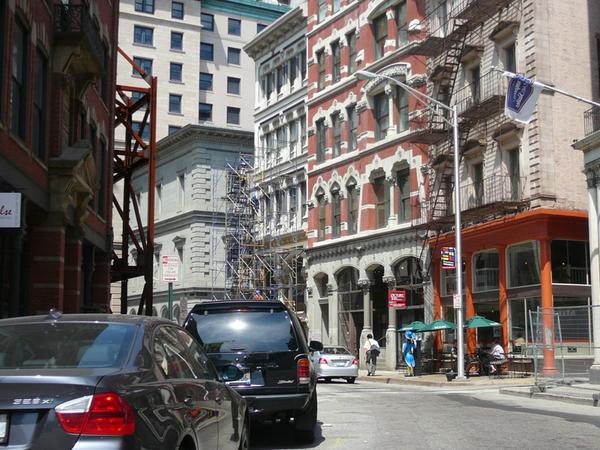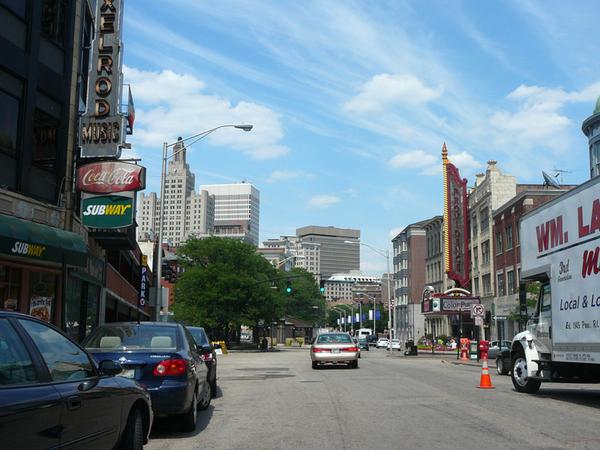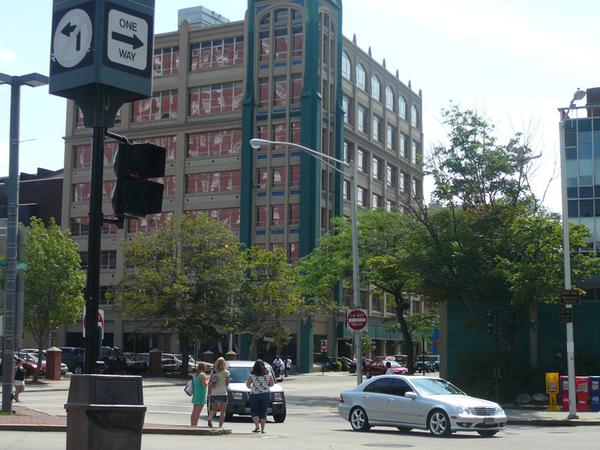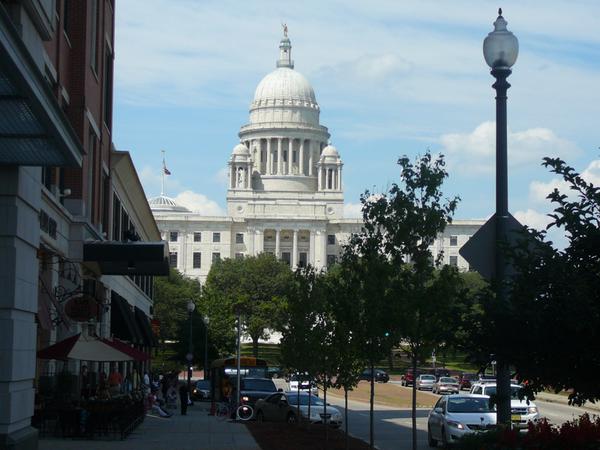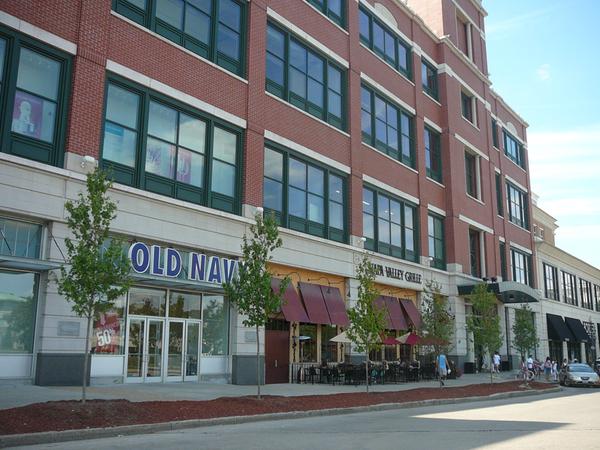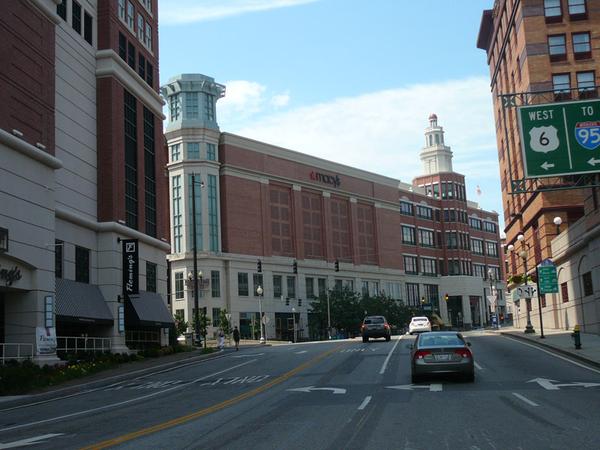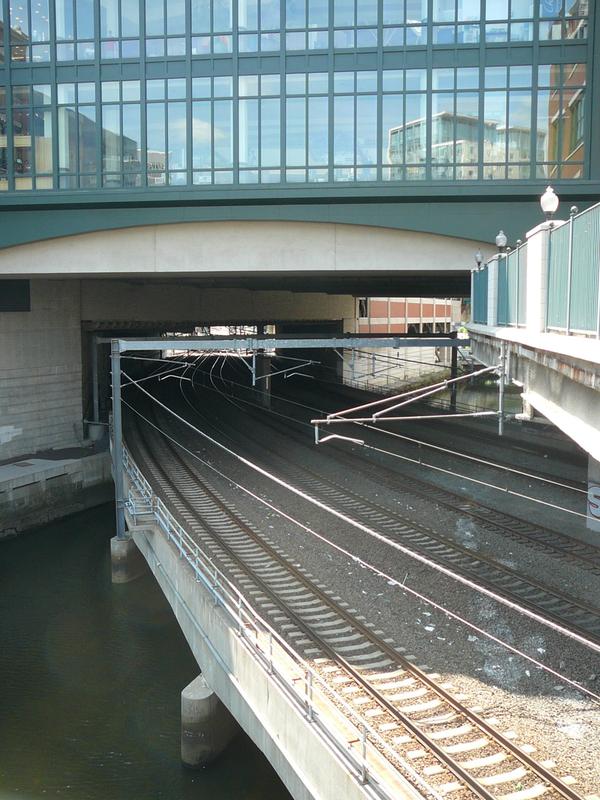 Providence Place is a 1.4 million square foot, seven level mall that opened in 1999.  Anchors include Nordstrom, JCPenney, Macys, Hoyts, an IMAX Theater and Dave & Busters.  Street level tenants include Cheesecake Factory, Old Navy, Borders Books and Pizzeria Uno.  The mall is connected via skyway to the Rhode Island Convention Center and a Westin Hotel.
www.providenceplace.com
College Hill

Settled around North Main Street in 1636, nearly all of Providence was originally on College Hill. By the time of the American Revolution, the foot of the hill was densely populated with wharves, warehouses, shops, public buildings, and residential houses. In 1764, Brown University was established and over the next century would begin gradually expanding. In the nineteenth century, precious metals and jewelery trading drove much business on North Main Street, and RISD was established in 1877. By the 1900s, Brown had begun expanding more aggressively, demolishing nearly 100 houses in the 1950s for a residential quadrangle area.
In the post-war years, Providence went into a decline. Many of the neighborhood's more historic centers were in disrepair and were slated for demolition as part of urban renewal projects. The Providence Preservation Society intervened and the area is now home to one of the country's largest restored collections of 18th and 19th century Victorians and colonials.
College Hill is the most affluent neighborhood in Providence, with a median family income of nearly three times that of the city as a whole.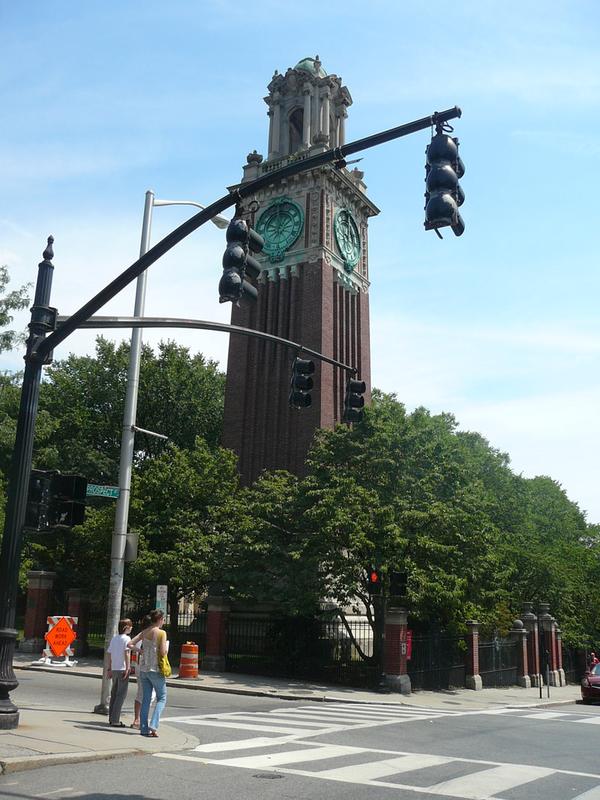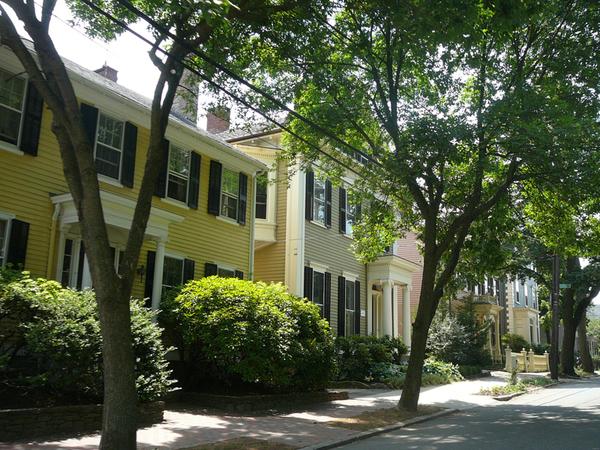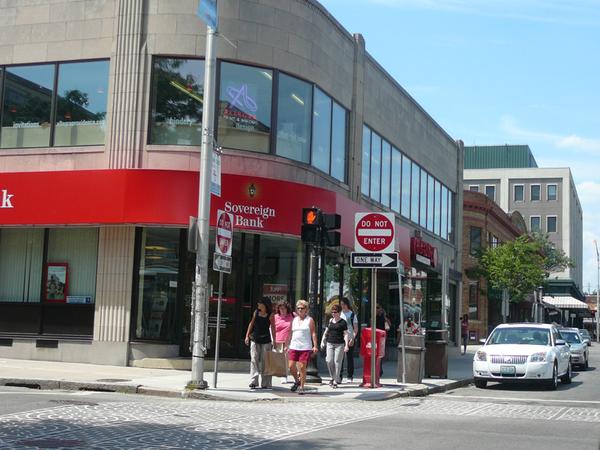 Thayer Street in Providence, Rhode Island is a popular destination for students of the area's colleges and schools, including Brown University, RISD, Providence College,and Johnson and Wales University, Moses Brown School, & The Wheeler School.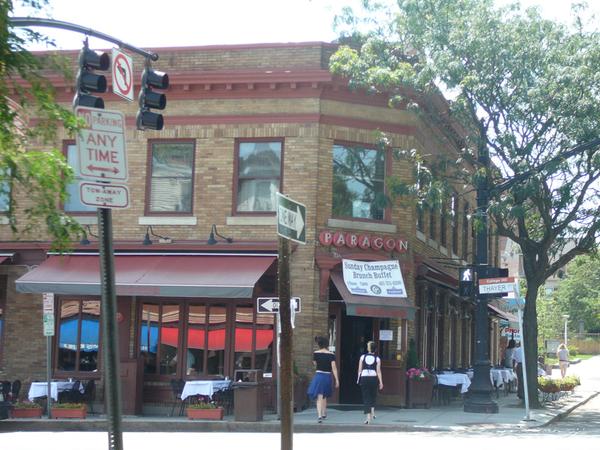 Fox Point 
Originally used for farmland, Fox Point's economy quickly changed to maritime affairs with the construction of Providence's first port at India Point in 1680, becoming a major trading point in the Atlantic Triangular trade of slaves, sugar cane and rum between New England, the West Indies, and West Africa.
The proximity of Brown University has led to a combination of student housing and gentrification in the neighborhood that has displaced many of the long-term residents.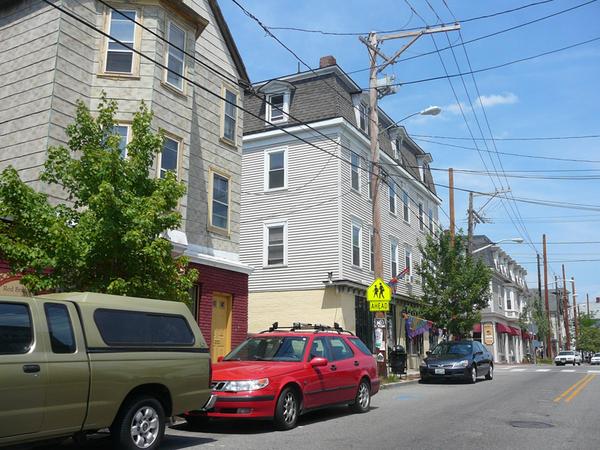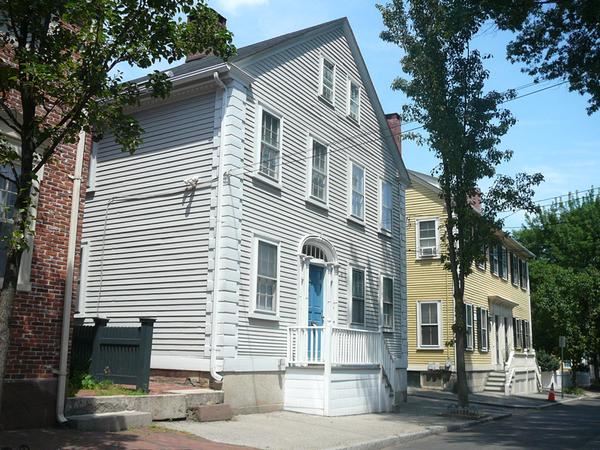 Unique Providence
Providence is home to the largest number of working artists, per capita, in the nation.
http://usmayors.org/bestpractices/bp_volume_4/ri-provi.htm
Providence has the eighth-highest percentage of pedestrian commuters.
Providence has the most coffee/doughnut shops per capita of any city in the country.
Providence has been named among the "Best Lesbian Places to Live".
Providence is the home of the oldest Baptist Church in America.
Providence's Best Asset: Visionary
- The city has commissioned and begun a long-term project, the Iway, to move I-195 not only for safety reasons, but also to free up land and to reunify the Jewelry District with Downcity Providence, which had been split from one another by the highway. The project is estimated to cost $446 million and be completed in 2012
- Located just north of downtown, Providence Station, is served by Amtrak and MBTA Commuter Rail services, with a commuter rail running to Boston. Funds have been allocated to extend the commuter rail from north of downtown 12 miles south to T. F. Green Airport terminating at a $222.5 million intermodal station to be completed in 2009.
- In the 1990s, Mayor Vincent Cianci, Jr showcased the city's strength in arts and pushed for further revitalization, ultimately resulting in the uncovering of the city's natural rivers (which had been paved over), relocation of a large section of railroad underground, creation of Waterplace Park and river walks along the river's banks, and construction of the Fleet Skating Rink (now the Bank of America Skating Rink) downtown and the 1.4 million ft² Providence Place Mall.