Elements of Urbanism: Columbia, SC
September 25, 2008
24 comments
Print Article
A look around the downtown of South Carolina's largest city: Columbia.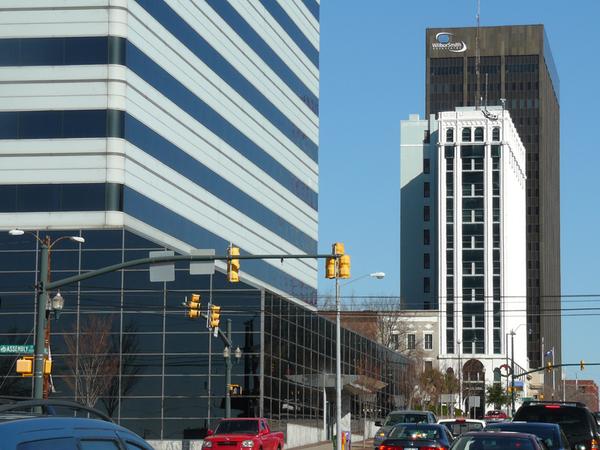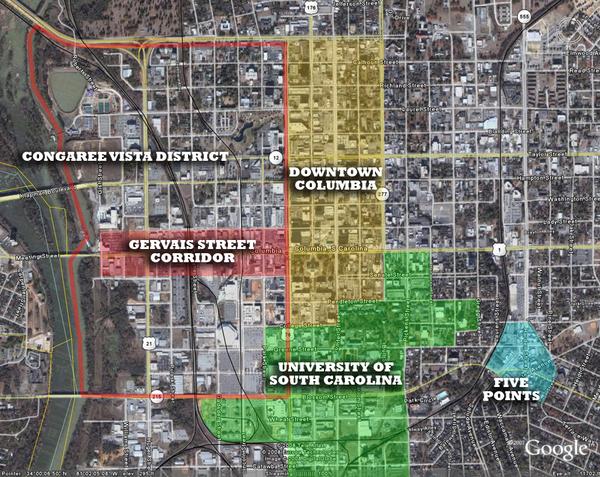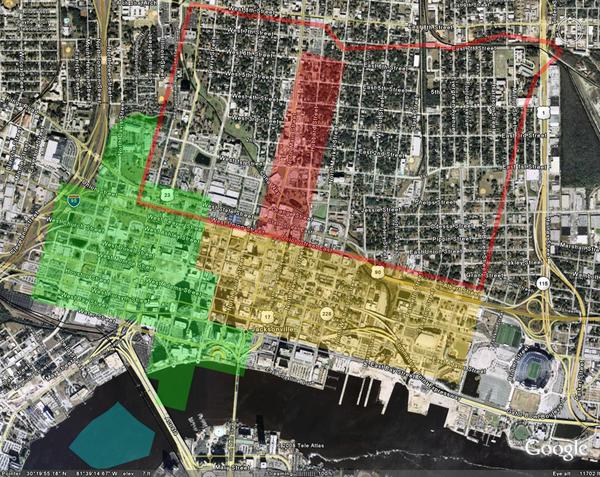 The Downtown, Congaree District and University of South Carolina campus cover an area nearly equal in size with Downtown Jacksonville, LaVilla, East Jacksonville and half of Springfield. 
 TALE OF THE TAPE
Columbia Population 2007: 124,818 (City); 716,030 (Metro) - (incorporated in 1805)
Jacksonville Pop. 2007: 805,605 (City); 1,300,823 (Metro) - (incorporated in 1832)
City population 1950: Jacksonville (204,517); Columbia (86,914)

Metropolitan Area Growth rate (2000-2007)
Columbia: +10.63%
Jacksonville: +15.86%
http://en.wikipedia.org/wiki/Table_of_United_States_Metropolitan_Statistical_Areas
Urban Area Population (2000 census)
Columbia: 420,527 (ranked 77 nationwide)
Jacksonville: 882,295 (ranked 43 nationwide)
Urban Area Population Density (2000 census)
Columbia: 1,563.7
Jacksonville: 2,149.2
City Population Growth from 2000 to 2007
Columbia: +8,540
Jacksonville: +69,988
Convention Center Exhibition Space:
Columbia: Columbia Metropolitan Convention Center (yb. 2004) - 24,700 square feet
Jacksonville: Prime F. Osborn III Convention Center (1986) - 78,500 square feet
Downtown College or University:
Columbia: University of South Carolina - 27,500 students
Jacksonville: FCCJ Downtown Campus
Tallest Building:
Columbia: Capitol Center - 349 feet
Jacksonville: Bank of America Tower - 617 feet
Downtown-Based Fortune 500 companies:
Columbia: SCANA (500)
Jacksonville: CSX (261), Fidelity National Financial (435), Fidelity National Information Services (481)
Urban infill obstacles:
Columbia: Main Street, the historic main retail corridor, is no longer the "main" street, in terms of traffic, in downtown.
Jacksonville: State & Union Streets cut off Downtown Jacksonville from Springfield.
Downtown Nightlife:
Columbia: The Congaree Vista District contains over 45 restaurants and bars, 60 artists' galleries and specialty shops.
Jacksonville: East Bay Street, located between Main Street and Liberty Street.  This four block stretch is home to four bars and clubs.
Common Downtown Albatross:
Surface Parking Lots - Both city's downtown's have too many. 
City Walkability Ranking (According to Walkscore.com)
Columbia: (not ranked because population was not large enough to make the top 40 list)
Jacksonville: 40 out of 40 - dead last)
Who's Downtown is more walkable?
Columbia: 86 out of 100, according to walkscore.com
Jacksonville: 88 out of 100, according to walkscore.com

Taking Advantage of what they have:
The Historic Columbia Foundation has plans to create a garden district in a historic area of downtown bounded by Calhoun, Taylor, Marion, and Barnwell streets. Under this plan, the 18 blocks that encompass downtown's five historic homes--Hampton-Preston Mansion, Robert Mills House, Mann-Simons Cottage, Woodrow Wilson Family Home, and Seibels House--would feature landscapes spanning 100 years of gardening, from 1820 to 1920. The project would include interpretive signs, streetscaping, and pedestrian walks intended to appeal tourists and locals alike.
http://en.wikipedia.org/wiki/Columbia,_South_Carolina#Neighborhoods

ABOUT COLUMBIA
- The site of Columbia was chosen as the new state capital in 1786, due to its central location in the state.
- The original town consisted of 400 blocks in a two-mile square along the river.
- A majority of the city was destroyed by fire on February 17, 1865, by Union troops under the command of General William Tecumseh Sherman.
- The University of South Carolina is an urban university located in downtown Columbia.
MAIN STREET DOWNTOWN
Main Street was once the center of Columbia's business activity, but remains dormant after retailers and shoppers left the downtown area for suburban strip malls.  Anchored by the State Capitol, the southern portion of downtown's Main Street has seen a recent boost in redevelopment activity, including the construction of a 17-story, $60 million office tower at a high-profile corner.  Like Jacksonville, one of the major obstacles downtown Columbia faces is a change in traffic patterns.  During Main Street's heyday, it served as a major traffic artery.  Today, the majority of North/South traffic has shifted a block west to Assembly Street.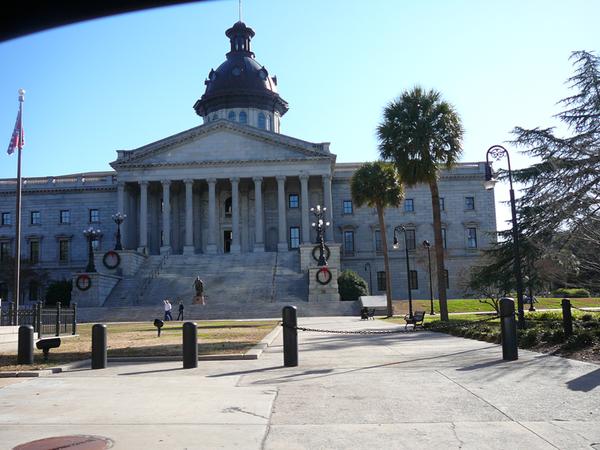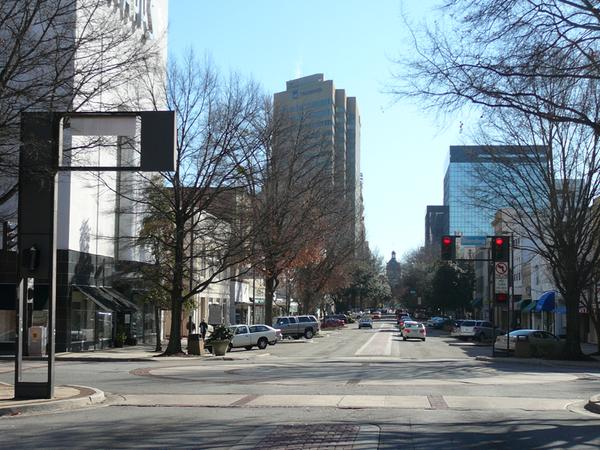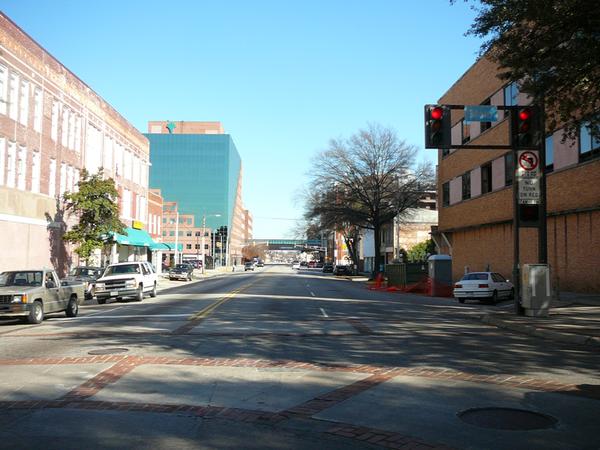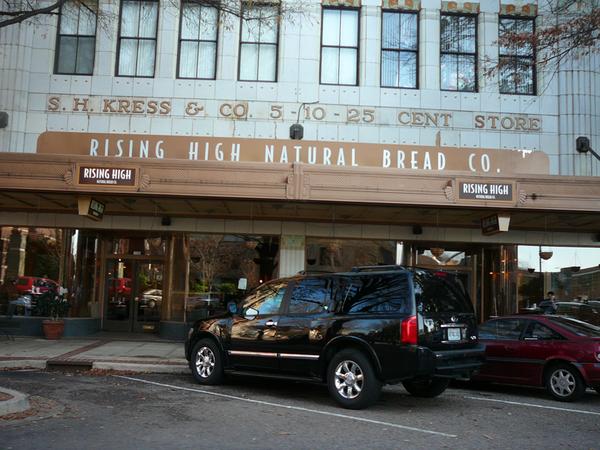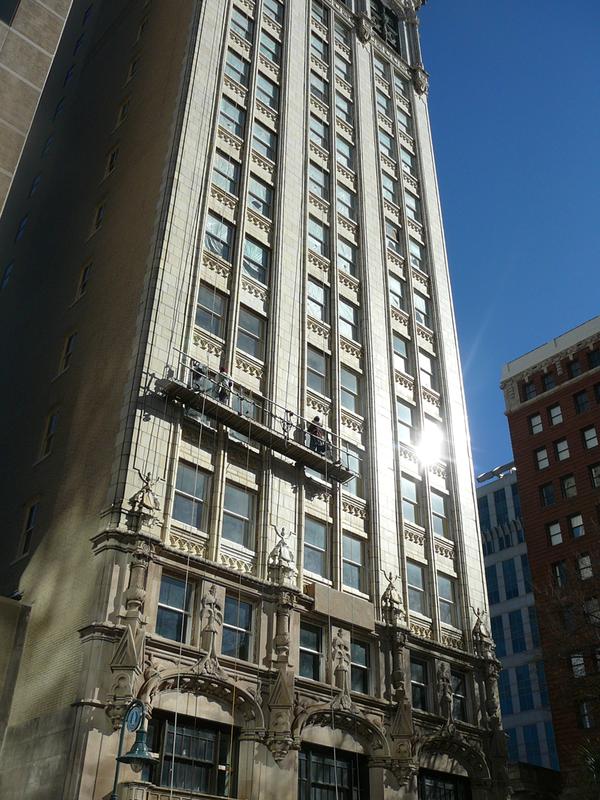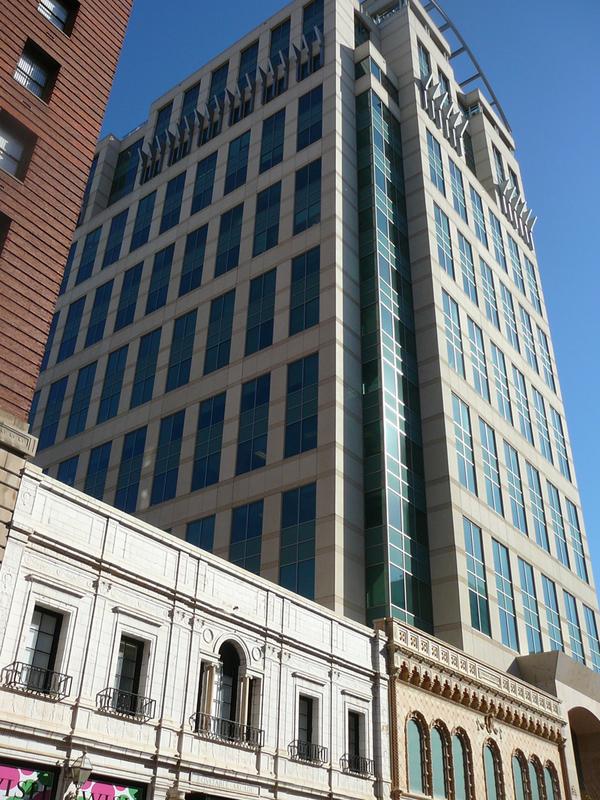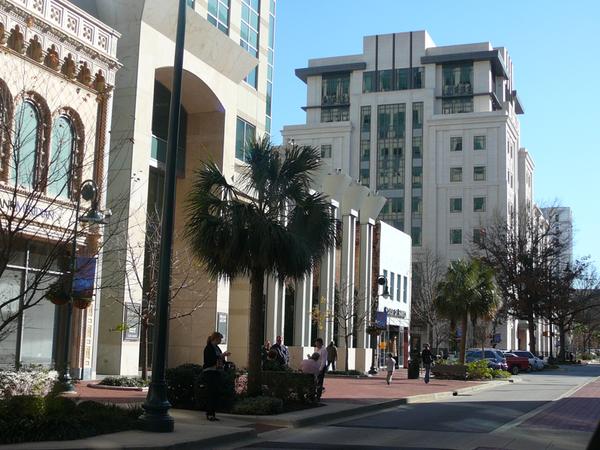 Special efforts are being aimed at Main Street, which was once the center of the city's activity but now sits dormant after retailers and shoppers left for suburban malls. The goal is to re-establish Main Street as a vibrant commercial and residential corridor. The streetscaping, along Main Street and in Five Points in particular, have taken their toll among local businesses located there, some of which were forced to close during the refurbishment.
CONGAREE VISTA DISTRICT
The Congaree Vista District contains over 45 restaurants and bars, 60 artists' galleries and specialty shops.  "The Vista," as it is known by locals, is centered on the city's old train station, which has been converted into The Blue Marlin, a casual dining restaurant. Also in this area is the historic Adluh Flour Mill, one of the few productive remnants of the district's industrial past which is often photographed for its uniqueness in architecture and location.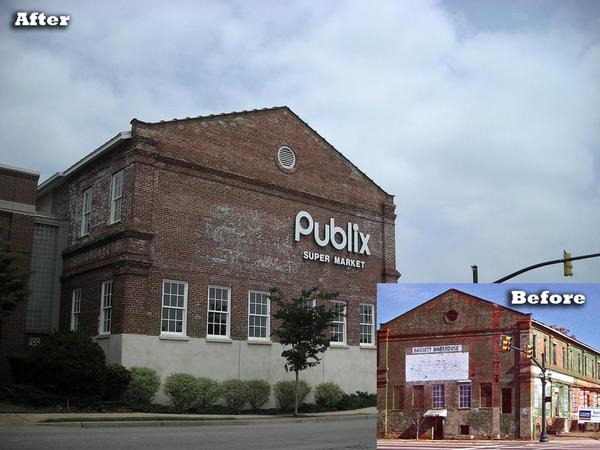 The Congaree Vista District features a number of historic buildings that have been rehabilitated. Of note is the adaptive reuse of the Confederate Printing Plant on Gervais and Huger, used to print Confederate bills during the American Civil War. The city cooperated with Publix grocery stores to preserve the look, and now Columbia is one of a handful of cities in the Southeast with a full-service market in its downtown. This won Columbia an award from the International Downtown Association.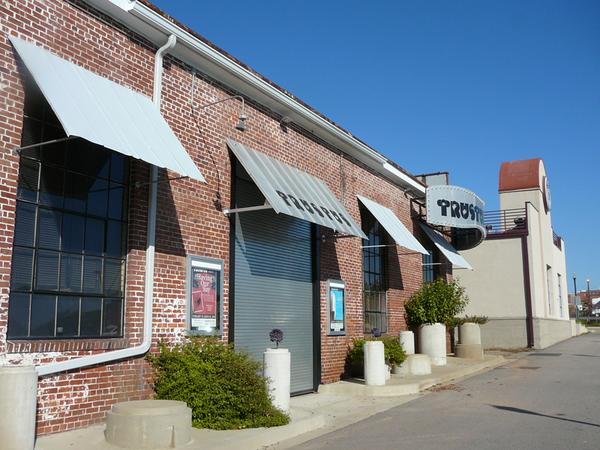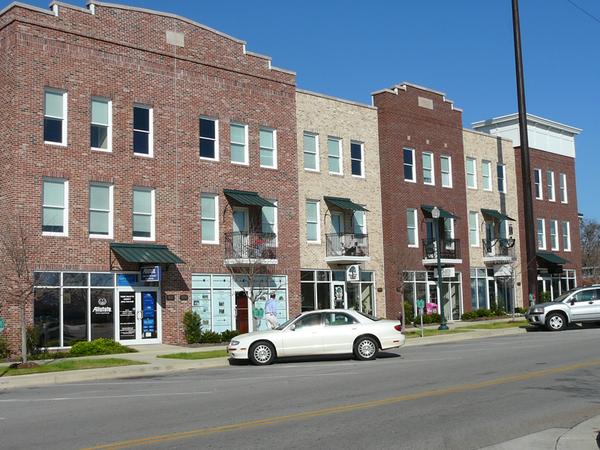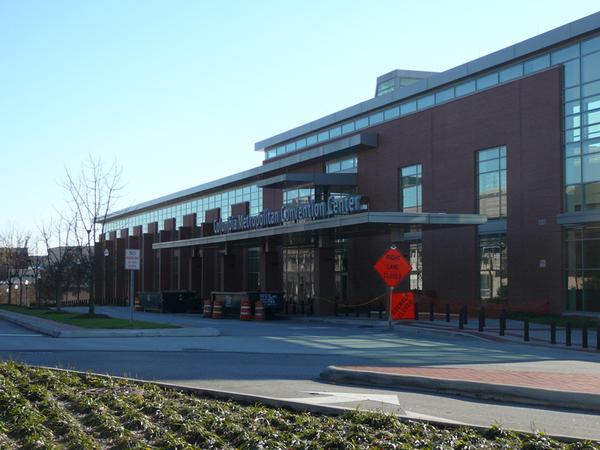 Gervais Street is the center of activity in the Vista District.  Its anchored by the State Capitol, Congaree River and the State Museum as the bookends, with a mix of restaurants, hotels, bars and specialty shops.  The Columbia Metropolitan Convention Center is located halfway between Gervais' bookend destinations.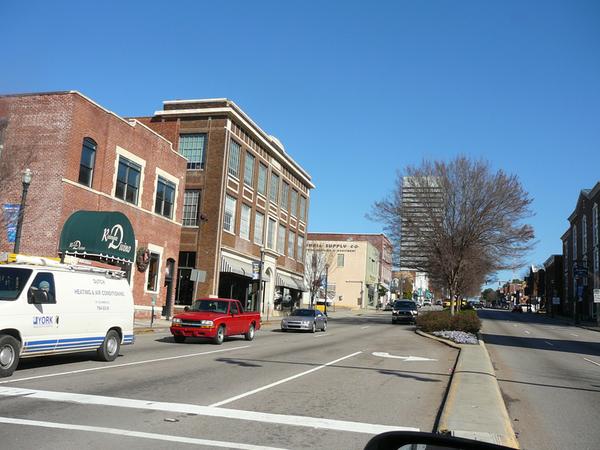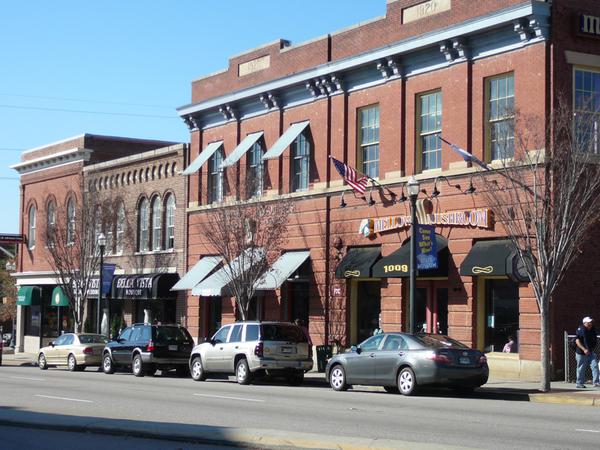 For more information: www.vistacolumbia.com
FIVE POINTS

When streetcars were around, Five Points served as the hub (rotating circle) for moving between downtown Columbia are the residential area of Shandon.  It grew to become the city's first neighborhood shopping district outside of downtown and was the home to Columbia's first supermarket, first Chinese restaurant and the first bar in South Carolina to serve cocktails.
Today, it is a popular district catering to the nearby University of South Carolina and home to the city's annual St. Patrick's Day Festival.