Elements of Urbanism: Buffalo
September 12, 2008
62 comments
Print Article
A look at New York's second largest city and a statistical comparison with the NFL's second smallest market.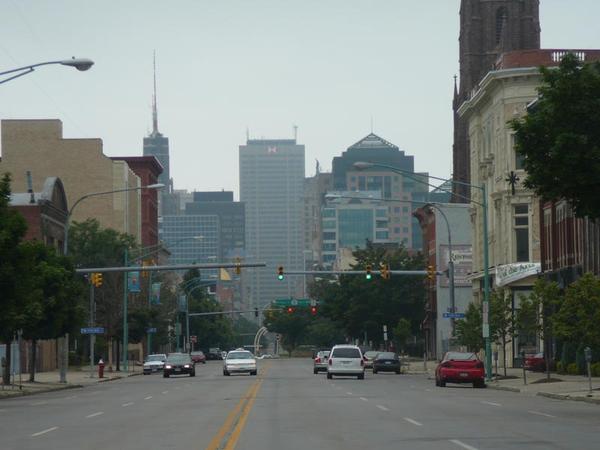 BRIEF SUMMARY OF THE HISTORY OF BUFFALO
Originating around 1789 as a small trading community near the eponymous Buffalo Creek, Buffalo grew quickly after the opening of the Erie Canal in 1825, with the city as its terminus. By 1900, Buffalo was the 8th largest city in the country, and went on to become a major railroad hub, the largest grain-milling center in the country, and the home of the largest steel-making operation in the world. The latter part of the 20th Century saw a reversal of fortunes: by the year 2000 the city had fallen back below its 1900 population levels.

With the opening of the St. Lawrence Seaway in 1957, which cut the city off from the normal trade routes, loss of manufacturing jobs, and the nation-wide trend of suburbanization, the city's economy and capital began to slide like much of the Rust Belt. The city, which peaked at more than half a million people in the 1950s, has seen its population decline by almost 50 percent as industries shut down and people either left for the suburbs or to other cities.
The rerouting of Great Lakes shipping by the opening of the St. Lawrence Seaway was a factor in the decline of the city. The closing or relocating of many of the steel mills and other heavy industries in the area also contributed to the decline.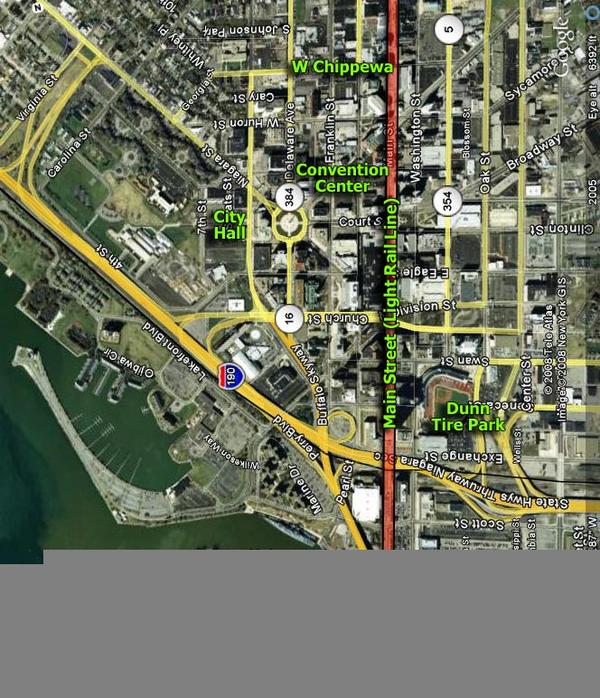 Tale of the Tape:
Buffalo Population 2007: 272,632 (City); 1,128,083 (Metro) - (incorporated in 1832)
Jacksonville Pop. 2007: 805,605 (City); 1,300,823 (Metro) - (incorporated in 1832)
City population 1950: Jacksonville (204,517); Buffalo (580,132)

Metropolitan Area Growth rate (2000-2007)
Buffalo: -3.58%
Jacksonville: +15.86%
Urban Area Population (2000 census)
Buffalo: 976,703 (ranked 38 nationwide)
Jacksonville: 882,295 (ranked 43 nationwide)
Urban Area Population Density (2000 census)
Buffalo: 2,663.5
Jacksonville: 2,149.2
City Population Growth from 2000 to 2007
Buffalo: -20,016
Jacksonville: +69,988
Convention Center Exhibition Space:
Buffalo: Buffalo Niagara Convention Center (yb. 1960s) - 64,410 square feet
Jacksonville: Prime F. Osborn III Convention Center (1986) - 78,500 square feet
According to the Buffalo Beast, the Buffalo Niagara Convention Center is an architectural death star:
"This architectural death star is a prime example of a silver-bullet megaproject imposed on a dying downtown that, of course, didn't deliver on its original promises. The mere construction of this sprawling, concrete monolith threw a monkey wrench in the tight-knit grid of downtown streets by cutting off Mohawk and Genesee streets from Niagara Square. This effectively severed downtown into two isolated halves, with the help of the Main Place Mall (mentioned below). The truncation of those vital streets creates a massive, bleak superblock which disrespects proper urban form and the pedestrian, human scale of a functional urban district."
Full article: www.buffalobeast.com/Feature5.htm
DOWNTOWN BUFFALO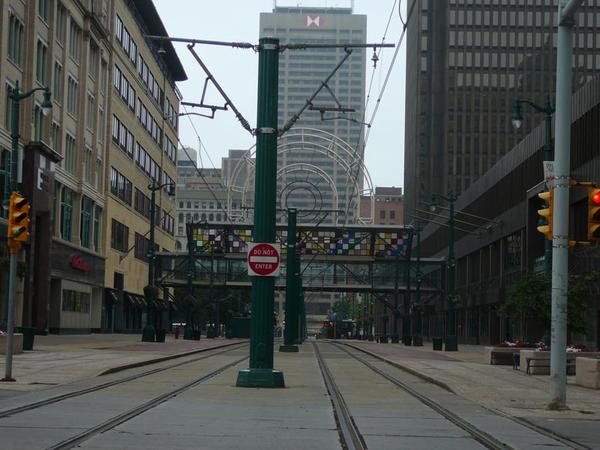 Tallest Building:
Buffalo: One HSBC Center - 529 feet
Jacksonville: Bank of America Tower - 617 feet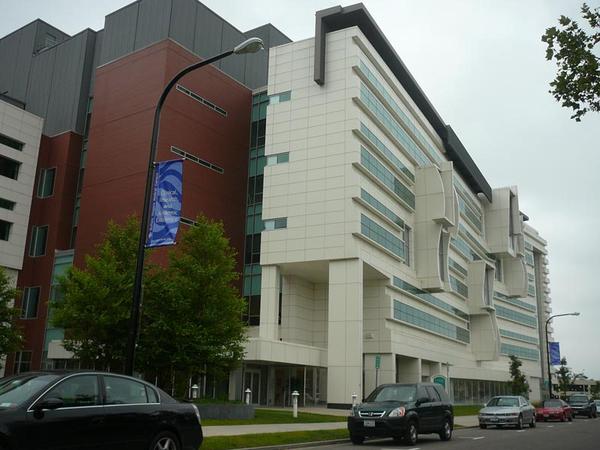 Daytime Downtown Employee Population:
Buffalo: 58,000
Jacksonville: 60,000
Downtown-Based Fortune 500 companies:
Buffalo: zero (0)
Jacksonville: CSX (261), Fidelity National Financial (435), Fidelity National Information Services (481)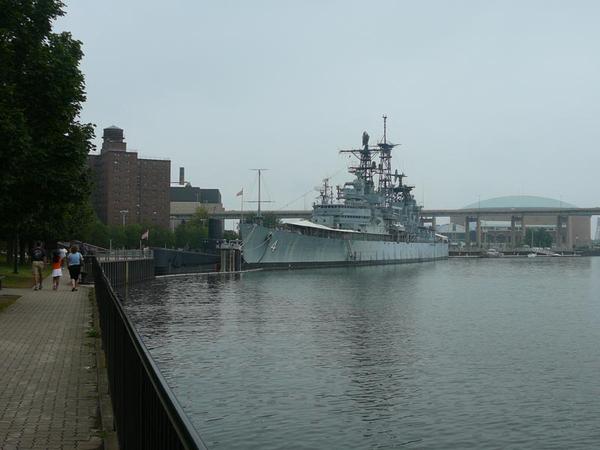 Urban infill obstacles:
Buffalo: Expressway system cuts downtown off from the waterfront.  Poor regional economic conditions.
Jacksonville: State & Union Streets cut off Downtown Jacksonville from Springfield.
Common Downtown Albatross:
Surface Parking Lots - Both city's downtown's have too many.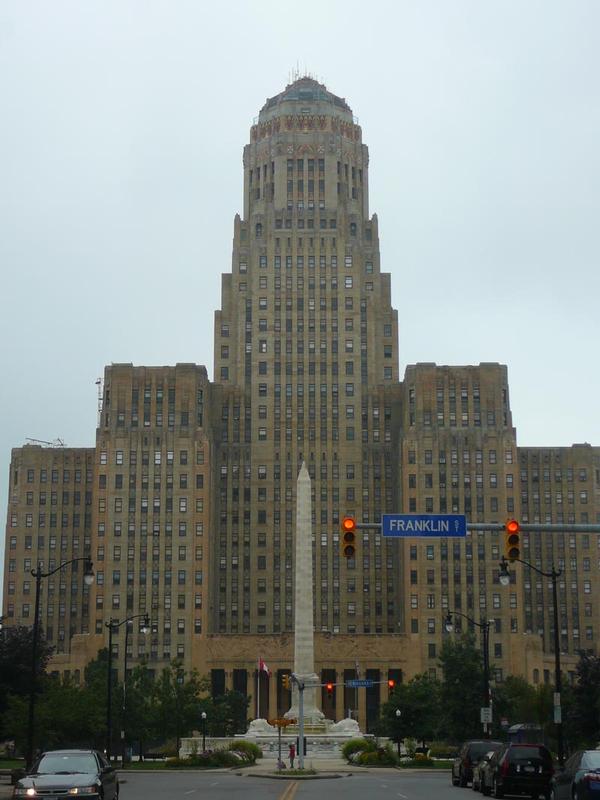 City Walkability Ranking (According to Walkscore.com)
Buffalo: (not ranked because population was not large enough to make the top 40 list)
Jacksonville: 40 out of 40 - dead last)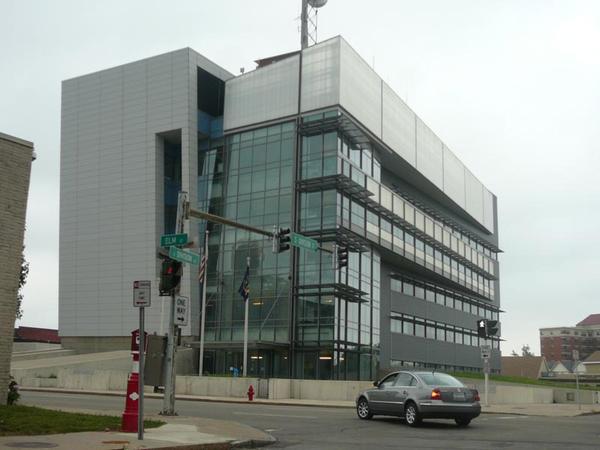 Who's Downtown is more walkable?
Buffalo: 95 out of 100, according to walkscore.com
Jacksonville: 88 out of 100, according to walkscore.com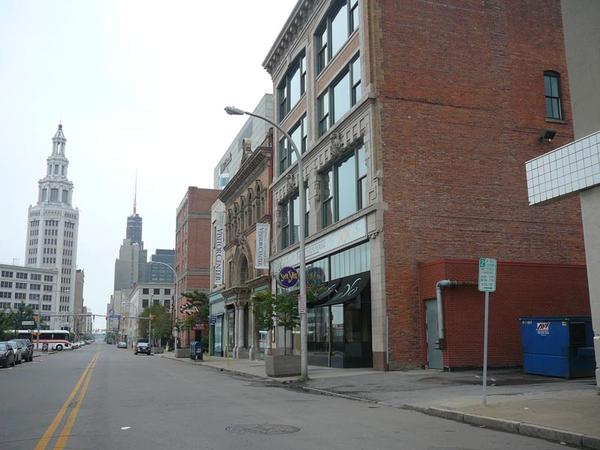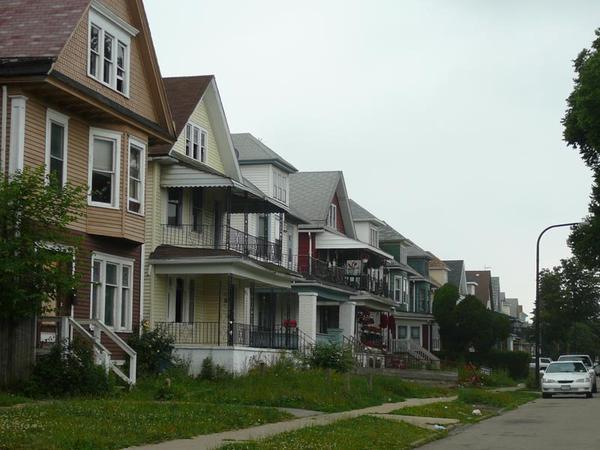 Buffalo faces issues with vacant and abandoned houses, as the city ranks second only to St. Louis on the list of American cities with the most vacant properties per capita. Since 2000, the city has torn down 2,000 vacant homes but as many as 10,000 still remain. Mayor Byron W. Brown recently unveiled a $100 million, five-year plan to rip down 5,000 more houses.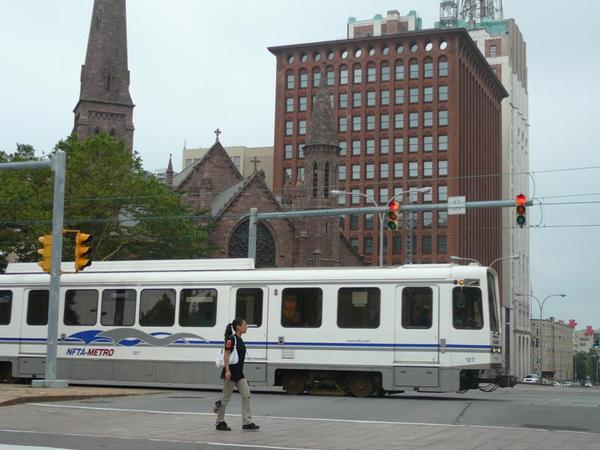 The Guaranty Building, by Louis Sullivan, was one of the first steel-supported, curtain-walled buildings in the world, and its thirteen stories made it, at the time it was built, the tallest building in Buffalo and one of the world's first true skyscrapers.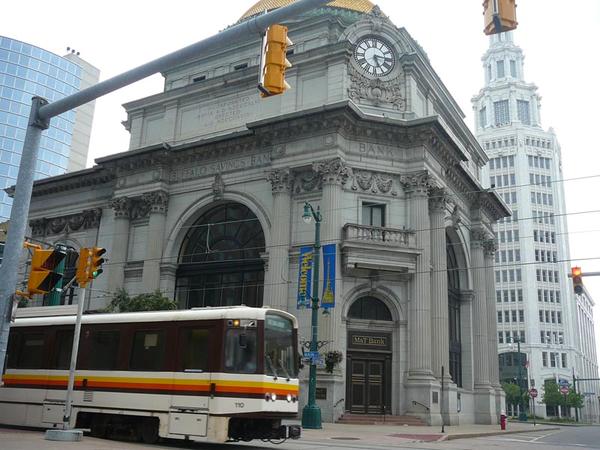 The Metro Rail is a 6.4 mile long, single line rail that extends from downtown Buffalo to the University Heights district in north Buffalo. The downtown section of the line is operated above ground and is free of charge to passengers. Outside the downtown area the line transitions to an underground system until it reaches the end of the line at University Heights. Passengers must pay a fee to ride this section of the line.
UNIQUE BUFFALO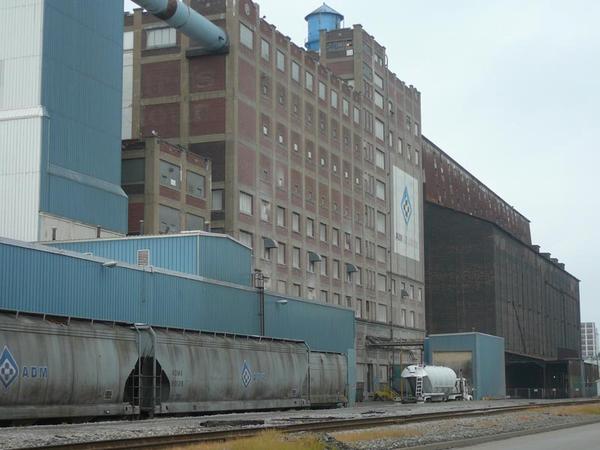 - The Grain elevator was invented in Buffalo in 1842.  Buffalo's collection is the largest in the world.
- The Windshield Wiper was invented in Buffalo.
- Begun in 1868 by Frederick Law Olmsted, the Olmsted Park and Parkway System the first attempt in America to lay out a coordinated system of public parks and parkways.
- Buffalo's median household income of $27,850 is third-lowest among large cities, behind only Miami and Cleveland
BUFFALO CUISINE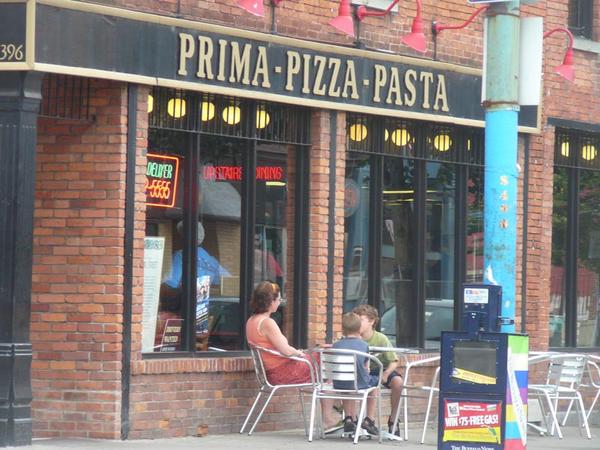 As a melting pot of cultures, cuisine in the Buffalo area reflects a variety of cultures. These include Italian, Jewish, German, Polish, African American, Greek and American influences. Beef on Weck, Wardynski's kielbasa, Sahlen's hot dogs, sponge candy, pierogi, and haddock fish fries are among the local favorites, as is a loganberry-flavored beverage that remains relatively obscure outside of the Western New York and Southern Ontario area. Weber's mustard is a well known local producer of horseradish mustard which is popular in the Western NY area. Teressa Bellissimo, the chef/owner of the city's Anchor Bar, first prepared the now-widespread chicken wings here on October 3, 1964.
Local or regional chains with a significant presence in the Buffalo area include Louies Hot Dogs(two separate companies with the same name), Ted's Hot Dogs, Anderson's Frozen Custard, Duff's Famous Wings, John & Mary's, Jim's SteakOut, Just Pizza, SPoT Coffee, Tim Hortons, Mighty Taco, Bocce Club and LaNova Pizzeria. Buffalo's pizza is also unique, perhaps because Buffalo is geographically located halfway between New York City and Chicago, Illinois, the pizza made is likewise about halfway between thin-crust New York-style pizza and deep-dish Chicago-style pizza.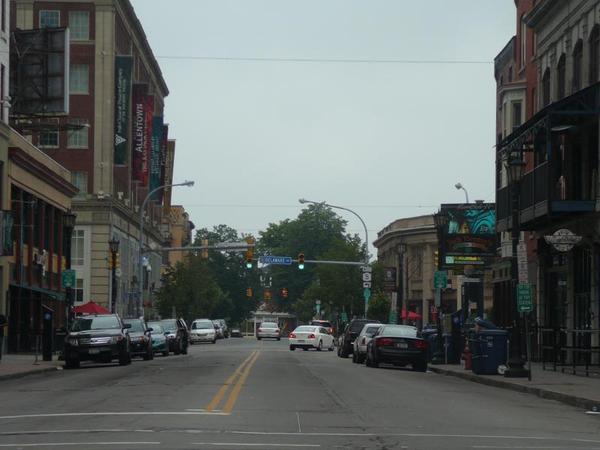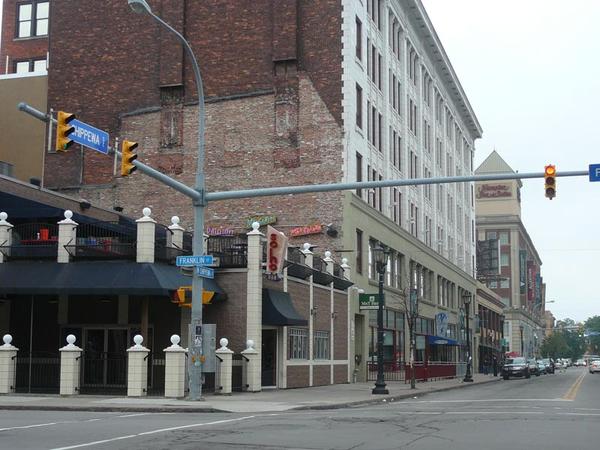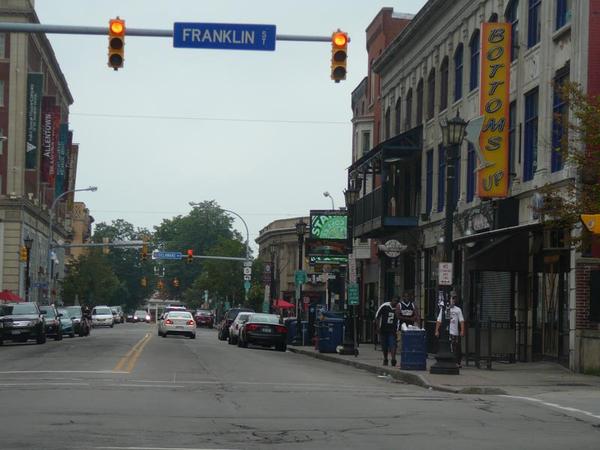 Downtown Nightlife:
Buffalo: West Chippewa Street, located between Main Street and South Elmwood Avenue. This three block stretch is home to high-energy dance clubs, crowded bars, trendy coffeehouses, and restaurants.
Jacksonville: East Bay Street, located between Main Street and Liberty Street.  This four block stretch is home to four bars and clubs.
 ELMWOOD VILLAGE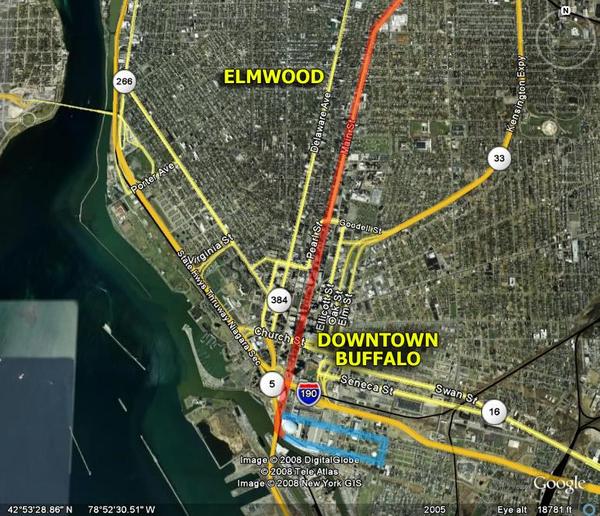 Tucked inside the City of Buffalo, mixed-use Elmwood Village is a neighborhood where one can find examples of works by renowned landscape designer Frederick Law Olmsted and architect Frank Lloyd Wright. The village also is home to several world-class cultural institutions, including the Albright-Knox Art Gallery, which contains one of the country's best collections of modern art. It includes a prosperous commercial district, primarily along Elmwood Avenue, with more than 200 shops and restaurants. Four large colleges and universities are located in or near the neighborhood, adding to the area's diversity and vibrancy.
According to the American Planning Association the Elmwood Village neighborhood in Buffalo is ranked the third best neighborhood in America.
http://www.planning.org/greatplaces/neighborhoods/elmwoodvillage.htm