The Plight of the Urban Core
October 9, 2008
18 comments
Print Article
A look at the rise and fall of the Urban Core's population with the help of pre-consolidation city limit maps and census tracts.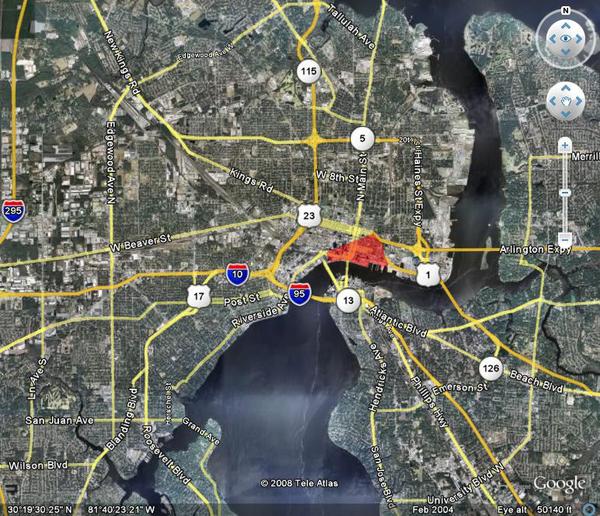 The original city limit boundaries of 1832 consisted of the Bay Street riverfront and the Cathedral District.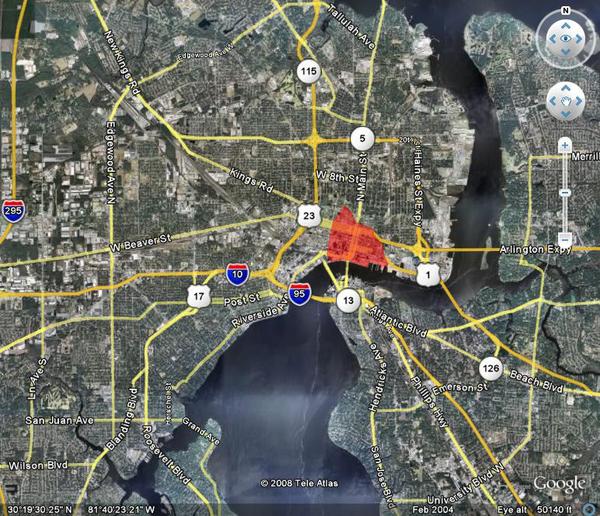 In 1842, the city's boundaries extended north along Hogans Creek and west to Clay Street. The city would remain this size until the annexation of 1887.
1850 Census - 1,045
1860 Census - 2,118
1870 Census - 6,912
1880 Census - 7,650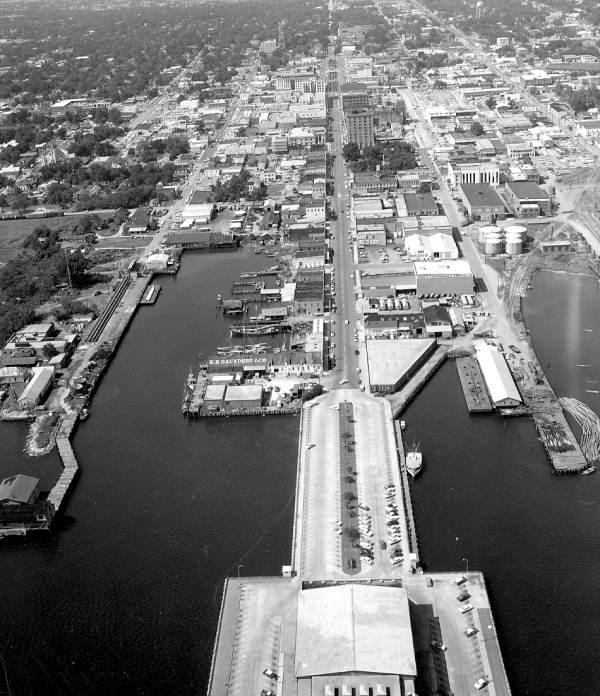 A historic aerial of Pensacola
The 1880 Census would show that Jacksonville replaced Pensacola as Florida's largest city.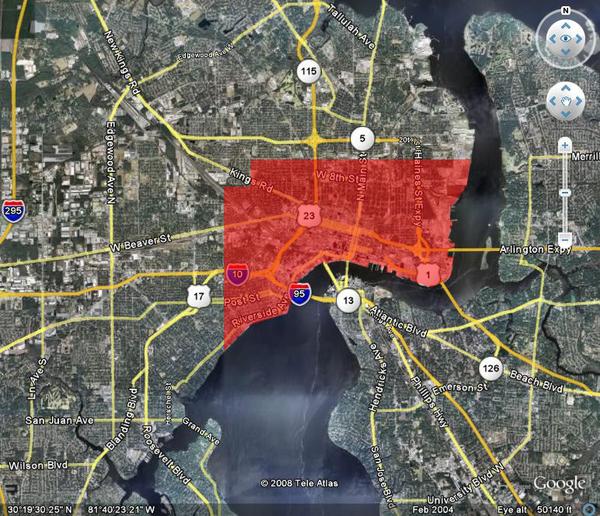 In 1887, several suburbs were annexed into Jacksonville. They included LaVilla, Brooklyn, Riverside, Springfield, Durkeeville, East Jacksonville, Fairfield and Oakland.
1890 Census - 17,201
1900 Census - 28,429
1910 Census - 57,699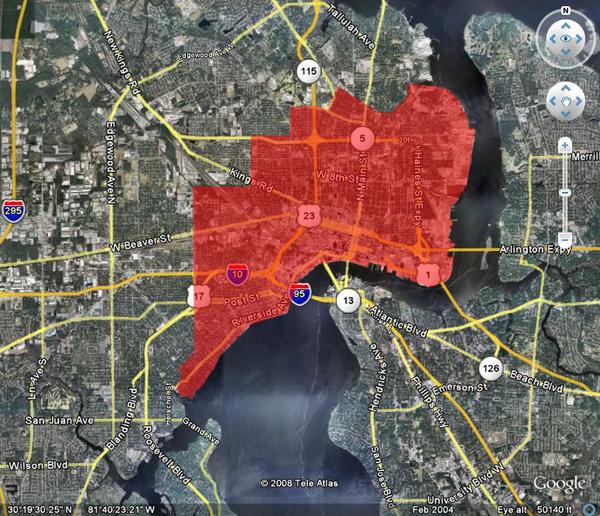 In 1919, the city expanded north to Long Branch Creek and Moncrief Park. An expansion to the west also bought a portion of Avondale into the city limits.
1920 Census - 91,558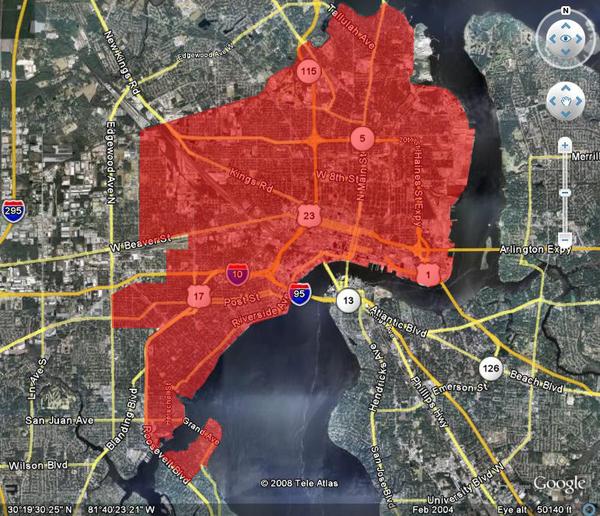 The annexation of 1925 would be Jacksonville's largest until consolidation. Panama Park, Ortega, Moncrief Park and the city of Murray Hill were included in this expansion.
1930 Census - 129,549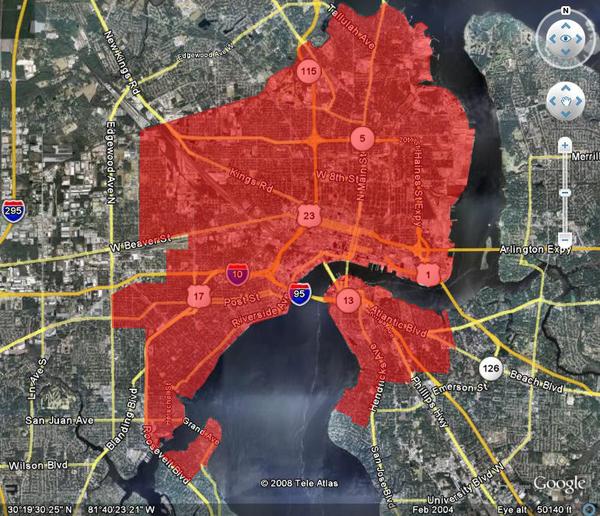 There were several small scale expansions of the city limits during the 1930s. These included annexations of the Ostrich farm property in 1931 and the city of South Jacksonville in 1932. Jacksonville's land area would remain the same size until consolidation.
1940 Census - 173,065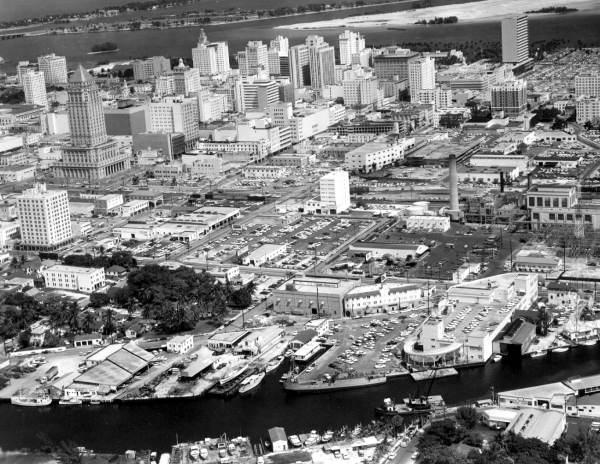 Downtown Miami around the time the city became Florida's largest.
With 172,172 residents, the City of Miami was right on Jacksonville's heels in 1940. By 1950, Miami became Florida's largest city with 249,276 residents.
1950 Census - 204,275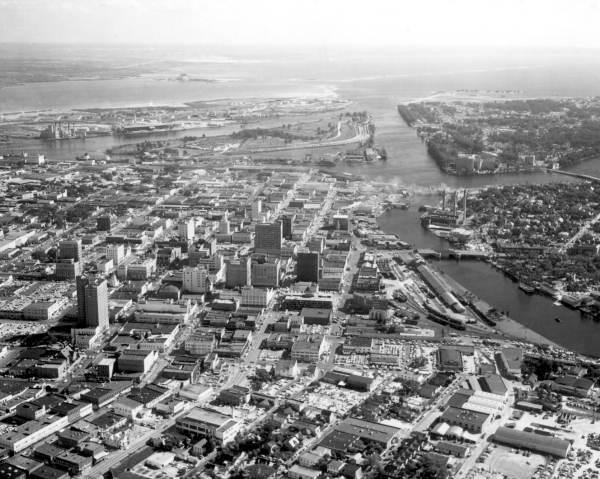 Downtown Tampa in 1960.
During this decade, the old city would peak and begin to decline in population. In the middle of a boom, the city of Tampa would pass Jacksonville in population with 274,970 residents by 1960. St. Petersburg, Tampa's neighbor across the bay, would come close with 181,298 residents.
1960 Census - 201,031
The declining city merged with Duval County in 1968, helping mask the problems of the decaying Inner City and regain the status of Florida's largest city. Downtown's darkest days would occur in the decades to follow but high suburban growth rates would hide the urban core's rapid population loss.
1970 Census - 528,865
1980 Census - 540,920
1990 Census - 635,230
2000 Census - 735,503
2007 Census estimate - 805,605
While the official 2000 census records show Jacksonville with an impressive 15.8% growth rate, a look at census tract records reveal a completely different story.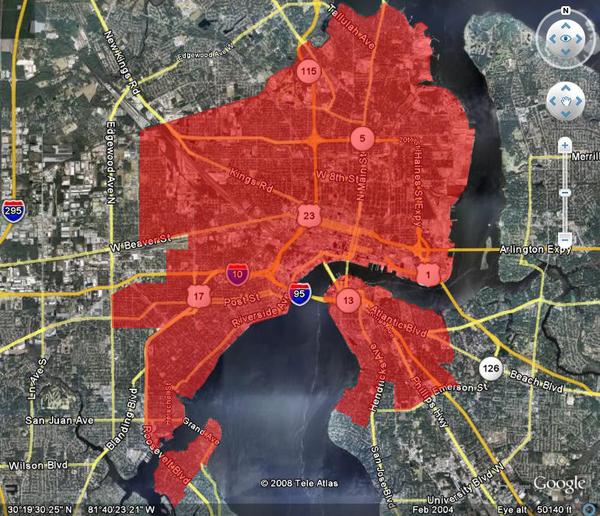 Jacksonville's current inner city census tracts are nearly identical to the pre-consolidated city boundaries from the 1940 census.
2000 Census City Population: 735,503
2000 Old City Census Tract Population: 112,753
1950 Old City Population: 204,517
Net Urban Core Loss (1950 - 2000): -91,764
2000 Census City Population Density: 735,503 / 758.7 square miles = 969
2000 Old City Census Tract Density: 112,753 / 30.2 square miles = 3,734
1950 Old City Population Density: 204,517 / 30.2 square miles = 6,772
Net Urban Core Loss (1950 - 2000): - 3,038 residents per mile
These numbers show that our urban core's population loss during the late 20th century was very similar to older industrial cities such as Detroit, Cincinnati, Pittsburgh and Birmingham. These numbers also show that the Urban Core has the infrastructure in place to support twice as many residents than live there today.
As Jacksonville continues to deal with sprawl, congestion, limited road expansion funds and higher gas and energy costs, our focus on growth needs to shift back to the area that is already laid out to support higher densities.
Article by Ennis Davis