Amtrak: Expanding Intercity Corridors
October 24, 2008
23 comments
Print Article
Amtrak officials, now armed with an additional $15 billion in funds, have their eye on enhancing service in Florida. Does Jacksonville want in on the action?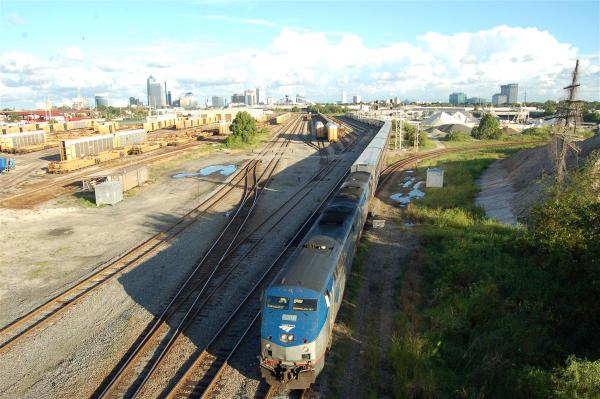 Amtrak believes that by increasing the number of trains connecting Florida's major cities, the entire operating cost of the service could be paid for with farebox revenue alone.  A Florida Corridor could potentially benefit Jacksonville by giving it a direct passenger rail connection from St. Augustine, all the way down the east coast, to Miami.  There would also be increased service between Jacksonville and Central Florida. 
An additional link could possibly connect the First Coast with Atlanta.  Depending on the number of trains per day, this service could be beneficial for commuters traveling daily between Duval, St. Johns, Clay and Baker Counties. 
Corridor Service TOD Example: Emeryville Station
Emeryville's (pop. 6,882) Amtrak station is a part of a 20-acre mixed-use transit oriented development called Emery Station.  It includes 580,000 square feet of office/retail space and 101 condominiums.  This station is located five miles north of Oakland's station and is a part of Amtrak's San Joaquin corridor, operating between Oakland and Sacramento.
The Emeryville station is served with four daily roundtrips between Oakland and Sacramento.  Amtrak also runs a corridor service that connects Los Angeles and San Deigo, called the Pacific Surfliner.  Along this corridor, Amtrak trains run every hour, making it ideal for commuter service.
A similar service in Florida would provide opportunities for areas like Orange Park, St. Augustine, Avenues, Green Cove Springs and Macclenny to create transit oriented development within their boundaries.  Considering that all Amtrak trains serving Florida would connect to Jacksonville, our terminal has the opportunity to once again become the passenger rail epicenter of the State of Florida.
The following presentation was presented to the JTA Commuter Rail Advisory Committee.
Currently, there is no service between Jacksonville and Atlanta, New Orleans, the Midwest and the West Coast.
Amtrak is currently experiencing record ridership numbers.
Corridor Service Becoming Amtrak's Focus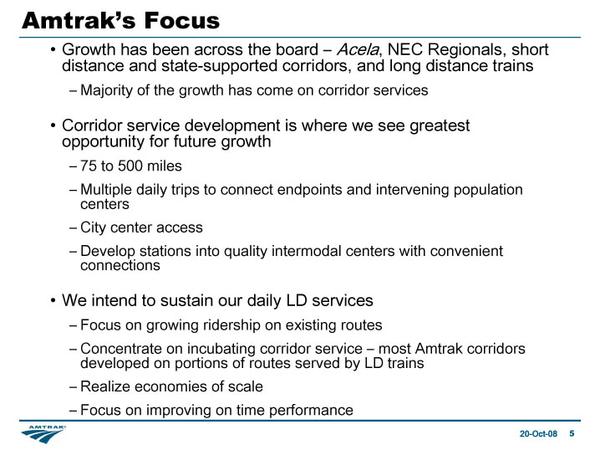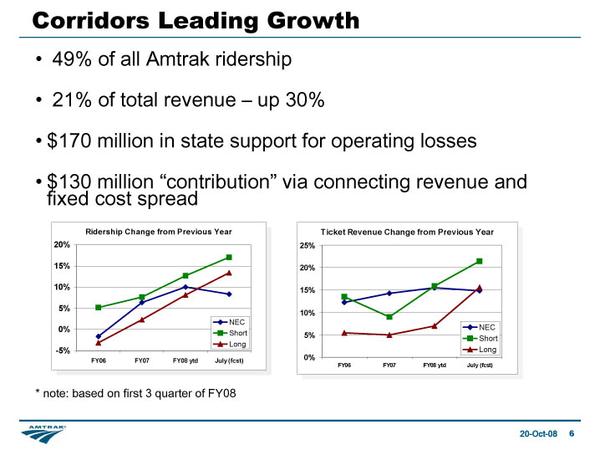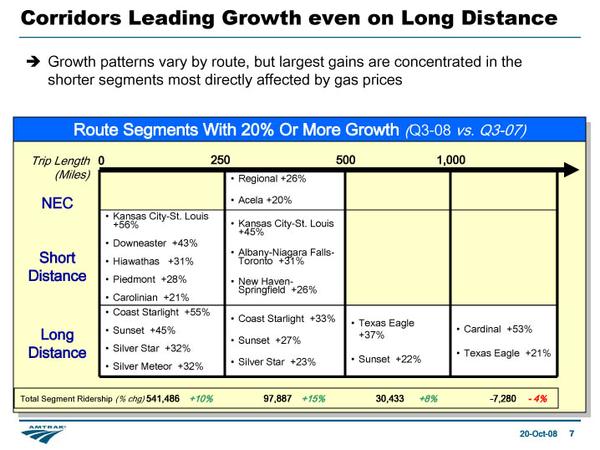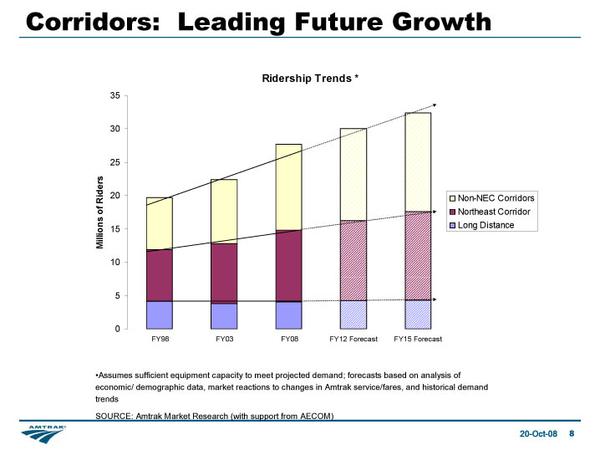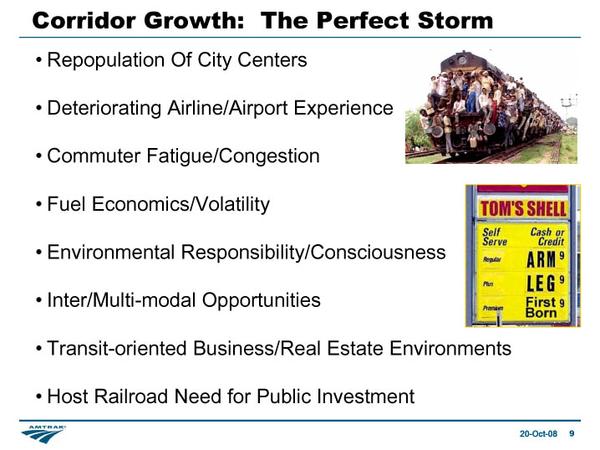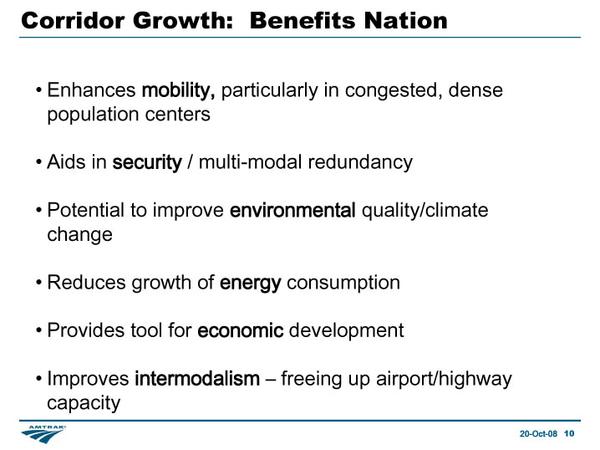 How will Amtrak's vision impact Jacksonville?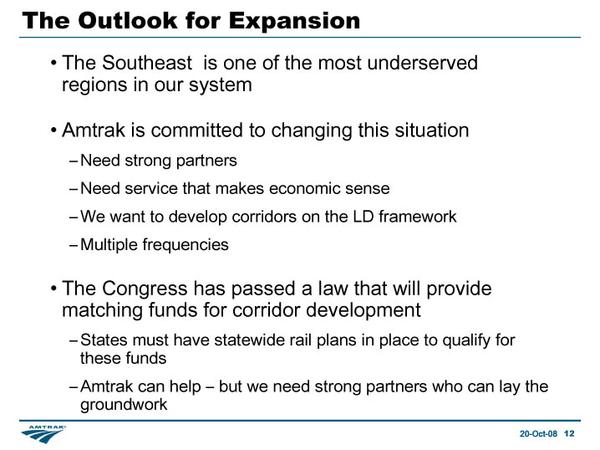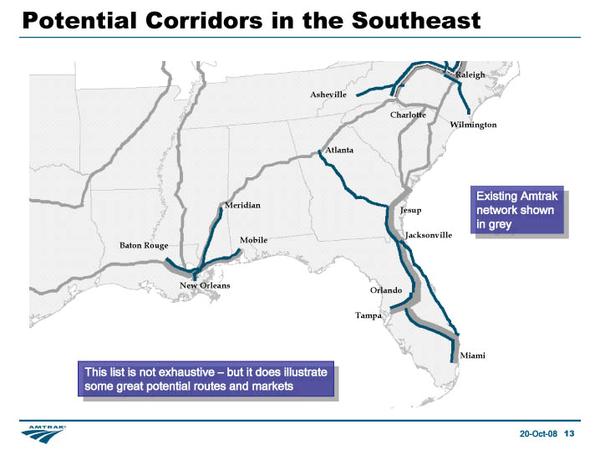 In 2001, Amtrak and Florida East Coast Railway agreed to a deal that would bring passenger service between Jacksonville and West Palm Beach.  St. Augustine, Daytona Beach, Titusville, Cocoa/Port Canaveral, Melbourne, Vero Beach, Fort Pierce and Stuart would all be stops in between.  Although the State of Florida was willing to commit $62 million to this project, it died as Amtrak struggled to stay afloat in 2002.
Today, Florida still has the $62 million and Amtrak has $14.9 billion to jump start corridor services.  It is time for the State and Amtrak to finish the deal.