Amtrak Hiawatha Corridor Service
November 13, 2008
16 comments
Print Article
The Hiawatha runs fourteen trains daily between Chicago and Milwaukee. In a quick ninety-minute trip, you can be in the center of either city. This is the type of rail service Amtrak would like to implement between Jacksonville, Miami, Orlando and Tampa. Why are we ignoring this potential inter-city rail service?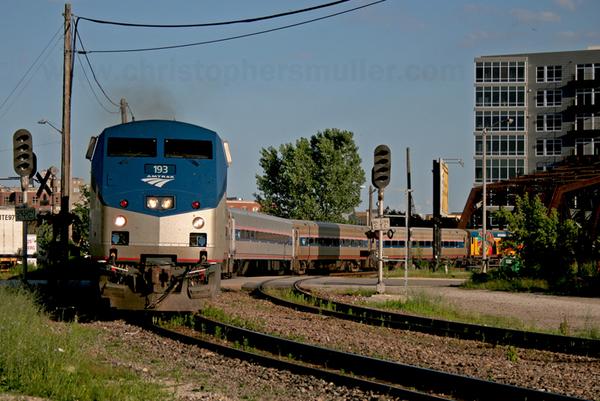 ABOUT HIAWATHA
Hiawatha is the name of an 85-mile (137 km) train route operated by Amtrak on the western shore of Lake Michigan, although the name was historically applied to several different routes that extended across the Midwest and out to the Pacific Ocean. As of 2007, fourteen trains (seven round-trips, six on Sunday) run daily between Chicago, Illinois, and Milwaukee, Wisconsin,[1] making intermediate stops in Glenview, Illinois, Sturtevant, Wisconsin, and General Mitchell International Airport. The line is partially supported by funds from the state governments of Wisconsin and Illinois.[2] The service carries about 624,000 passengers annually.[1] It is one of the most heavily-used routes in the entire Amtrak system, aside from rail lines on the United States North East and in California. A one-way trip between Milwaukee and Chicago takes about 90 minutes.
Many weekday riders are commuters who live in Milwaukee and work in downtown Chicago, with weekend riders tending to be students and those visiting attractions in either city. Amtrak has accommodated regular business riders with monthly and 10-ride passes, and most cars on the five-car train offer standard power outlets for laptop computers. There is also usually one "business class" car, with significantly more seat pitch and adjustable foot and leg rests. There is no extra charge for this car, it is first come first served.
In recent years the cost of living in Chicago has increased, while parking availability has decreased. For those who cannot afford to live in Chicago, but still desire an urban environment, the Hiawatha service has made living in Milwaukee and working in Chicago a reasonable alternative.
http://en.wikipedia.org/wiki/Hiawatha_(Amtrak)

AMTRAK HIAWATHA ROUTE MAP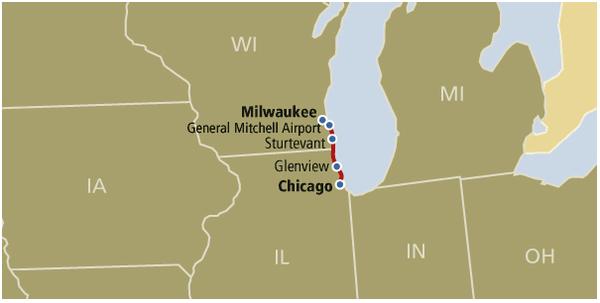 AMTRAK HIAWATHA PHOTO TOUR
An aerial showing Union Terminal's (highlighted in red) location in Chicago's Loop.
Amtrak's Hiawatha service southern terminus is Chicago's Union Station.  In the heart of the Loop, daily commuters from the Hiawatha can transfer to other modes of mass transit to access additional areas of Chicago.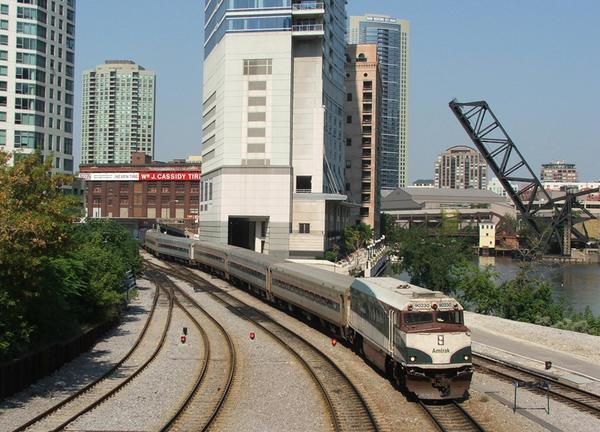 image by iaisrailran at flickr.com
A scene not usually available, a northwestern Cascade leads this daily Hiawatha into Chicago.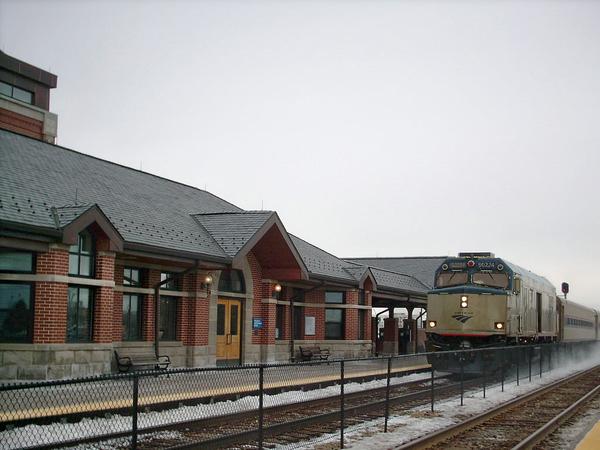 image by Eddie from Chicago at flickr.com
In this image, an Amtrak Hiawatha train speeds through a suburban Chicago Metra commuter rail station.  JTA's commuter rail costs will decease if the community and State show support for an Amtrak Florida corridor service.  The track improvements needed for local commuter rail service would also be needed for Amtrak's corridor service.  Considering Amtrak would be willing to fund a significant portion of the implementation costs, these are improvements that won't have to be paid for again with future commuter service.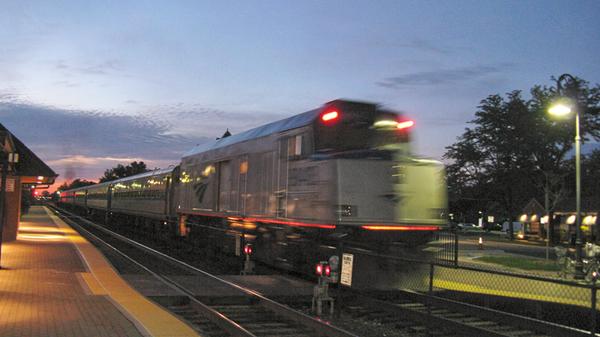 image by Eddie from Chicago at flickr.com
A northbound Amtrak Hiawatha train departs the Glenview station at twilight enroute to Milwaukee.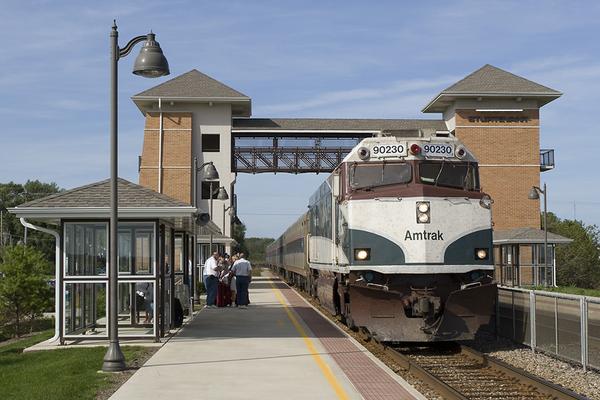 image by s_c_kos at flickr.com
Amtrak NPCU (non-powered control unit, or "cabbage car") 90230 glides to a stop at the new Sturtevant Depot with Hiawatha Service train 338(18) on September 18, 2008. Usually assigned to Cascade service in the Pacific Northwest, the 90230 has been working Quincy and Milwaukee assignments out of Chicago.
HIAWATHA SCHEDULE IN 2006 
(service has increased from 10 to 14 trains a day)
Train Number                 329     331     333     335     337     339     341       
Days of Operation           Mo-Sa   Daily   Daily   Daily   Daily   Daily   Daily      
                 miles                                                          
Chicago,IL  CT      0  Dp   6:00a   8:25a  10:20a   1:05p   3:15p   5:08p   8:05p      
Glenview,IL        18       6:22a   8:47a  10:42a   1:27p   3:37p   5:32p   8:27p      
Sturtevant,WI      62       7:00a   9:25a  11:20a   2:05p   4:15p   6:14p   9:05p      
Milwaukee Airport  78       7:14a   9:39a  11:34a   2:19p   4:29p   6:28p   9:19p      
Milwaukee          86  Ar   7:29a   9:54a  11:49a   2:34p   4:44p   6:45p   9:34p
                                                                                       
                                                                                       
Train Number                330     332     334     336     338     340     342        
Days of Operation          Mo-Sa   Daily   Daily   Daily   Daily   Daily   Daily       
                miles                                                           
Milwaukee, WI       0  Dp   6:15a   8:00a  10:50a   1:00p   3:00p   5:45p   7:30p      
Milwaukee Airport   8       6:26a   8:10a  11:00a   1:100   3:10p   5:55p   7:40p      
Sturtevant, WI     24       6:43a   8:23a  11:13a   1:23p   3:23p   6:08p   7:53p      
Glenview IL        68       7:25a   9:01a  11:51a   2:01p   4:01p   6:46p   8:31p      
Chicago IL    CT   86   Ar  7:57a   9:29a  12:19p   2:29p   4:29p   7:14p   8:59p
http://www.cwrr.com/Amtrak/mw_milw.html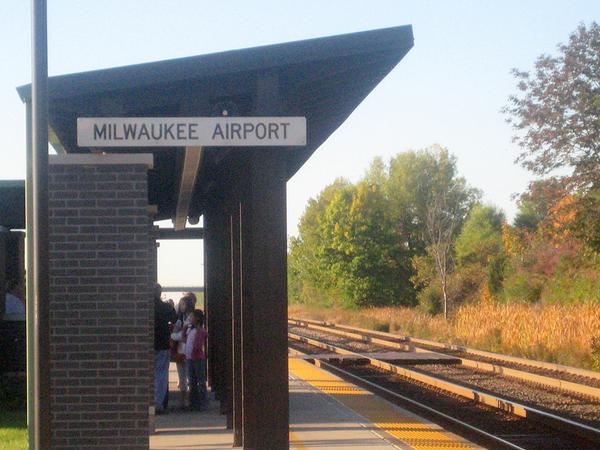 image by Moncrief Speaks at flickr.com
The Hiawatha makes multiple stops in Metropolitan Milwaukee, including a stop at Milwaukee's General Mitchell International Airport.  With aggressive planning, an Amtrak Florida corridor service could also make multiple stops in Metro Jacksonville.  This will give residents in Suburban communities such as Orange Park, Baldwin and St. Augustine the ability to use the service for daily commutes.  It also gives these cities the ability to establish transit oriented development districts around their stations, changing their traditional pattern of sprawl type development.  For JTA, a corridor service gives the transit agency the ability to focus its resources on local rail routes that complement Amtrak's investment.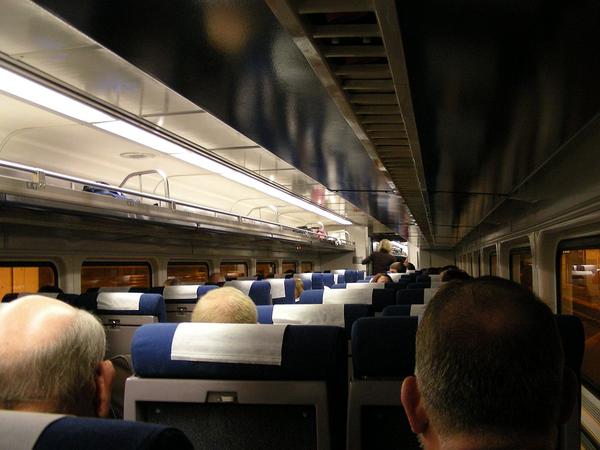 image by branflakez at flickr.com
An interior view of the Hiawatha.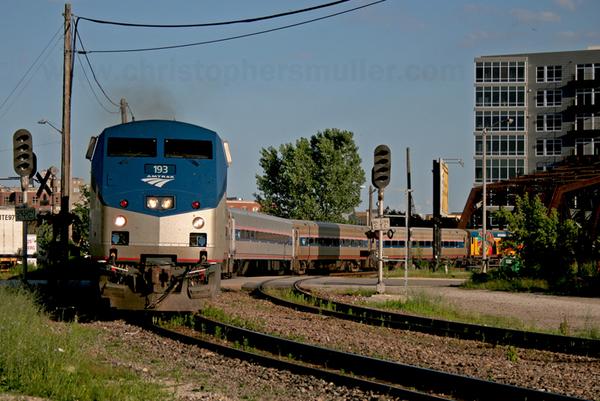 image by railtalk at flickr.com
One of several daily Hiawatha trains running between Chicago and Milwaukee eases into the Amtrak Station in downtown Milwaukee.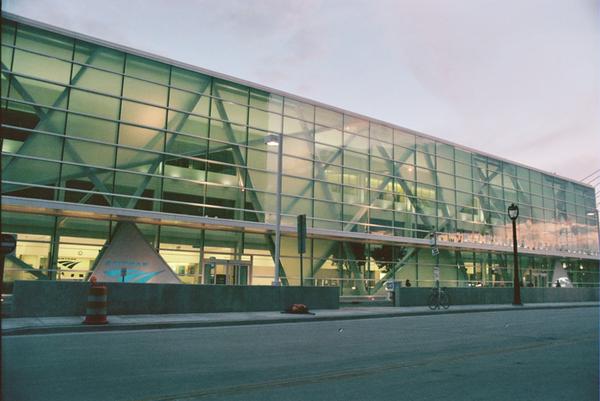 image by MCFires at flickr.com
Milwaukee's Intermodal Transit Center. This is where the Hiawatha ends, as well as Milwaukee's bus terminal. It would be nice if Downtown Jacksonville's proposed transportation center could serve as the northern terminus for an equivalent system that could connect our city with Orlando, Tampa and Miami.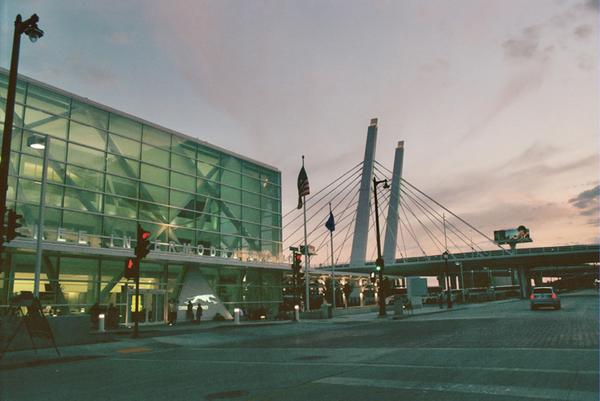 image by MCFires at flickr.com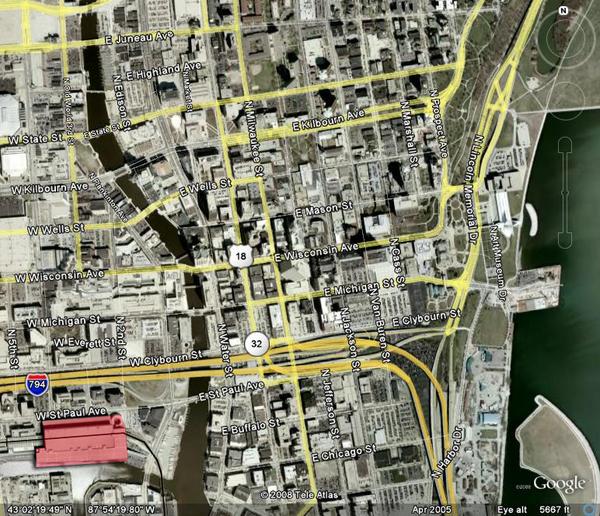 An aerial showing the Intermodal Transportation Center's (highlighted in red) location in Downtown Milwaukee.
Photo Article by Ennis Davis