Learning from Raleigh, NC
May 23, 2008
18 comments
Print Article
Known as the City of Oaks , Raleigh is the second largest city in North Carolina and one of the most rapidly growing cities in the country. Raleigh's 2003 Livable Streets Downtown Plan provides a startling contrast when compared to some of our most recent developments.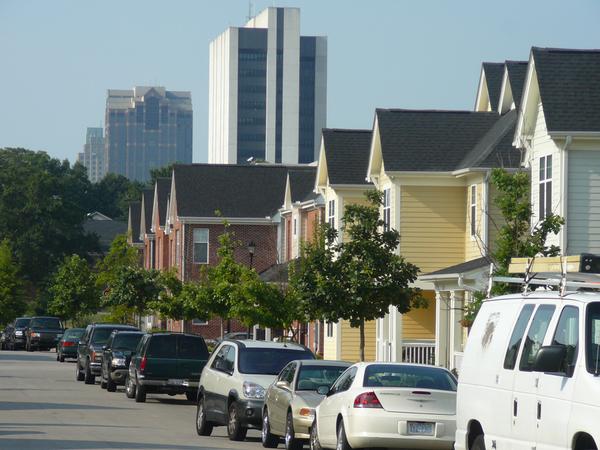 STATISTICS:
Raleigh Population 2006: 356,321 (City); 994,551 (Metro) - (incorporated in 1794); 1,458,940 (Raleigh-Durham-Cary CSA)
Jacksonville Pop. 2006: 794,555 (City); 1,300,823 (Metro) - (incorporated in 1832)
City population 1950: Jacksonville (204,517); Raleigh (65,679)
ABOUT RALEIGH:
- Known as the "City of Oaks", Raleigh is North Carolina's Capital and second largest city
- Established as the State Capital in 1792, the city was named after Sir Walter Raleigh, sponsor of the Colony of Roanoke.
- Raleigh, Durham, and Chapel Hill make up the three primary cities of the Research Triangle Metropolitan Region.
- The Research Triangle is one of the country's largest research parks and a major center in the United States for high-tech and biotechnology research, as well as textile development.
- In 2008, Forbes magazine named Raleigh No. 1 out of the "Top 200 Best Places For Business and Careers".
DOWNTOWN RALEIGH PHOTO TOUR:
Raleigh's "Livable Streets" Downtown Plan lays the groundwork for the city's revitalization.  The plan, approved by the City Council in 2003, has five objectives: reinvigorate Fayetteville Street as the heart of downtown, fund and build a new convention center and headquarters hotel to attract conventions and trade shows, improve the pedestrian environment of the center city, remove regulatory impediments and make it easier to do business downtown, and expand management and marketing of downtown. 
http://www.raleigh-nc.org/
FAYETTEVILLE STREET AND FREE ON-STREET PARKING:
In 1977, Fayetteville Street was converted into a pedestrian-only street to spur business growth.  However, the closing of traffic to the street caused the remaining businesses to close.  Fayetteville Street was reopened to vehicular traffic in 2006.  In 2008, the Fayetteville Street Historic District was listed on the National Register of Historic Places.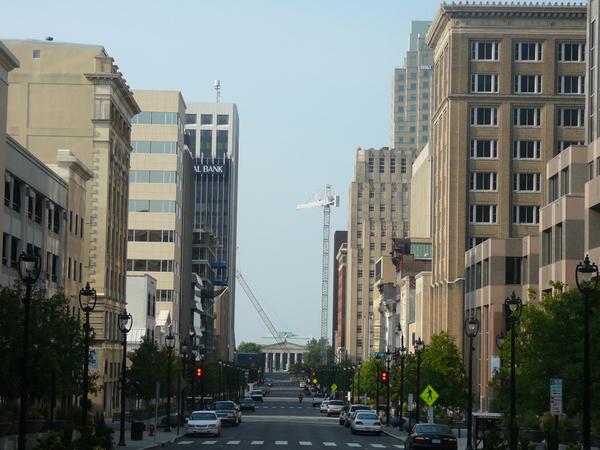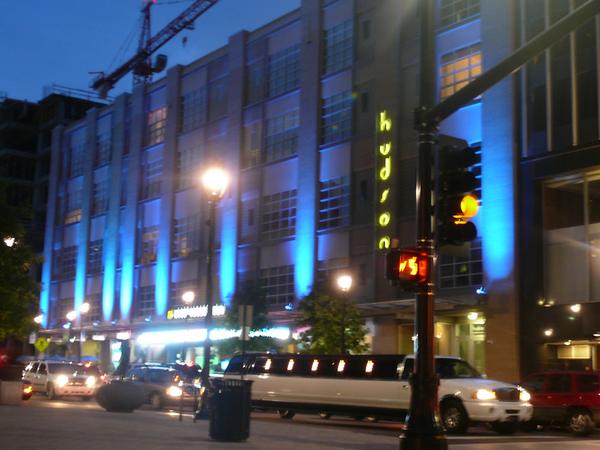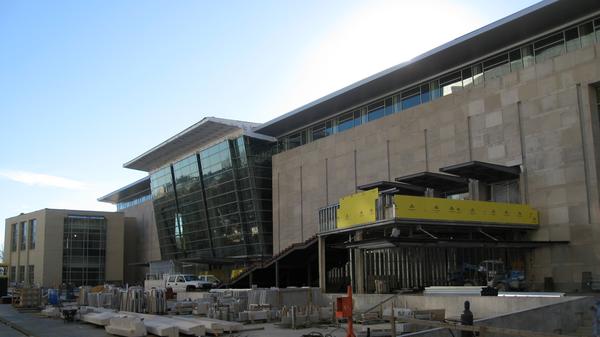 The Raleigh Convention Center's $225 million expansion and renovation project is scheduled to be completed in September 2008.  The 500,000 square foot center will contain a 150,000 square foot exhibit hall, 20 meeting rooms and a 32,000 square foot ballroom.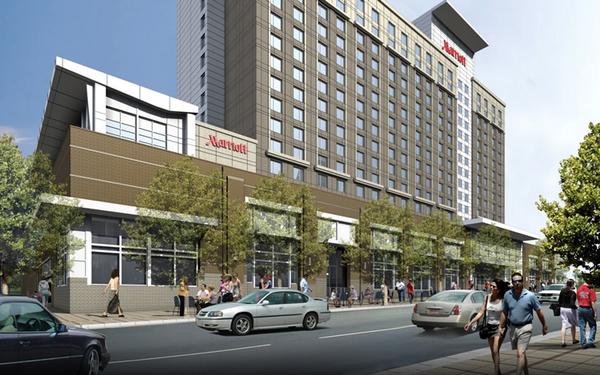 The center is also directly attached to a new 415 room Marriott City Center 4 star hotel.
Opening in July 2008, the new 17 story Marriott includes a two-story restaurant/tavern, a Starbucks, health spa and street level retail facing Fayetteville Street.

Despite being the Capital of North Carolina with a downtown dominated by office uses, many streets in the heart of Downtown Raleigh have free on-street parking.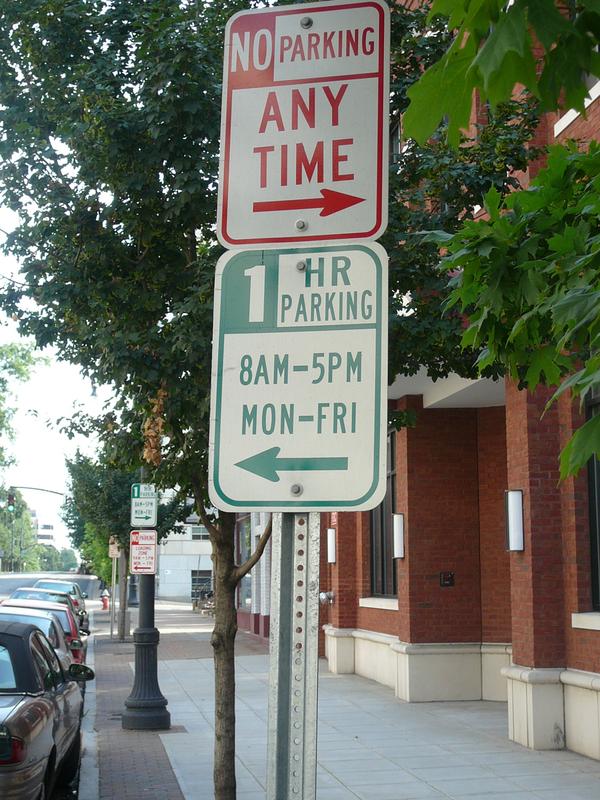 Raleigh's meterless downtown streets appear to be having a positive impact on the businesses surrounding them, while Jacksonville's parking situation remains one of downtown's largest obstacles in the enhancement of end usability.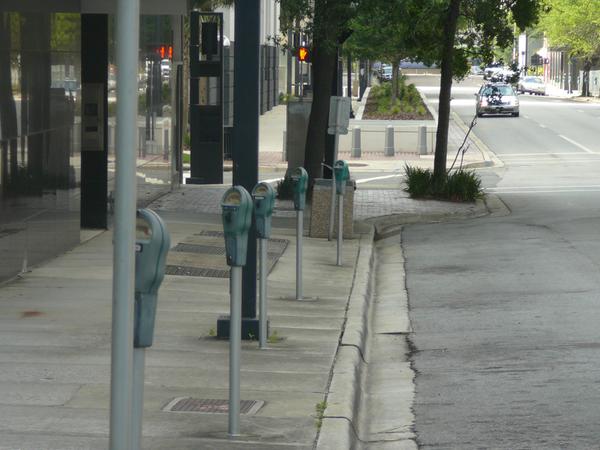 Downtown Jacksonville's Julia Street
PARKING GARAGE DESIGN:
Progress Energy's new 1,050-space parking deck was designed in a fashion that would help connect the historic vibrant City Market area to Fayetteville Street and spark 'round-the-clock life in a 9-to-5 downtown.  The garage was designed to sit back from the street, leaving space for a thin strip of land along the nearest intersection to be developed as residential use over street level retail.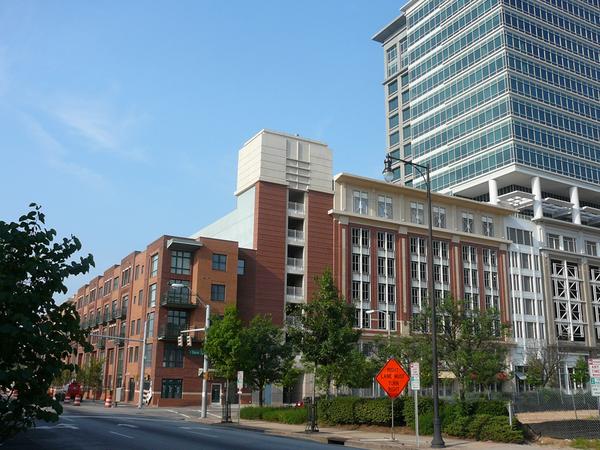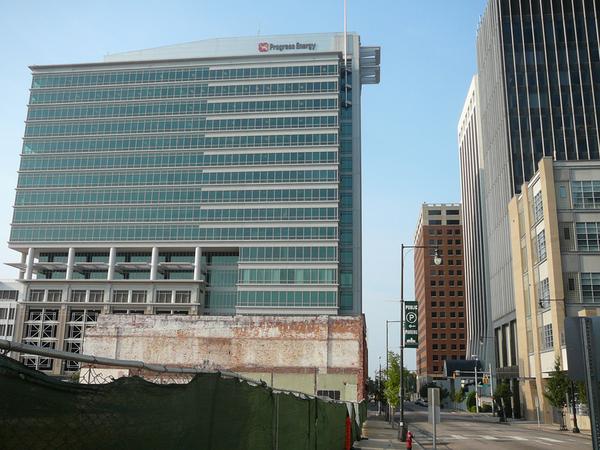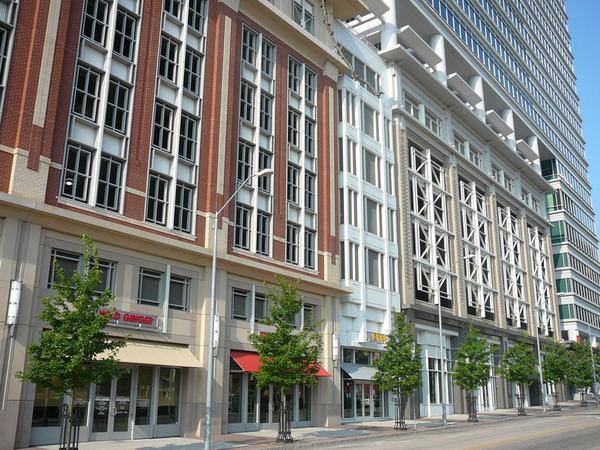 Locally, our garages have been developed without placing much importance on the location or design needs of typical street retail characteristics.  In the library garage's design, street retail was developed to face the side of a blank library wall, instead of Main Street, one of downtown's busiest thoroughfares.  Today, these retail spaces still sit empty.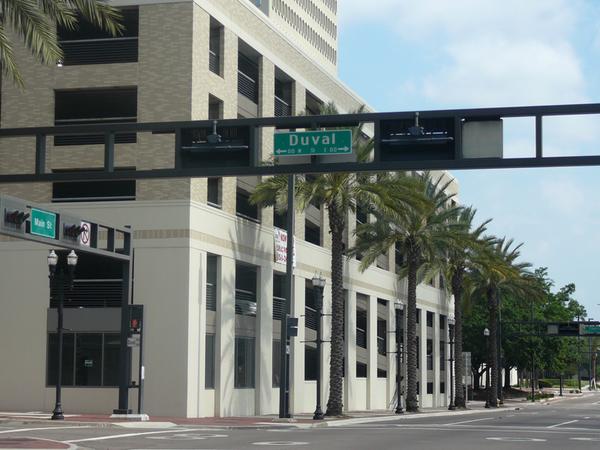 In Jacksonville, the Sports's district garages go against the downtown master plan's recommendations and avoid retail space altogether.  This would have been a perfect spot for a row of restaurants, bars and entertainment oriented uses could have sprung up to cater to the Sport's District crowds. Instead this area has been converted into a useless manicured patch of landscaping.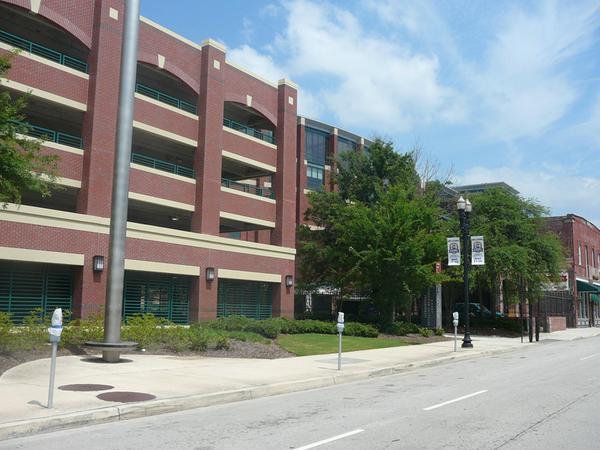 ADAPTIVE REUSE:
Located on the southwest side of downtown, Raleigh's warehouse district resembles what remains of Jacksonville's Houston Street (LaVilla/Downtown), Myrtle Street (LaVilla) and Park Street (Brooklyn) strips.

However, Raleigh's strip of red brick warehouse structures are slowly transforming into a mix of restaurants, specialty shops, nightclubs and antique shops.  This area should continue to see additional infill adaptive reuse development once it becomes the home of Raleigh's proposed Contemporary Art Museum and a commuter rail station site.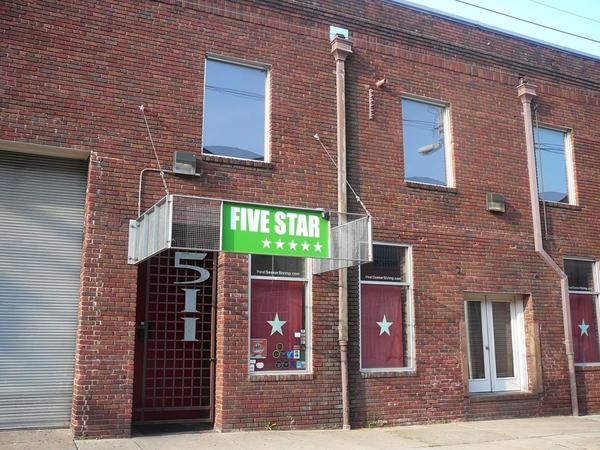 What's occurring in Raleigh's small warehouse district should serve as an example of an intriguing possibility for several older buildings between the Prime Osborn and proposed County Courthouse site, straddling Forsyth, Houston and Adams Streets.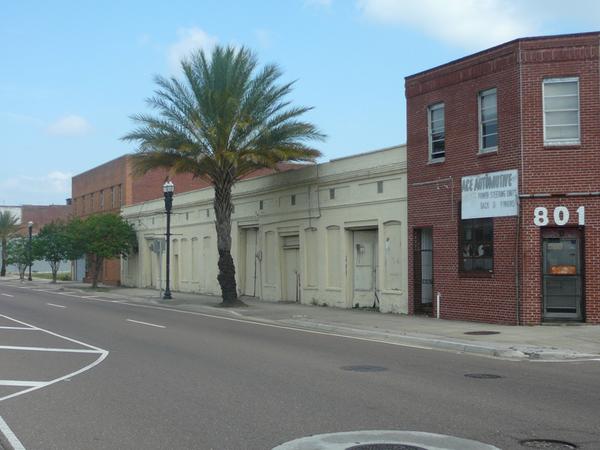 A block of vacant warehouse buildings along Jacksonville's Forsyth Street in LaVilla.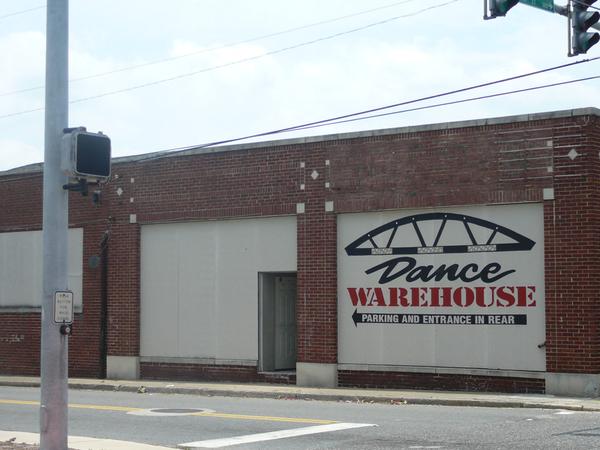 This warehouse along Park Street, in Brooklyn, is one of several the JEDC has set their eyes on for demolition to create another park.  With a little in depth planning, this building could remain and live on as a retail or restaurant space, opening to the proposed Brooklyn Central Park, yet still keeping Park Street's dense and compact urban street edge.
RALEIGH CITY MARKET:
Established in 1914, the Raleigh City Market continues to be one of downtown's most popular destinations.  Today the market contains a host of restaurants and boutique specialty shops.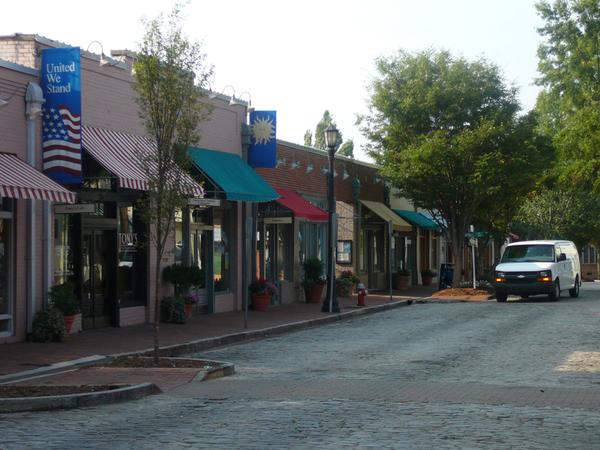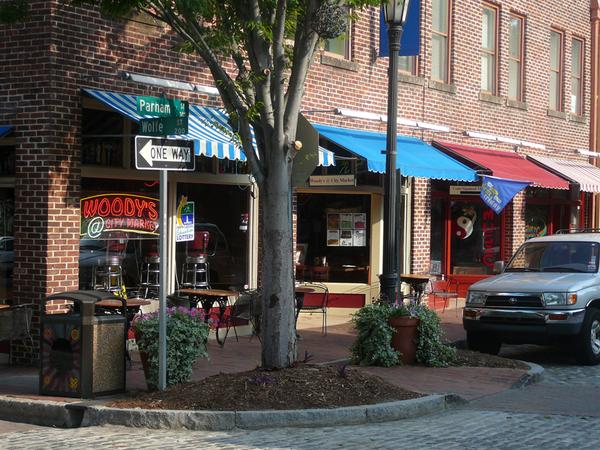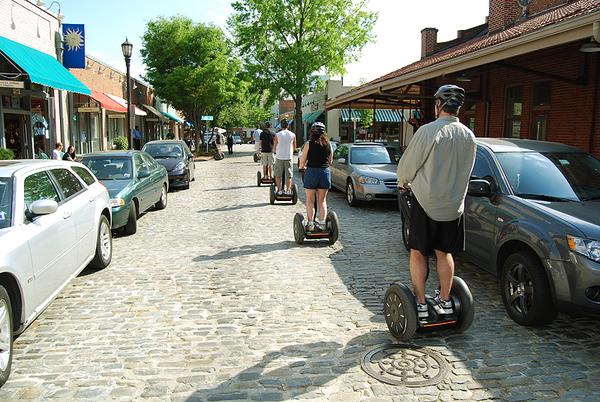 Jacksonville's City Market, once located at the foot of the Market Street, no longer exists, but the way Raleigh's City Market opens up onto downtown's streets provides another example of the potential we have with the Landing if shops were converted to face Independent Drive, as opposed to an interior mall corridor.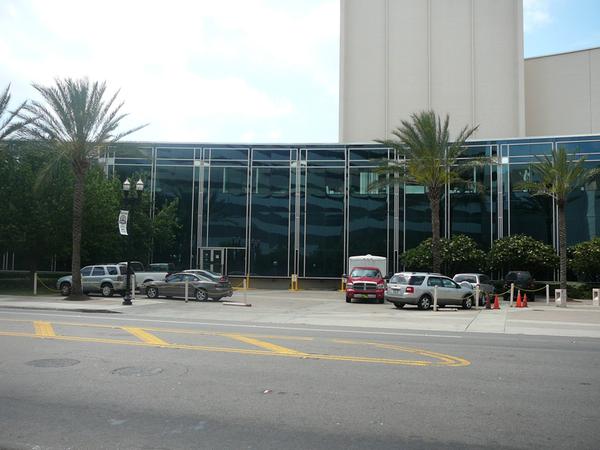 Jacksonville's intersection of Hogan and Water is the home of the Jacksonville Landing, the Florida Times-Union Performing Arts Center and the 350 room Omni Hotel.  Unfortunately, what should be one of downtown's most vibrant outdoor scenes remains quiet most of the year because all three major facilities turn their back to the street.

WAYFARING SIGNAGE:
Raleigh's Livable Streets Downtown Plan places just as much emphasis on the pedestrian as the vehicle.  Because pedestrian comfort is a main priority in Raleigh's revitalization plan, downtown directories, similar to what one would see in a mall, are located on several downtown streets.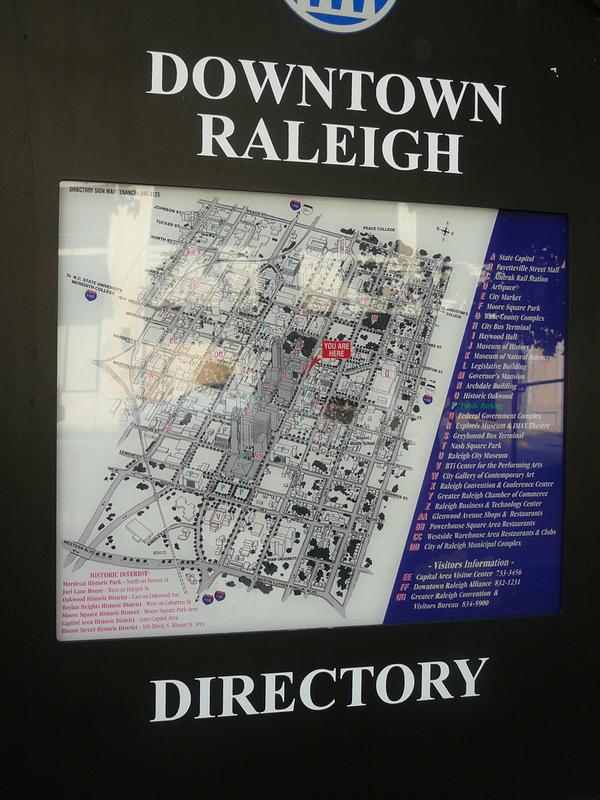 Most of Jacksonville's vehicular oriented wayfaring signage remains out-of-date, while the pedestrian directories can only be found at JTA's Skyway Stations.  However, the maintenance of these structures leaves much to be desired and helps reinforce the popular image of downtown being an uncleanly place.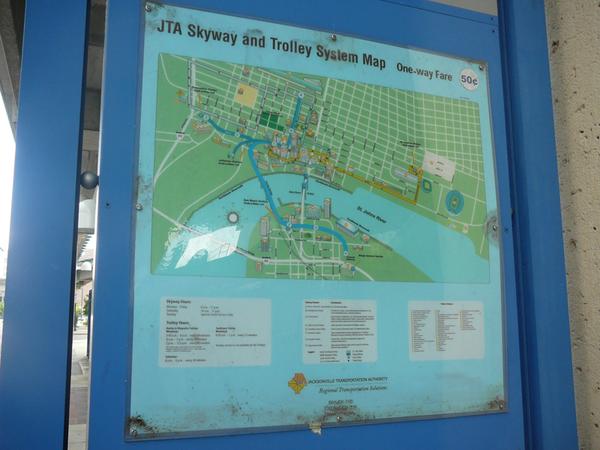 A pedestrian downtown directory at the Skyway's Central Station.
Examples of out-of-date vehicular oriented wayfaring signage throughout Downtown Jacksonville.
TEMPORARY CONSTRUCTION SIGNAGE:
Construction projects can have a huge negative impact on existing small businesses in urban areas.  In Raleigh, officials attempt to help out nearby businesses by placing temporary signage in areas where a business owner's visibility may be compromised.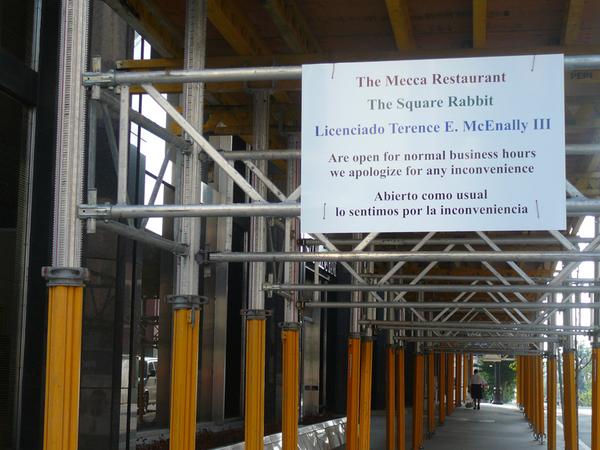 In Downtown Jacksonville, this is not the case.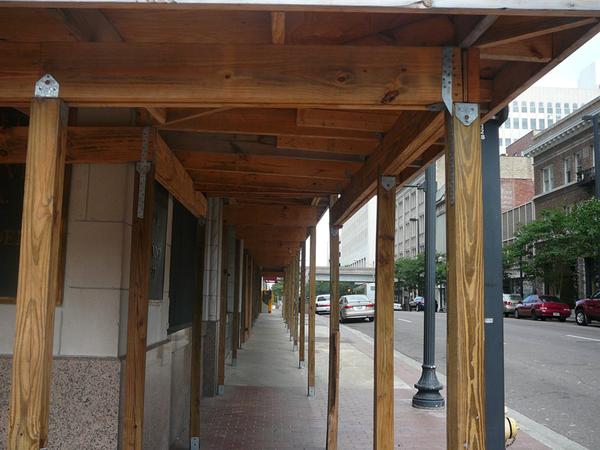 Are there any businesses along the south side of Adams Street, between Laura and Hogan at street level?
DOWNTOWN BUS SIGNAGE:
Not all is doom and gloom.  Some improvement has been made since Metro Jacksonville began its "Learning From Series".  Kudos to JTA for enhancing their Downtown Trolley Stops to include route maps, stop locations and scheduling information.
A typical trolley stop sign in Downtown Raleigh.
COMMUTER RAIL:
Although smaller than Jacksonville, Raleigh is another city moving forward with rail plans that will connect its downtown with various suburban locations in a sprawling metropolitan area.  Raleigh's proposed DMU commuter rail system will stretch 28 miles with 12 stations linking the city with nearby Durham, Research Triangle Park, Cary and the airport. 
Initial plans call for trains to run every 15 minutes in peak hours and every 30 minutes in off-peak hours and weekends.  Self propelled DMU vehicles were chosen because the construction costs for a DMU commuter rail system are significantly less than light rail, since the additional costs of catenary and associated sub-stations are avoided.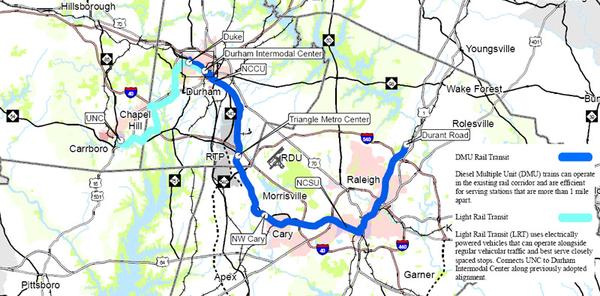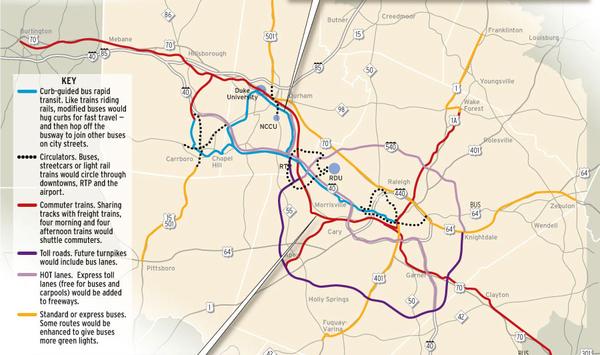 CONCLUSION:
Although smaller than Jacksonville, Raleigh's recent implementation of their "Livable Streets" Downtown Master Plan illustrates how small elements of the urban environment we often overlook for big ticket projects can lead to a large difference between the haves and the have-nots when it comes to making the end user's comfort and downtown experience the top priority.
Article by Ennis Davis