Learning from Fort Lauderdale
May 1, 2008
7 comments
Print Article
Known as the 'Venice of America', Fort Lauderdale serves as the major urban core area for Florida's second largest County.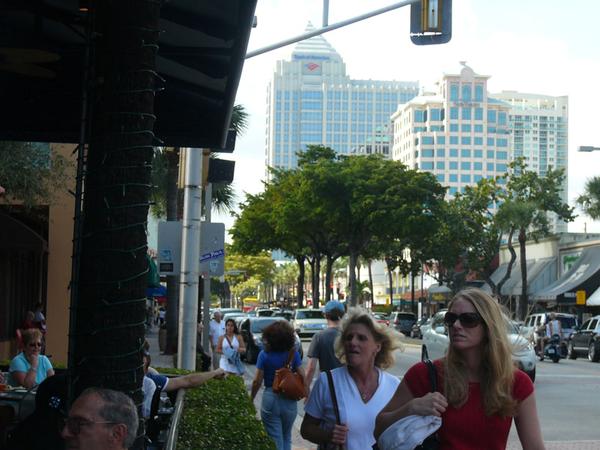 STATISTICS:
Fort Lauderdale Population 2006: 185,804 (City); 5,463,857 (Metro) - (incorporated in 1911)
Jacksonville Pop. 2006: 790,689 (City); 1,277,997 (Metro) - (incorporated in 1832)
City population 1950: Jacksonville (204,517); Fort Lauderdale (36,328)

FORT LAUDERDALE FAST FACTS:
- The city is a popular tourist destination, with 10.35 million visitors in 2006.
- The city is a major yachting center, with 42,000 resident yachts and 100 marinas and boatyards.  The local boating industry is responsible for 108,000 jobs.
- The city and its suburbs host over 4,100 restaurants and 120 nightclubs.
- The city's major population boom occurred right after the end of World War II.
- Covering 31.7 square miles of land area, Fort Lauderdale has been essentially built out since 1970.
- Companies based in the Fort Lauderdale area include AutoNation, Citrix Systems, DHL Express, Spirit Airlines and National Beverage Corporation.
- Port Everglades is the nation's third busiest cruise port and Florida's deepest port.
- In 2005, Fort Lauderdale-Hollywood International Airport was the fastest-growing major airport in the country.
- According to the Greater Fort Lauderdale Convention and Visitors Bureau and Visitors Bureau, the city is "America's top gay resort area".
- Fort Lauderdale is home to the Fort Lauderdale Swap Shop, a large indoor/outdoor flea market and the site of the world's largest drive-in movie theater, with 13 screens.
DOWNTOWN PHOTO TOUR:
Las Olas Boulevard
Meaning "The Waves" in Spanish, this boulevard serves as the epicenter for the city's arts and entertainment districts connecting the heart of downtown with the beach.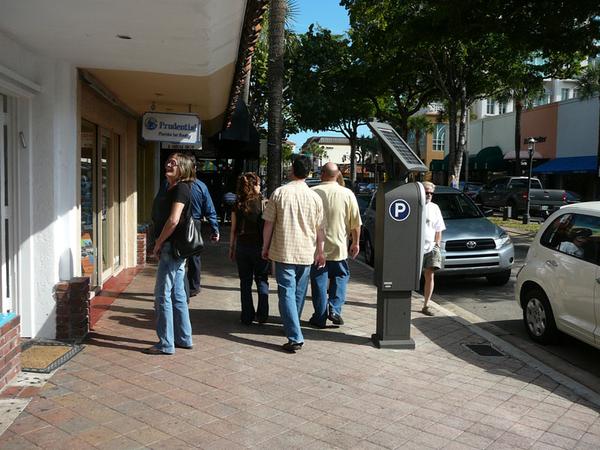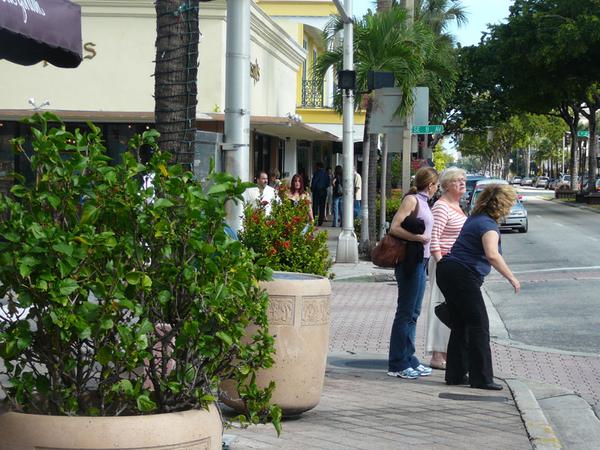 Central Business District
The portion of downtown roughly bounded by Federal Highway to the east and Andrews Avenue to the west is dominated by office uses. As of 2006, the Central Business District contained 4,446,936 square feet of Broward County's 26,101,918 square feet, according to Cushman & Wakefield market statistics.
http://www.cushmanwakefield.com/cwmbs1q06/pdf/off_ftlauderdale_1q06.pdf
Historic Second Street and Las Olas Riverfront
The few blocks west of Andrews are dominated by the Las Olas Riverfront entertainment complex and cultural attractions.  This section of the downtown core is bisected by the FEC railroad corridor, which is currently being studied for commuter rail.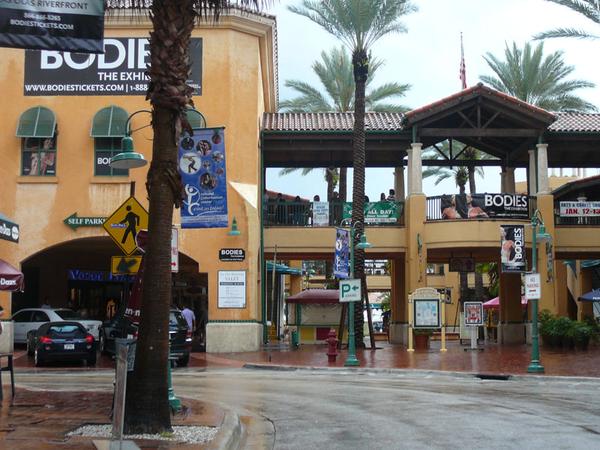 Anchored by a 15 screen movie cinema, the Las Olas Riverfront is a downtown waterfront entertainment complex that opened in 1998.  Wachovia has announced their intentions to foreclose on the property as its developer struggles with its investments in the South Florida real estate market.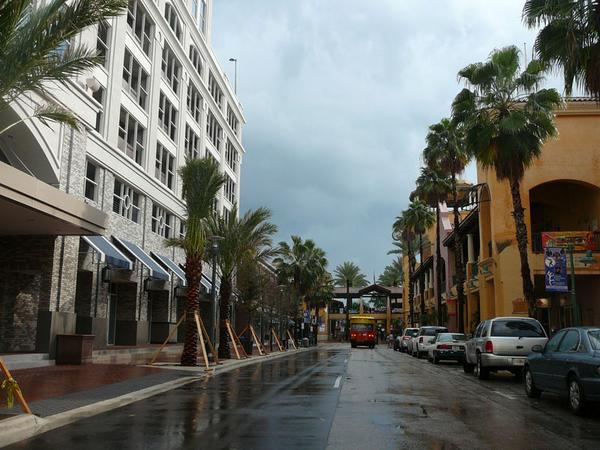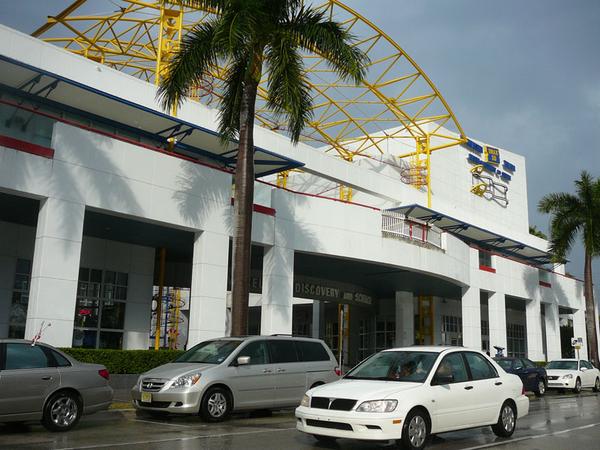 The one mile riverwalk connects the Broward Center for the Performing Arts, the Museum of Discovery and Science, the Las Olas Riverfront entertainment complex and other attractions on the west side of Downtown with Las Olas Boulevard.  The New River can be explored by water taxi or riverboat cruises.
Mass Transit
The city is served by Broward County Transit (BCT-local bus) and the Tri-Rail commuter rail system connecting it with Miami and West Palm Beach.  In November 2006, Broward County voters rejected a one-cent sales tax increase intended to fund 65 miles of light rail and bus expansion projects.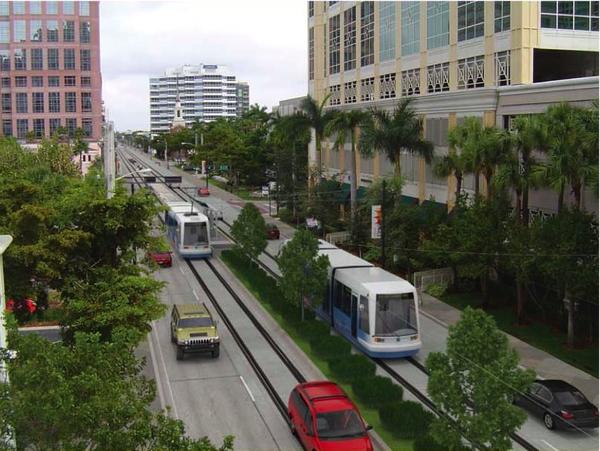 The city is currently moving forward on The Wave, a 2.7 mile downtown streetcar loop, with a recent allocation of $37.5 million to help pay for its construction.  Officials hope to secure the rest of the estimated $150 million from the State and federal government.  The Downtown Development Authority hopes to have the streetcar system up and running by 2013.
www.ddaftl.org/dtc.asp
LEARNING FROM FORT LAUDERDALE
Despite competition from several other major attractions in the South Florida region, Downtown Fort Lauderdale has managed to carve out a niche for itself as a unique, yet vibrant destination.
What do these images of Downtown Fort Lauderdale say to you?  What are some successes and failures in these images that should be embraced or avoided locally?
Article written by Ennis Davis