FrontRunner: Salt Lake City gets more Rail
May 5, 2008
3 comments
Print Article
Today, Jacksonville celebrates the opening of JTA's Five Points Trolley. Meanwhile on the other side of the country, Salt Lake City residents are flocking to the recently completed FrontRunner commuter rail line and enjoying the economic development the line is bringing with it.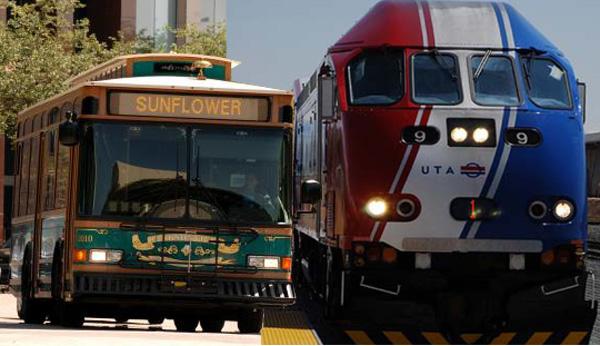 ABOUT FRONTRUNNER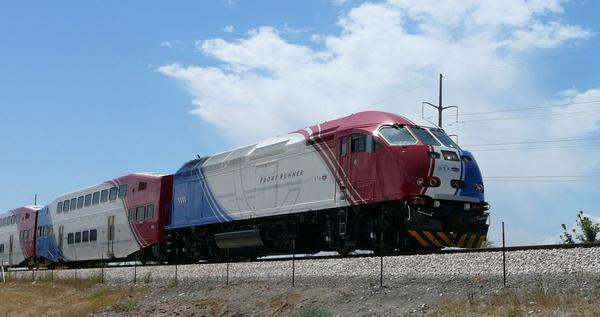 Image provided by jotor at www.flickr.com
Transit Type: Commuter Rail
Start of Operations: April 26, 2008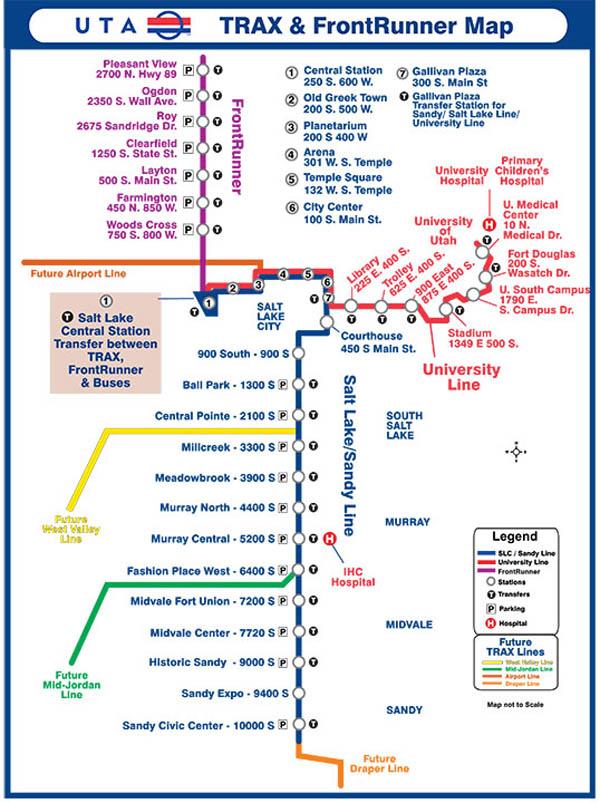 The FrontRunner commuter rail line (purple) serves as the northern transit trunk line for Salt Lake City's mass transit system.

Stations:
Number of Stations: Eight stations from Salt Lake to Pleasant View. (Nine at completion of Airport TRAX line)
Platform Length: Up to 850 feet to accommodate a 10-car train
Transportation Mode Connections: Park & Ride lots with bus transfers at each station; Salt Lake Central Station will connect to TRAX light rail lines.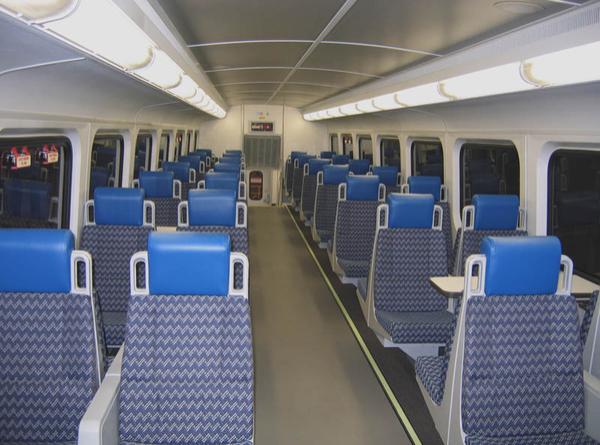 Image provided by ashergrey at www.flickr.com
Trains
Locomotives: 21 MPXpress (MP36PH-3S) locomotives, 15 refurbished ex-New Jersey Transit Comet Is
Passenger Cars: 22 new bi-level Bombardier cars which seat 120 people each.
Initial Train Size: One locomotive with three passenger cars, expandable up to 10 passenger cars
Speed: Up to 79 miles per hour
Travel Time: Approximately one hour from Ogden to Salt Lake City
Bikes: Bikes are permitted on the lower level of passenger cars near the exits.
Station platforms are 850 feet long to accommodate 10-car trains that travel up to 79 miles per hour.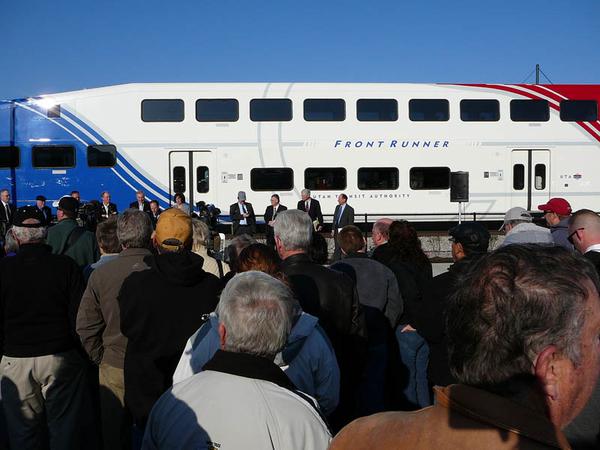 Image provided by mountainman0108 at www.flickr.com

Operations:
Hours of Operation: 5am to midnight, Monday through Friday; 7am to midnight, Saturday; No Sunday service
Frequency: 30-minute daytime service, hourly night and Saturday service
Ridership Projections: 5,900 riders at opening; 12,900 daily riders in 2025;  *30,000 riders recorded opening day from 5am to 6pm.
Fare: $2.50 one-way base fare, $0.50 for each additional station

Image provided by Ryan_Greenberg at www.flickr.com

Track:
Length: 44 miles
Exclusive Right of Way: 38 miles of new track built by UTA. New track is east of Union Pacific Railroad (UPRR) mainline track.
Shared Track: Six miles of track from Ogden to Pleasant View is shared with UPRR.  UPRR will give FrontRunner peak hour priority.
Grade Crossings: 43 at-grade street crossings
Bridges: Two bridges; one 1450-foot bridge spanning the Weber River and one 680-foot bridge over the UPRR Ogden Railyard.
Materials: 32,900 tons of rail; 640,000 tons of ballast; and 112,000 concrete ties
Source: http://www.rideuta.com/files/FrontRunnerFacts0408.pdf
NOT EVERYONE WANTS RAIL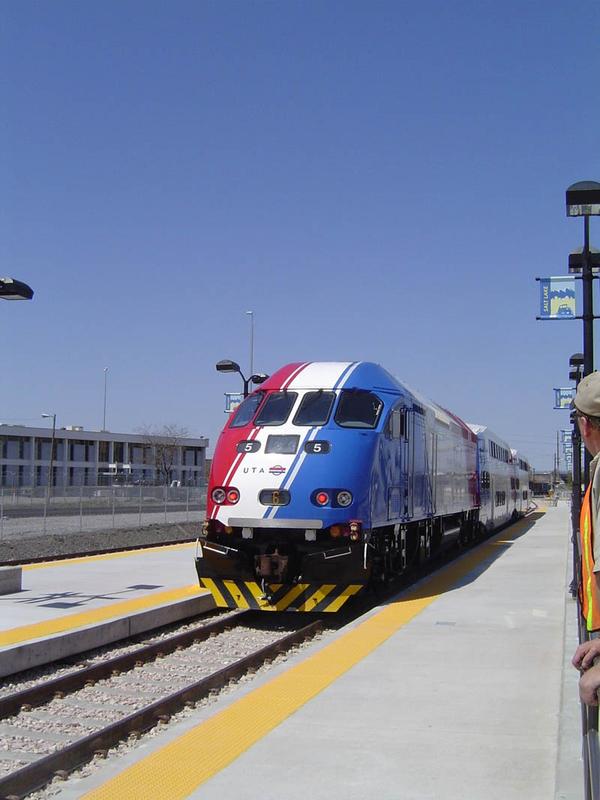 Image provided by delts145 at www.skyscraperpage.com
Not everyone wants rail service:
"DRAPER - Bluffdale is the front-runner for FrontRunner despite its best efforts to keep out the high-speed train.
Neighboring Draper would gladly take it - it's working with a developer on a possible station - but the city might not even get a stop. In February, Bluffdale's City Council voted 3-2 to block the Utah Transit Authority from building a commuter-rail stop at 14200 South along an existing Union Pacific rail line. The majority worried the train would bring traffic and other unwanted growth to the semi-rural city of 7,000 people"

link: http://origin.sltrib.com/news/ci_9115941
WHAT THE REST ARE SAYING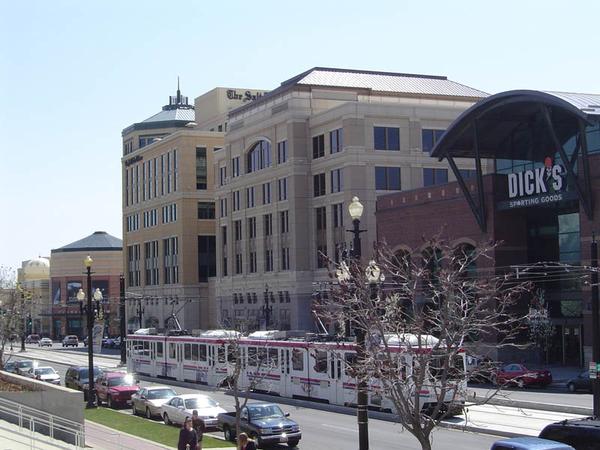 Image provided by delts145 at www.skyscraperpage.com
FrontRunner is expected to provide infill economic development similar to Salt Lake City's 10 year old light rail system.
"Trains have been an important part of Ogden's economic stability ... for more than 100 years," Godfrey said. "This very platform can once again be a gateway for economic prosperity for our community if we are prepared for it and we do the right things."
Ogden Mayor Matthew Godfrey
"What you see here today is just the basic beginnings," Wood said. "One day you will see high-rise office buildings, you will see restaurants ... retail ... you will see this 70 acres developed to be a showplace for Clearfield city."
Clearfield Mayor Don Wood
"It is truly a historic moment," Valentine said. "None of us were here in 1869 when the great trains from the East met the great trains from the West ... but we've all seen the picture where they reached across the tracks and connected the East Coast and West Coast of this country.
"Remember where you are today ... remember that you are that picture that was Promontory ... you are the picture, you were there."
Utah Senate President John Valentine, R-Orem
"We all have an obligation to make the Wasatch Front, where 80 percent of us live, accessible to every Utahn. We have an obligation to prepare for the projected 5 million people who are expected to live along this narrow spine in the next 40 years."
Salt Lake City Councilwoman Jill Remington Love
"At the price that gas is right now, it's a bargain"
An anymonus FrontRunner rider

"The vision of UTA ... starting with TRAX and now going to FrontRunner is a vision we must applaud."
Utah Senator Bob Bennett, R-Orem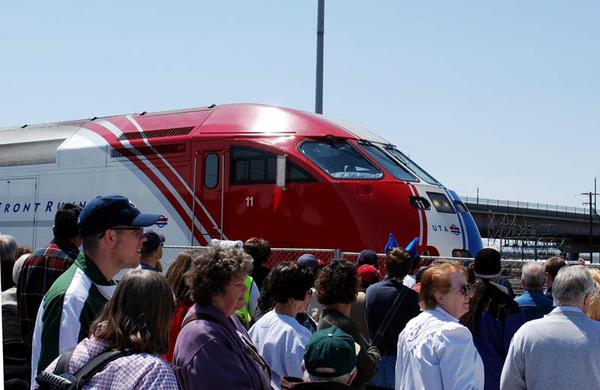 Image provided by samwibatt at www.flickr.com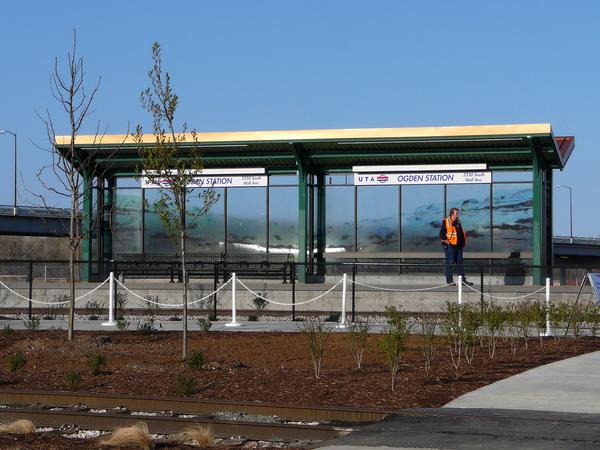 Image provided by mountainmama0108 at www.flickr.com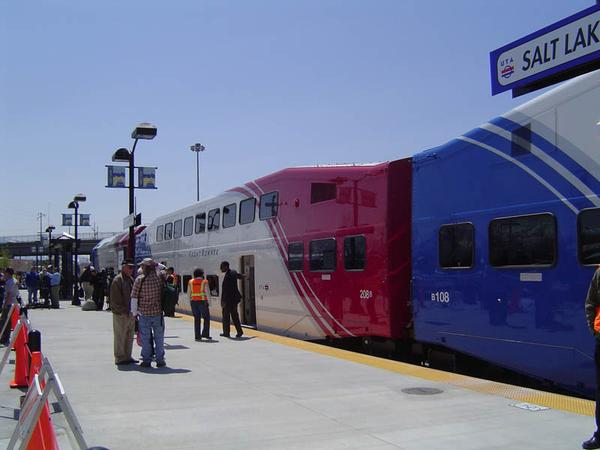 Image provided by delts145 at www.skyscraperpage.com
FrontRunner riders can transfer to the TRAX light rail system at Downtown Salt Lake City's new intermodal hub.  Image provided by delts145 at www.skyscraperpage.com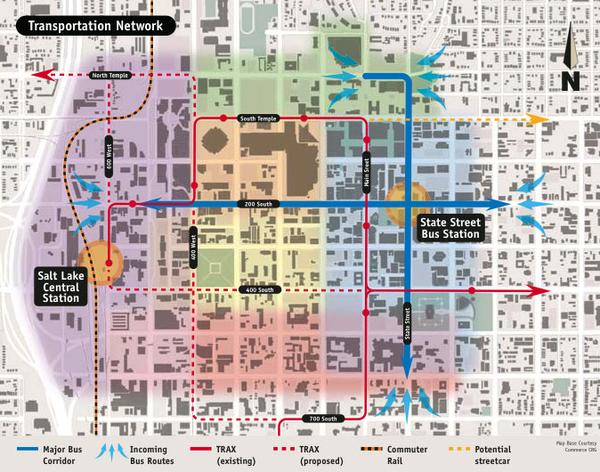 This graphic shows a city with just as many parking and vacant lots in the urban core as we have in Jacksonville, yet rail based transit has been successful in Metropolitan Salt Lake City.  The graphic also shows how multiple modes of mass transit can work together to efficiently serve a city without high levels of route duplication.
Currently under construction, Station Park will add one million square feet of retail space to the FrontRunner Farmington commuter rail station when it opens in 2009.
The 44 mile FrontRunner commuter rail system was constructed for $611 million, or $13.9 million per mile.  This cost included securing right-of-way from Union Pacific and constructing 38 miles of track parallel to UP's main line, as well as a 2,043 foot bridge over a freight rail yard. 
With our increasing traffic congestion, rising gas prices, and uncontrolled sprawl that decreases the quality of life and damages the environment, Jacksonville and the entire state of Florida has come to a crossroads.  Take the direction of Salt Lake City or continue to resist like sleepy Bluffdale, UT. 
Article written by Ennis Davis