Rail on Water Street. Why Not?
March 28, 2008
11 comments
Print Article
Water Street is the perfect setting for the implementation of a starter streetcar line funded through a public/private partnership. Why Water Street? Why move forward without JTA or the FTA if necessary? Here are a few reasons why the question should become why not?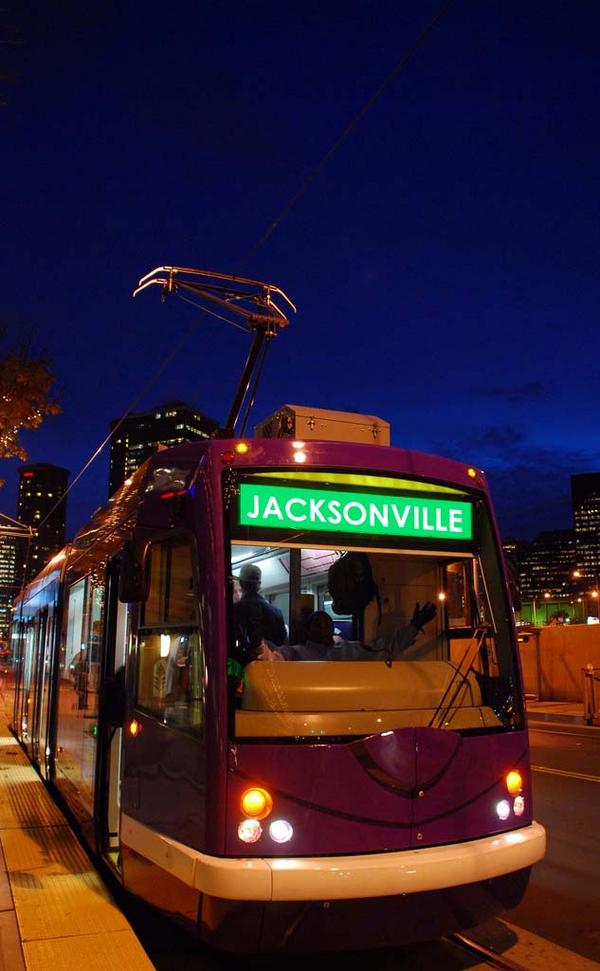 Why Go Public/Private?
"Private money behind transit projects is the wave of the future"
Douglas Bowen - Managing Editor of Railway Age magazine.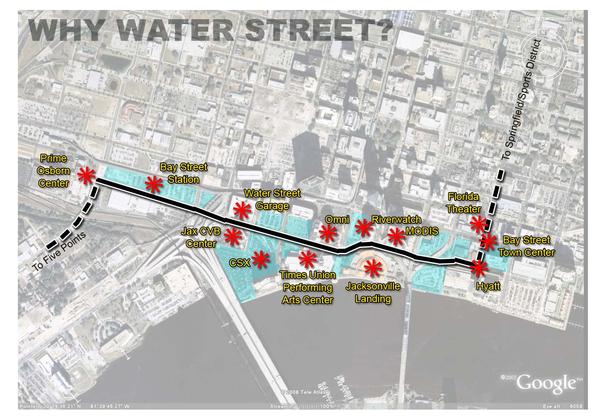 A rail line down the mile long street would directly connect a majority of popular Northbank destinations with each other and open acres of surface parking lots up for infill development. These destinations include the Prime Osborn Convention Center, Bay Street Station, Water Street Public Parking Garage, Jacksonville Convention Visitors Bureau Information Center, CSX Headquarters, Times Union Performing Arts Center, Omni Hotel, Jacksonville Landing, Riverwatch Tower site, MODIS, Hyatt Regency, County Courthouse Complex and the Bay Street Town Center.
The route also is ideal for future expansion of a larger system that could connect the downtown core with Five Points, Springfield and the Sports District. In essence, this could be the start of something that eliminates the need for Bus Rapid Transit corridors in the heart of Downtown.
Why Should the City of Jacksonville be interested?
1. If designed properly, it can completely transform the pedestrian, tourist and cultural experience throughout downtown, while enhancing mass transit at the same time.
2. Rail is not just a transit mode; it is a powerful tool for economic development.
3. The existence of a progressive transit system can improve the image, confidence, and quality of life of a region in tangible ways which make it more attractive to relocating businesses, and which help existing businesses attract and retain highly-qualified employees.

Why Should the private sector be interest?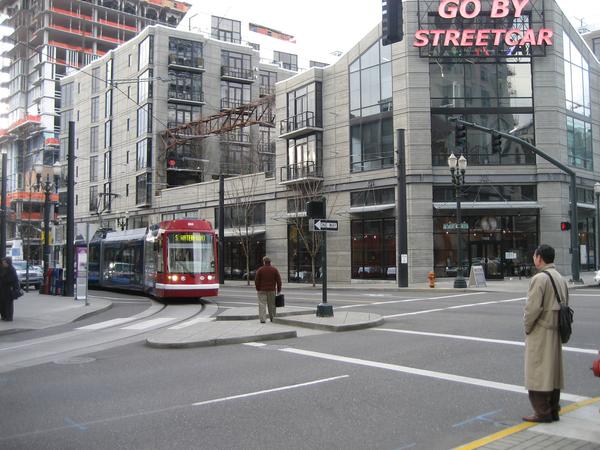 1. On average, $6 of private money is invested along new rail transit lines for every $1 of public money spent...
The American Public Transportation Association - The Virginia-Pilot 12/06/07
2. Property values increase near rail lines, while they decrease near expressways. In Dallas, vacant land values appreciated five times faster around rail stations than around comparable areas with no rail.
3. The nature of rail transit encourages larger private investment along the corridor since rails ensure a permanent flow of customers/residents/shoppers/visitors to a business's doors for decades to come.
Why should JTA be interested?
1. Private-sector financing means a considerable amount of local, state and federal bureaucracy is removed from the equation, meaning the line could be operational in two to three years, as opposed to 20.
2. An effort lead by the community and private sector would accelerate efforts to establish a regional integrated mass transit system.
3. This line can be a catalyst to help show public transit can do well in Jacksonville.
How much would it cost?
Water Street Line
Cost: $15.2 million***
Length: 1.0 mile (single track with passing siding)
Vehicles: 2 streetcar-style trains powered by overhead electrical wires*
Operational Costs: $1.2 million to $1.7 million annually**
Possible funding sources:
Ticket sales, advertising, private money, Downtown BID, City tree mitigation fund (streetscape landscaping), BJP Rapid Transit funding.
Water Street rough estimate assumes the following:
*System using exact same rail material and vehicles as Detroit privately financed light rail plan.
**Detroit cost estimates broken down to a cost/mile assumption, then applied to Jacksonville on a cost per mile basis.
***Water Street estimate is the cost for a single track line. A double tracked line would cost $30.3 million to construct.
Why Water Street? The better question is why not?