New Trolley Routes Coming Downtown
June 11, 2008
7 comments
Print Article
Fresh off the successful opening of the Riverside Trolley, JTA plans to move forward with new trolley routes for downtown.
Trolley Route Map Key

Beaver Street Trolley (formerly the Azalea Route)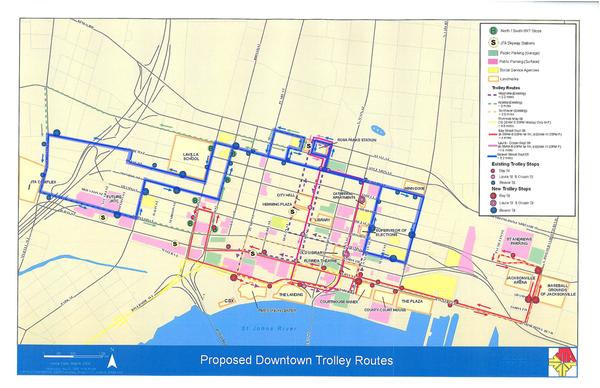 As a part of the new trolley route network, the Azalea line will become the Beaver Street Trolley.  The new route, scheduled to start in September, is intended to serve Downtown's social services network.  Headways are intended to range from 40 to 45 minutes.

Laura-Ocean Trolley (formerly the Magnolia Route)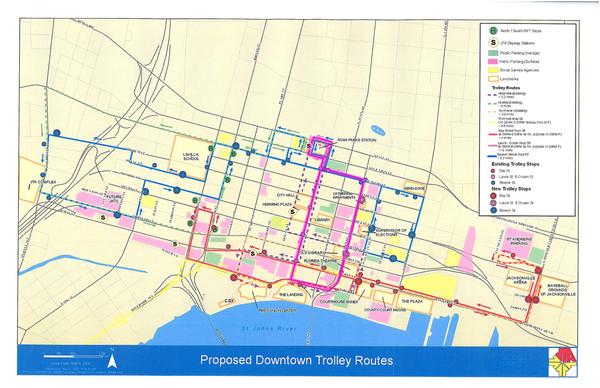 This revised 1.6 mile loop will connect Rosa Parks Station with the Riverfront.  Beginning in September, this trolley will operate from 6am-8pm Monday thru Thursday and 6am-11pm on Fridays.  15 to 20 minute headways are anticipated.

Bay Street Trolley (formerly the Sunflower Route)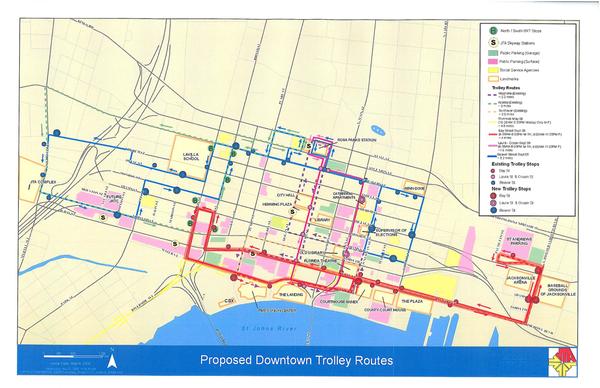 This new 4 mile route will run from Jefferson Street to the Sports District.  With 10 to 11 minute headways, this route will also begin service in September 2008.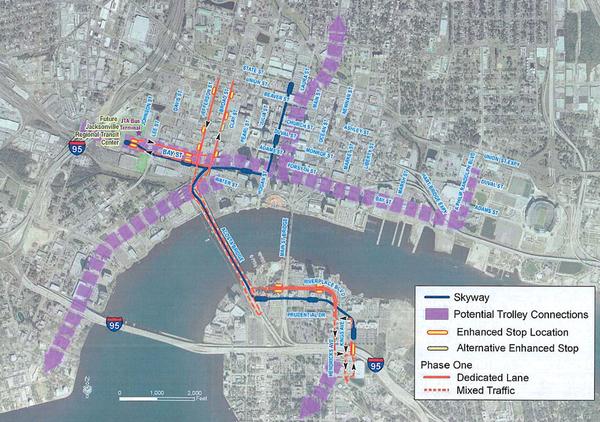 The trolley connections are intended to link with JTA's proposed bus rapid transit system, which for now, will run to the west of the Northbank core, after a successful battle from Metro Jacksonville and Downtown advocates to keep BRT off Philip Randolph Blvd, Adams, Forsyth and Bay Streets.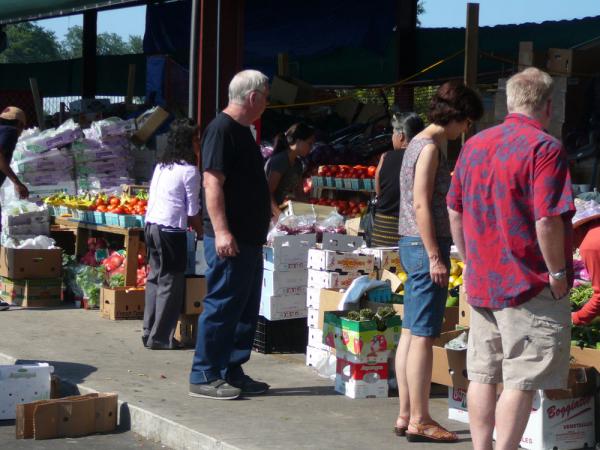 Missed opportunity?

Overall, these revisions appear to be solid moves by JTA and those that helped work to impact the improvements.  However, one potential destination that continues to be overlooked is the Beaver Street Farmer's Market.  Only a short distance from the Beaver Street's turn at Church and Myrtle Street, a connection with the booming market would be beneficial to trolley ridership, downtown users and the market. This should be done, even if it adds five or ten minutes to the headways on the Beaver Street route.
Article by Ennis Davis