Elements of Urbanism: Charleston
June 13, 2008
8 comments
Print Article
Metro Jacksonville's 'Learning From Series' pays a return visit to the place where it all started two years ago.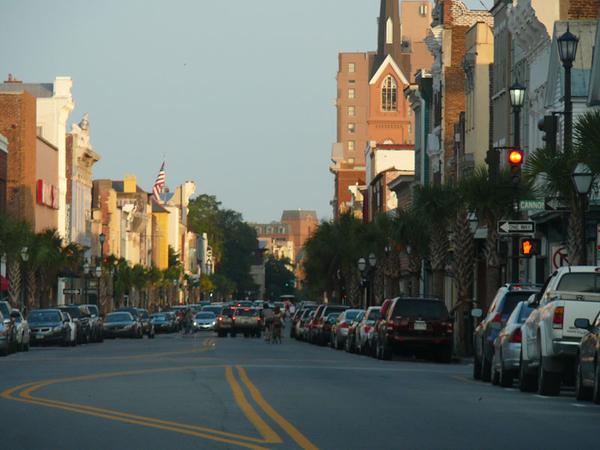 STATISTICS:
Charleston Population 2006: 118,492 (City); 603,178 (Metro) - (incorporated in 1670)
Jacksonville Pop. 2006: 794,555 (City); 1,300,823 (Metro) - (incorporated in 1832)
City population 1910: Jacksonville (57,699); Charleston (58,833)
City Population density 1910: Jacksonville (6,204); Charleston (15,482)

ABOUT CHARLESTON: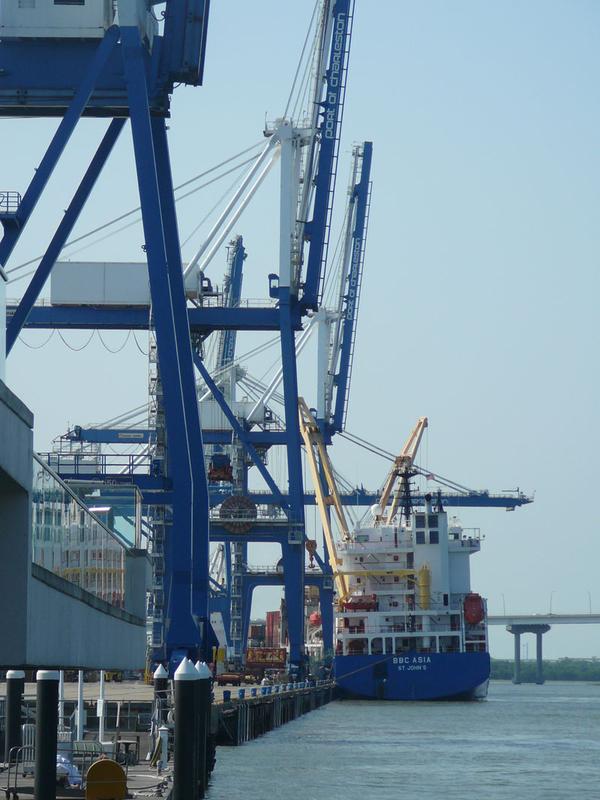 Operating with five terminals, the Port of Charleston is the second leading economic engine for Charleston, behind tourism. 

- In 1690, Charleston was the fifth largest city in North America and remained among the ten largest cities in the United States through the 1840 census.
- Charleston is known as The Holy City due to the prominence of churches on the low-rise landscape.
- Charleston is the fastest growing central city in South Carolina.
- The city's name is derived from Charles Towne, named after King Charles II of England.
- The Arthur Ravenel Bridge is the longest cable-stayed bridge in the Western Hemisphere.
- Charleston is well known across the United States for its unique culture, which blends West African, traditional southern American and French elements.
- With 87,482 residents, the suburb of North Charleston is the state's third largest city and the home of the region's international airport, air force base, sports coliseum and largest malls.
- Charleston Mayor Joseph P. Riley, Jr. was recently elected to his 9th consecutive term since first being elected in 1975.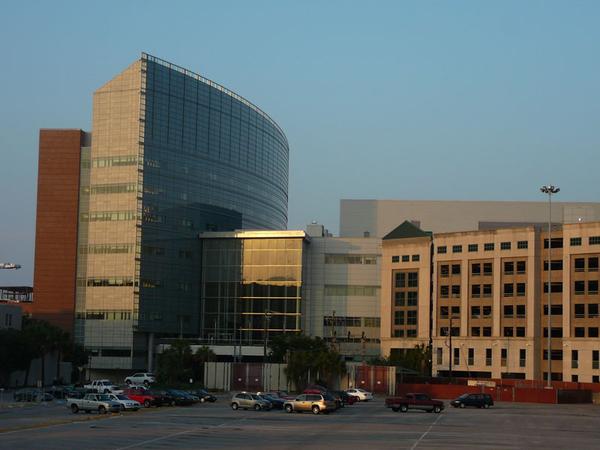 Downtown Charleston is also the primary medical center for the eastern portion of South Carolina.  Medical University of South Carolina (MUSC), Ralph H. Johnson VA Medical Center and Roper Hospital all have major facilities located in Downtown Charleston.  MUSC is the largest medical university in the state and sixth oldest continually operating school of medicine in the United States.

LEARNING FROM CHARLESTON:
Residential Charleston
No trip to Charleston can be made without noticing the city's unique residential architectural style.  Developed primarily between 1800 and 1900, the Charleston Single House is a great example of an architectural style created by local physical, traditional, and environmental influences.
"For maximum outdoor living space, the Single was sited far to one side of the lot. Unlike most houses today, in which a wide facade faces the street, the two long sides of the Charleston ran from front to back. On one side, the house was augmented by a long veranda, or piazza, often topped by balconies. The veranda and balconies sheltered doors to the rooms. Thus, the doors could be left open in the heat of the day and even in rain storms. Windows located on the opposite long wall promoted cross ventilation."
—Jim Kemp. American Vernacular: Regional Influence in Architecture and Interior Design. Washington, D.C.: The American Institute of Architects Press, 1990. p76.




 The Charleston single house is one of the elements that contributes to the city's unique physical and architectural atmosphere.  Jacksonville also developed its own unique style of residential architecture.  Jacksonville has more examples of the Prairie School style than any city outside of the Midwest.
"After Klutho built his first Prairie style residence in Riverside, many local designers followed suit.  The result of this was a Prairie School derivative that was so widely repeated locally, that some believe it could almost be considered a stylistic architectural category by itself.  The design features of this derivative includes low-pitched red tile roofs with a central dormer, a geometric inset in the chimney, a red brick first story separated from a white stucco second story by a horizontal masonry band, broad projecting eaves and an emphatically horizontal porch."
Distinguish Jacksonville: Prairie School Architecture  http://www.metrojacksonville.com/content/view/288/
Perhaps, locally we should try to expand upon our own regional architectural styles, as opposed to accepting common designs that have a tendency to turn Jacksonville into Anyplace USA?
Vibrant Interactive Urban Public Spaces

The Battery
This public park served as a place for artillery during the Civil War.  Located at the southern tip of the Charleston peninsula, the Battery was created from rocks and heavy materials used to fortify the short of the Cooper River.  This park is centrally anchored with a gazebo surrounded by mature live oaks, with many monuments and Civil War era cannons that have become popular with children.  The Battery is an example of a great passive recreational space that still has the ability to attract a diverse range of visitors on a regular basis.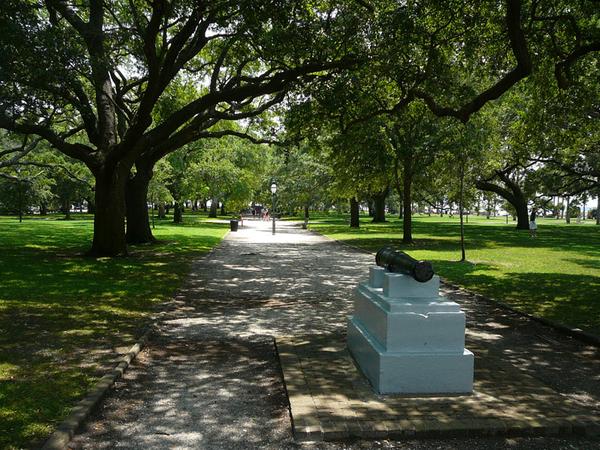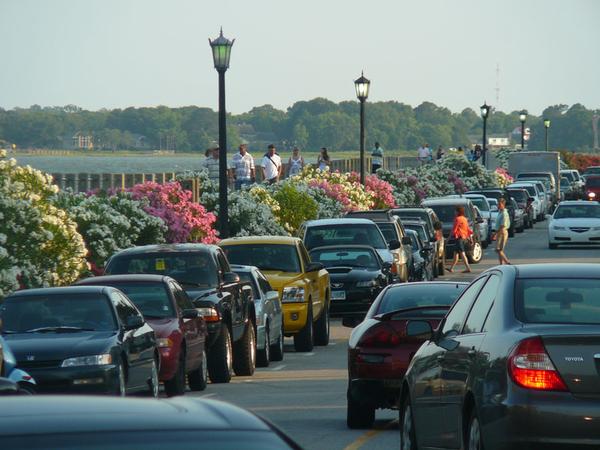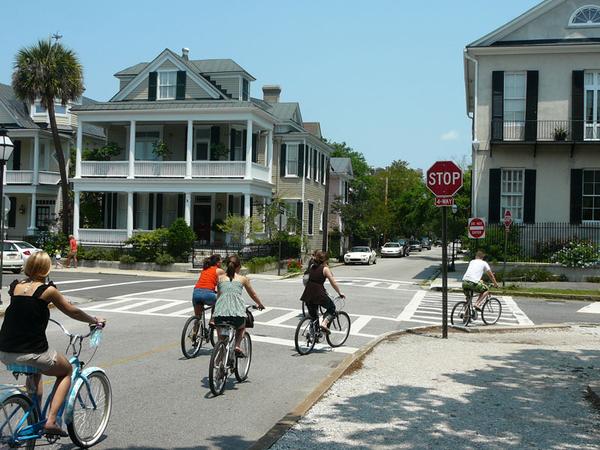 Waterfront Park
Designed by Sasaki Associates and completed in 1990, the 13-acre park replaced a blighted surface parking lot.  This space includes a 400-foot-long wharf, fishing pier, formal gardens, interactive fountains, wide pedestrian walkways and a great lawn.  In recent years, condominiums, an art gallery and hotel have been constructed adjacent to the park.  Today, it is a popular place for tourist and residents.  
Last year, Waterfront Park received the American Society of Landscape Architects (ASLA) 2007 Landmark Award.  This award recognizes landscape architecture projects completed between 15 and 20 years ago that retain their original design integrity and contribute significantly to the surrounding public realm.
Although only 12 acres, the amount of complementing passive and active recreational activities in Charleston's Waterfront Park showcases the potential Jacksonville's larger riverwalk system has if we can pull the pieces together.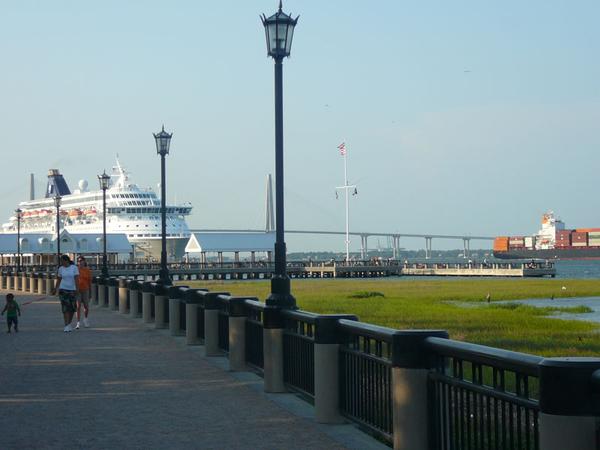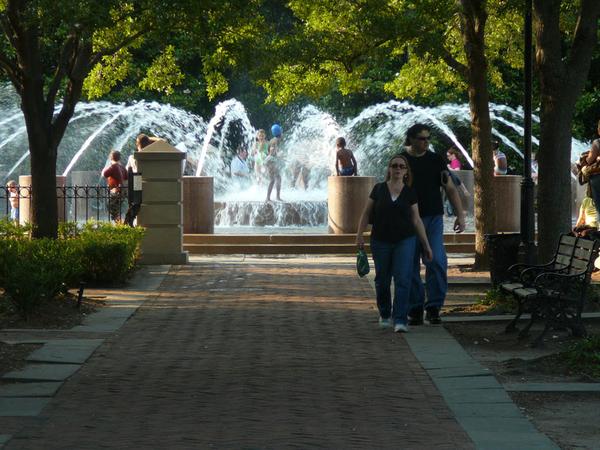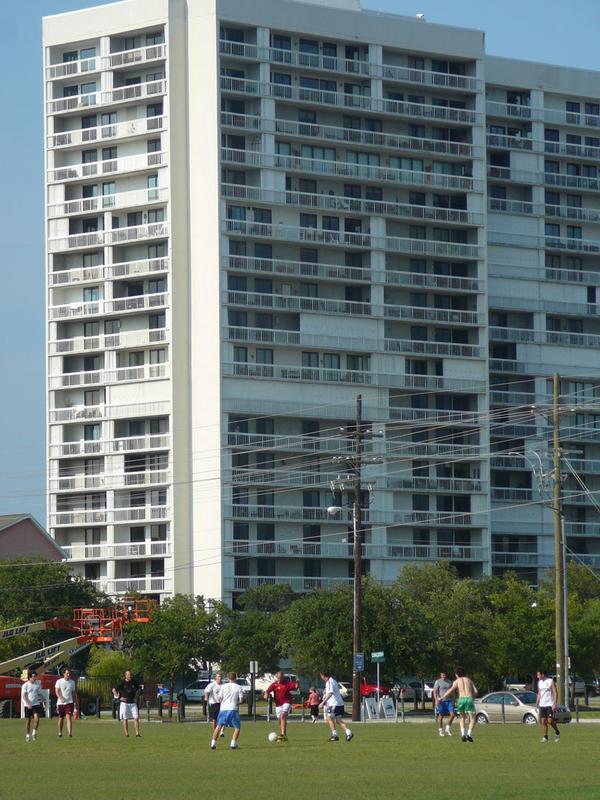 The large public park in the Upper Concord Street neighborhood is a popular site for pick up soccer games.  In December 2001, residents participated in a charrette for this formerly blighted section of the Downtown peninsula.  Today, this adopted plan's strategy of making the large park the centerpiece of an infill community is being implemented.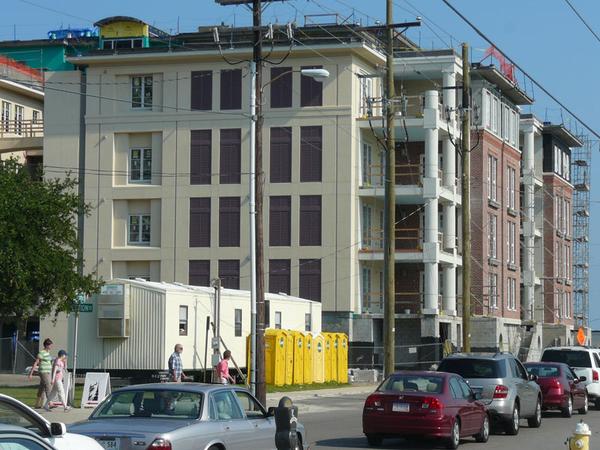 Adaptive Reuse
Charleston is a mecca for the concept of historic preservation.  Because of this, it makes the community an epicenter of development activity, based on adaptive reuse of existing buildings. 
The French Quarter
 
The French Quarter is an area of the Downtown District that gets its name from its high concentration of French merchants during the city's early days.  The Quarter's main street, Bay, is lined with restaurants, bars, boutique specialty shops and hotels.
The Charleston City Market
The Charleston City Market dates back to 1788, when Charles Cotsworth Pinckney ceded the land on which the market is built.  Pinckey stipulated that the land must be used as a public market into perpetuity.
Today, the public market still operates in buildings constructed between 1804 and the 1830's.  Commercial buildings nearby contain a mix of uses that cater primarily to Downtown's tourism market.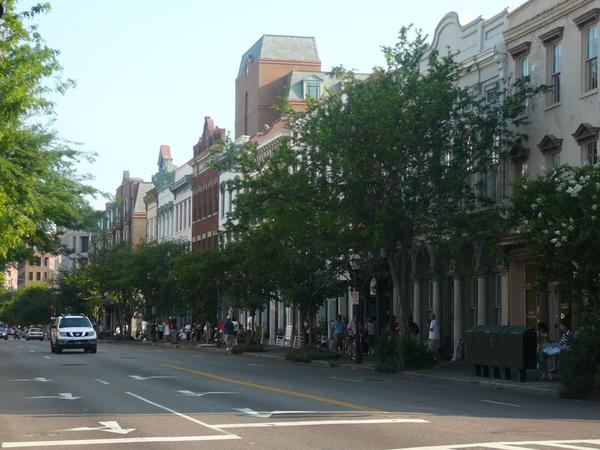 Upper King Street
During the 1970s, anything along King Street, north of Calhoun Street, was known as "Uptown". In 2007, King Street received a $13 million face-lift in the form of new sidewalks, underground utilities and street trees.  Funding for the project came through a special multi-year assessments on property along Upper King Street.  Revitalization efforts so far appear to be paying off with Upper King now becoming a diverse urban shopping district.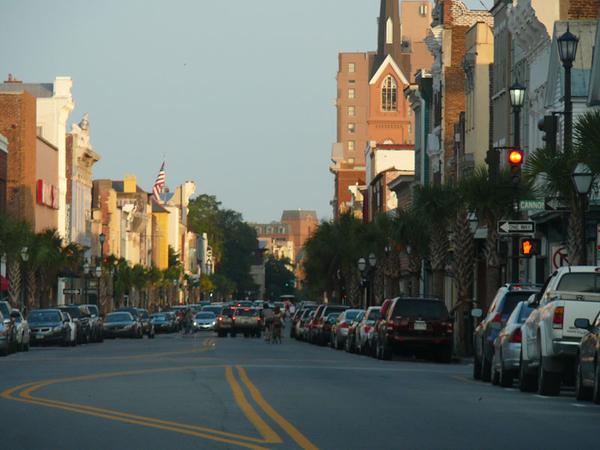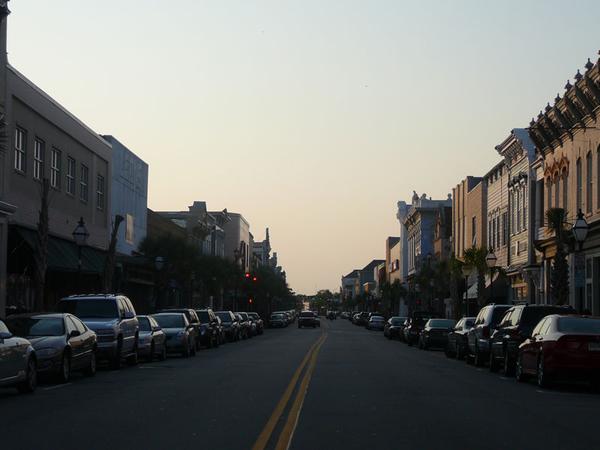 King Street
The buildings along King Street, between Calhoun and Fulton Streets, are dominated at street level by national retail chain stores, a Saks Fifth Avenue, The Shops at Charleston Place and the Charleston Place Hotel.  Here, visitors will find a street front filled with a dense mix of historic and new infill structures, as well as well designed parking decks behind many of the structures on side streets.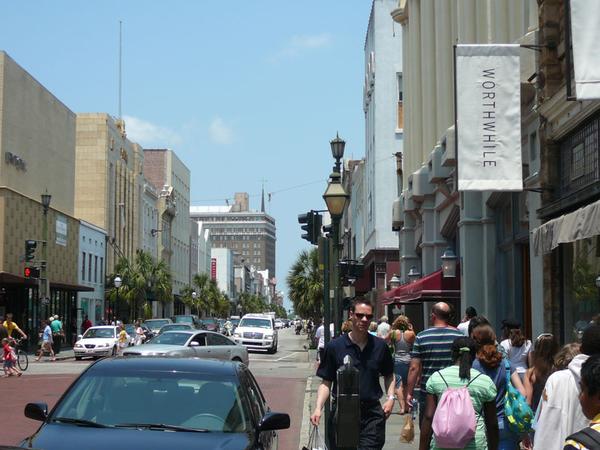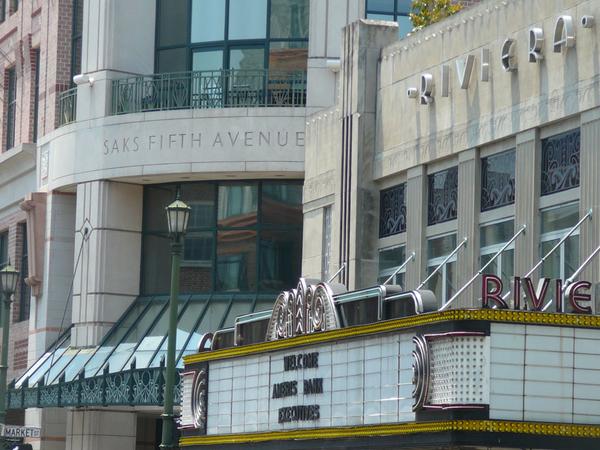 Charleston's successful path of revitalizing its core with a focus on promoting local history serves as a text book example of the vast amount of opportunities a municipality can take advantage of with older "insignificant" small structures.  When isolated, many of these structures don't offer much visually, but when maintain, restored and put to use, the unique feel of the atmosphere can become very impressive.
 
Article by Ennis Davis