Commuter Rail: Overlooking the Inner City
July 7, 2008
15 comments
Print Article
Last month, JTA released maps showing initial locations for potential commuter rail stations. A lack of focus on Jacksonville's inner city communities stands out as a major oversight. The following list contains a few areas where urban rail stations should not be avoided.
Transit dependent North Riverside and Riverside's Park & King District are within a five minute walk of this location.  St. Vincents Medical Center also serves as a major employment destination in the middle of a walkable and densely populated area of town. 
A station here would allow for further infill and economic development in an area that could definitely use it, as well as offer possibilities of a working public/private relationship with St. Vincents and the Park & King Association for conveinent transit connections.
 
 
NAS Jax



With 23,000 civilian and active-duty personnel employed on the base, NAS Jax is easily the First Coast's largest employer.  Despite this fact, a station here was omitted in favor of a stop at Timquanana Road and Roosevelt.  Rail is only as successful as its ability to efficiently serve major destinations.  In Jacksonville, NAS Jax would qualify as a major destination.

Atlantic Blvd. (San Marco Square)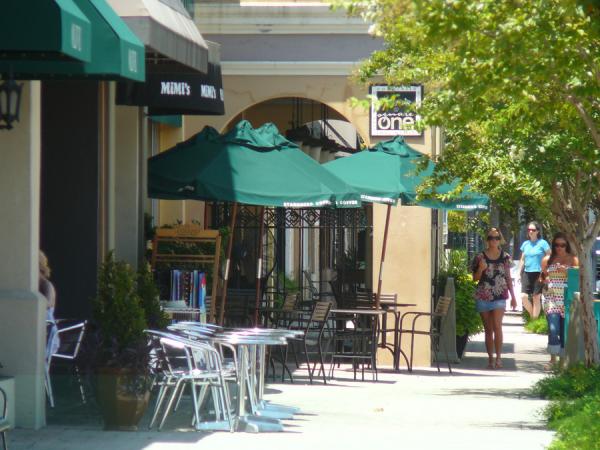 Currently, the proposal calls for a rail station at San Marco Blvd. and Prudential Drive, bypassing Atlantic Blvd.  However, the San Marco Blvd. location is already served by the Skyway and soon, JTA's Bus Rapid Transit system. 
On the other hand, San Marco Square remains disconnected from the rest of the core with limited transit access despite continuing to grow as a major walkable urban commercial district.  Instead of competing against two other transit systems on the Southbank, commuter rail should complement the existing transit system by improving access to popular urban destinations, such as San Marco Square. 
For improved access to Baptist Medical, JTA should seriously consider a pedestrian bridge from the Skyway's San Marco Station, over the Acosta Bridge and the railroad tracks to Baptist Medical Center and the Aetna Tower.
The S-Line
While many relate rail transit to only moving residents across the community, it is also a powerful motivator of economic development.  One major benefit to relaying track on the S-Line is the potential to redistribute economic growth back to blighted areas of the urban core where sufficient infrastructure and building fabric is already in place. 
Despite rail transit's proven track record of bringing economic prosperity to older sections of cities, the current rail station locations fail to take advantage of this opportunity.  Here are a few locations along the S-Line that should not be ignored.
City of Jacksonville owned S-Line abandoned rail right of way highlighted in green.
 
S-Line Photo Tour Article:  http://www.metrojacksonville.com/content/view/334/116/

Myrtle Avenue
Myrtle Avenue remains a major commercial spine connecting many of the city's densest communities.  The S-Line happens to cross Myrtle only a few feet from where the street intersects with two other major highways, Beaver Street and New Kings Road. Within this district, a station would benefit from having both the Jacksonville Farmer's Market and Edward Waters College within walking distance, as well as redevelopment opportunities in a turn of the century industrial district, enabling jobs to return back to this area of town.
Shands Jacksonville
Maps currently show a station location at Moncrief Avenue.  However, a major redevelopment opportunity exists a few short blocks to the east where the S-Line abuts the 'Bloody Block' and Shands Jacksonville.  If rail is to return to the S-Line, a station at Shands along with a transit oriented development replacing the 'Bloody Block' would create an energetic economic activity center.
Springfield Warehouse District
Maps currently illustrate a potential station a few blocks to the North at 21st Street.  One problem with this location is that the Martin Luther King Expressway makes it an isolated destination despite being located near many dense communities. 
A shift to Liberty Street makes the station accessible to Swisher, a major Northside employer, as well as the Springfield Warehouse District, creating the potential for the redevelopment of a large section of urban Jacksonville.
Ultimately, rail transit in Jacksonville will only be as successful as its ability to link riders with popular destinations within walking distance from the tracks.  A usable commuter rail system must take advantage of Urban Jacksonville's existing assets.