Peyton's Struggles: Florida Coastal School of Law
December 8, 2008
54 comments
Print Article
With everything from completing Better Jacksonville Plan projects to battling increasing crime rates, from maintaining infrastructure to reviving downtown, Mayor John Peyton struggles. Today, Metro Jacksonville begins a series that will take a deeper look at the trials and tribulations of our mayor.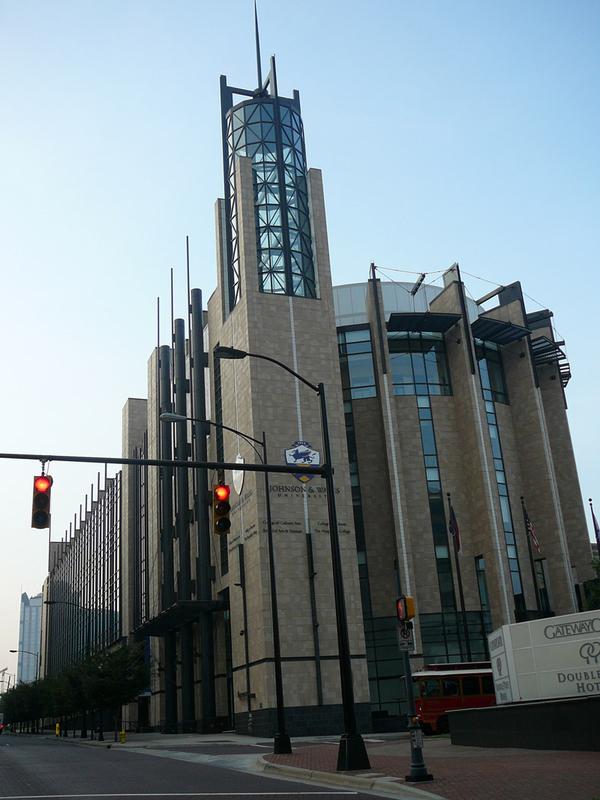 Johnson & Wales University anchors Uptown Charlotte's vibrant Gateway Village, a development similar to Jacksonville's proposed Brooklyn Park.
Attracting colleges to invest and anchor in urban environments has become a common practice in many cities across the country. For example, in 2004, Charlotte officials enticed Johnson & Wales University to relocate from Norfolk and Charleston, SC to Uptown Charlotte.
The culinary school was attracted with an incentive package that included discounted land, tax breaks, and other incentives that made the move a feasible one. Since that time, the small school has expanded to 2,500 students with more growth anticipated.
In most cases, cities have had to convince these institutions by advocating the benefits of becoming part of an urban setting. Very rarely does a school spend years trying to fight their way into the urban core only to be turned away due to something as simple as parking issues.
In 2002, Florida Coastal Law School had outgrown its Beach Blvd. location. While school officials made their desires for a downtown Jacksonville campus known, they also expressed concern that the rising costs of downtown property were making such a move too expensive to handle. The school's desire for a downtown location was expressed again in a 2004 Jacksonville Daily Record article:
With no new site on the horizon, there's certainly no moving day marked on the calendar. If the pieces can be brought together, Wippman would prefer to move downtown, to a place suitable for expansion.
"Personally," he said, "I have a strong preference for the city. I'm a lawyer. If I were looking for a job right now as a lawyer, I would want to be in close proximity to where the jobs are.
"We are proceeding with the assumption that downtown is better. We're hoping that we can find a suitable location to get there."
Despite, Florida Coastal's desire for a downtown location, the school would ultimately end up completing the purchase of a 220,000-square-foot Baymeadows office building and 1,400-space parking garage in 2006. According to school officials, a downtown location was nixed because of a lack of available parking.
"Downtown would have been a nice location obviously and we worked hard with the JEDC and the mayor's office to try to make it work," he said. "It was somewhat an issue of economics, but really it was the parking issues that couldn't be addressed."
Around the same time, plans were underway for a new 1,375-space courthouse garage on one of the seven blocks that will eventually occupy the proposed Duval County Courthouse Complex. If parking really was the issue that sent Florida Coastal to the Southside, perhaps the solution could have been to develop a garage with twice as many spaces, along with a courthouse building occupying a reduced amount of land area.
This would have allowed the construction of a new law school campus adjacent to the proposed county courthouse. The new school's faculty and students would have strengthened downtown's appeal by increasing the need for retail, dining, housing and additional market rate development. If given the same opportunity and conditions, one can't help but wonder if local officials in peer cities like Charlotte, Orlando or Tampa would have settled for the same result?
The courthouse site could have been part of a creative solution to bring Florida Coastal School of Law and complementing market rate development downtown.
Sources:
Downtown law school possible, but unlikely
http://www.jaxdailyrecord.com/showstory.php?Story_id=2153
Florida Coastal eager to find new site
http://www.jaxdailyrecord.com/showstory.php?Story_id=40301
Florida Coastal Plans January Move
http://www.jaxdailyrecord.com/showstory.php?Story_id=43292
Florida Coastal closes on Deerwood building
http://jacksonville.bizjournals.com/jacksonville/stories/2006/01/30/daily39.html