Jacksonville Municipal Airport Imeson Field
December 29, 2008
26 comments
Print Article
For over 40 years, Jacksonville Municipal Airport Imeson Field was the center of the First Coast?s commercial aviation scene. Jacksonville Municipal Airport Number One opened in 1927, with a dedication that included Charles Lindbergh. In 1931, Eastern Air Transit (eventually Eastern Airlines) became the first major commercial airline to provide regular service to Jacksonville.
Imeson Yesterday



This illustration is a 1944 Army diagram of Imeson, which was known as Jacksonville Army Air Field at the time.  Soon after it would be commissioned as the Naval Auxiliary Air Station Jacksonville #1 with the primary tenant being Operational Training Units for PB4Y-1 Liberator patrol Bombers. After the end of WWII, the airport was returned to the city and renamed Imeson Field, after Thomas Cole Imeson. Imeson, who passed in 1948, was a long time city councilman whose visionary work led to the opening on the airport back in the 1920's.




This image of the art deco terminal building was taken in the 1940s.  During this era, the longest of five runways had a length of 7,000 feet, plus airline service provided by Eastern, Orlando and National Airlines.




Before airlines like Jetblue, Spirit and Southwest hit the scene, there was National Airlines.  While Atlanta had Delta, Houston Continental and Detroit Northwest Airlines, Jacksonville had National.  Founded in 1934, National's headquarters were based at Imeson Field, until the company relocated its offices to Miami in the late 1950s.  National became the first airline to introduce domestic jet service in the United States, with a flight between Miami and New York in 1958.  National merged with Pan Am in 1980.




This aerial image of Imeson was taken April 3, 1966, two years before the airport closed for good.  By the 1960s, the community realized that with limited expansion space, and larger jet aircraft coming on line, it was time to consider replacing Imeson.  In 1965, taxpayers approved a $9 million dollar bond to help fund construction for a new airport a few miles to the Northeast.  Upon completion of the new Jacksonville International Airport, Imeson Field was abandoned.




The new Jacksonville International Airport in 1972.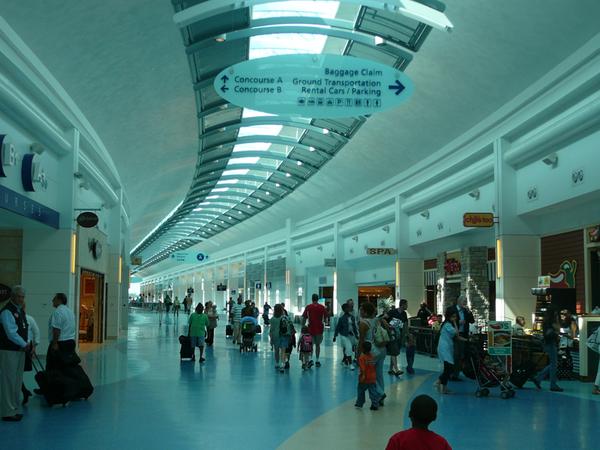 Jacksonville International Airport today.