Jackson Square Controversy Brewing
August 26, 2008
188 comments
Print Article
Opposition is brewing in San Marco concerning the impact of Jacksonville's latest proposed transit oriented development. Can common ground be found between opposing sides?
 What is Jackson Square?
Jackson Square is a 17.2 acre transit oriented development proposed between a potential JTA commuter rail line and a blighted section of Philips Highway.  If approved, the two phase project will replace an abandoned car dealership with 900 apartments, 200,000 square feet of office space and 150,000 square feet of boutique retail space.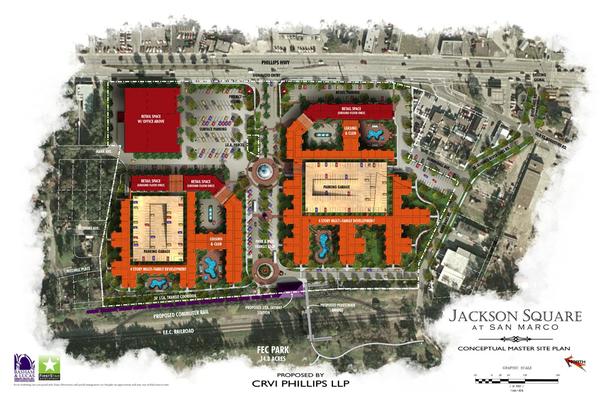 What is a TOD?
TRANSIT ORIENTED DEVELOPMENT is a fast growing trend in creating vibrant, livable communities. Also known as Transit Oriented Design, or TOD, it is the creation of compact, walkable communities centered around high quality train systems. This makes it possible to live a higher quality life without complete dependence on a car for mobility and survival.

COMPONENTS OF TRANSIT ORIENTED DESIGN
-Walkable design with pedestrian as the highest priority
-Train station as prominent feature of town center
-A regional node containing a mixture of uses in close proximity including office, residential, retail, and civic uses
-High density, high-quality development within 10-minute walk circle surrounding train station
-Collector support transit systems including trolleys, streetcars, light rail, and buses, etc
-Designed to include the easy use of bicycles, scooters, and rollerblades as daily support transportation systems
-Reduced and managed parking inside 10-minute walk circle around town center / train station
BENEFITS
-Higher quality of life
-Better places to live, work, and play
-Greater mobility with ease of moving around
-Increased transit ridership
-Reduced traffic congestion and driving
-Reduced car accidents and injuries
-Reduced household spending on transportation, resulting in more affordable housing
-Healthier lifestyle with more walking, and less stress
-Higher, more stable property values
-Increased foot traffic and customers for area businesses
-Greatly reduced dependence on foreign oil
-Greatly reduced pollution and environmental destruction
-Reduced incentive to sprawl, increased incentive for compact development
-Less expensive than building roads and sprawl
-Enhanced ability to maintain economic competitiveness
http://www.transitorienteddevelopment.org/
Examples of Transit Oriented Developments

Saltillo Lofts
City: Austin, TX
Year completed: 2006
Mass Transit Option: Metrorail (commuter rail)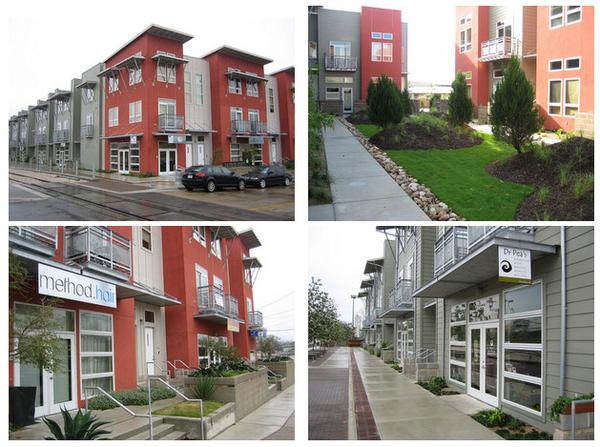 Saltillo Lofts is a mixed-income development within walking distance to commercial corridors, major employment centers, and urban neighborhoods. The transit oriented and pedestrian-friendly nature of the project reduces automobile use/air pollution and creates a vibrant metropolitan atmosphere. Eleven of the development's 29 units are priced for residents making 80% of Austin's median family income. This development resuscitated an area of town that was previously considered undesirable, and created housing for an often overlooked group of homebuyers who don't want to live in a suburban area yet can't quite afford central city prices.

http://www.austinenergy.com/energy%20efficiency/programs/
The Promenade Rio Vista
City: San Diego, CA
Year completed: 2003
Mass Transit Option: San Diego Trolley (light rail)
Description: 970-unit upscale apartment complex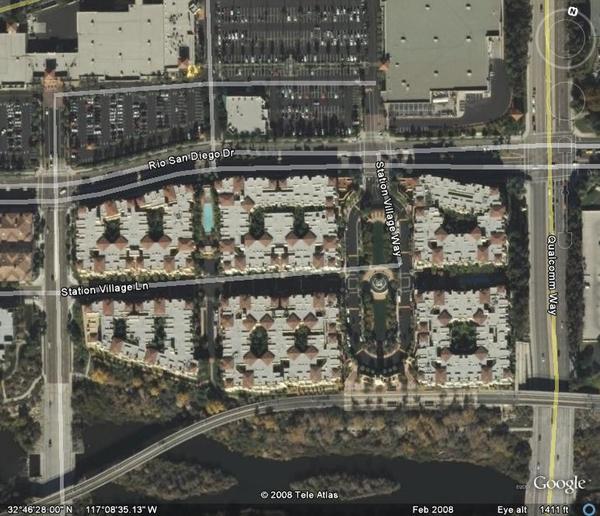 "Think how nice it would be to welcome your friends over to a place that perfectly reflects your sophisticated style. Imagine leaving the car at home and still being able to get to your favorite destinations easily. Consider the rewards of refreshingly civilized living..."
Welcome to The Promenade Rio Vista, the most unique and desirable apartment community in San Diego, "America's finest city." A self-contained village in the heart of vibrant Mission Valley, The Promenade truly has it all.
http://www.promenadeliving.com
Dadeland Station
City: Miami, FL
Year completed: 1996
Mass Transit Option: Miami Metrorail (heavy rail)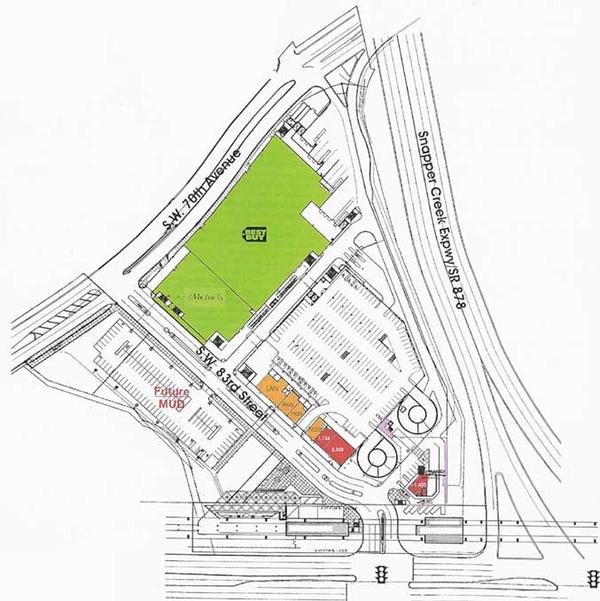 Dadeland Station was a joint-development effort between BDG and the Metro-Dade Transit Authority. Dade County successfully converted a surplus and dormant, County-owned surface parking lot into an income-producing asset estimated to produce in excess of $100,000,000 taxpayers over its 90 year lease term.
Dadeland Station combines architectural and urban innovation with a strategic rethinking of the commercial retail mall in the creation of the first, major vertical power center in the United States. By stacking multiple "big-box" retailers on top of each other, the development team creatively placed 350,000 square feet of retail space and a 1,450-car, vertical parking lot onto a constrained 7.5-acre tract of land. A covered galleria, on an urban scale and visible on the Miami skyline, provides direct, covered access from the three levels of the retail complex to the six-level garage.
BDG is the Developer and 60% Owner of the Dadeland Station Shopping Center. Dadeland Station is a 350,000 ± sq. ft. vertical power center located adjacent to Dadeland Mall and the Dadeland North Metrorail Station at US Highway 1 and the Snapper Creek Expressway