Is Springfield a viable retail market?
April 16, 2008
323 comments
Print Article
Metro Jacksonville takes a look at the recently released LISC MetroEdge Springfield Retail study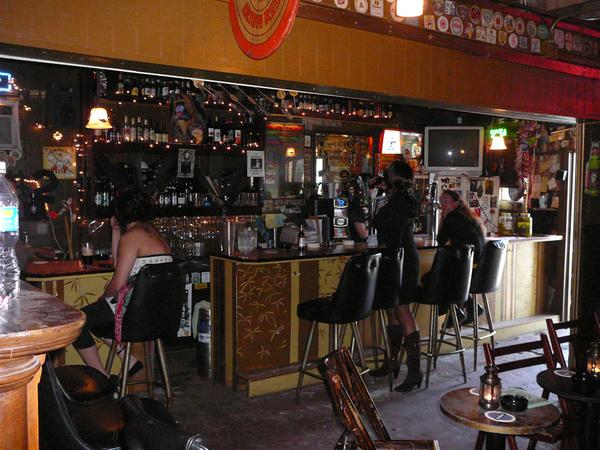 Consultants believe that Springfield is a market on the move with increasing consumer demand, attractive housing, active leadership, and business opportunities.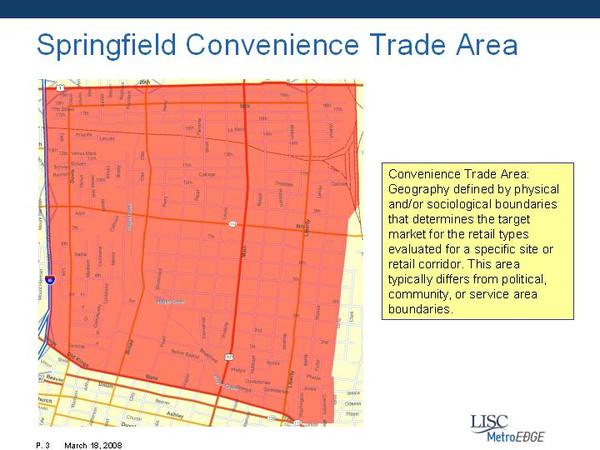 Springfield's trade area is bounded by I-95 (west), MLK Parkway (north), the railroad yard and Ionia (east) and State Street (south).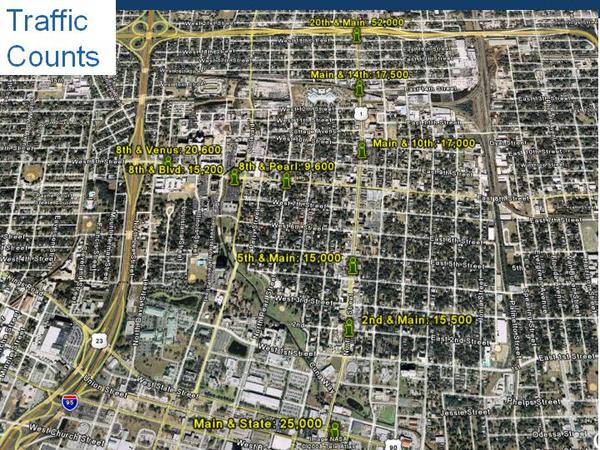 While the intersection of 8th & Main form the heart of Springfield's commercial community, North Main, State Street and 8th Street, near Shands, have a much higher traffic count.

Springfield Assets:
- Location - centrally located directly north of downtown and accessible by foot, bike, with easy access to major highways
- Atmosphere - the community is one of the few well-maintained historic districts in the region and Jacksonville's first and oldest subdivision, established in 1869.
- Daytime Population - The district is home to several major employers that bring nearly 30,000 individuals to the trade area on a daily basis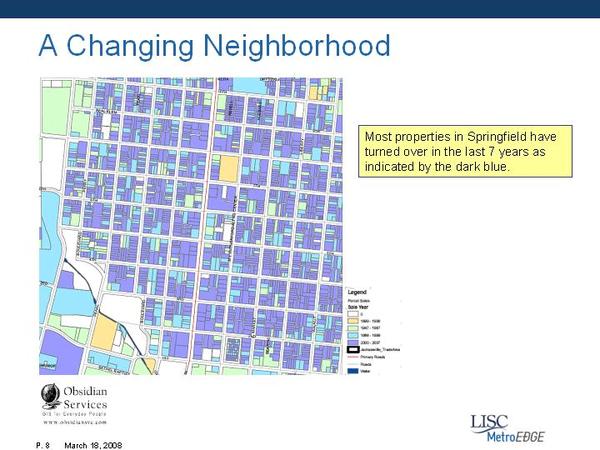 Recent property transactions suggest that the neighborhood has turned the corner in its revitalization efforts.
Demographics:
- There are twice as many middle and upper middle income households in Springfield than in a comparable square mile in the county.
- The average household size in 2000 was 2.28 people per household.  Today, it has decreased to 2.19 people per household.  While the number of households has remained mostly unchanged since 2000, household size has decreased.  Zoning changes have closed boarding and rooming houses, signaling opportunity for serving new demographics coming to Springfield.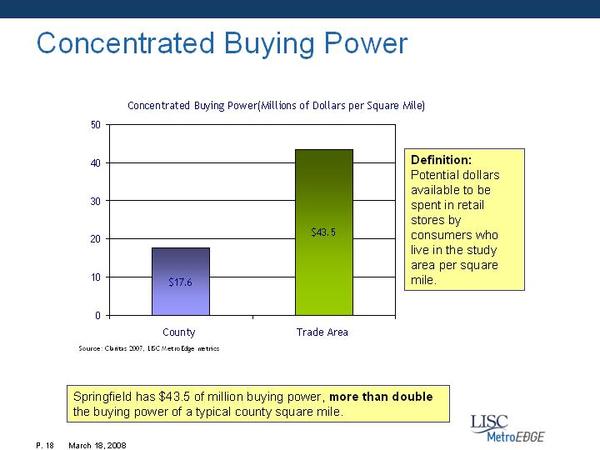 - Springfield has $43.5 million in buying power, more than double the buying power of a typical county square mile.
Summary of Residential Trends

- Both annual income levels and income diversity are on the rise.
- New middle income residents are choosing to move to Springfield (Ulrich 2006 Survey of Residents)
- Continued mix of families and singles coupled with increasing income suggests retail opportunities exist.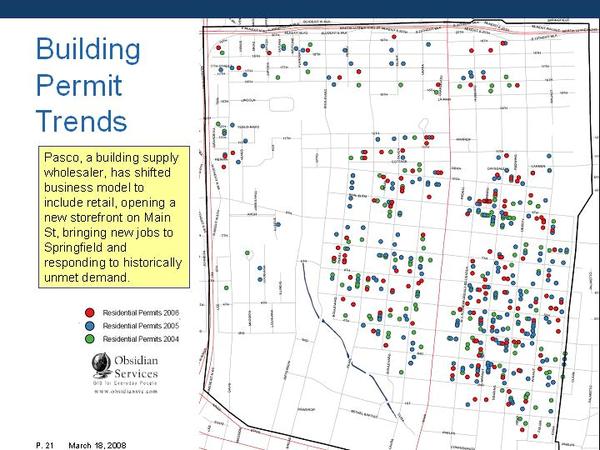 Permit trends help indicate the areas that have seen the highest level of residential investment since 2004.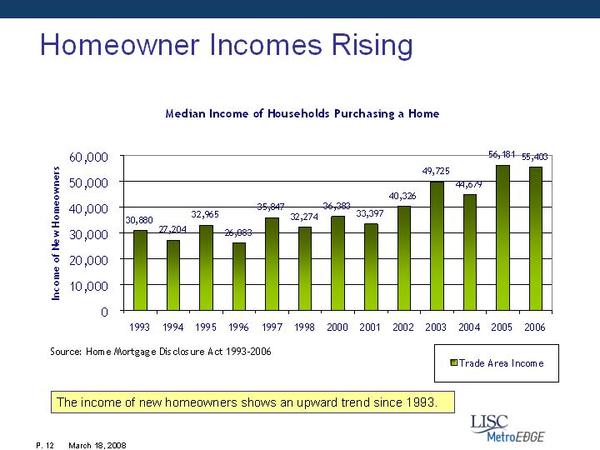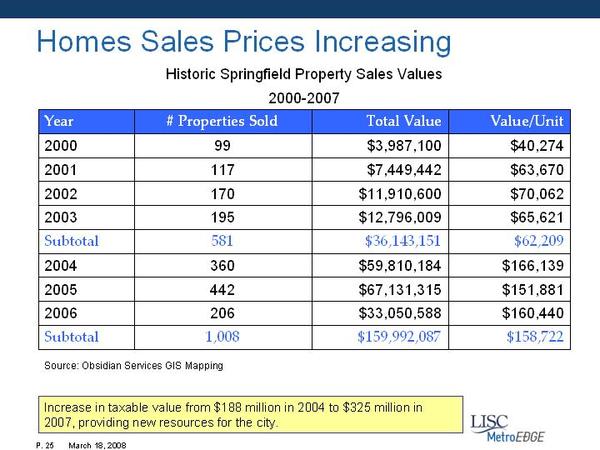 Average home values have increased from $40,274 in 2000 to $160,440 in 2006.
Retail Opportunities in Springfield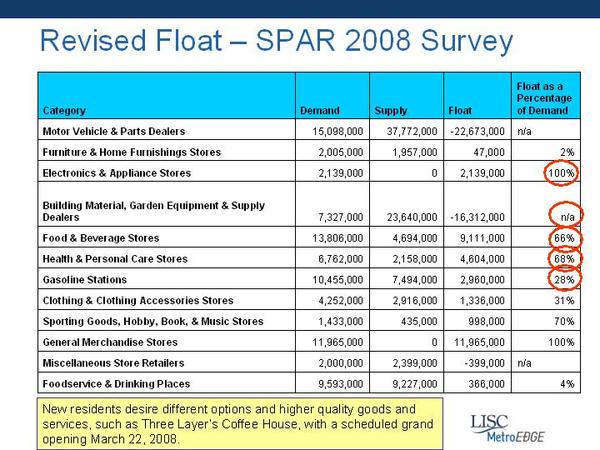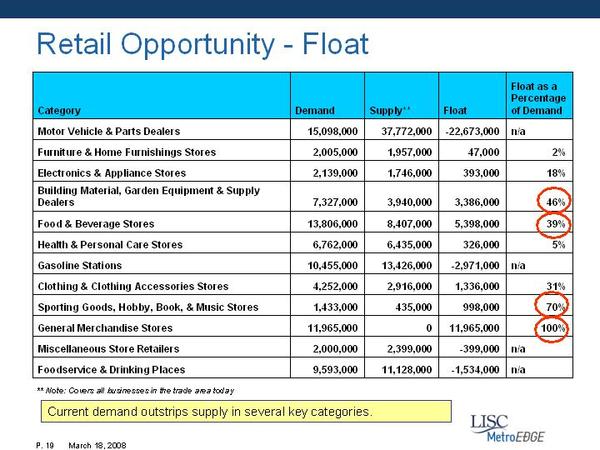 According to consultants Springfield is under served by a number of business categories.  These include Building material, Food & Beverage stores, Book & Music Stores, and General Merchandise stores.

Now the most important question is: What does the Springfield community do with this information?  Will SAMBA and SPAR get proactive in recruiting businesses to the area or is the plan to sit back and wait for retailers who are shocked by the findings of the LISC MetroEdge Study?