Urban Orlando: Connectivity in Action
May 21, 2007
3 comments
Print Article
For months, we've stressed the importance of urban connectivity , clustering complementing uses, maintaining and integrating with existing building fabric. Instead of continuing to preach the positives of such ideas, locally, lets see what happens when these concepts are applied in a city that has no where near the urban fabric, history or premier physical location, as Jacksonville... Orlando.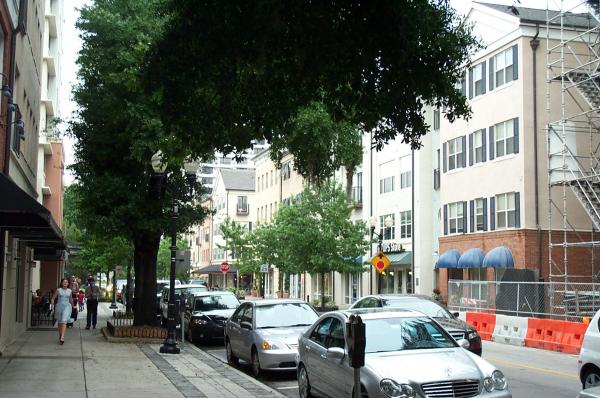 LOCATOR MAP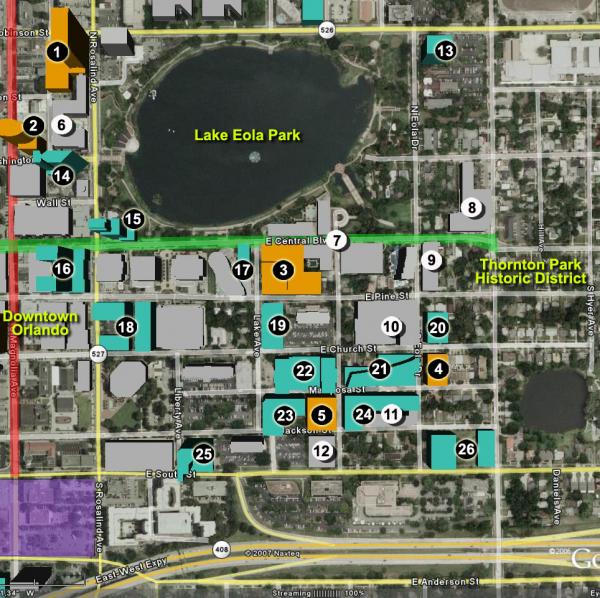 Currently Under Construction:
1. The Vue - 36 stories
2. Dynetech Centre - 32 stories (office)
3. Paramount On Lake Eola - 16 stories (condos - includes Publix at street level)
4. 101 North Eola - 12 stories (condos)
5. Star Tower - 18 stories (condos)
Recently completed:
6.  The Metropolitan at Lake Eola - (Harley Hotel conversion to condos - 2003)
7.  Post Parkside - (apartments - 2000)
8.  Thornton Park Central - 5 stories - (condos - 2002)
9.  1 South Eola Drive - 4 stories (condo -  2005)
10. The Sanctuary - 18 stories (condo - 2006)
11. The Jackson - 9 stories (condo - 2006)
12. Osceola Brownstones - 3 stories (townhomes - 2004)
Proposed:
13.  217 North Eola - 16 stories (condo)
14. The Rosalind - 31 stories (mixed-use)
15. 205 East Central - 22 stories (hotel)
16. Tradition Towers - 39 stories (condo)
17. 330 East Central - 18 stories (condo)
18. Capitol Plaza III - 19 stories (hotel/office/condo)
19. N/A
20. 201 North Eola - 12 stories (condo)
21. Thornton Commons - 20 stories (condo)
22. N/A
23. The Monarch - 24 stories (condo)
24.  Eola Place - 16 stories (condo)
25. N/A
26. Constitution Green - 12 stories (condo)
PHOTO TOUR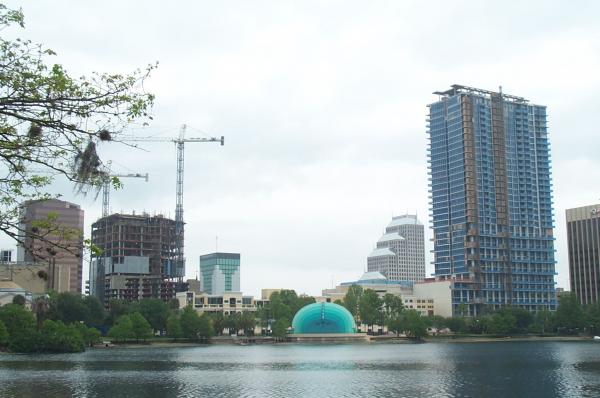 Downtown Orlando lies on the west side of Lake Eola Park. In this image, Dynetch (No. 2) "under construction", The Metropolitan at Lake Eola (No. 6), a low rise affordable condo conversion, and The Vue (No. 1) can be seen in the background.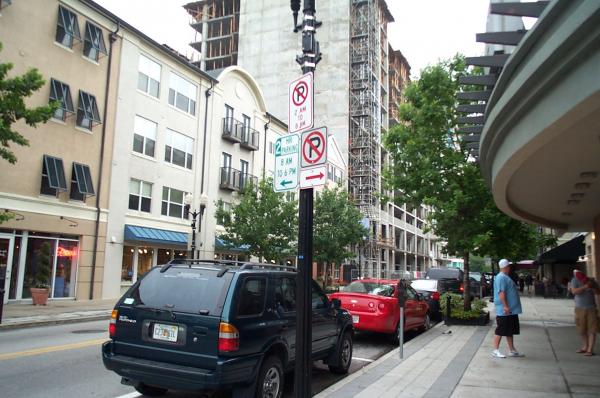 The Paramount (No. 3), can be seen rising immediately adjacent to Post Parkside (No. 6), a lowrise project featuring 244 apartment units above street level retail, in the heart of the district, between downtown and Thornton Park.  A 28,000sf urban Publix will be the major street level tenant in the Paramount project.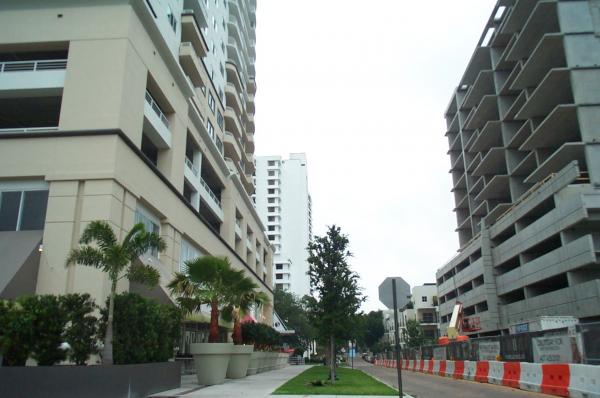 The Sanctuary (No. 10), was completed in 2006.  Now rising across the street is 101 Eola (No. 4).  Both of these infill projects sit approximately one block south of Central Blvd, Post Parkside and Lake Eola Park.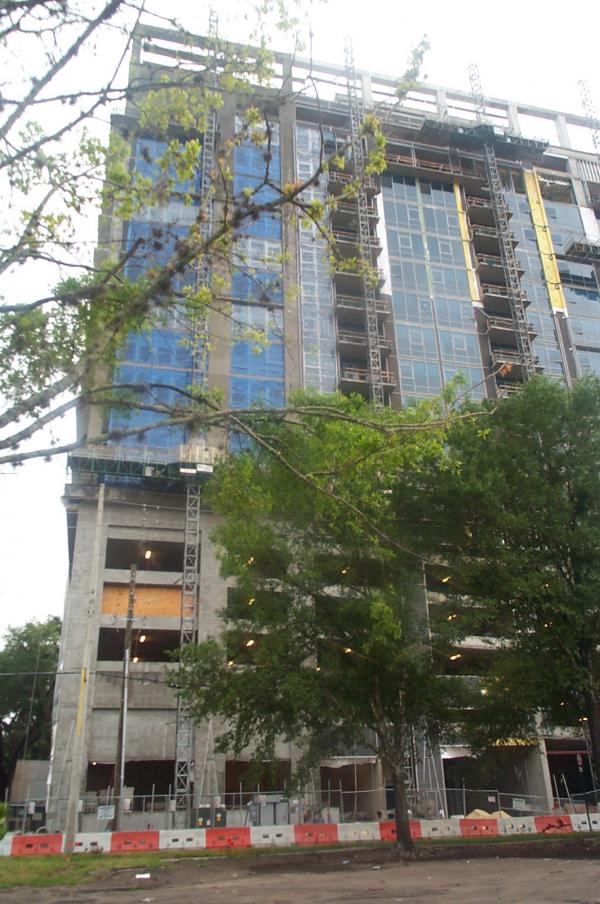 The 18 story Star Tower (No. 5) is the most recent highrise infill condo project to replace surface parking lots and single family housing along this stretch.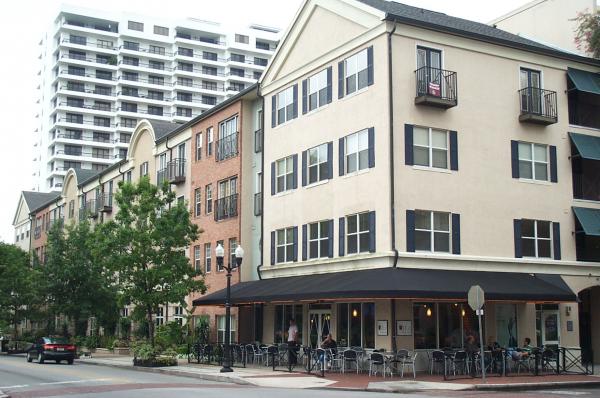 Post Parkside (No. 7), was the first significant project to open in the Central Blvd corridor, in 2000.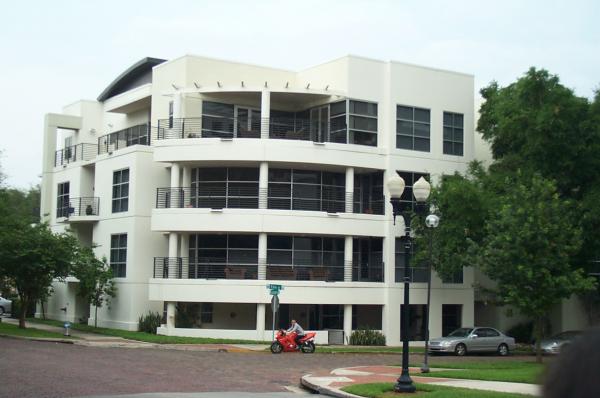 1 South Eola (No. 9) was completed in 2006, at the corner of Eola and Central, less than one block east of Post Parkside.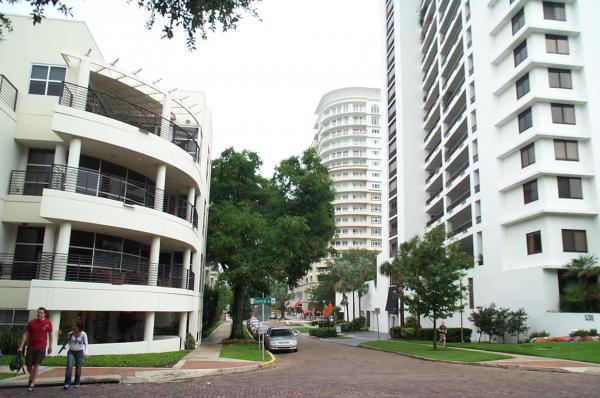 Across the street from 1 South Eola (No.9), 503 E. Central (right), was one of the first high density residential projects to rise along the Central Blvd. corridor, over a decade before the recent influx of urban projects.  The recently completed Sanctuary (No. 10) sits one block to the South along Eola Drive.
Lake Eola Park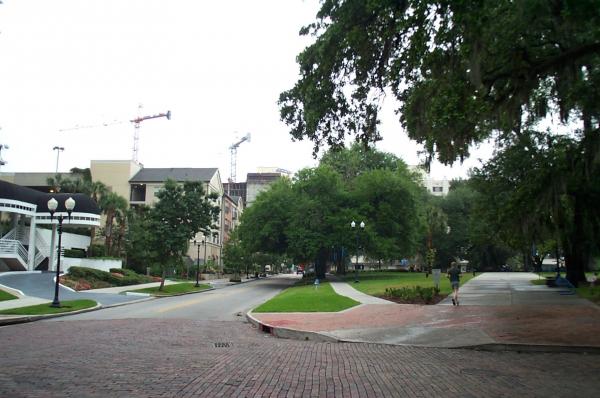 Lake Eola Park serves as the centralized recreational space for downtown, the Central Blvd. corridor and historic Thornton Park.  This image shows an entrance to the park, at Central & Eola, with Post Parkside and The Paramount developments in the background.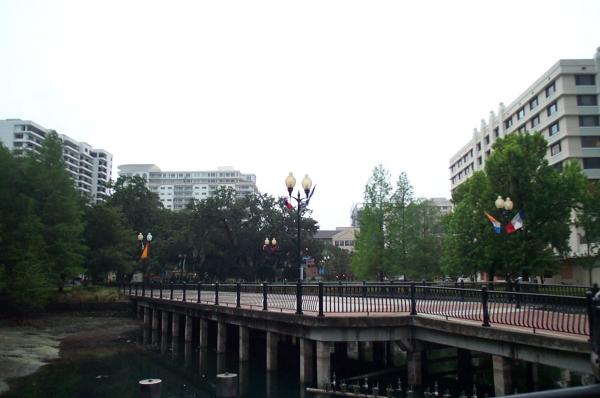 Lake Eola Park, with 503 East Central (left), the Sanctuary (center), and Post Parkside (right), rising in the background.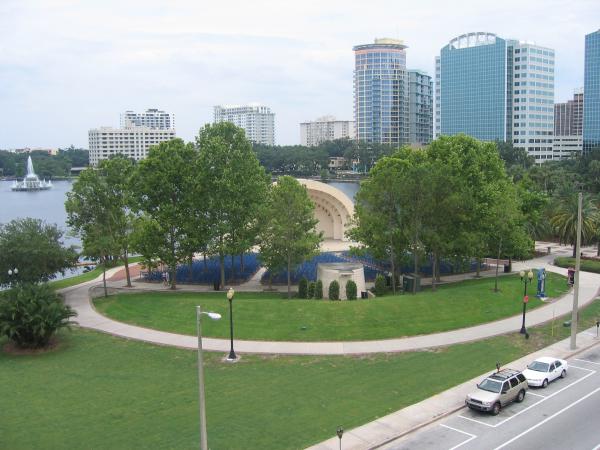 This view captures Lake Eola Park from downtown, looking towards the Central Blvd corridor.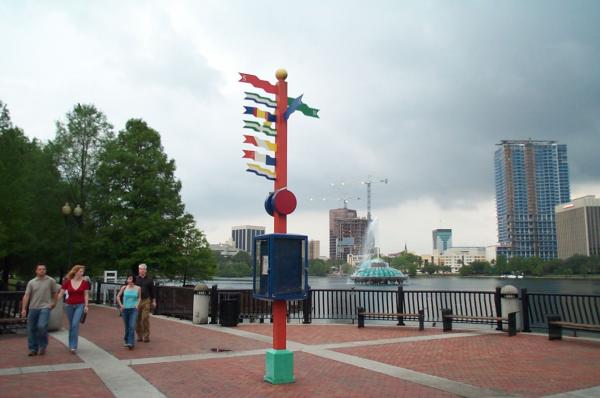 Residents take advantage of the park's loop paved pedestrian walkway, with the downtown skyline looming in the background.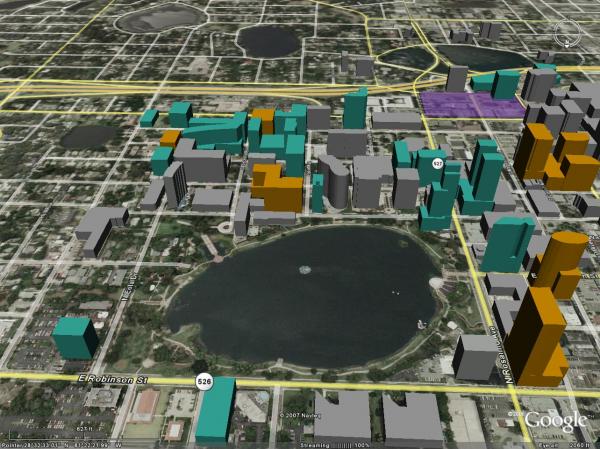 This illustration from Orlandoskyscrapers.com, captures the level of high density infill projects taking up space along Lake Eola Park. The gray massing models represent existing projects, orange represents projects under construction and blue represents proposed.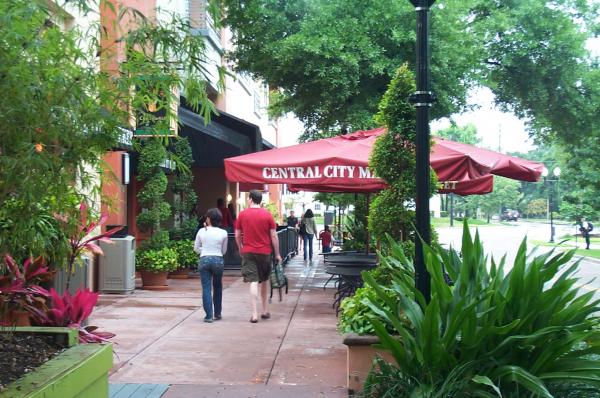 Thornton Park Central (No.8) features an urban specialty grocery market and a bookstore, along with several restaurants, at street level.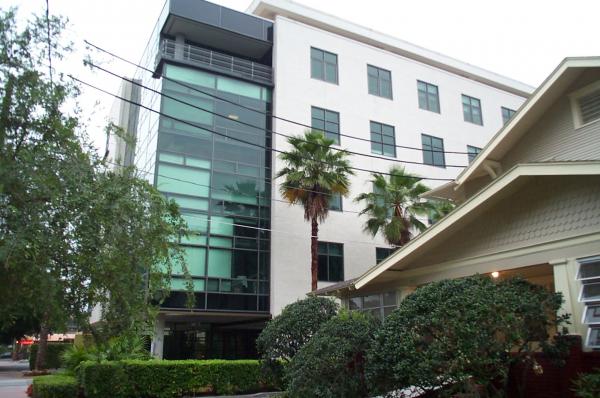 Thornton Park Central (No.8) sits in the middle of what was once a primarily single family residential area.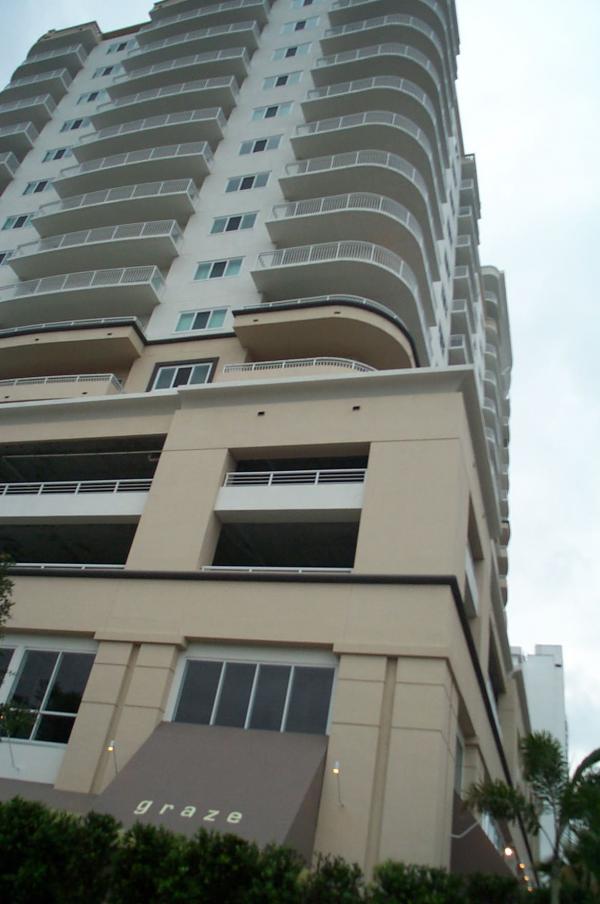 Although not located on a major street, The Sanctuary (No. 10), features a restaurant and wine bar at street level.  Under normal suburban circumstances, this would not be feasible, but due to the number of nearby housing units, pedestrian foot traffic is strong enough to support hard to find retail spaces.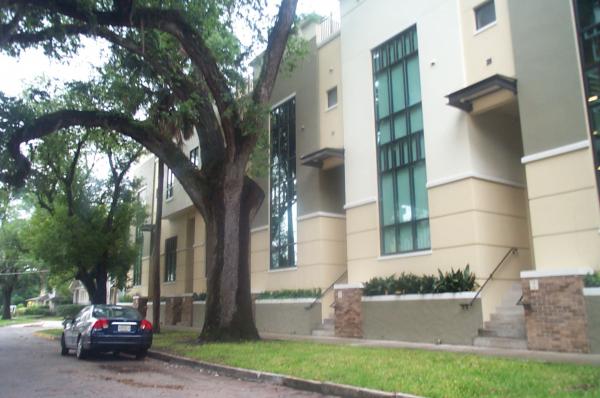 Osceola Brownstones (No.12) is an example of lowrise urban infill housing.  This project, located four blocks south of Lake Eola, was completed in 2004. 
Thornton Park sits on the east side of Lake Eola Park.  It is a 1920's era neighborhood dominated by bungalow housing and occasional modern infill projects, as shown above.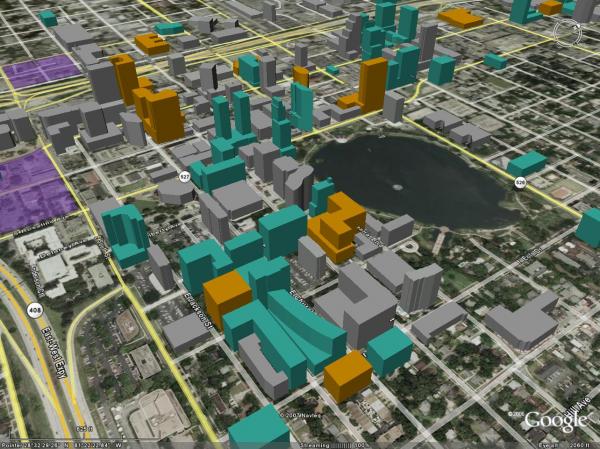 This last graphic looking NW from Thornton Park, captures the new projects creating an urban neighborhood south of Lake Eola and downtown, in the background.
General things to take from this photo tour:
1. Clustering and building compact density stimulates change at a faster pace than creating "nodes" of development.  Most of the development along the Central Blvd corridor has taken place since 2000.  While downtown Jacksonville has seen a similar rate of growth during the same period, it has been difficult to attain vibrancy and energy because most projects are not located adjacent to one another.
2. Building density creates feasible markets for retail (ex. urban Publix, Central City Market, bookstore's, dry cleaners, etc.) to open and serve a compact rapidly growing population.  Because the immediate population density has increased multiple times, since 2000, the Central Blvd. corridor is now capable of supporting blocks of street level retail.  The image of a lively street lined with sidewalk cafes, shops and service oriented retail in turn leads to additional residential development, strengthening the immediate market to support corporate retail, without public tax incentives.
3. Centralization of urban park space creates better utilization.  Public funds were spent on improving and maintaining Lake Eola Park to the point where it could serve as the main recreational space for several inner city neighborhoods and residents of all ages.  Again, this is an example of clustering similar uses within a compact setting to create vibrant pedestrian oriented synergy in a particular district.  We already have a centralized urban park area in place, lining Hogan's Creek.  It's up to us to maintain and take advantage of it.
Whether it's Orlando, Richmond, Cleveland, St. Augustine, New York or Seattle, the concept of clustering and connectivity still applies.  This is something the City of Jacksonville needs to fully embrace, encourage and demand in the inner city, especially in the time of a public budget crunch.