I'm Smaller than Jax and I have Rail: Little Rock
August 20, 2007
8 comments
Print Article
The River Rail Streetcar is a 3.4 mile heritage rail system that began operating in 2004, connecting Little Rock and North Little Rock. As of July 2006, metropolitan Jacksonville had 448,965 more residents than metropolitan Little Rock.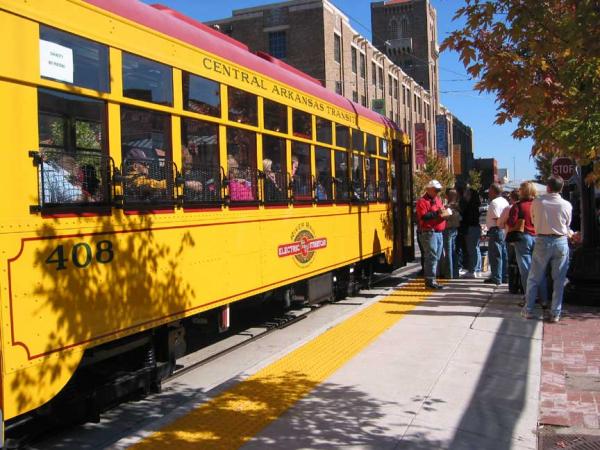 2006 population comparison
Jacksonville Metropolitan Area: 1,277,997
Little Rock Metropolitan Area: 829,032
Difference: Jacksonville +448,965
City of Jacksonville: 794,555
City of Little Rock: 204,370
Difference: Jacksonville +590,185
Little Rock River Rail Streetcar route map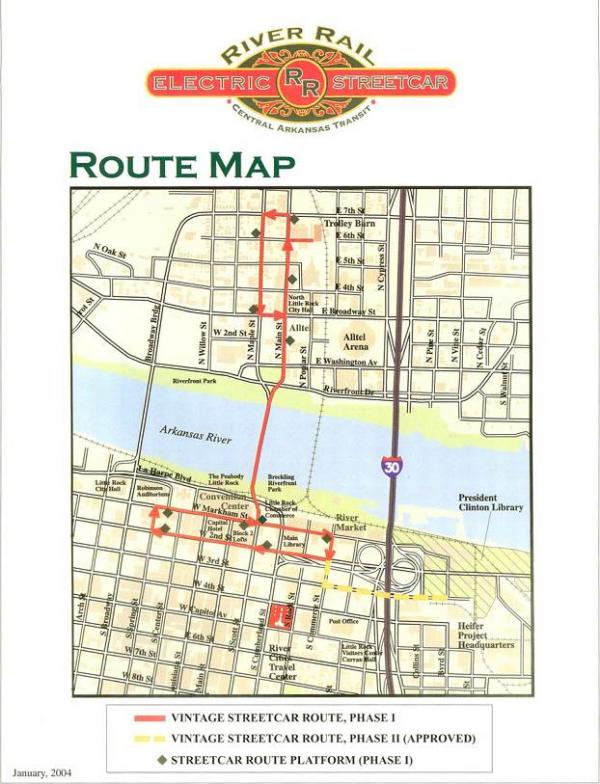 Phase I of the heritage streetcar line opened on November 1, 2004.  This 2.5 mile phase connects the cities of Little Rock and North Little Rock.  Over 200,000 passengers rode the streetcar during its first year of operation.
On February 16, 2007, a 0.9 mile extension opened, connecting the rail system to the William J. Clinton Presidential Center and Heifer International headquarters.  Today, additional extensions are being studied, including a 2.5 mile line to serve Little Rock International Airport.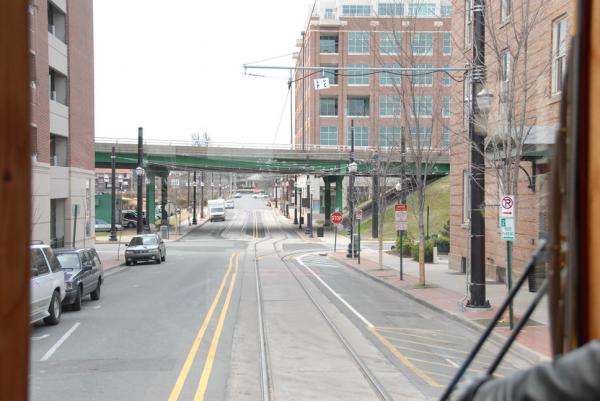 Operated by the Central Arkansas Transit Authority, River Rail's creation has led to the investment of transit oriented development along its route.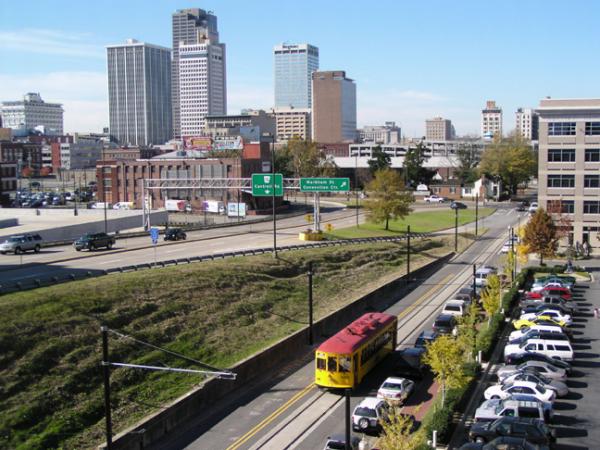 The 3.4 mile rail line cost $23.5 million dollars, or $7 million dollars per mile, $19 million dollars less per mile than JTA's bus rapid transit proposal.  Eighty percent of the systems funding came from federal sources ranging from New Starts rail funds, flex STP funds, and High Priority funds from TEA 21.  The streetcar system was constructed to facilitate mass transit movement in and around two central business districts, and to boost tourism and economic development.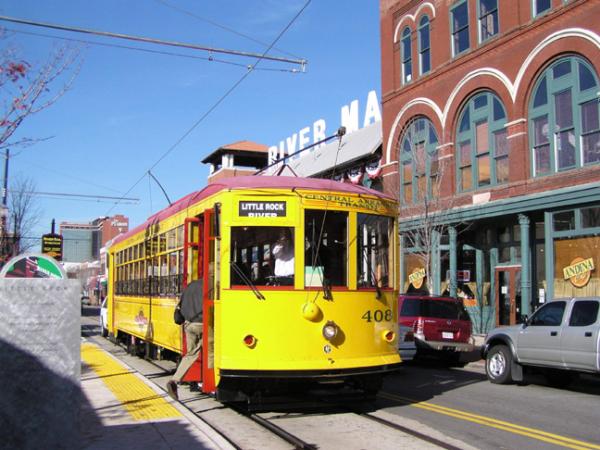 River Rail initially opened with three replica vintage electric trolleys.  As a part of the phase 2 expansion, two more streetcars were added to the fleet.  All of Little Rock's streetcars were manufactured by the Gomaco Trolley Company.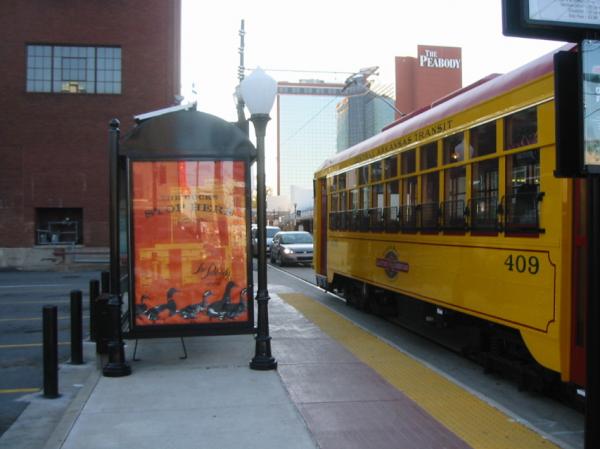 River Rail's stops include space for advertising.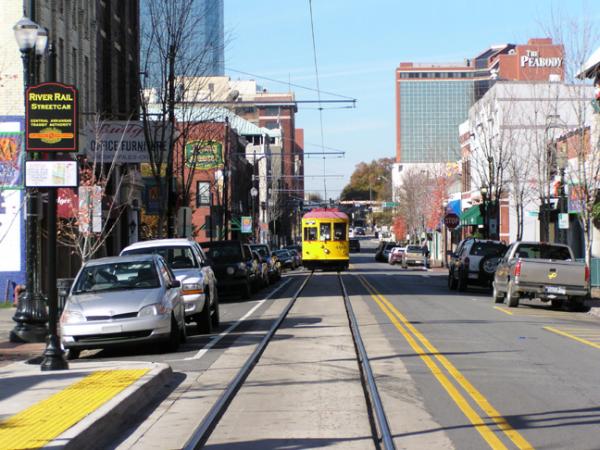 The rail system has become a popular mode of transportation because it directly serves several quality destinations in the Little Rock area.  These destinations include Little Rock's 220,000 square foot Statehouse Convention Center, the River Market, the 18,000 seat Alltel Arena, the Riverfront Amphitheater, Historic Arkansas Museum, Museum of Discovery, the main library, and several shops, restaurants and hotels.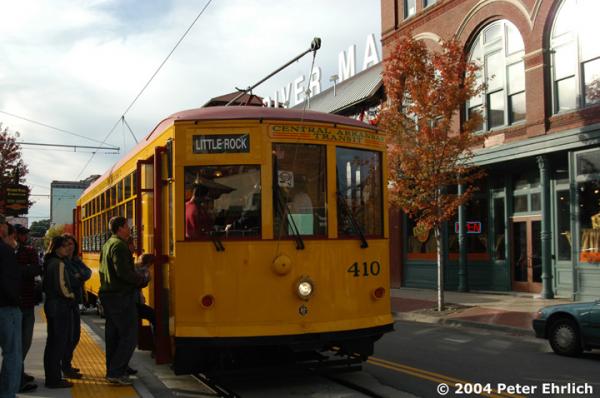 The line has enhanced business connections in the Little Rock area.  It has been so popular that many bars and restaurants have added menu items and microbrews named after the system.  There's even a new restaurant along the line called Sidetracks. 
"Experience the Charm, Friendliness, and Mystic of North Little Rock's Newest Bar, Sidetracks. Sidetracks is Know as the Hottest Spot that Local and Out of Towner's gather for Happy Hour. Located in the Historic Argenta Area in North Little Rock, the bar is located one block from Alltel Arena, with the River Rail drop off at our front door.  Built in the late 20's, during Prohibition, locals have long talked about unnatural phenomena's and sightings that have occurred in the building. We invite you to visit us 7 Days a Week.  We open at 5pm.  You're on the Right Track! Sidetracks. Welcome Home."
How many businesses do you know that promote being located next to a bus stop in their marketing campaigns?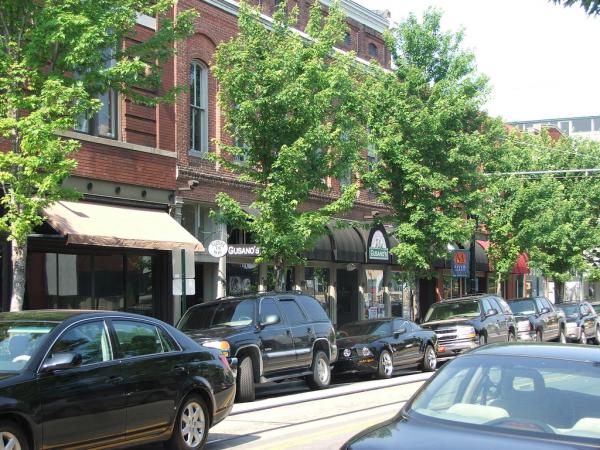 New developments along the route include two apartment projects with their own built in stops and a planned $24 million dollar minor league ballpark.  Two corporations and one museum have also contracted with the transit authority for naming rights at platforms.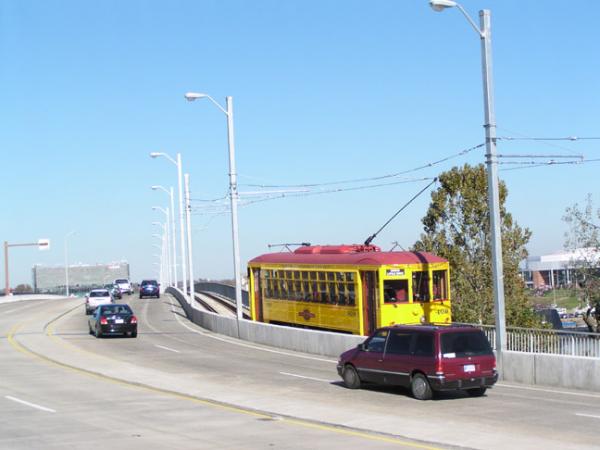 River Rail connects Little Rock and North Little Rock via the Main Street Bridge, which soars 100 feet above the Arkansas River.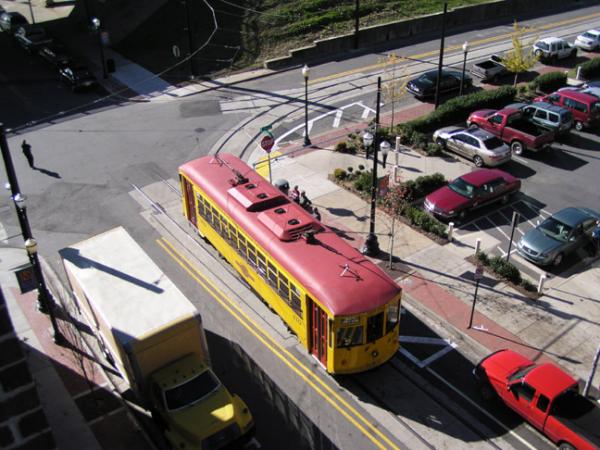 This aerial captures where a future expansion line will tie into the existing system.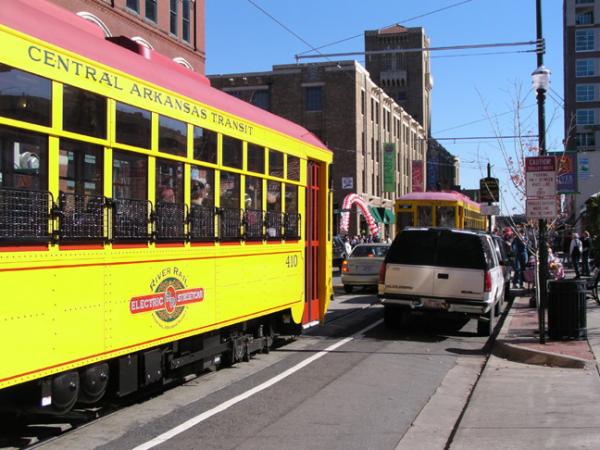 Little Rock's River Rail clearly illustrates how even small communities can benefit from affordable rail transit.  Overall, local government has invested less than $4 million for this system, which continues to bring economic prosperity to the downtowns of Little Rock and North Little Rock.
Next featured city in the Rail series: Memphis