About the Downtown Center Project (now JEA's Administration Building)


During the early 1960s, Robert H. Jacobs of S.S. Jacobs Company hired NYC-based architects, Ketchum & Sharp to design a $15 million mixed-use development straddling Church Street. At the time, Downtown Center's Universal Marion Building would become the tallest building on the Northbank and second tallest in the city.

The overall development would consist of four separate buildings bringing a mix of uses to downtown Jacksonville:


J.B. Ivey's & Company




Opening in August 1962, this six-floor, 180,000-square-foot department store would serve as the retail anchor of Downtown Center. The seventh in the Charlotte-based chain, it was the first major department store to be constructed in a metropolitan United States downtown location in 30 years.


Universal-Marion Office Building




Opening in August 1962 along with Ivey's for $12 million, this 19-story, 226'-tall office building was the epicenter of the development, and included a rotating restaurant on the top floor. Universal-Marion occupied floors 11 and 12.


Park South Building




Located across the street, this building opened on Nov. 13, 1960. It consisted of a six-level, 400-space parking garage with a Purcell's Women's Store at ground level.


Medical Building (never built)

This five-story building would have sat at the corner of Main & Church Streets. Plans called for it to contain a 250-space underground parking garage, along with a drugstore and restaurant at street level. A "temporary" surface parking lot has been on this site for nearly 50 years.



Above Downtown Jacksonville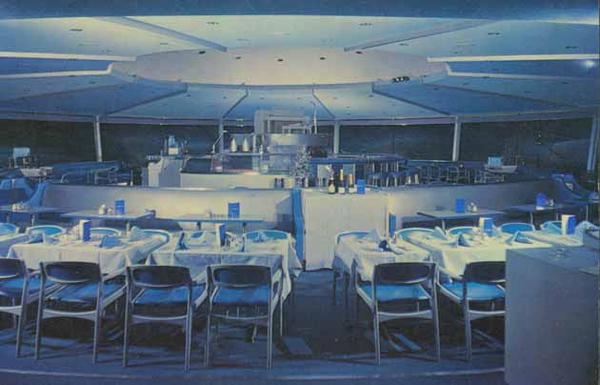 Owned by Carl Holmquist, the 250-seat Ember's Restaurant opened on the 18th floor of the Universal Marion Building in 1964. Rotating 360 degrees every 1.5 hours, it was said to be the largest revolving restaurant in the world. Live Maine lobsters were flown in from Booth Bay, Maine every Friday at the restaurant, which stayed open until 12:30am daily. Business would decline as the city's suburban areas began to increase in popularity and replace downtown as the city's social center. By the early 1970s, the Ember's Restaurant would be no more. Today, this space has been converted into office use for the Jacksonville Electric Authority.






Did You Know?

The 1971 Downtown Master Plan proposed to combine Downtown Center with May-Cohen Department Store (now City Hall) to create a multiple-level shopping mall. The three potential anchors, May-Cohens, Ivey's and Purcell's, all closed before the plan could be implemented.


For more information on the 1971 Downtown Master Plan: http://www.metrojacksonville.com/article/2010-jul-downtown-frankenstein-revisiting-the-1971-masterplan



Despite only being 19 stories, the JEA Tower's conference room offers premium views of the city. Considering JEA is a public entity, one can't help but hope that one day this space will be opened for the general public to enjoy.


Article and images by Ennis Davis.