Move over Tampa, Jax is Florida's forgotten Cigar City
Published October 27, 2015 in History - MetroJacksonville.com
Commercial cigar rolling in Florida dates as far back as the 1830s. Seeking to market authentic Cuban cigars in America, while avoiding high tariffs from Havana and Spanish trade restrictions, Samuel Seidenberg opened the first cigar factory in Key West in 1867.



José Huau's cigar store at the corner of Bay Street and Pine (Main) Street in Jacksonville.
Courtesy of http://www.latinamericanstudies.org/huau.htm

Late 19th century cigar makers also found Jacksonville as an attractive location to process Havana tobacco. At the time, Jacksonville was the terminus of six railroads, home to a 24' deep river channel, and considered the gateway to Florida, the Bahamas, and Cuba. By 1895, the city had become home to 15 cigar manufacturing companies and thousands of Cuban immigrants. It's largest, Gabriel Hidalgo-Gato's El Modelo Cigar Manufacturing Company, employed 225 and produced 6 million stogies annually. Area cigar factory wages ranged from $9.00 to $35.00 per week, depending on the skill of the worker. Other companies in Jacksonville included the J. Dzialynski, El Perfecto, M. Fritot, I. Hernandez, M. Hirschman, and H.R. Lohmeyer cigar factories. Most of Jacksonville's cigar makers were clustered into two areas within walking distance of Bay Street. East Bay in the vicinity of Liberty Street, and West Bay in the vicinity of Broad Street.



The former El Modelo cigar factory building on West Bay Street in downtown Jacksonville.

José Alejandro Huau, Hidalgo-Gato's brother-in-law, may have been the most popular cigar factory owner in town. Huau came to Jacksonville, finding a job with the Florida Central Railway in the early 1870s. Soon he was operating a small sawmill on Washington Street and a tobacco factory in partnership with his brother-in-law, Henry M. Fritot. After buying out Fritot, Huau changed the factory's name to C.M. de Huau and Company, using his wife's initials, Catalina Miralles, and selecting "El Esmero" name for his cigar brand. Huau's factory occupied a three story building at 32-40 West Bay Street. With annual sales of $200,000, he employed 150 workers and his well-stocked cigar store, at Bay and Pine (Main) Streets was said to be one of the finest in the city. With the assistance of Huau, José Martí visited Jacksonville eight times between 1891 and 1898, stirring up enthusiasm and financial support for Cuba's freedom movement. Huau would go on to become a Jacksonville city councilmember.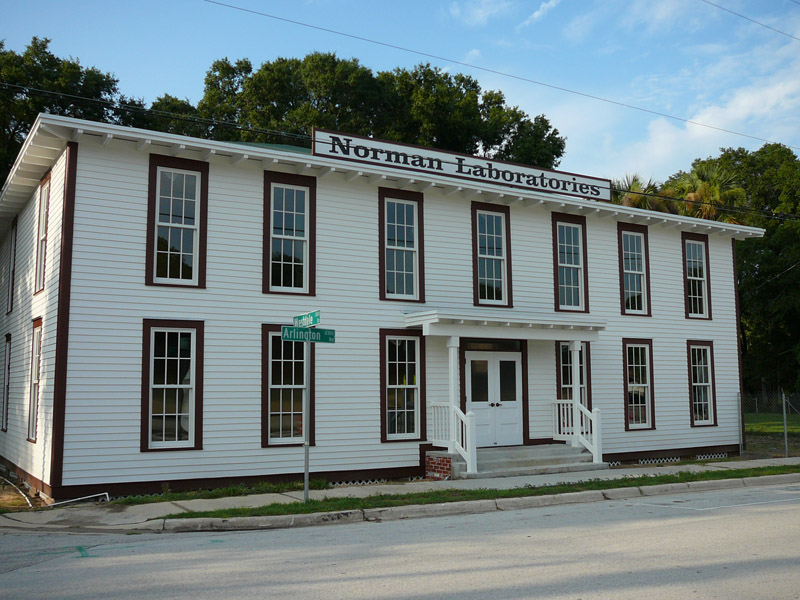 This former Arlington cigar factory became a movie studio during Jacksonville's early 20th century silent film era.



Nevertheless, the wheels had been set in motion for who would become Florida's dominant late 19th century cigar making city. A decade earlier in 1885, Vicente Martinez Ybor selected Tampa over Mobile, Pensacola and Galveston to relocate his Key West cigar manufacturing operation. Tampa was selected because the climate was warm and humid, keeping tobacco leaves fresh and close enough to Cuba, making importing Cuban tobacco by sea, affordable and efficient. Henry B. Plant's new railroad to Tampa also made it easy to ship finished product to the rest of the nation.

To attract skilled Cuban tabaqueros to Tampa, Ybor developed Ybor City, a small company town where his employees could own their own homes and other could establish their own businesses. To increase the available pool of workers, he also encouraged other cigar manufacturers to move in by offering cheap land and free factory buildings. Ybor City's first factories opened in April 1886, employing less than 100 between them. That same month, a major fire in Key West destroyed several cigar factories, causing many workers and manufacturers to relocate to Tampa.



The "Army of the Cuban Republic" was made up from 40 Cubans from Jacksonville, 200 from New York, and 150 from Key West. They set sail on the "Florida" to join the rebels on May 21, 1898. Courtesy of the State Archives of Florida, Florida Memory, https://floridamemory.com/items/show/149395

Virtually overnight, the cigar industry transformed Tampa for a small agricultural town into a bustling industrial seaport. By the early 20th century, Ybor City was described as Tampa's "Spanish India" due to the large immigrant community it had attracted. However, Ybor's success led to the quick decline of Jacksonville's budding hand rolled cigar industry. Also, after Cuba obtained its independence, many Cubans living in Jacksonville returned to the island. By 1905, only 42 men and 25 women of Cuban descent resided in Duval County. At the time, Jacksonville's remaining 11 cigar factories employed 83 workers combined. Down south, Tampa had earned the nickname "Cigar City", being home to 150 factories employing more than 10,000 by 1910.



A 1925 interior view of the Cuesta Rey Cigar Company in Tampa. This image represents a photographic real estate promotional picture for the Florida Real Estate Investment Corporation Properties from 1925. The photograph was used to sell lots in the subdivision Pinecrest Villa located just north of Tampa. Courtesy of the State Archives of Florida, Florida Memory, https://floridamemory.com/items/show/18107

In 1929, Tampa reached its production peak, churning out nearly 500 million hand-rolled cigars, primarily with Cuban tobacco. However, back up in Jacksonville, a new cigar giant was already in the making and would soon, reek havoc on Tampa's cigar manufacturers. A few years earlier, in 1924, Mayor John Alsop noticed a chauffeured Cadillac with an Ohio license plate traveling through town. Seizing the opportunity, he jumped on the car's running board, introduced himself to the car's occupant and convinced him to stay overnight in town.

The occupant was cigar maker John Swisher. Swisher was the first cigar manufacturer to install cigar making machinery. Alsop, not only successfully convinced Swisher to bring his machinery to Jax, Swisher also decided to consolidate his 22 Ohio-based cigar factories into one large factory in Jacksonville. The building selected for his operation was a former World War I munitions factory in the New Springfield neighborhood. The large relocation also convinced a major Swisher supplier, the A.S. Ginter Box Company, to move to Jacksonville as well. Ginter's new factory opened in 1924 across the street from Swisher's.



Interior view showing employees working inside Jacksonville's King Edward Cigars factory in 1946. Courtesy of the State Archives of Florida, Florida Memory, https://floridamemory.com/items/show/167727



Swisher's mechanization allowed it to prosper during the Great Depression by producing millions of cigars and offering them at a cheaper price than their competitors. By the 1930s, Swisher's workforce had grown to 3,000 and its Jacksonville factory had become the largest cigar factory in the world. In 1939, it became the first business in the country to establish a day car center for its workers.



A closed cigar factory in West Tampa.

Unable to compete and in the midst of the Great Depression, many of Tampa's cigar companies closed, sending neighborhoods like Ybor City and West Tampa into decline. By 1945, the number of workers employed in Tampa's cigar industry was less than half of what it was in 1935. By the late 1950s, the number of Tampa's factories had fallen to 35, employing 6,000. Much of what was left, fell with the United States embargo against Cuba in 1961.



The J.C. Newman Cigar Company in Tampa's Ybor City

Today, Tampa is still recognized as the Cigar City. However, you'll be hard pressed to find an operating cigar manufacturer in the late 19th century cigar industry epicenters of Ybor City and West Tampa. While many of the buildings still exist, Ybor transformed into a dining and entertainment district in the 1990s. Only one small factory, the J.C. Newman Cigar Company, employing 150, remains in business. Across the Hillsborough River, many of West Tampa's old cigar factories are still in search of a second chance at life.



Swisher International's cigar factory in Jacksonville's New Springfield neighborhood.

On the other hand, Swisher's 91-year-old Jacksonville plant is still the world's largest, in terms of size and production, covering nearly 700,000-square-feet, employing 1,100 and producing 8.5 million cigars a day.

Article by Ennis Davis, AICP. Contact Ennis at edavis@moderncities.com

This article can be found at:
https://www.metrojacksonville.com/article/2015-oct-move-over-tampa-jax-is-floridas-forgotten-cigar-city
Copyright MetroJacksonville.com