A Lot Of Opportunities
Among the pages of Metrojacksonville.com, readers often find countless examples of public officials being lambasted and criticized. Despite the seemingly ever-rising tide of complaints, there are public servants who go above and beyond their duties and serve the public with distinction. In 2014, Director of Public Parking Officer Jack Shad was named as the Office of Economic Development's employee of the year. Parking dominates downtown and yet there is tremendous opportunity to change the way parking is best utilized. In the past few years, the Office of Public Parking has re-examined how to more efficiently use parking for the benefit of downtown under Jack's leadership. Today, Jack discusses what has been going in on in the world of public parking.
Published March 19, 2015 in Transportation - MetroJacksonville.com
MJ: Most people do not think about parking unless they are looking for a space to park, but parking has a tremendous impact on our built environment. Parking is the most salient landscape feature of the urban core's landscape. According to Downtown Vision (DVI), more than 50% of downtown Jacksonville's streetscape consists of "dead space" - either parking lots, garages, vacant buildings, or buildings less than 25% occupied. This has a detrimental effect on creating a vibrant pedestrian-scale environment downtown. Talk about how you have creatively turned this dead space into productive assets while heading the Office of Public Parking.

A major challenge in creating a vibrant urban environment is the proliferation of dead space. This image illustrates the large instances of surface parking lots and vacant property (depicted in red) in downtown Jacksonville.


Jack: In order to change the Downtown environment, we must work together with the Downtown property owners, the parking lot owners and our Downtown partners such as the Downtown Investment Authority (DIA) and Downtown Vision, Inc. (DVI). Parking is a small component of the overall fabric. In the Parking Division, we evaluate every modification, improvement or contract through the lens of trying to make Downtown more vibrant 24/7.



Since 2011, The Legend Series has dazzled Northeast Florida with pop-up dinner events that showcase the best of our area's culinary, visual, musical and performing arts. The sixth event in The Legend Series took place the evening of Saturday, April 20th at the Yates Parking Garage. The event was in partnership with One Spark with assistance from the Office of Public Parking. Photo courtesy: The Legend Series and Agnes Lopez of Pose Well Studios.
Chef Waylon Rivers from Black Sheep Restaurant prepares lamb loin with smoking gun potatoes, peas in a pod, parsley fennel pollen gremolato crisp at The Legends Series Six inside the Yates Parking Garage. For one night, the parking garage was turned into an exclusive dining destination complete with dancing, performance art, a craft cocktail bar and decadent food prepared on site. Photo courtesy: The Legend Series and Agnes Lopez of Pose Well Studios.

PARK(ing) Day is a annual open-source global event where citizens, artists and activists collaborate to temporarily transform metered parking spaces into "PARK(ing)" spaces: temporary public places. Pictured is a scene from 2012 when the City of Jacksonville participated in PARK(ing) Day in collaboration with TransForm Jax, Downtown Vision and the Cultural Council of Greater Jacksonville.


Jack: Our food truck space at Main and Forsyth surface parking lot has been very popular since we introduced it in 2012. People have really jumped at the chance to mix up their lunch options. It is a very telling sign that the Super Food Truck, which has been at the lot for a while, liked the area so much that they have rented the empty space across the street at 11E.




Corner Taco food truck at the City of Jacksonville parking lot at Main and Forsyth streets. Photo Credit: Gary T Mills/The Times-Union.



Jack: The Parking Division has worked with the Art in Public Places program. Garages are a natural place for public murals - they often present big, blank spaces (and tend to look alike). The painting of the girl with the birds at the Yates Garage is a great example of this.



"Girl and Origami" by Neptune Beach artist Sean Mahan. Photo courtesy: Tiffany Manning.



MJ: Parking is a hot topic when recruiting employers to locate downtown. How has the Office of Public Parking assisted in the recruitment of employers downtown?

Jack: Parking is a big consideration for any business looking to locate Downtown. Our Office of Economic Development works closely with any interested business to come up with parking options that will best suit their situation.

Sometimes it comes down to our ability to deal with special requests and get creative. With the Citizens Property Insurance decision, for example, the company has a number of over-sized vehicles that they use during natural disasters, and the company needed a place to store them near their office. We were able to work with EverBank Tower management to find a place for those vehicles at the Water Street Garage.




Everbank Center at 956,201 of total square footage is the largest Class A office building in downtown Jacksonville and is the home to such companies as Everbank, Citizens Property Insurance and C2C Solutions. Photo courtesy: El-Ad National.



Under Jack's leadership, Enterprise Rent-A-Car became the first ground level retail tenant to open in the library parking garage at 33 W Duval St since the garage's construction nearly a decade ago.


MJ: Metro Jacksonville made a push to the City Council, the then JEDC, and the Public Parking Division in 2006 to invest in smart parking meter technology. In 2009, a limited number of smart meters were finally introduced downtown. Talk about how the technology for on street parking in Jax has caught up with the times.

Jack: The City now has about 550 new, "smart meters" – solar powered, networked and able to accept credit cards. These meters started to be phased in around 2010 and we have gotten a very positive response to them. We've concentrated them in the core of Downtown, between Broad and Main, and from City Hall to the river. And on February 25th we released an RFP to find a vendor for a "Pay-By-Cell" service, where you'll be able to pay for meter parking with your smartphone. That will bring more convenience to every part of Downtown.



In 2013, the City of Jacksonville partnered with Streetline to test a smartphone app that helps people find metered parking spaces downtown.


MJ: This isn't your first stint serving the City of Jacksonville. You were previously working in the Planning Department. Talk about your work in developing the Northwest & Southwest Vision & Master Plans.

Jack: I started my career in Jacksonville as an Assistant Planner with the City. Among many other things (re-zonings, Land Use changes, COA's) I was the project manager for the Northwest and Southwest Vision Plans. That was a huge undertaking, covering about 1/3 of the city, and it really gave me an education in the diversity of Jacksonville's neighborhoods. One thing that really struck me as I went to meetings and talked to many different people was that most really like the type of the neighborhood they live in, they just want it to be better. People in Oakleaf like the lifestyle, they just want traffic to move a little better. A lot of people in Durkeeville really like the history and the feel of their neighborhood; they just want to see more businesses there.

I think the most significant thing to come out of the Vision Plans was an acknowledgement that Jacksonville is too big for "one size fits all" policies. Under Mayor Alvin Brown's leadership, the City has really been able to capitalize on that. The Renew Jax initiative is designed to empower and revitalize Jacksonville neighborhoods through public-private partnership. Renew Arlington, launched a few weeks ago, is helping strengthen that community. The Mobility Plan also helps neighborhoods find and orchestrate the right projects.

Southwest Jacksonville Vision Plan: http://www.coj.net/departments/planning-and-development/docs/community-planning-division/plans-and-studies/2003-southwest-vision-plan.aspx

Among many themes included in this plan are for the creation of neighborhood centers and establishing minimum standards for quality water, sewer and storm water services in all neighborhoods.


NAS Jacksonville Stormwater Program Manager John Young discussing landscaped rain gardens, one of several sustainable design features on base. Photo credit: Jax Air News.

With the recent openings of Maple Street Biscuit Company, Bold Bean Coffee Roasters, KNEAD Bakeshop and Community Loaves, Edgewood Avenue in Murray Hill is quickly becoming Jacksonville's next great walkable urban commercial district.


MJ: Five Points in Riverside now possesses some of the hottest commercial real estate in the city. How did you have a part of the area's renaissance?

Jack: The renovation of the 5 Points Theatre building is the professional accomplishment I'm proudest of. I think a lot of people have already forgotten what that building used to be like. Having office space upstairs adds daytime life to 5 Points, and provides additional customers for the restaurants and shops. I think the small, move-in-ready office market is going to continue to get more and more significant as more people go into business for themselves. I think it's also great news that the executive office portion of the Everbank Tower is expanding, and CoWork seems to be doing well. I'd love to see more of that type of office space Downtown, especially in some of the historic buildings. Those small firms - designers, architects, lawyers, accountants, IT - are often really excited about being in an urban environment, and they benefit the most from the density.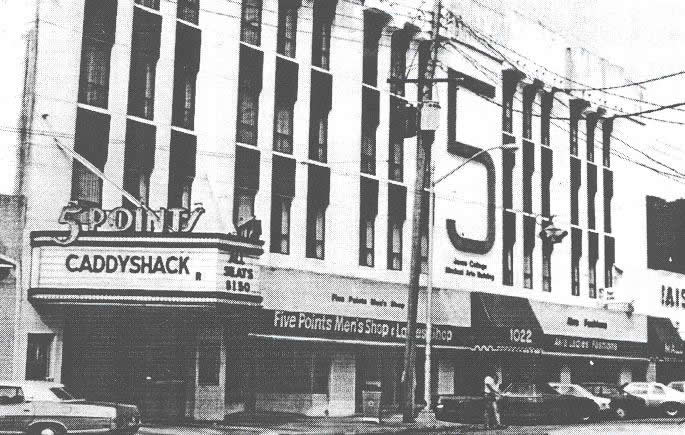 Historical image of the 5 Points Theatre. Photo courtesy: 5 Points Jax.
Brew Five Points, one of the many new businesses that have opened in the restored 5 Points Theatre building.
Wingard Creative is a marketing and advertising agency housed in the 40,000 square foot 5 Points Theatre office building.
Article by Mike Field
This article can be found at:
https://www.metrojacksonville.com/article/2015-mar-a-lot-of-opportunities
Copyright MetroJacksonville.com