5 Places That Existed Then That Are Better Now
Here are five historic sites in Jacksonville that have gotten better with age.
Published January 28, 2015 in History - MetroJacksonville.com
5. Swisher International

Inside of Swisher on June 22, 1946. State Archives of Florida, Florida Memory, http://floridamemory.com/items/show/167727

Swisher International dates back to 1861 when David Swisher of Newark, OH received a small cigar business as a part of a debt settlement. The business would remain small until Swisher's sons, Harry and John, took over in 1888. They soon changed the named to Swisher Brothers.

By 1895, the company had grown to three factories, producing over 300,000 cigars daily. In 1924, Jacksonville's Springfield was selected as the company's new headquarters. Here, the country's first "fresh work" rolling machines were placed into operation to mass-produce cigars. Soon, Swisher became the first company to individually wrap cigars in cellophane, with an easy remove cigar band. The company would continue to grow with its King Edward becoming the world's bestselling cigar by 1940. Today, Swisher is the world's largest cigar company and America's largest cigar exporter, shipping to nearly 90 countries.


4. Talleyrand Municipal Docks

Romsdalshorn at berth 16, Jacksonville Municipal Dock in 1925. State Archives of Florida, Florida Memory, http://floridamemory.com/items/show/148985

The Municipal Docks and Terminals, along the St. Johns River, between 8th and 21st Streets were established in 1915. Operating their own 20 mile railroad system, the Talleyrand complex was initially distinguished by long galvanized steel warehouses and railroad spurs running out on three 1,000 foot long piers.

In 1963, the Florida Legislature created the Jacksonville Port Authority to replace the Municipal Docks and Terminals in order to progress, preserve and promote Jacksonville's port facilities.

A century later, what was originally the Municipal Docks is now known as the Talleyrand Marine Terminal. The 173-acre terminal handles containerized and breakbulk cargoes, automobiles and liquid bulk commodities such as molasses and vegetable oils. It also features 4,780 linear feet of berthing space on 40 feet deepwater. Furthermore, despite being JAXPORt's oldest facility, it's also the only one with on-dock rail facilities providing direct switching service to multiple rail lines.


3. J.P. Small Field

JP Small Field from the grandstand in 1939. State Archives of Florida, Florida Memory, http://floridamemory.com/items/show/51998

The original facility was built in 1912 by Jospeph Durkee. However, ownership by the Durkee family would not last long, as control was turned over to Amander Barrs the same year. Barrs ordered the construction of a recreational field to be used by local teams, to be named Barrs Feild

Barrs ordered the construction of a recreational field to be used by local teams on the property. At first, the park was popular, being used by Jacksonville Atheltics and Jacksonville Scouts of the Florida State League, as well as MLA club teams like the Giants and the Dodgers. However, with no municipal park in the city, teams were using parks across the river more.

By 1926, the city had decided to purchase Barrs Field in hopes of amping it up and bringing professional baseball back to the area. In March of 1926, the city officially purchased the park and renamed it Durkee Field. Following this, the city entered negotiations to bring a league franchise to the city and thus, the Jacksonville Tars were born. The current brick and steel grandstand was completed in 1935 after the original facility was destroyed by fire.

Over the years, major teams and players would visit and play at Durkee Field. The field would also begin to be used by local high schools. It served as the center of professional baseball in Jacksonville until 1955. By 1970 however, the stadium was in disrepair and scheduled to be demolished. Local uproar and petitioning worked to save the park, and in 1980 it was renovated and renamed J.P. Small Field. Renovations of the new park included structural repairs, a new roof, press box and dugouts, paving the parking lot, a new playscape, and lighted fields. Today, J.P. Small Field is now the only historic park left in Jacksonville.


2. Jacksonville University

Model of plan for Jacksonville University's campus in 1961. State Archives of Florida, Florida Memory, http://floridamemory.com/items/show/42275

William J. Porter founded Jacksonville University as a two-year junior college in 1934. 60 students were enrolled in the program during the first year. A year later, the institution changed in name to Jacksonville Junior College, where it switched locations three times before finally settling into its current location in 1950.

In 1958, the institution would merge with the Jacksonville College of Music and officially change its name to Jacksonville University (JU). JU became a four-year school shortly after, and had its first four-year class graduate in 1959. The 1960s helped JU see a huge growth, as enrollment increased, dorms were built, the gym was built, and two additional buildings were added to the campus.

JU would face hard times, however, with the opening of UNF in 1973. Enrollment at JU dropped and they lost a significant portion of their funding.

In 1990, JU embarked on a transformation—reconfiguring itself as a primarily liberal arts college and beginning a large fundraising campaign. As a result, the campus was able to renovate, construct, and revise its master plan.

Today, JU has 6 different colleges, which offer over 70 majors and programs at the undergraduate level, as well as several Master's programs. JU has teamed up with the Florida Coastal School of law to offer a joint MBA/law degree, and has also teamed up with the Aerosim Flight Academy to offer flight training to aviation students. JU's athletic program has had an array of successes, particularly with its basketball and football programs, and has recently added lacrosse to their repertoire. JU's "extracurricular" scene has grown extensively, too, as they now offer Greek life opportunities, ministries, clubs, and media organizations. Current expansion plans include the ongoing construction of a $12 million, 277-bed residential hall.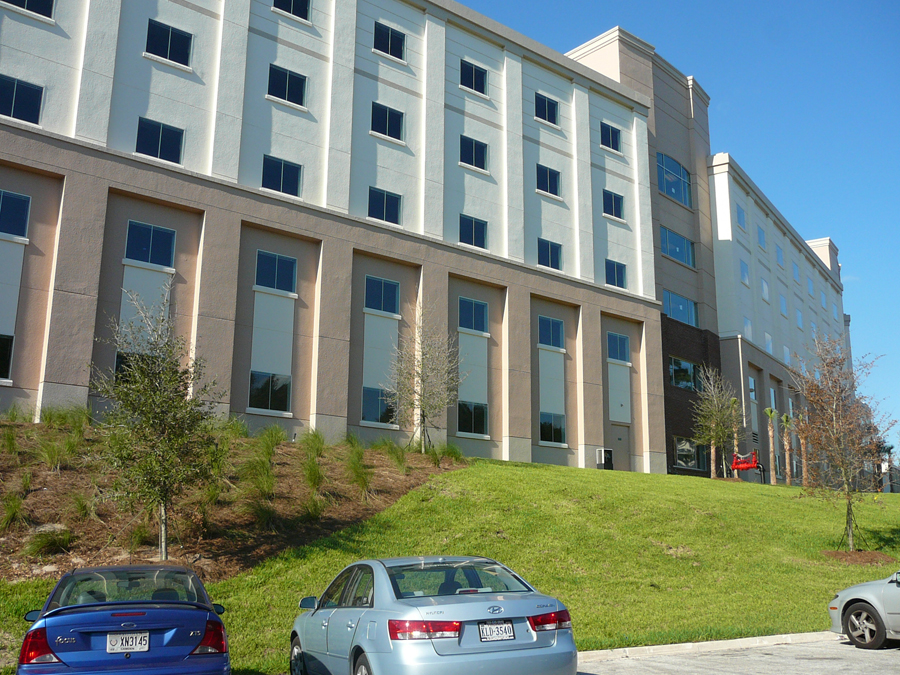 1. Renessenz

Glidden Company organic chemicals division plant during the 1960s. Here Turpentine is converted through chemistry into fine flavor chemicals, which are formerly obtained only from natural oils. State Archives of Florida, Florida Memory, http://floridamemory.com/items/show/38634

This longtime local chemical plant was founded in 1910 as the Standard Turpentine Company. At that time, the site was a rural location north of Jacksonville. Things would change after the original Norwood plat was filed in 1912 and rapid growth in the area during the 1930s and 1940s.


it was built in a rather rural site; as the city had yet to really develop around it. Over the years the chemical plant has had various owners and legal troubles. For many decades, it was a major contributor to the notion of Jacksonville being known as the "city that stinks" and "Florida's Armpit". Since a 1980s crack down on odor emissions by Mayor Tommy Hazouri, investments were made in advanced technology to control the release of foul sulfuric odors in the manufacturing process.

Today, the 105-year-old plant is still alive and well, employing over 150 workers making over 20,000 tons of flavors and fragrances annually. Acquired by TorQuest partners and renamed Renessenz, LLC. in 2010, the company is the leading producer of terpene based aroma chemicals, exporting huge quantities of fragrances and flavors worldwide.


Article by Kristen Pickrell.
This article can be found at:
https://www.metrojacksonville.com/article/2015-jan-5-places-that-existed-then-that-are-better-now-
Copyright MetroJacksonville.com