Six awe-inspiring Jax skyscrapers never built
The downtown Jacksonville skyline we know and love today would have looked dramtically different if these size skyscrapers would have been built as originally proposed.
Published August 12, 2015 in History - MetroJacksonville.com
County Courthouse/City Hall


This 1920s proposal by H.J. Klutho would have forever altered the downtown environment as we know it. Not just the skyline, but also view corridors and the overall street grid. Klutho's proposal called for the construction of a joint county courthouse and city hall complex on the waterwords site at First and Main Streets in Springfield. As a part of this development, a new grand boulevard extending from Kings Road in Durkeeville to Main Street would have been built. This project never came to fruition but during the mid-20th century the land that would have been claimed for Klutho's boulevard became the Blodgett Homes public housing development and the campus of Florida Junior College (now Florida State College at Jacksonville).


First Baptist Church Tower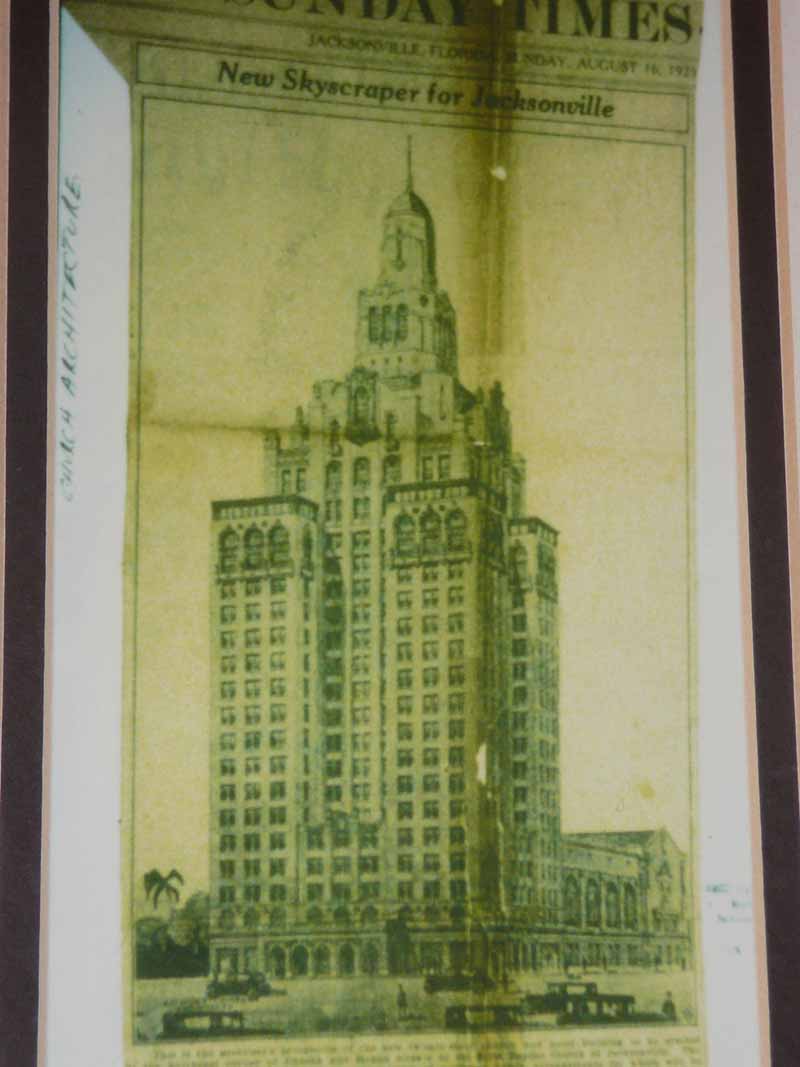 Jacksonville was a booming metropolis during the 1920s and the First Baptist Church was a major recipient of this growth. By August 1929, the growing religious institution proposed an impressive tower that would have become Jacksonville's tallest building. Unfortunately, the impending Great Depression would make this proposal a short lived one. United States stock prices began to fall around September 4, 1929 and disaster struck with the stock market crash of October 29, 1929 (also known as Black Tuesday).



Masonic Temple




The Masonic Temple on Main Street is the only building on this list that was actually built. The temple was conceived in 1912 as an 11-story building, which would have made it just as tall as Klutho's recently completed Florida Life Building (a part of the Laura Trio). Developers settled for a six story structure that stood at the intersection of Main and Monroe Streets for decades. Unfortunately, being six stories wasn't enough to save it from the wrecking ball. Today, the site lives on as a surface parking lot.






River Watch

River Watch was envision to have a prominent place in the Northbank skyline when it was originally proposed in 2006. River Watch replaced a plan by Capital Partners to develop a 12-story, 197-unit Westin Hotel at the intersection of Hogan Street and Indpendent Drive. Proposed by the Kuhn Companies of Orlando, the 33-story building would have included a four star hotel, 187 residential condominium units and street level retail adjacent to the Jacksonville Landing. With the residential condominium market softening, Kuhn eliminated the residential component in mid-2007. The hotel plan would die before coming reality as well when Kuhn went belly up in 2008, declaring bankruptcy. Determined to see development on this site, Jacksonville settled for a parking garage, which was recently completed in 2015.


The St. James Hotel & Residences


Miami-based Spector Real Estate Investments, Inc. envisioned developing the city's tallest building in 2006. Spector's St. James Hotel & Residences would have been a five-star hotel and condominium tower stretching 68 stories into the sky. It would have included 469 condominiums, 169 hotel rooms, a European spa, 35,000 square foot ballroom, high end restaurants, retail space and a 14-story parking garage. Spector's dreams were probably too big to handle in a market Jacksonville's size. The real estate crisis of the late 2000s put a final nail in the coffin of Spector's plans for Jacksonville. Today, homegrown Intuition Ale Works is moving forward with turning the site into a large craft brewery.



The St. John




In March 2004, developer Hal Dodt announced plans for twin 40-story towers surrounding the Southbank's Aetna Building.

Soon, South Shore Group Partners and Hines Development secured the right to develop 300 residential units and 50,000 square feet of retail space at 841 Prudential Drive. Plans called for a 52-story single tower and a 12-foot wide riverwalk extension south of the Acosta Bridge. This progressed as far as an aggressive sales campaign that included billboards on I-95. In the end, the media coverage could not overcome the pending nationwide real estate crisis.


Article by Ennis Davis, AICP. Contact Ennis at edavis@moderncities.com
This article can be found at:
https://www.metrojacksonville.com/article/2015-aug-six-awe-inspiring-jax-skyscrapers-never-built
Copyright MetroJacksonville.com