The Trolley Park Phenomena
The 1890's saw the birth of a unique experience - the "Trolley Park". Every city worth its salt had one, including ours. Here's a look at the rise and fall of America's original amusement park.
Published May 16, 2011 in History - MetroJacksonville.com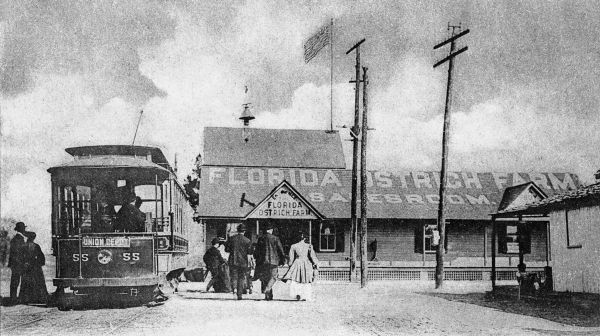 In the "Gay Nineties", an amazing realization overcame America - the concept of "down time". Advertising and publications came out and people began to explore the world. Work days and hours fell and they people discovered the meaning of 'earned leisure'. Although we don't know all the causes, some of the heavy hitters of the era were the electric companies and their new trolley systems. And more so, the exciting assortment of "Trolley Parks". They provided the extra boost companies needed by operating on the weekends.



Definition of UBIQUITOUS
: existing or being everywhere at the same time : constantly encountered : widespread
Merriam-Webster






THE ASCENT

By 1900 there were hundreds in operation all over America. It is believed that during this golden age of amusement parks, as many as 2,000 parks once operated at the ends of various streetcar lines around the country. This was an era when the number of hours worked was reduced, while the amount of disposable income was rising. The Trolley Park would incorporate the use of the industrial age and mechanization to provide a fantasy land for the times.

In Jacksonville the phenomena of the Trolley Amusement Park took flight (sometimes literally as aeronauts ascended skyward in hot air balloons). On December 24, 1907, Jacksonville was treated to three simultaneous balloon ascensions by "World Famous Aeronauts" - one balloon each from the Zoo in Springfield, the Ostrich Farm in Fairfield (stadium district, though it would move north to Talleyrand in a couple of seasons), and Dixieland in South Jacksonville.


R.Mann Collection, Dixieland Postcard.
Dixieland

Courtesy of Jaxhistory.com

Had the Great Oz not took flight from the Emerald City, he could have easily chosen this setting in Jacksonville. Dixieland Amusement Park, just a short ferry ride from the streetcar loops at Main and Bay Streets, was known as "The Coney Island of the South" and covered 30 acres about where the Crown Plaza Hotel is today. This also marks Dixieland as one of a handful of parks that were actually connected to the trolley lines via boat. Though the South Jacksonville Municipal Railways would pass in front of Dixieland, it has not yet been rediscovered whether the MUNI served the park or if it missed the era by a dozen or so years.

The park featured a 160-foot roller coaster, a Figure Eight ride, a toboggan, a "laughing gallery," a "House of Troubles," and a large merry-go-round called "The Flying Jenny," which boasted 56 wooden animals. Babe Ruth once played baseball at Dixieland, and the famous bandleader John Phillips Sousa gave a concert. Many movie companies filmed their silent flicks there also. These included jungle films, which brought elephants, tigers, camels, and horses to the park. Alligators, dog & pony shows, lion wrestling, hot air balloons, parachute jumps, comedy acrobats, high-wire performers, and vaudeville acts were also featured. Visitors could refresh themselves at a swimming pool or the bathing beaches - there was also an electric water fountain.


Florida Ostrich Farm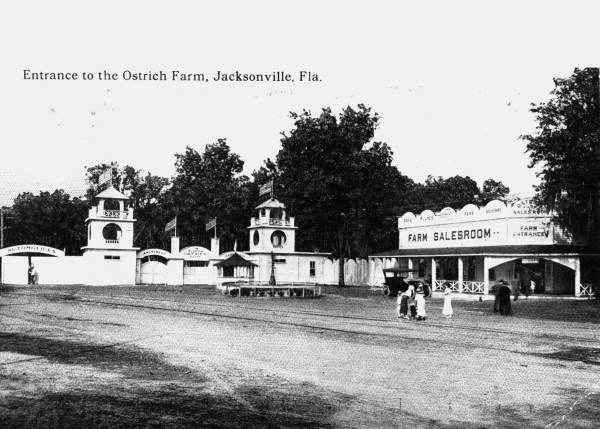 Florida State Archives.

Going head-on with the eclectic Dixieland doings was the Florida Ostrich Farm over in Fairfield. The first ostriches were brought to the U.S. in the late 1880s, and the Florida Ostrich Farm opened in Jacksonville a decade later. While this was a tourist attraction featuring ostrich races, they also raised the large birds for their feathers. Depending on the color, length, and width, a single plume could cost as much as $40 (approximately $800 in today's dollars). The fluffy plumes were popular decorations for ladies hats, both in America and Europe. In addition to individual plumes, the Florida Ostrich Farm sold feather boas, stoles, and fans. Ostrich farms were popular tourist destinations in Jacksonville well into the twentieth century.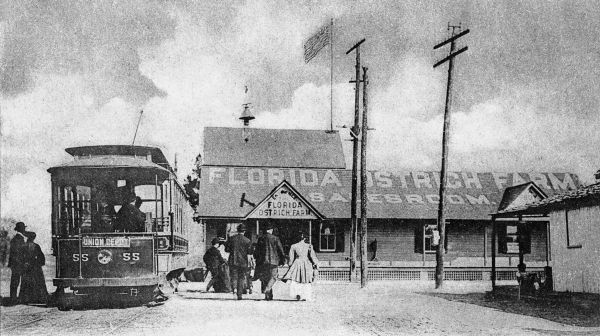 Florida State Archives.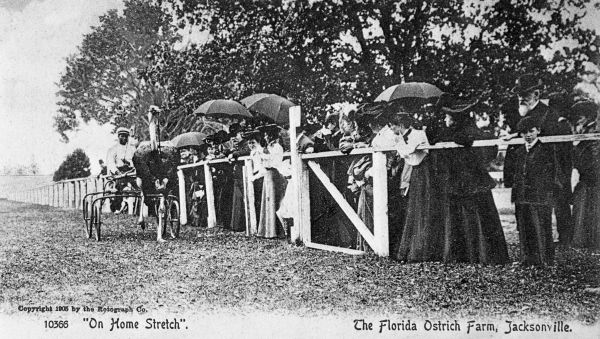 Florida State Archives.



THE DECLINE

In about 1903 the North Jacksonville Street Railway was incorporated. The company was unique in several ways, not the least of which was that it was a wholly-owned black enterprise. It located its shops and car barn in Mason Park, later Roosevelt Park, on Kings Road in a location believed to be under I-95 today. The park was greatly improved, and considered one of the finest negro amusement centers in the nation. Perhaps because the North Jacksonville Street Railway and Town Improvement Company used all state-of-the-art, electric trolley cars, the debt load was too great. The company skidded into bankruptcy after a highly successful start that attracted attention from across the industry. It was bought out by the Jacksonville Electric Company, which was in turn bought out by the Jacksonville Traction Company in 1912.

Sadly, by the time the Disney brothers got their act up and running, Dixieland had been largely destroyed and it's real estate was being gobbled up by new development. On April 18, 1907, just 4 months after the spectacular aerial opening, a mild rain and light breeze was forecasted for the day. But the weather shifted and a massive hail storm hammered Jacksonville. The first of two major hail storms, the second being in 1914, Dixieland was severely hobbled and generally abandoned by the mid 1920's.



Today's Treaty Oak, in the Jessie Ball DuPont Park is the last remnant of our Jacksonville's own glorious Trolley Park past. Photo, Eric (ET) Takeyama, via Flickr.

It wasn't just the increasing use of the automobile that killed off this first generation of imagination and thrills. Streetcar and urban railway companies were not immune to corruption and millions were made by extending lines into new neighborhoods. In 1922, the head of General Motors Alfred P. Sloan established a special unit to begin replacing America's electric railways with cars, trucks, and buses. Blatant abuse of state laws allowed the company, and others, to corrupt, bribe, and use all manner of chicanery to work out "where street cars were no longer practicable" and to replace them with bus transit systems. Jacksonville's local system was sold to Motor Transit Company in 1932, then phased out and closed in December 1936.

With the increasing number of automobiles in use, urban trolley parks gradually declined due to changing demographics in the urban areas. Although the automobile provided people with ample options for satisfying their entertainment needs, there were a few parks that were easily accessible by car and continued to be successful in an age of suburbanization. By the end of the depression however, parks that managed to survive were to suffer steep decline due to the war effort. By the end of World War II, the halcyon days of the trolley park had seen their last sunset.

Other Ubiquitous Trolley Parks


Idora Park in Youngstown, OH. You'll want to note that their trolley loop was a carbon copy of Jacksonville Traction Company's at the Florida Ostrich Farm. Photo, http://reference.findtarget.com/search/Idora Park, Youngstown/



Luna Park, Coney Island, NY, about 1905. The architecture was quite fanciful, and the park's founders were recently inducted into the Amusement Park Hall Of Fame. Photo, Wikipedia.



Dorney Park in Allentown, PA. Photo, Wikipedia.



Maryland's Glen Echo Park still displays a PCC streetcar at its front gate.Photo, Hang Yaun via Flickr.



At Quassy Park in Middlebury, CT. It is one of the few remaining in the U.S. Photo, R.Mann Collection.


Trolley Parks: What's Left


Electric Park, Detroit, terminus of three streetcar lines. Photo, R.Mann Collection.



Idora Park. Photo, Theme Park Review.



Maryland's Glen Echo Park. Photo, http://www.urbanghostsmedia.com/2010/09/spooky-glen-echo-parks-abandoned-crystal-pool/.



Abandoned Trolley Park trackage, New York City. Photo, http://en.wikipedia.org/wiki/File:Trolley_Park_jeh.jpg.

Last Parks Standing

CAMDEN PARK: Huntington, W.Va., http://www.camdenpark.com/

CANOBIE LAKE PARK: Salem, N.H., http://www.canobie.com/

CLEMENTON PARK AND SPLASH WORLD: Clementon, N.J., http://www.clementonpark.com/

DORNEY PARK: Allentown, Pa., http://www.dorneypark.com/

KENNYWOOD: West Mifflin, Pa., http://www.kennywood.com/

LAKEMONT PARK: Altoona, Pa., http://www.lakemontparkfun.com/

MIDWAY STATE PARK: Maple Springs, N.Y., http://bit.ly/9ZH48q

OAKS AMUSEMENT PARK: Portland, Ore., http://oakspark.com/

QUASSY AMUSEMENT PARK: Middlebury, Conn., http://www.quassy.com/

SEABREEZE AMUSEMENT PARK: Rochester, N.Y., http://www.seabreeze.com/

WALDAMEER & WATER WORLD: Erie, Pa., http://www.waldameer.com/


Jacksonville's are gone and like so many things, our parks, at least seven in all, have met the wrecking ball when they could've easily become a symbol of our city. Long before a little mouse that would be named Mickey ran across the desk of a starving cartoonist in Kansas City, the largest park in the state, Dixieland, was built on the Southbank in Jacksonville. Thus, the true grandfather of Disney World was born here.

Article by Bob Mann.
This article can be found at:
https://www.metrojacksonville.com/article/2011-may-the-trolley-park-phenomena
Copyright MetroJacksonville.com