Elements of Urbanism: Columbus
In a region known for economic stagnation, Columbus, OH continues to grow and make progress at a Sunbelt pace.
Published August 27, 2007 in Cities - MetroJacksonville.com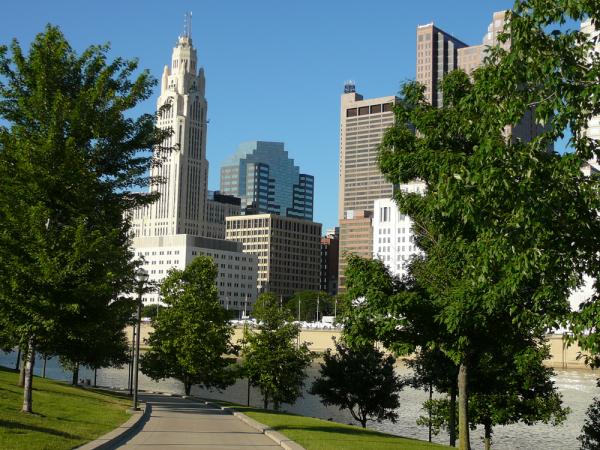 Columbus is the largest and capital city in Ohio.  Recognized as an emerging global city, Columbus is the home of The Ohio State University and has a diverse economy based on education, insurance, health care and technology.  Like Jacksonville, Columbus is also a spread out sprawling city and metro area with a downtown and inner city that has to compete head to head with booming suburbs. 
STATISTICS:
Columbus Population 2006: 733,203 (City); 1,725,570 (Metro) - (incorporated in 1812)
Jacksonville Pop. 2006: 790,689 (City); 1,277,997 (Metro) - (incorporated in 1832)
City population 1950: Jacksonville (204,517); Columbus (375,901)
Suburban Shopping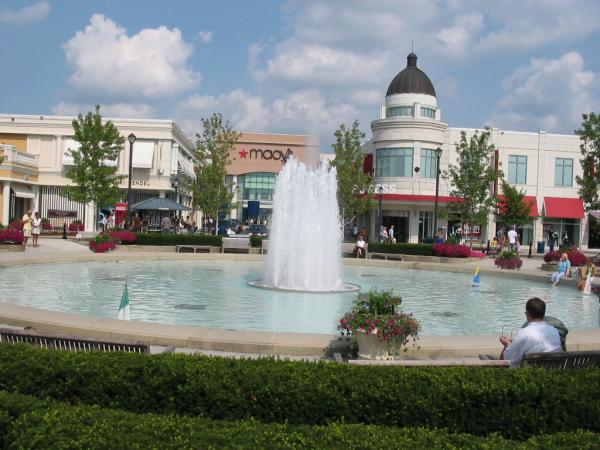 The development of suburban Columbus mirrors the heavy suburban growth occurring in Jacksonville.  Easton Town Center is one of three popular suburban malls that have opened within the past ten years that downtown retailers have to now compete with.   Like the St. Johns Town Center, Easton is a large mixed-use retail center designed to look like a classic American main street.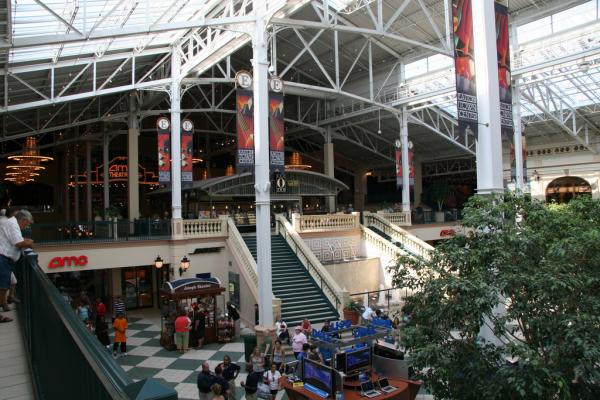 Covering 90 acres of suburban soil, Easton features 1.5 million square feet of retail space.  Popular chains at Easton include Macy's, Nordstrom, Crate & Barrel, The Cheesecake Factory, Barnes & Noble, AMC, PF Chang's, Pottery Barn, Smith & Wollensky and McCormick & Schmick's Seafood.  Despite this retail powerhouse downtown Columbus has not only found a way to compete, but set it's self apart from the newer commercial areas of town.
Downtown Riverfront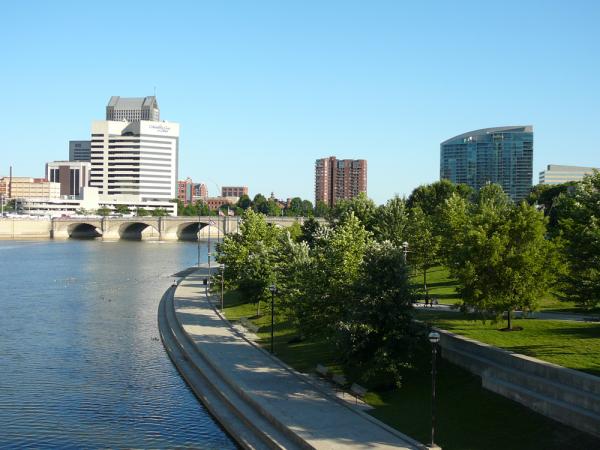 Downtown Columbus was built along the banks of the Scioto River.  Like most cities, the riverfront has been enhanced with the addition of linear greenspace.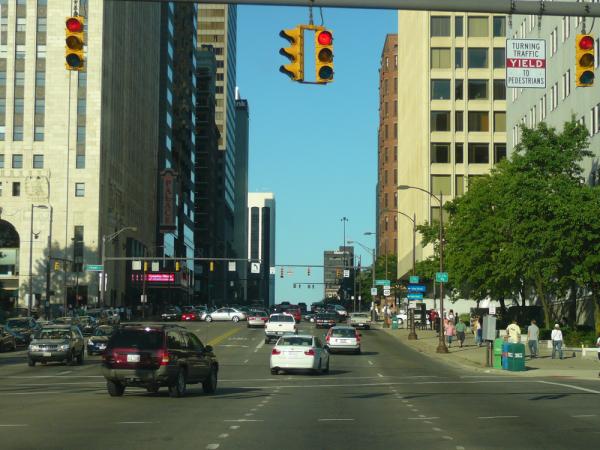 Broad Street is downtown's main east-west street.  This image was taken from the bridge over the Scioto River.
Downtown Core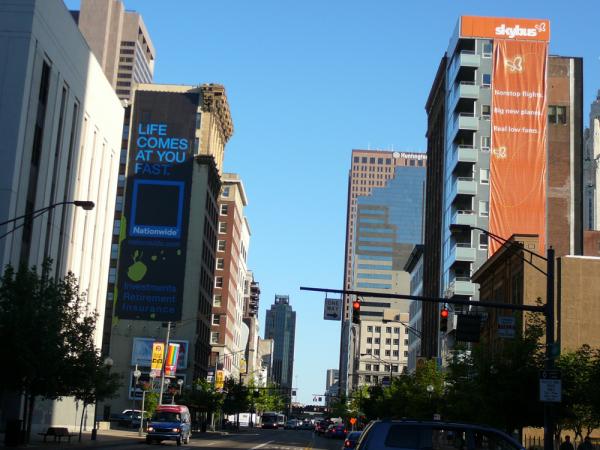 Downtown's main north-south avenue is High Street.  One thing that stands out in Downtown Columbus is the large advertisements on the sides of buildings.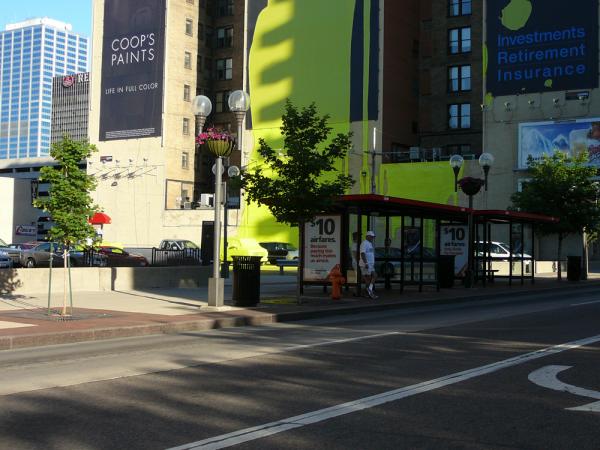 Bus Rapid Transit also runs along High Street.  Bus shelters in Columbus contain advertising space.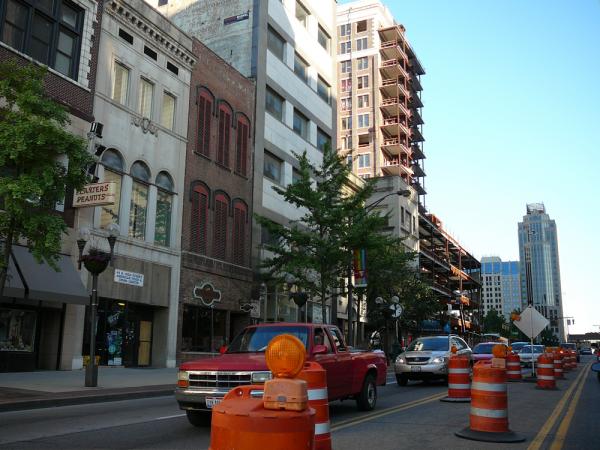 As with most bus rapid transit systems, Columbus' main areas of recent pedestrian development has not occurred on High Street, the city's traditional Main Street.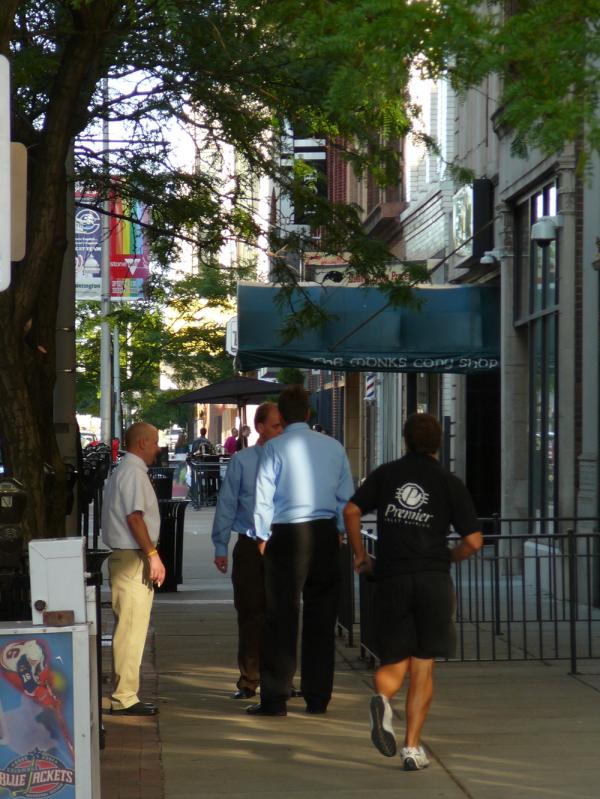 Instead, sidewalk cafes and pedestrian friendly pockets of heavy activity and investment seem to be occurring along side streets that bisect High Street.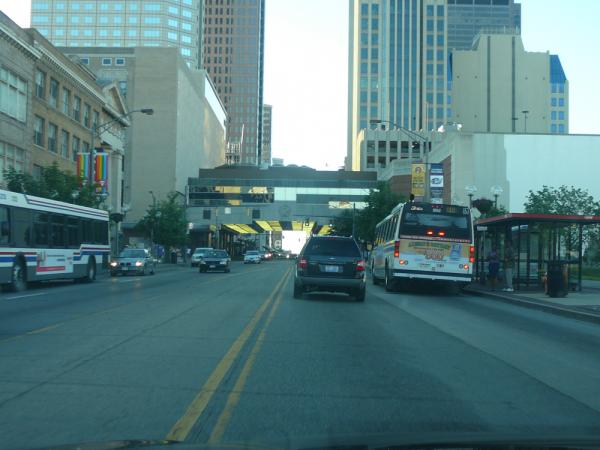 The Columbus City Center is a 1.2 million square foot shopping mall in the heart of downtown that opened in 1989.  This enclosed bridge across High Street connects the mall with the Lazarus department store, which had been operating at the site since 1851. 
Today, the mall is in a state of decline because two of the three original anchors have closed (Lazarus and Jacobson's) and the increased popularity and competition from three new suburban shopping centers: Easton Town Center (see above), Polaris Fashion Place, and The Mall at Tuttle Crossing.
However, Columbus is proving to be a city not willing to let the center die.  On, July 31, 2007, the city filed a lawsuit to evict the Simon Property Group (the same company managing the St. Johns Town Center) from the property.  With home-based Nationwide (the same group that created the Arena District) ready to step in with a redevelopment plan, the city alleges that Simon grossly neglected the property, allowing it to fall in disrepair and that it's the only thing holding that section of downtown back.  
Imagine if this type of attitude was taken by the City of Jacksonville with its own properties and land speculators like Chris Hionedes, who's blighted holdings continue to stimulate a negative and desolate image of the areas in which they sit.
High Street, looking north into Downtown Columbus.
Arena District 
The Arena District is a 75-acre, mixed-use master planned infill development located in the northwest section of downtown.  It is characterized by a mix of uses, neo-classical American design, and a New Urbanist layout.  Prior to its development in the late 1990s by Nationwide Realty Investors, the area was the site of the closed down Ohio Penitentiary.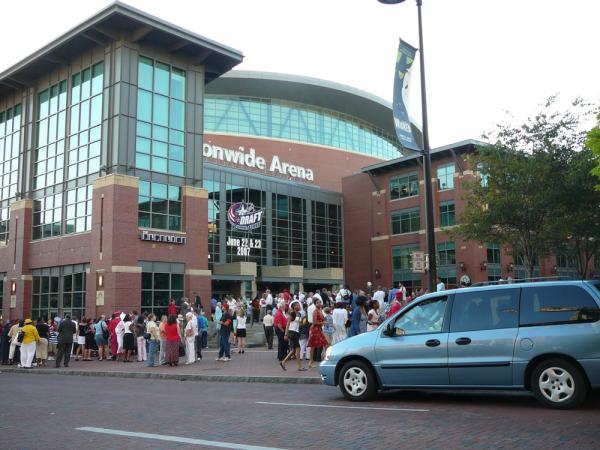 The Nationwide Arena is the crown jewel of the district.  The $175 million, 19,500 seat arena opened in 2000 and is the home of the NHL's Columbus Blue Jackets.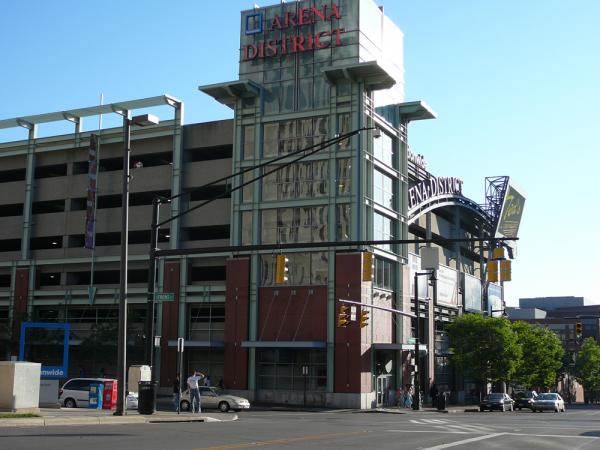 The district's main parking garage contains a number of LED monitors, billboards, and illuminated signage across the street from the arena's main entrance.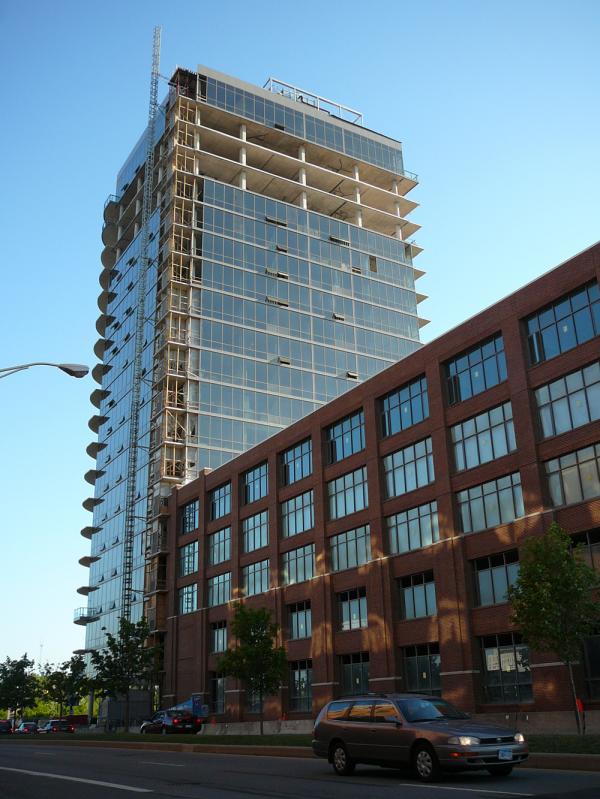 Despite the national slowdown of the residential real estate market, new condo developments and towers continue to rise in the Arena District.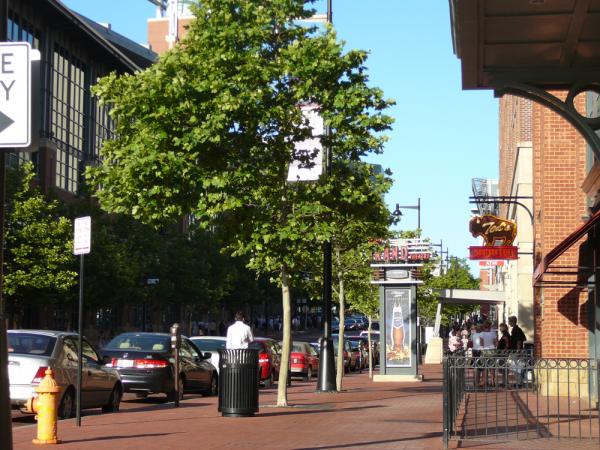 A megaplex movie cinema and a number of restaurants surround the hockey arena, making this district a popular place for urban entertainment in general.  Overall, the Arena District's new urbanist layout and the compact relationship between the arena and entertainment oriented uses illustrates the amount of potential our sports district could have if properly planned and developed in the future. 
For more information: www.arena-district.com
The Short North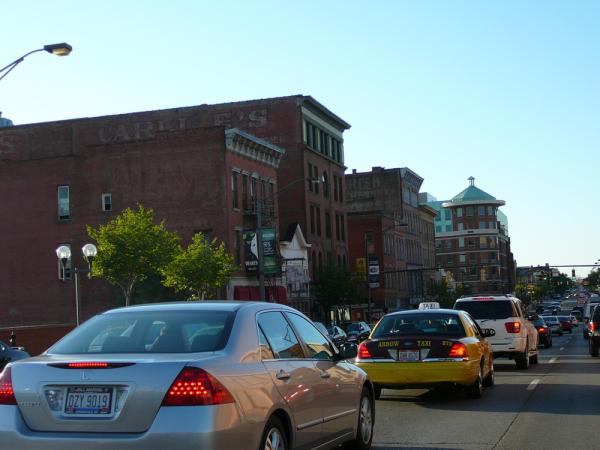 The Short North is a neighborhood just north of downtown with High Street serving as its central commercial corridor.  In the 1960s and 1970s, the district was well known for street-level crime and gang violence.  In fact, the name "Short North" comes from a term used by police for the area during its crime era, meaning a place that had fallen 'just short' of the central business district's north end--both physically and economically. 
Today, the district is heavily populated with art galleries, specialty shops, pubs, nightclubs, and coffee houses, instead of gang activity.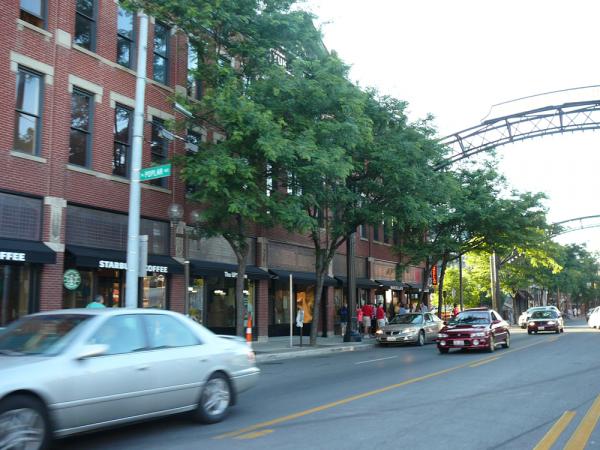 Short North's High Street gives us a view of what Springfield's Main Street once was and can become in the future.  After years of blight and decay, it has now been transformed into a 1.5 mile continuous pedestrian friendly strip of restaurants, boutique retail, bars and art galleries.  The urban building fabric in this area is diverse as well.   Here, compact urban infill exists side-by-side with preserved historic buildings.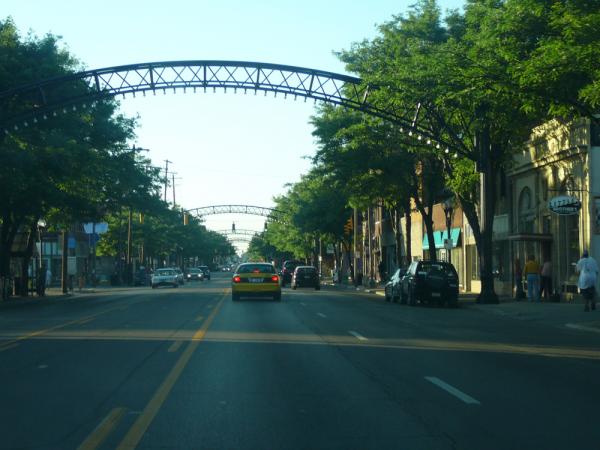 Due to a number of wood arches that spanned High Street in the 19th century, Columbus became known as "The Arch City".  The arches were torn down in 1914, but were reconstructed in 2002, in Short North, for their unique historical interest.
Creative Connectivity
"The Cap" is an interesting example of re-connecting two urban neighborhoods together that had been cut off by the construction of I-670.  In 2002, this strip of buildings, containing restaurants and specialty retail, were erected over I-675, providing a seamless pedestrian connection between the convention center and the Short North District.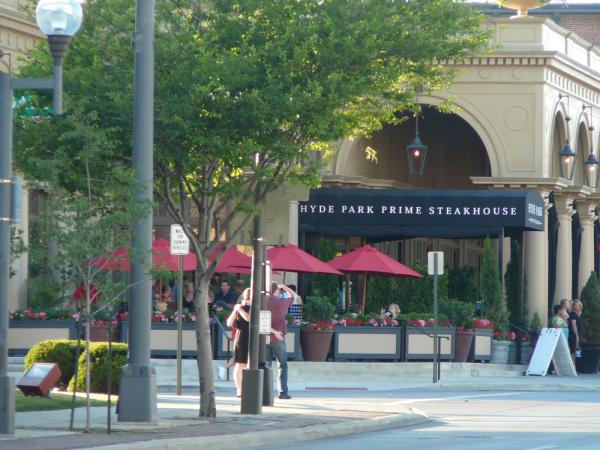 Today, whether walking or driving, few would even realize that this section of roadway is actually a bridge over the interstate.  The structures, including this one housing the Hyde Park Prime Steakhouse, are reminiscent of the city's old Union Station, which was demolished during the urban renewal era.
What's in store for the future?
Columbus has been quite successful in creating a vibrant inner city despite also being the home of mushrooming suburbs.  Now the mayor is looking to make the core stronger by constructing a modern streetcar system to reconnect neighborhoods and drive new development through and around downtown.
"We've seen the evidence that streetcars can reconnect neighborhoods and downtown, that they will help attract jobs to the area and spur greater housing construction along the routes, and now we need a specific game plan on how to pay for the system without raising local income taxes." - Mayor Michael B.Coleman.
If we can take anything from the city of Columbus, it's the fact that the local government is visionary, progressive, and when it puts its mind to it..... aggressive.
More information on the streetcar proposal
This article can be found at:
https://www.metrojacksonville.com/article/2007-aug-elements-of-urbanism-columbus
Copyright MetroJacksonville.com