Urban Construction Update - June 2016
June 22, 2016
9 comments
Print Article
Major construction projects have returned to the landscape of Jacksonville's urban core. Find out where (and more) as we take a brief look at the status of various developments under construction in and around Downtown Jacksonville during the month of June 2016.
Downtown

1. Lexington Hotel & Conference Center Jacksonville Riverwalk

Vantage Hospitality Group is investing up to $20 million in the renovation of the Lexington Hotel & Conference Center Jacksonville Riverwalk.




[ quote ]Rooms will be renovated in phases with new carpeting, windows, balconies, doors and furnishings as well as redesigned bathrooms.

The hotel will remain open during the project.

The work will include an exterior re-facing, roof replacement, new windows, a renovated porte cochere in the front, the addition of a porte cochere at the entrance of the convention center in the back along Prudential Drive, a remodeled pool area and a redesigned fifth-floor terrace.

In the ground-floor public areas, the lobby, lounge and restaurant will see significant upgrades. Carpeting will be replaced by hard flooring and new furnishings will be added throughout, in addition to the drop ceilings.

The lobby will be redesigned and moved closer to the front, opening up a sight-line to the pool area. It also will have a coffee bar and an art wall and water feature that will front most of the elevators, which now are exposed.

The expanded lobby lounge will be rebuilt with a loggia so that part of the seating area will be outside under cover.

The fitness center will be renovated and the ground-floor restaurant will be renovated with a covered outdoor seating area.[ quote ]

For more information: https://www.jaxdailyrecord.com/showstory.php?Story_id=546154



2.The First Coast Mohs Skin Center




Plans are underway to transform a 1.2-acre site, at Park and Rosselle Streets, into a 2-story 11,516 square foot medical office building and associated retail. The First Coast Mohs Skin Center will occupy the first floor of the proposed Spanish-styled structure. "Mohs" refers to a technique that removes cancerous tissue with minimal effects to healthy tissue. The second floor will be for general offices. The building's footprint will face Park Street with parking in the rear, along Rosselle and Chelsea Streets. The project should be completed by November 2016.




For more information: http://www.metrojacksonville.com/article/2016-mar-medical-office-building-proposed-in-brooklyn





3. Beaver Street Villas




LaVilla's long closed New Center Hotel at 605 North Broad Street is being renovated by nearby Clara White Mission into street level offices and 16 upper level apartment units.




For more information: http://www.metrojacksonville.com/article/2013-jul-more-downtown-mixed-use-beaver-street-villas





4. 100 North Laura Street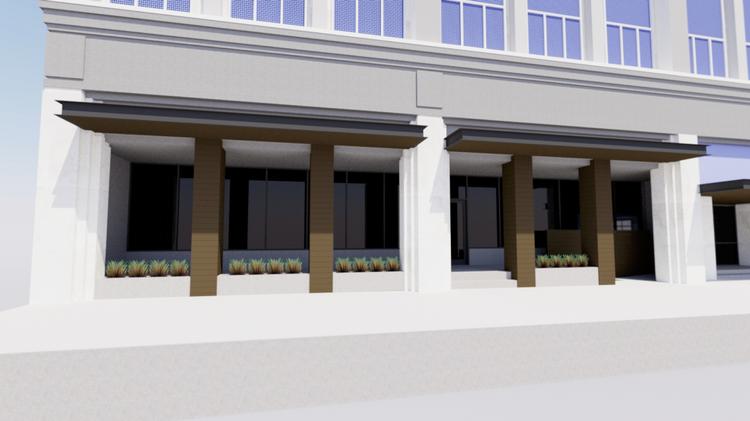 The renovation of 100 North Laura Street continues. Plans include lobby renovations, exterior canopies, lighting and a new 4,700-square-foot restaurant that will be operated by Black Sheep. However, the restaurant will have a different concept and name than the popular Five Points establishment. In addition, CenterState Bank of Florida will occupy 9,000-square-feet of space as its new Jacksonville headquarters.




For more information: http://www.bizjournals.com/jacksonville/blog/morning-edition/2015/11/black-sheeps-downtown-location-gets-approval-for.html





5. Washington Street Bridge

The Washington Street Bridge over Hogans Creek is in the process of being replaced. The $1.7 million project includes replacing the existing bridge box culvert with a single span culvert, resurfacing the roadway and reconstructing existing sidewalks. The 10-month long project is expected to be completed in summer 2016.




Next Page: http://www.moderncities.com/article/2016-jun-urban-construction-update-june-2016/page/1