Long Delayed 20 West Adams Project Back on Track
September 9, 2015
6 comments
Print Article
20 West Adams has a new owner and a new life. 20 West Adams Partnership, LLC is planning to jump start the project from where it left off in 2008 due to the economy.
20 West Adams may go down in history as one of downtown's longest running reconstruction projects. The long time home of Lerner Shops, and originally built in 1911 for the Southern Drug Company, 20 West has been a topic of discussion since the days of Metro Jacksonville's predecessor, the Jacksonville Forum at UrbanPlanet.org in 2004. At the time, the Kimmick Corporation announced their intentions to redevelop the vacant structure into a 38,000 square foot mixed use development containing 16 large loft apartments, office space, and a Loop Pizza Grill Restaurant at street level. Construction on the site came to a stop a few months later.

In a 2006 Metro Jacksonville forum discussion, conversation centered around Kimmick restarting the $3.14 million project. By this time, plans called for 16 apartments, 4,410 square feet of offices, a second-floor fitness room and a first-floor restaurant. Work progressed to a point where Metro Jacksonville was invited for a tour of the site in late 2007. Despite announcing its intentions to complete the project in November 2007, work came to a halt in 2008, with the decline of the nation's economy.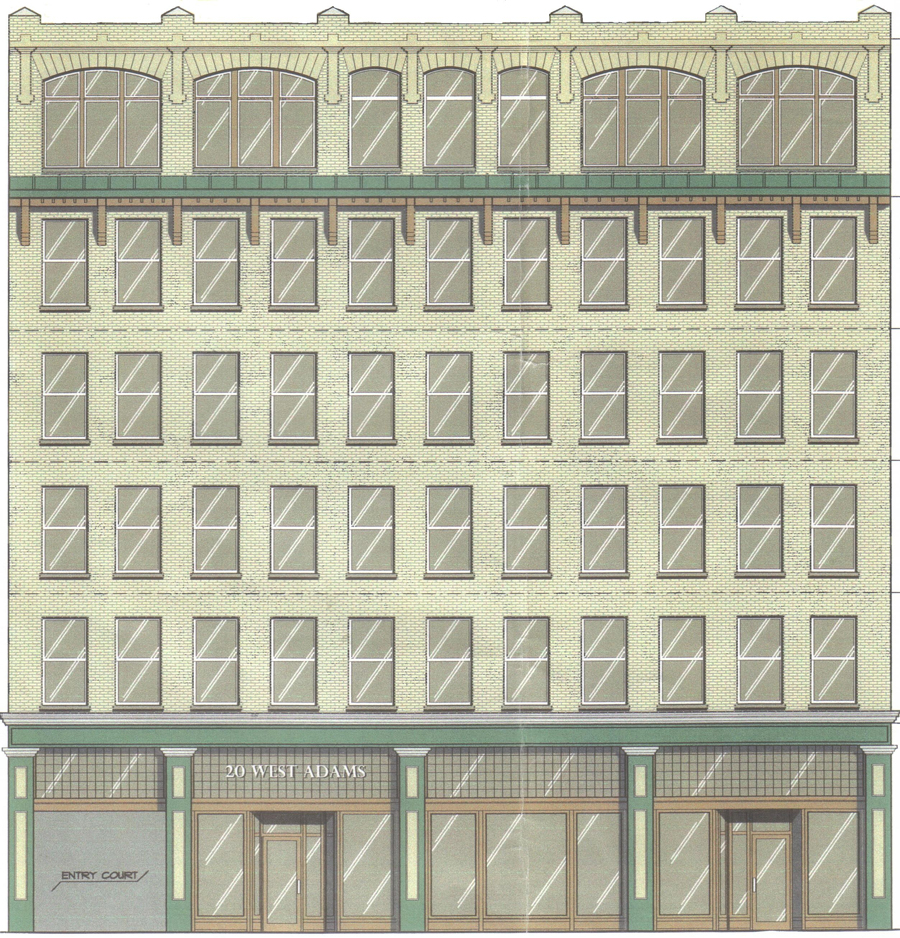 Rendering of a completed 20 West Adams.

Luckily, they say it's better late than never. Last month, Phoenix Adams Rising LLC of Jacksonville paid $750,000 for the building, which last sold for $720,000 in 1997. The new owner is currently working with the National Park Service, State Historic Preservation Office, and the Jacksonville Historic Preservation Office, in accordance with approvals with these agencies that date as far back as 2003. Items that are still in need of completion include the restoration of windows on the 4th and 5th floors and a new roof. On behalf of the development's new plans, PQH Architects plans to provide a project update to the Downtown Investment Authority on September 10, 2015 at 2PM. Here's a look at what could finally be coming to the heart of downtown Jacksonville.

Next Page: A Look Inside 20 West