Baltimore's Inner Harbor vs. Jacksonville's Riverfront
August 27, 2014
39 comments
Print Article
Metro Jacksonville's Ennis Davis explains why Baltimore has found success with the revitalization of their Inner Harbor and discusses the simple challenge Jacksonville's leaders must overcome if they want a similar result along the St. Johns River.
Nearly every American city with water running through their downtown core has looked to Baltimore's Inner Harbor's successful revitalization for pointers on how to brighten their morbid waterfronts. For the last few decades, Jacksonville has been one of these communities. It makes sense, considering both East Coast port cities feature historic waterways that were once home to steamship lines and massive shipbuilding complexes. Both cities' waterfronts also fell on hard times during the mid-20th century, only to see much of their industry succumb to urban renewal strategies of the 1960s.



An industrial Inner Harbor during the early 20th century. Image courtesy of http://darkroom-cdn.s3.amazonaws.com/2012/11/BS-Baltimore-Harbor-View-.jpg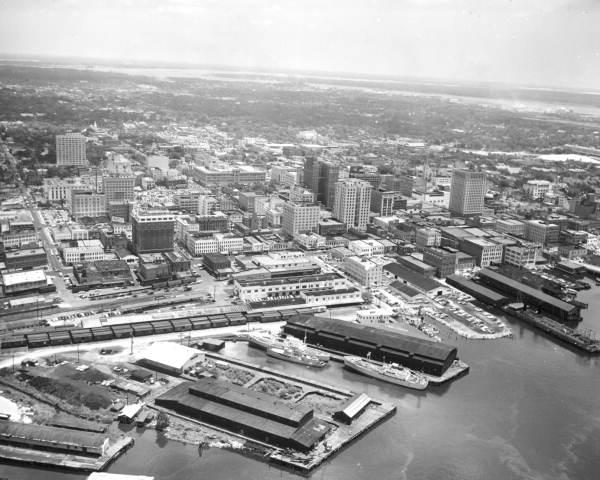 An industrial St. Johns River during the early 20th century. Image courtesy of the Florida State Archives.

What many may not realize is the common revitalization strategies and investments over the last thirty years. These investments include festival marketplaces, science centers, convention centers, waterfront pavilions for outdoor concerts, adaptive reuse of defunct power plants, fixed mass transit systems, waterfront promenades and public spaces. Between 1970 and 2014, billions of dollars have been invested in both communities. However, the result of these investments are completely opposite. In 1984, the American Institute of Architects cited the Inner Harbor as "one of the supreme achievements of large-scale urban design and development in U.S. history". In 2009, the Urban Land Institute described the Inner Harbor as "the model for post-industrial waterfront redevelopment around the world."



The Inner Harbor today

The results in Jacksonville are puzzling to many. While Harbor Place flourishes, the Jacksonville Landing is on the verge of being demolished. Old Bay Line's terminals have given way to museums, pedestrian promenades, and paddle boats, but the Jacksonville Shipyards only entertain the homeless and an occasional blue crab after shutting down 22 years ago. Some may wonder why our urban revitalization paths ended up radically different, despite the similar investments over an eerily similar time frame.



The Jacksonville Shipyards

The answer is quite simple. One city's investments were implemented incrementally over time with the idea of clustering complementing uses within a compact pedestrian scale setting. The other did the exact opposite by spreading their downtown investments out, making the investment strategy just as sprawling as the suburbs that drained life from its streets and buildings 50 years ago. The following maps visually explain why one community is seen as an international model of the success and the other is in the process of revamping its revitalization efforts after four decades of failure.


Inner Harbor - Jacksonville Waterfront Similarities

Here is a brief list of major attractions and destinations that opened in both Baltimore and Jacksonville in the late 20th century.

1.
Baltimore: Maryland Science Center - 1976
Jacksonville: Museum of Science and History (MOSH) - 1969

2.
Baltimore: World Trade Center - 1977
Jacksonville: Independent Square - 1974

3.
Baltimore: Baltimore Convention Center - 1979
Jacksonville: Prime Osborn Convention Center - 1985

4.
Baltimore: Harbor Place - 1980
Jacksonville: The Jacksonville Landing - 1987

5.
Baltimore: National Aquarium - 1981
Jacksonville: Times Union Center for the Performing Arts - 1997

*-Jacksonville does not have an aquarium and Baltimore does not have a performing arts center in the Inner Harbor.

6.
Baltimore: Pier Six Concert Pavilion - 1981
Jacksonville: Metropolitan Park - 1984

7.
Baltimore: Pratt Street Power Plant - 1997 (1985 - 1989 An Indoor Six Flags Amusement Park)
Jacksonville: Southside Generation Station (decommissioned in 2001 and demolished)



Different Results

The maps below show the location of the common investments listed above.


Baltimore Inner Harbor Map





Downtown Jacksonville Riverfront Map





Overlaying Density of Investments

Location of Baltimore investments scaled to Jacksonville's landscape






Location of Jacksonville investments scaled to the Inner Harbor's landscape





These maps show that the major difference in what has happened in Baltimore and Jacksonville is the density and lack of density and connectivity between projects meant to breathe life back into their core waterfronts. In Baltimore, everything is clustered together, creating synergy between major anchor destinations, spurring continuous foot traffic that results in additional business and entertainment opportunity. In Jacksonville, some major investments are miles away from each other, resulting in isolation that even makes the major anchors struggle to survive.

However, not all is lost for Jacksonville. The investments made over the last 40 years that still survive today mean that Jacksonville doesn't have to start from scratch to turn itself around. Instead, we need to get smarter about the placement of our investment projects and what they contribute to the human scaled environment surrounding them. What Jacksonville must overcome isn't a financial matter. It is a matter of resolving pedestrian scale connectivity in a manner that creates natural synergy and foot traffic between adjacent land uses.

Article by Ennis Davis, AICP

Next Page: Summer 2014 Images of Baltimore's Inner Harbor