Downtown Revitalization: Raleigh, Seven Years Later
August 14, 2013
58 comments
Print Article
Downtown revitalization is something that Jacksonville has struggled with for 40 years now. Perhaps we are making revitalization more difficult than it has to be? During Metro Jacksonville's early years, we looked at Raleigh's plans for revitalizing their downtown. Now seven years later, we revisit the city to see if things have changed for the better.
Tale of the Tape:

Raleigh City Population 2012: 423,179 (City); 1,188,564 (Metro 2012) - (incorporated in 1792)

Jacksonville City Population 2012: 836,507 (City); 1,377,850 (Metro 2012) - (incorporated in 1832)

City population 1950: Jacksonville (204,517); Raleigh (65,679)


City Land Area

Raleigh: 142.8 square miles
Jacksonville: 757.7 square miles


Metropolitan Area Growth rate (2010-2012)

Raleigh: +5.14%
Jacksonville: +2.40%


Urban Area Population (2010 census)

Raleigh: 884,891 (ranked 50 nationwide)
Jacksonville: 1,065,219 (ranked 40 nationwide)


Urban Area Population Density (2010 census)

Raleigh: 1,707.8 people per square mile
Jacksonville: 2,008.5 people per square mile


City Population Growth from 2010 to 2012

Raleigh: +19,287
Jacksonville: +14,723


Convention Center Exhibition Space:

Raleigh: Raleigh Convention Center (2008) - 150,000 square feet
Jacksonville: Prime F. Osborn III Convention Center (1985) - 78,500 square feet


Connected to or across the street from Convention Center:

Raleigh: Marriott City Center - 400 rooms
Jacksonville: N/A


Tallest Building:

Raleigh: PNC Plaza - 538 feet
Jacksonville: Bank of America Tower - 617 feet


Fortune 500 companies 2013 (City limits only):

Raleigh: Progress Energy (286)
Jacksonville: CSX (231), Fidelity National Financial (353), Fidelity National Information Services (434)


Urban infill obstacles:

Raleigh: Railroad corridor cuts Glenwood South off from downtown Raleigh's core.
Jacksonville: State & Union Streets cut off downtown Jacksonville from Springfield.


Downtown Nightlife District:

Raleigh: Warehouse District, Wilmington Street corridor, Glenwood South.
Jacksonville: The Elbow, The Jacksonville Landing


Common Downtown Albatross:

Proliferation of surface parking lots.


Who's Downtown is more walkable?

Raleigh: 75 out of 100, according to walkscore.com
Jacksonville: 78 out of 100, according to walkscore.com




About Downtown Raleigh


Downtown (also known as "Old Raleigh", "Inside the Beltline" or ITB) is home to historic neighborhoods and buildings such as the Sir Walter Raleigh Hotel built in the early 20th century, the restored City Market, the Fayetteville Street downtown business district, the Cameron Village midtown business district, which includes the PNC Plaza and Wells Fargo Capitol Center buildings, as well as the North Carolina Museum of History, North Carolina Museum of Natural Sciences, North Carolina State Capitol, Peace College, the Raleigh City Museum, Raleigh Convention Center, Shaw University, and St. Augustine's College. The neighborhoods in Old Raleigh include Cameron Park, Boylan Heights, Country Club Hills, Coley Forest, Five Points, Budleigh, Glenwood-Brooklyn, Hayes Barton Historic District, Moore Square, Mordecai, Rosengarten Park, Belvidere Park, Woodcrest, and Historic Oakwood. In the 2000s, an effort by the Downtown Raleigh Alliance was made to separate this area of the city into five smaller districts: Fayetteville Street, Moore Square, Glenwood South, Warehouse (Raleigh), and Capital District (Raleigh). Some of the names have become common place among locals such as the Warehouse, Fayetteville Street, and Glenwood South Districts.
http://en.wikipedia.org/wiki/Raleigh,_North_Carolina
Reopening of Fayetteville Street and the Livable Streets Initiative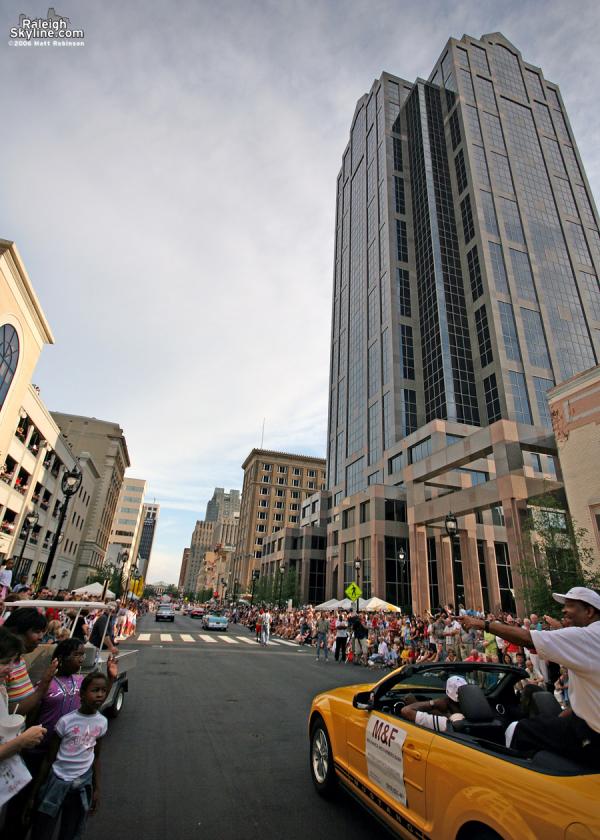 Reopening of Fayetteville Street on July 29, 2006.
Desperate to save a dying downtown, Raleigh's city leaders transformed Franklin Street, its premier thoroughfare, into an urban pedestrian mall in 1977. However, by removing all vehicular access, the project essentially became the final nail in the coffin for many struggling downtown businesses.
In May 2003, the Raleigh City Council adopted the community based plan that resulted from a downtown planning effort known as the Livable Streets Initiative. This initiative laid the groundwork for the city's revitalization through five objectives: reinvigorate Fayetteville Street as the heart of downtown, fund and build a new convention center and headquarters hotel to attract conventions and trade shows, improve the pedestrian environment of the center city, remove regulatory impediments and make it easier to do business downtown, and expand management and marketing of downtown.
Two years later, construction began on the $10 million plan to reinvigorate Fayetteville Street by reopening it to vehicles. On July 29, 2006, thousands came to downtown Raleigh to witness the first automobiles to drive down Fayetteville Street in 30 years. The objectives of the project, as stated by the City of Raleigh, were as follows:
1. Create a level of beauty, ambiance, and uniqueness appropriate to the importance of the street.
2. Establish a comfortable and safe environment.
3. Provide continuous visual interest at street level.
4. Blur the line between public and private realms.
5. Make the street feel populated.
6. Catalyze activity for at least 18 hours of every day.
7. Allow for the natural diversity of the private realm.
8. Create an environment in which high quality shops and restaurants can succeed.
9. Use the public realm to unify the overall composition of the street.
10. Highlight public/civic buildings to punctuate the street and provide a sense of permanence.
11. Accommodate diversity and create a street for all citizens by incorporating universal design.
12. Stimulate economic development and revitalization of the parcels fronting Fayetteville Street.
Ten years have passed since the Livable Streets Initiative was passed by Raleigh's City Council. Six years have passed since Metro Jacksonville's first article covering the revitalization of downtown Raleigh. Today, we take a before and after look at how downtown Raleigh has changed since then.
Fayetteville Street Today
Raleigh Convention Center & Headquarters Hotel
At the beginning of the 21st century, Raleigh believed its convention center, which was constructed in the center of Fayetteville Street in 1977, was to small and outdated to compete in the convention industry. Thus, a major component of the 2003 Livable Streets Initiative was to fund and build a new convention center and headquarters hotel to attract conventions and trade shows to downtown Raleigh. In 2006, construction started on a $225 million convention center that would include 150,000-square-feet of exhibition space. Replacing a surface parking lot, the project also included a hotel connected to the convention center to provide lodging for visitors. The old convention center was demolished make room for the hotel and the reopening of Fayetteville Street to vehicles. The Raleigh Convention Center and Marriott City Center opened in September 2008.
2007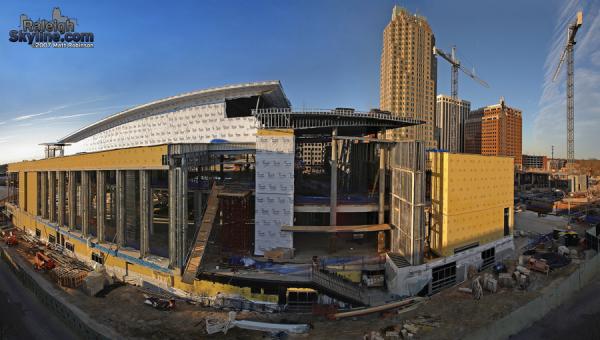 The Raleigh Convention Center under construction in 2007.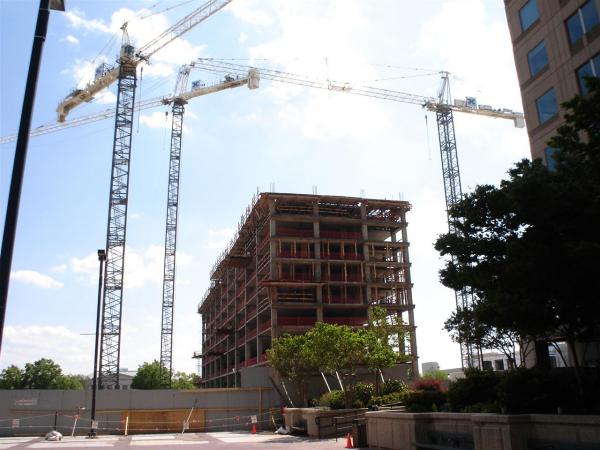 The headquarters hotel under construction next door to Raleigh's convention center in 2007.
2013
Raleigh City Plaza
Another objective of the 2003 Livable Streets Initiative was to improve the pedestrian environment of the center city. In 2006, Projects for Public Spaces (PPS) was involved in a visioning process for a new public plaza that would help tie the city's proposed convention center with the reopening of Fayetteville Street. Completed in 2010, City Plaza is intended to be the "public living room" of the city. Its amenities include interactive fountains, LED light towers, retail pavilions and events, such as ice skating in the winter and a farmers market in the spring. It may be worthwhile to take a look at City Plaza's amenities and programming in Jacksonville's efforts to bring Hemming Plaza back to life.
2007
A rendering of City Plaza from a 2007 Metro Jacksonville article.
2013